European Summer Destinations and where the data says people are going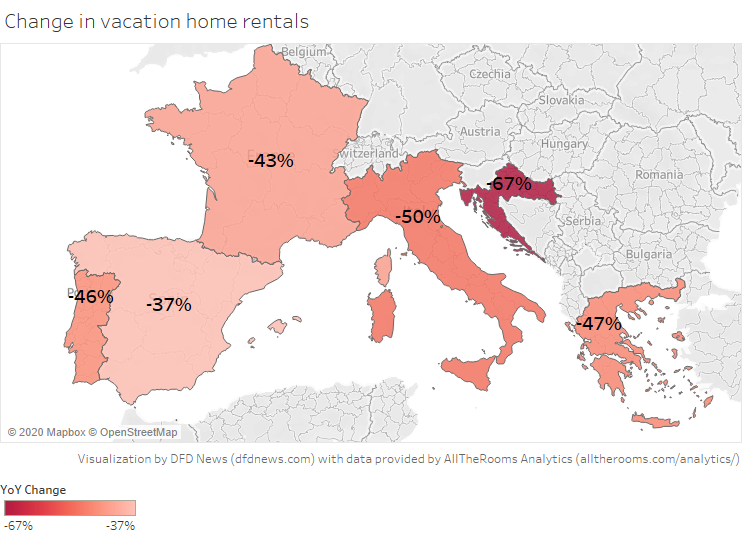 Data synopsis:
Popular European summer destinations are seeing vacation rental occupancy fall between 37% and 71% year over year.
Larger cities appear to be hit worse than beach destination.
Spain is the least impacted overall, while Croatia is the most impacted.
Dig Deeper:
With global air travel still shut down and summer quickly approaching we examine how vacation rental property data can be used to show where people are heading this summer. AllTheRooms Analytics is the world's first vacation rental search engine and an expert in vacation rental data. We used their data to uncover occupancy trends across Europe.
At a first glance, the data is extremely weak across the board. Of 14 popular European summer destinations, location occupancy is down 51% on average. This means that 51% less capacity has been booked for this upcoming summer compared to last year at this time. The data is as of May 21st so it is possible these numbers will improve meaningfully as countries better define their social distancing and quarantining policies.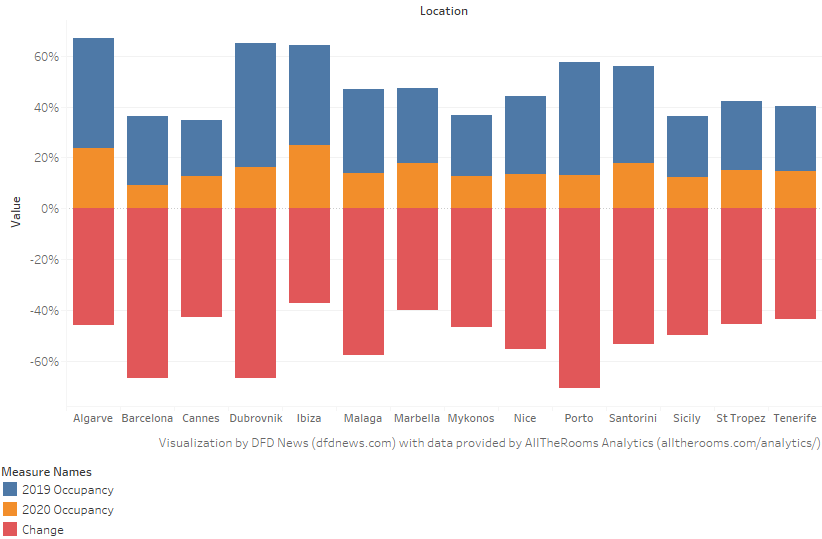 The above chart compares the percentage of overall vacation rental nights booked in each destination for 2019 and 2020 as well as the percent change in occupancy. Data for 2019 is also as of May 21, 2019 to make a fairer comparison.
The least impacted region according to the data is the Balearic Islands in Spain which include the popular beach destinations of Mallorca, Menorca, Ibiza, and Formentera. Southern Spanish beach town Marbella was a close second.
"The recovery in Europe may take longer than what we are seeing in the United States due to slower exit from lockdowns." said Joseph DiTomaso, CEO of AllTheRooms Analytics. "When the bigger markets start to come online, we're going to see the rebound to 2019 levels accelerate. Markets such as the Balearic Islands suggest that there's still strong demand for short-term rental stays," he added.
From the data we can see that locations which are more beach centric, with more outdoor venues, fared better than those with more indoor nightlife, restaurants and cafes. The ability to social distance remains a clear selling point for tourists.
Historically by May most properties that will be booked at these destinations have been booked. This year is atypical given the uncertainties that exist around the state of the pandemic. We will report back with a follow up as travel restrictions and social distancing requirements change.
To learn more about the data behind this article and what AllTheRooms has to offer, visit https://www.alltherooms.com/analytics/.