Luxury Domestic Travel – APAC, the one to watch!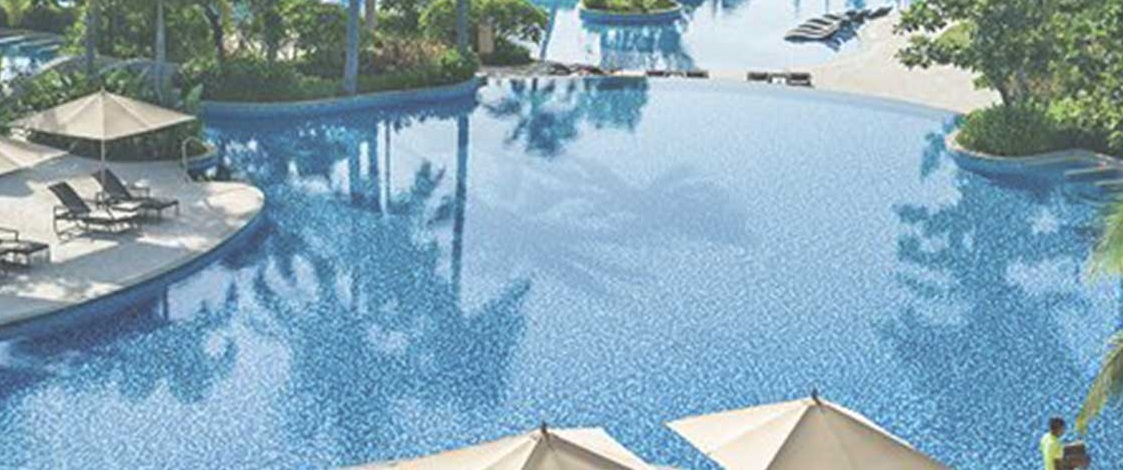 Covid-19 and its influence on government decisions regarding its national borders, airports, and flights have dented the once strong international tourism sector. International arrival numbers are down by -94% worldwide with Asia seeing the dip at -97.4% – the hardest-hit region is clearly heavily reliant on air travel as the main source of tourism. However, the recent resurgence of the domestic market in Asia suddenly paints the future for hoteliers, tour operators, duty-free stores, and airlines with some promising colours.
Love Thy Neighbour
When times get tough, lean on your neighbour. According to the latest data, the next predicted boom for the region after seeing the swift recovery of China's domestic travel is within the region. Hong Kong and Macao are on the radar.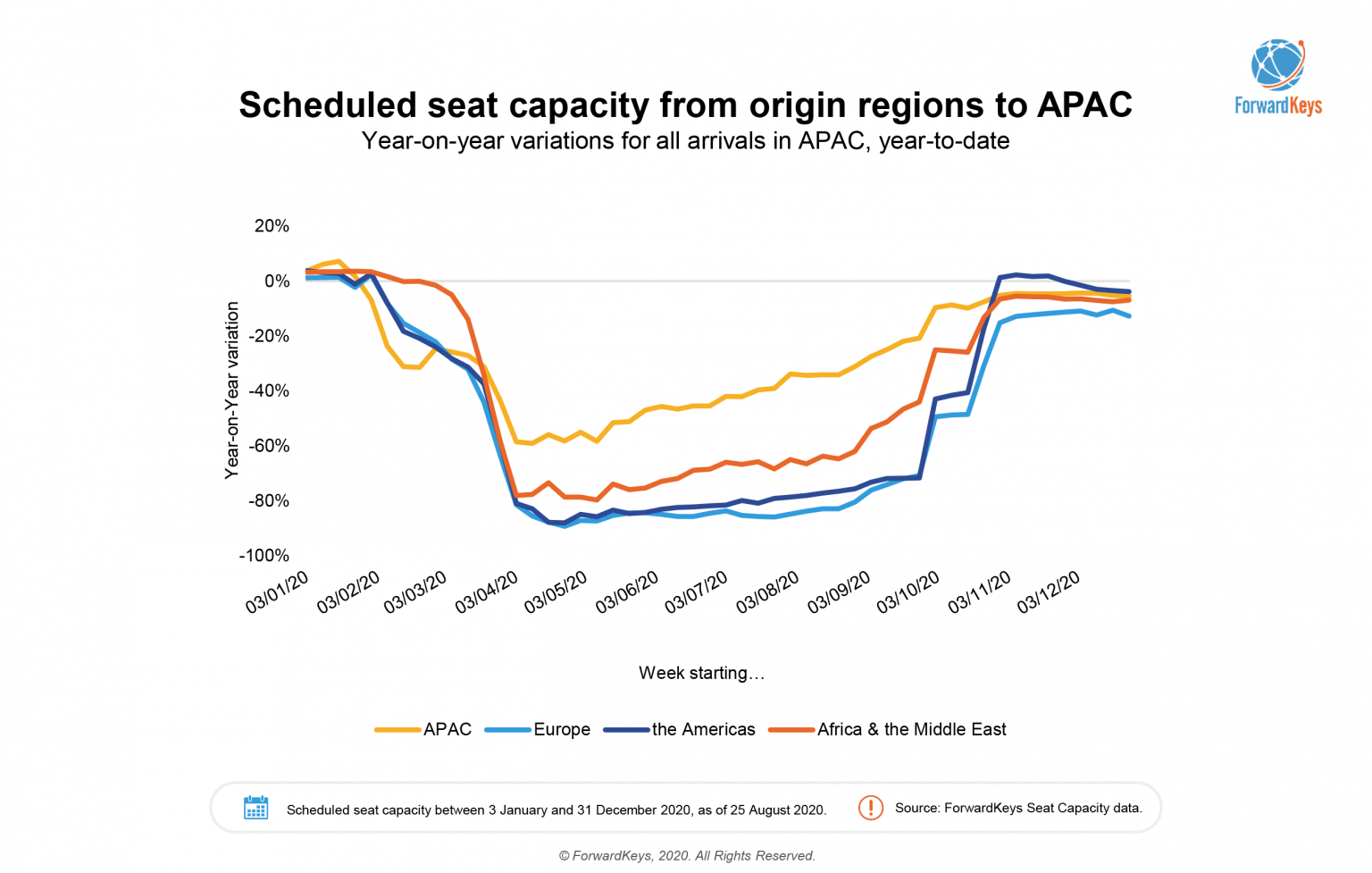 Scheduled seat capacity from APAC cities to other APAC cities has been on a steady rise from January 3 till December 31 (as of August 25). The next region to be on a steady climb to APAC hail from MENA. If you were crossing your fingers for European customers, better not hold your breath as that market is yet to resurface from its current state of confusion.
New Opportunities – Luxury Domestic Travel
The rise and rapid growth of domestic in China are being scrutinised closely by many competing destinations, stakeholders, and retailers, in and beyond the region. The formula of increasing seat capacity, offering discounted Flexi air passes while raising the duty-free allowance in tax-free havens such as Hainan, is a winning one.
Not only does the booking data show an increase in bookings during Golden Week, but 5-star hotels are still in demand. Looking at the Chinese Shopper Tracker data, it reveals that the top 5 preferred hotels in Hainan this August were:
Atlantis – Sanya
Sanya Edition Hotel
The Westin Sanya Haitang Bay Resort
Haikou Hilton
Sanya InterContinental/ Shangri-La Sanya
The latest success story to monitor in South-East Asia is Vietnam. The Seat Capacity data shows for a bumpy graph capturing the steep decline in domestic flights after the 2nd wave of Covid19 was announced. However, since 3rd September the number of scheduled seat capacity is up again and continues in that direction till the New Year.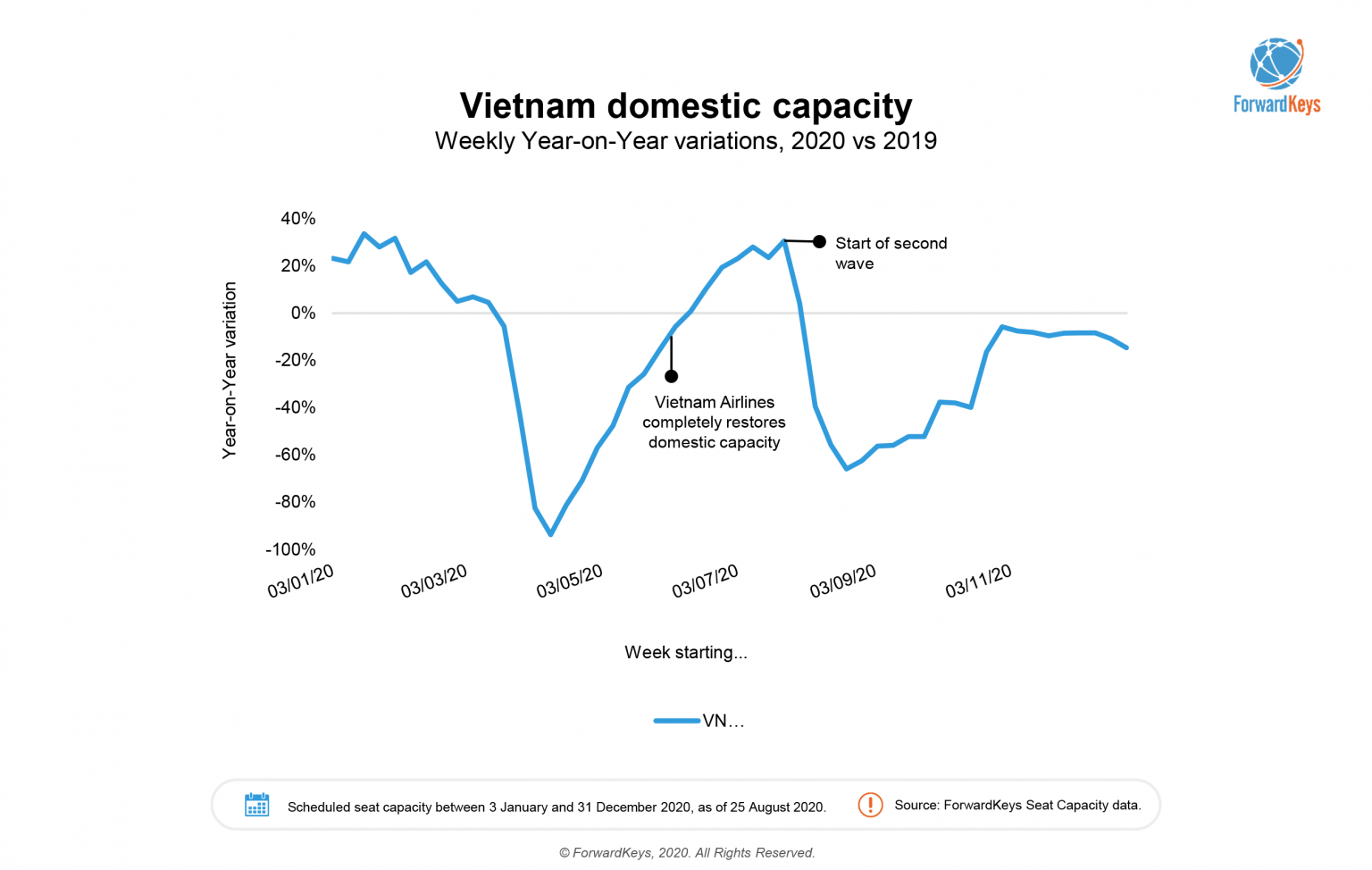 Shifting Business Strategies – International vs Domestic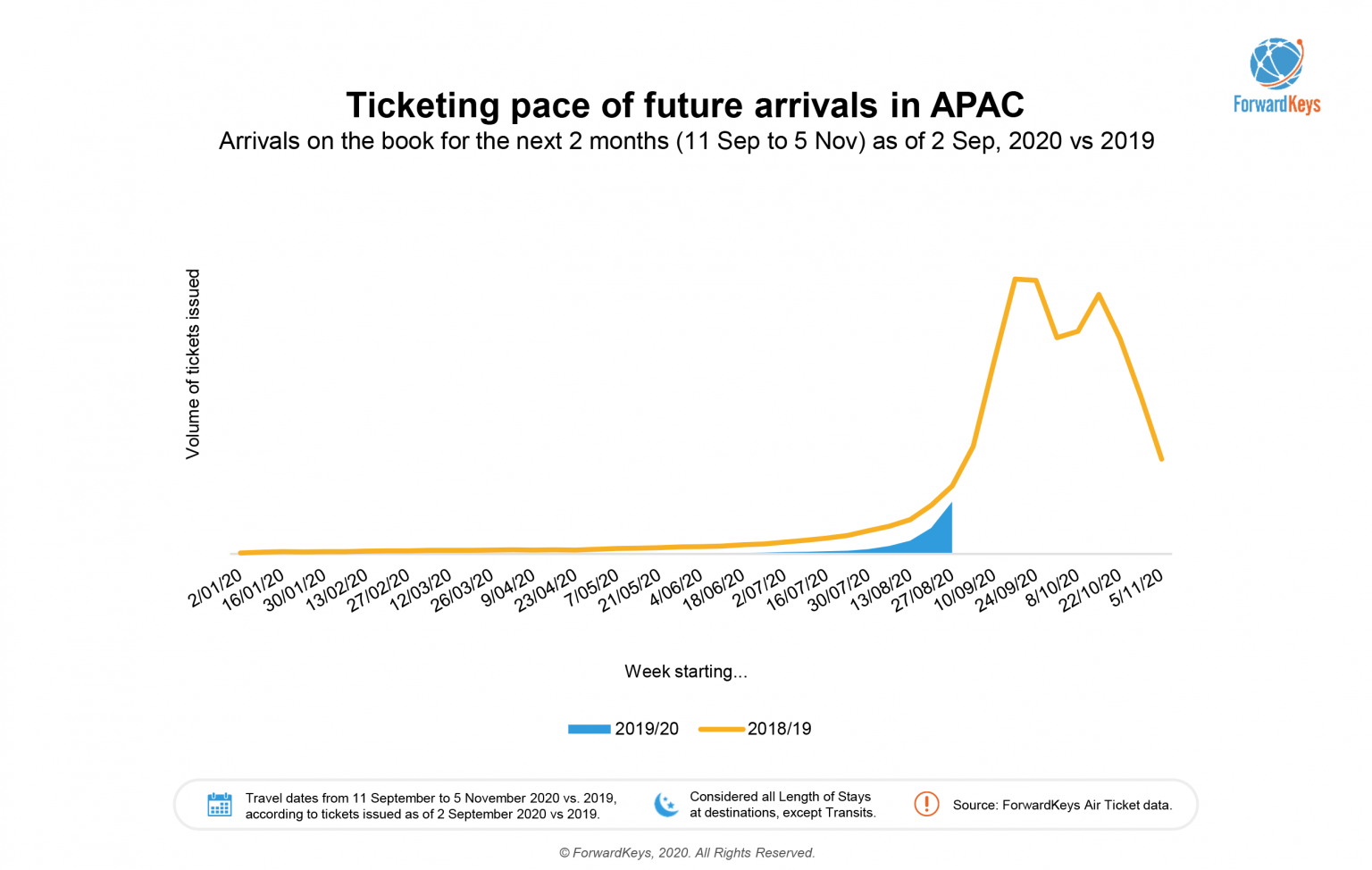 With low prospects of international travel for the next two months in APAC, domestic tourism is the key to survive in this battle of the fittest. Reassuringly the demand for travel in the region is at it's highest that it has ever been. When examining Flight Search data from 1 – 30 June 2020 versus the same period last year, the results are revealing dramatic.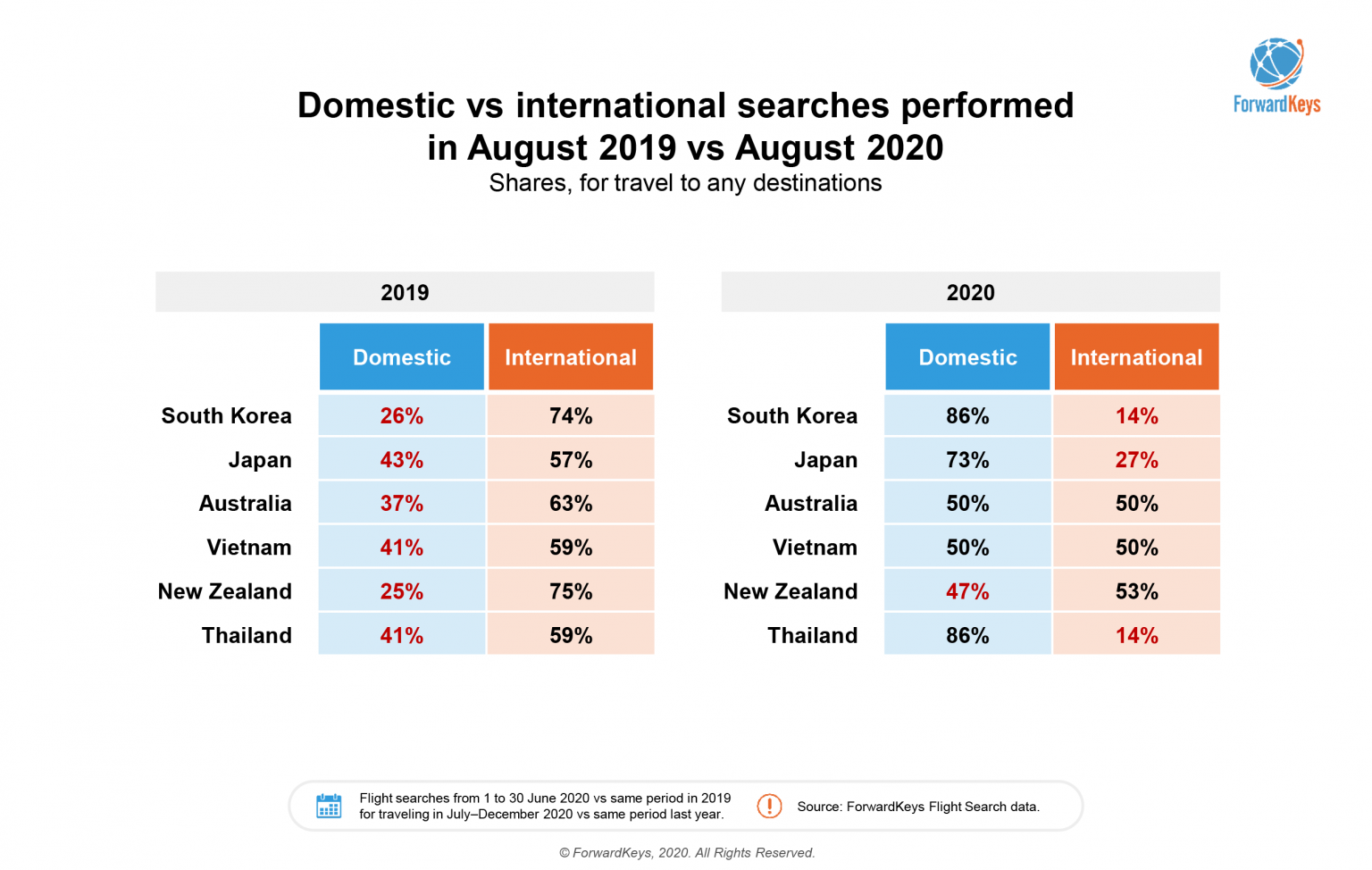 The desire to travel domestically is especially high in South Korea, Thailand, Japan, and NZ. What is your business doing to attract and convert these travel starved guests? Is your business agile enough to respond to last-minute bookers? As your business model needs to be flexible to do so as the lead time for bookings is much shorter than before. For instance, Chinese travellers are now booking 0-4 days before their flights. And this is a trend Nancy Dai, the China Market Expert at ForwardKeys says is "here to stay as people are getting used to booking at this pace."
Jameson Wong, APAC Director adds: "Despite the negative figures in terms of arrivals to some parts of Asia, what we are seeing is real opportunity to change and seize the high demand for travel in the region. Even if it is domestic travellers. Who will turn away a Shanghai visitor who spends on average US$1464 per day in Hainan on duty-free?"
To learn more about the data behind this article and what ForwardKeys has to offer, visit http://forwardkeys.com.