Gen Z, Millennials, Baby Boomers — Everyone is Spending More Time on Mobile

In the United States, Gen X/ Baby Boomers spent 30% more time year-over-year in their most used apps.
What's Happening:
Mobile device usage has significantly accelerated over the last year with daily time spent per user reaching 4.2 hours (a 20% year-over-year increase). While Gen Z has never known a world without smartphones, the ongoing pandemic has made all generations increasingly more reliant on mobile over the last year. Our recent 2021 State of Mobile report uncovered that in 2020, Baby Boomers in the United States spent 30% more time year over year in their most-used apps.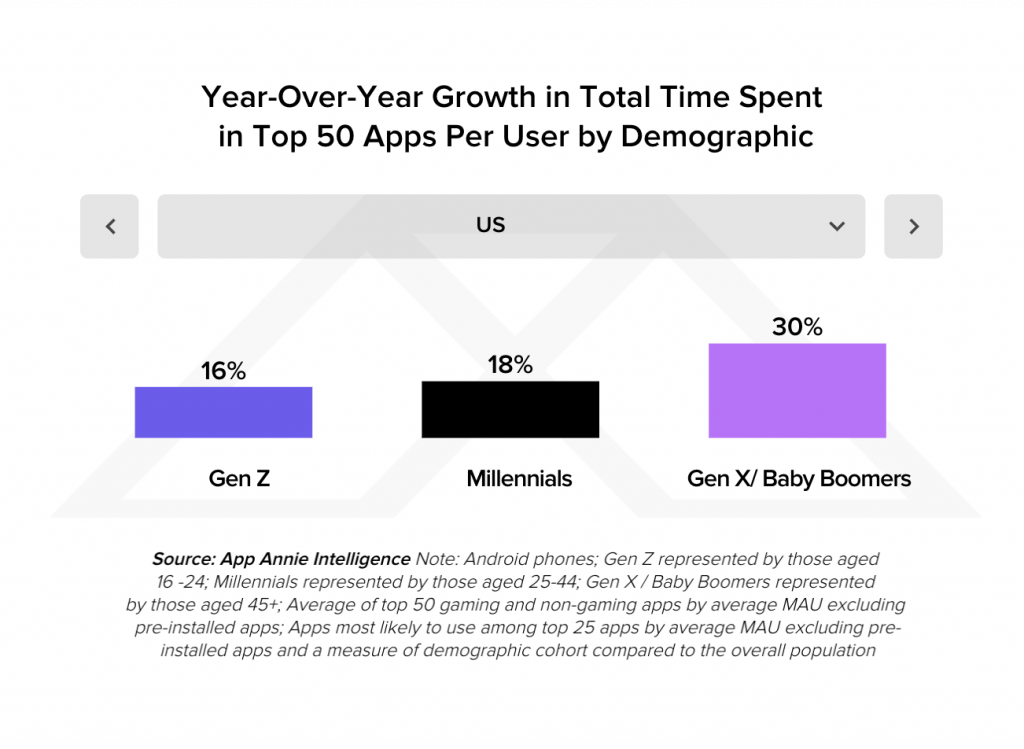 Why It Matters:
Globally, mobile is becoming more pervasive in everyday life across industries and across generations. For example, leading apps in the United States among generations included Snapchat (Gen Z), Discord (millennials) and Ring - Always Home (Gen X/ Baby Boomers). Further analysis of the apps most likely used across generations, show prominent use cases such as social engagement among Gen Z (Twitch, TikTok), payments and job finding apps among millennials (PayPal and LinkedIn) and local news and productivity among Gen X and Baby Boomers (Nextdoor, Kindle). Compared to 2019, Twitch was a new addition to the list for Gen Z, Amazon Music for Millennials and Nextdoor for Gen X/ Baby Boomers in the US.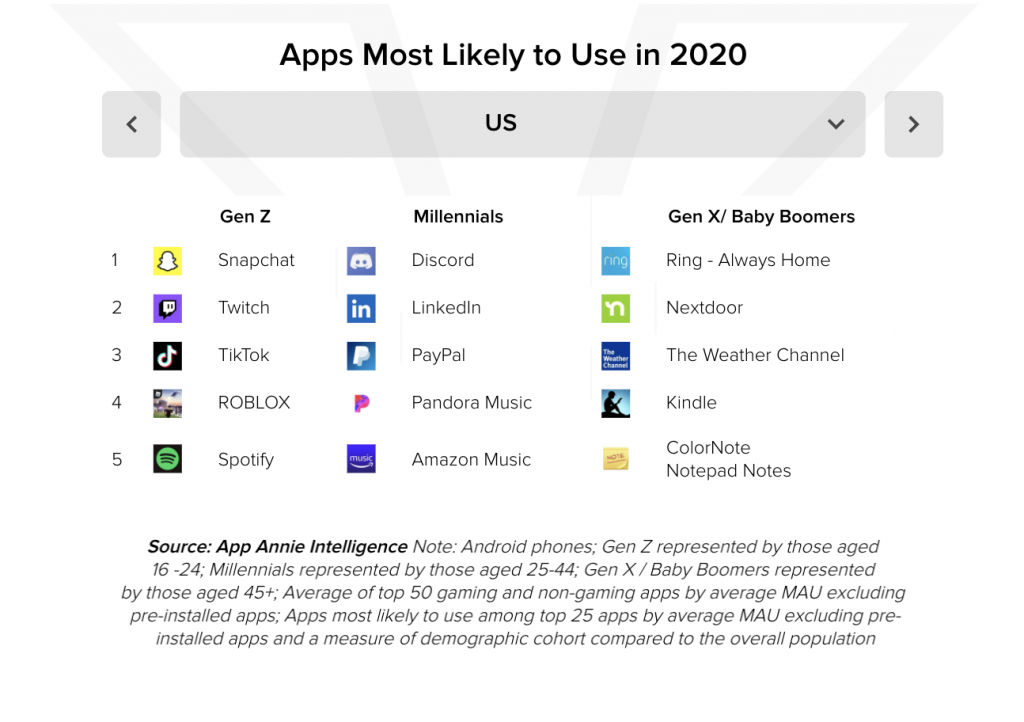 Generations are also adopting new use cases for mobile. For example, a similar analysis in South Korea showed that gaming app ROBLOX ranked #5 as the apps most likely to be used by Gen X/ Baby Boomers. Given the game is traditionally popular among younger generations — for example, ranking #4 in the U.S. as an app most likely used by Gen Z — this points to older generations expanding their mobile usage patterns.
Mobile finance was also a dominant use case among millennials in the United Kingdom. Among similar rankings in the UK, millennials were most likely to use apps such as Halifax Banking and Barclays Mobile Banking.
Go Deeper:
In 2021, we anticipate mobile usage will remain high and we'll see continued shifts in how generations are leveraging mobile within their everyday lives. As individuals adopt new usage patterns, it's important for mobile marketers and publishers to understand where their target audiences are spending time and the experiences that resonate most.
To learn more about the data behind this article and what AppAnnie has to offer, visit www.appannie.com.