New York Regains Top Job Change Spot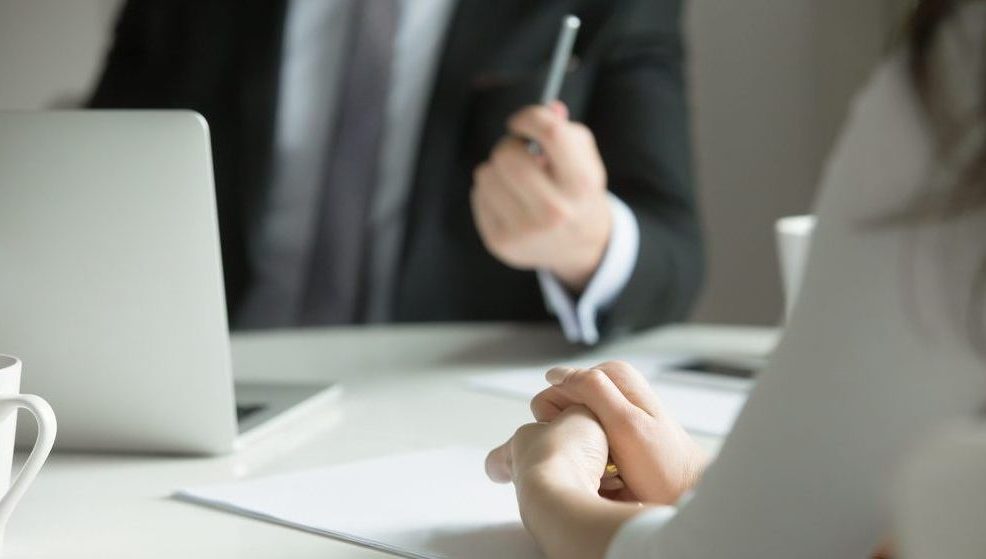 After slipping out of its standard top spot last year during the worst of the COVID-19 pandemic, New York returned to the #1 spot on the list of top job gain markets in October, pushing Los Angeles back to the #2 spot.
New York gained 247,300 jobs for the year-ending October, according to the Bureau of Labor Statistics (BLS). This was about 25,000 more than September's annual total. Los Angeles added 227,500 jobs for the same period but recorded more than 27,000 fewer jobs gained for the year than the month before.
Nine of last month's top 10 markets returned in October and only one remained in its previous spot. Boston moved up two spots to #3 with 143,400 new jobs, while Chicago leapt four spots to land at #4 in October with 136,900 jobs gained annually. Both markets improved their annual gains over September's.
Houston and Dallas both dropped two spots but each gained about 135,000 jobs apiece to list at #5 and #6, respectively. The monthly decline in annual gains was slightly greater for Houston (-12,500) than for Dallas (-4,800). Atlanta remained at the #7 spot, gaining 134,800 jobs for the year and 13,800 jobs more than in September.
Washington, DC moved from #10 to #8 this month, gaining 124,600 jobs for the year or almost 20,000 more than last month. Phoenix slipped from #6 to #9, gaining 120,600 jobs for the year but about 6,000 less than September's annual total. Seattle moved into the #10 spot in October with an annual gain of 101,300 jobs, an improvement of 10,600 from last month. Anaheim fell out of the top 10 list to the #11 spot this month.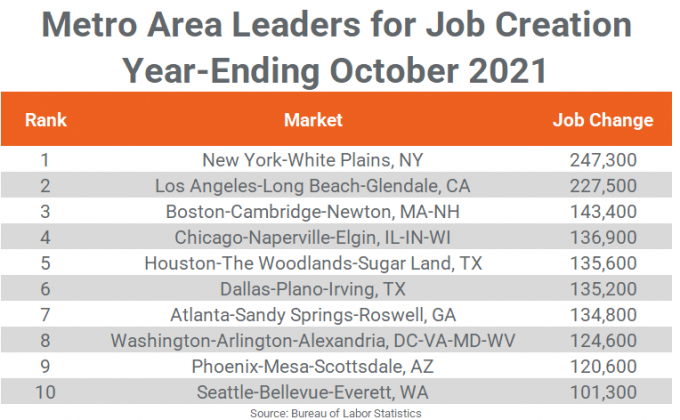 Despite general improvement in employment change nationally and for six of the top 10 markets, the employment recovery effort to reach the same level of employment before the pandemic remains challenged. Dallas and Phoenix are the only top 10 job gain markets to have recovered all of the jobs lost since February 2020. Atlanta and Seattle are close behind at 1% to 1.4% below pre-pandemic levels. New York (-7%) and Los Angeles (-6.6%) still have the most to recover but are making progress, while the remaining top job gain markets are about 2% to 3% from returning to pre-pandemic employment levels.
Thirty-seven of the 150 markets RealPage tracks have regained all of the jobs lost during the pandemic, 11 more than last month. With the exception of Salt Lake City, the list of major markets to have recovered all of their pandemic-induced job losses is concentrated primarily in the Southeast and Southwest, with a few markets in the upper Midwest. Major markets that are less than 1% from pre-pandemic employment levels include: Denver, Omaha, Indianapolis, Nashville, Columbus, OH and Cincinnati. Major markets that still have a long road to full recovery include: Midland/Odessa, Urban Honolulu, New Orleans, Oakland, Las Vegas and Orlando. Each are still 6% or more below February 2020 employment levels.
Comparing annual job gain on a month-over-month basis, about half of our 150 markets had higher annual job gains in October than in September as the remaining 78 markets were unchanged or declined slightly. These month-over-month comparisons of not seasonally-adjusted labor data from the BLS can sometimes be misleading, but nonetheless give an idea of overall trends.
With job gains still challenged by the Delta variant and hiring difficulties, only the top 10 markets had annual job gains of 100,000 or more compared to 23 in April. Another 15 markets gained between 50,000 and 99,999 jobs, two less than in September. Only Flint, MI and Lexington, KY had an annual job loss from last October of the top 150 markets.
Annual percentage change in employment continues to be strong and with increasing job gains, the top performers have seen improving job growth as well. Eight of September's top 10 returned in October with Miami and Seattle replacing Fayetteville, AR, and Los Angeles on the top job growth markets list. Five of the top 10 growth markets had better annual growth than last month but only the small Urban Honolulu market had double-digit growth.
Compared to September's list, the range of job growth tightened, with the difference between #1 and #10 dropping 200 bps as job growth in Urban Honolulu continues moderating. Job growth in this Hawaiian market fell from 12.7% in September to 10.5% in October as the market begins to normalize post-pandemic.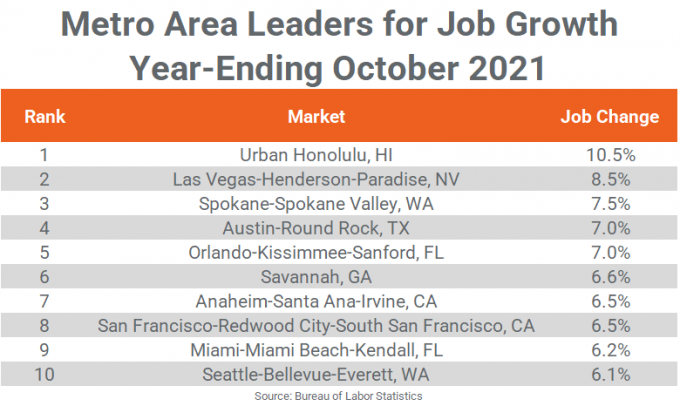 The weakest large markets for percentage growth had growth rates of less than 2% and were mostly in the Midwest (Cleveland, Indianapolis, Tulsa, Nassau County-Suffolk County, NY, St. Louis, Milwaukee, and Virginia Beach). In addition to the top 10, strong job growth markets include Phoenix, Tampa, Boston, and Los Angeles. Fifty-nine markets had annual job growth rates below 3% compared to 54 in September.
To learn more about the data behind this article and what RealPage has to offer, visit https://www.realpage.com/.