Hitting the slopes - How digital strategy is shaping up for ski & mountain resorts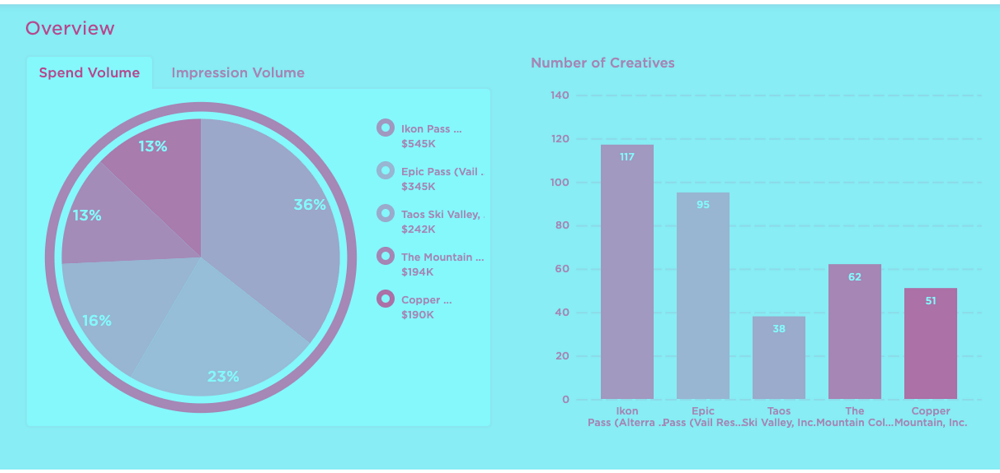 Ski and snowboard resorts were one of the first business categories to take a major hit during the first wave of COVID lockdown orders in March 2020. Now, in 2021, industry demand has slowly but surely recovered as domestic travel edges back up to pre-pandemic levels.
Today, we'll review how the top three advertisers in the Ski Mountains, Lodges & Resorts category from September until now have ramped up their advertising efforts to prepare for a highly anticipated 2022 winter season.
Ikon promotes limited-time discounted season pass
The Ikon Pass offers access to 47 ski resort destinations across 15 states and nine countries, with two more resorts added in Europe this year: Dolomiti Superski in Italy, and Kitzbühel in Austria. From September through October, Ikon emerged as the number one category spender, investing $545k into their ad campaigns in preparation for the 2021/2022 ski season. In total, Ikon's ad campaigns pulled in 59.4M impressions, 84% of which came from Facebook.
Ikon primarily leveraged Facebook link campaigns to push their season pass sale. Creative run in September through early October promoted a reduced rate for the Ikon Pass, utilizing urgency language in their copy to increase conversions before the price of their season passes increased after October 15th.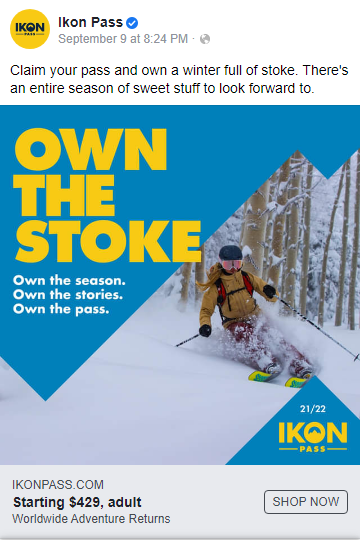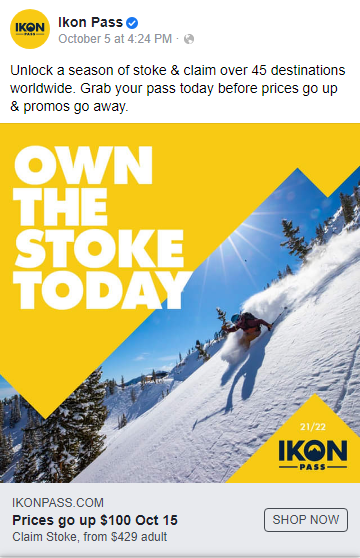 Spend for their season pass sale campaign spiked at the beginning of October in a last-minute push to promote their reduced pricing plan. Ikon's daily ad spend reached its peak ($40k) on 10/6 before plummeting to just $2,400 on 10/15. Interestingly, Ikon spent a total of $2.9M on digital ads in 2020, almost $200k more than what the ski pass company invested in 2019. This may be because Ikon ran a series of ads in the late spring and early fall to push heavily discounted season passes in anticipation of a less profitable 2021 season.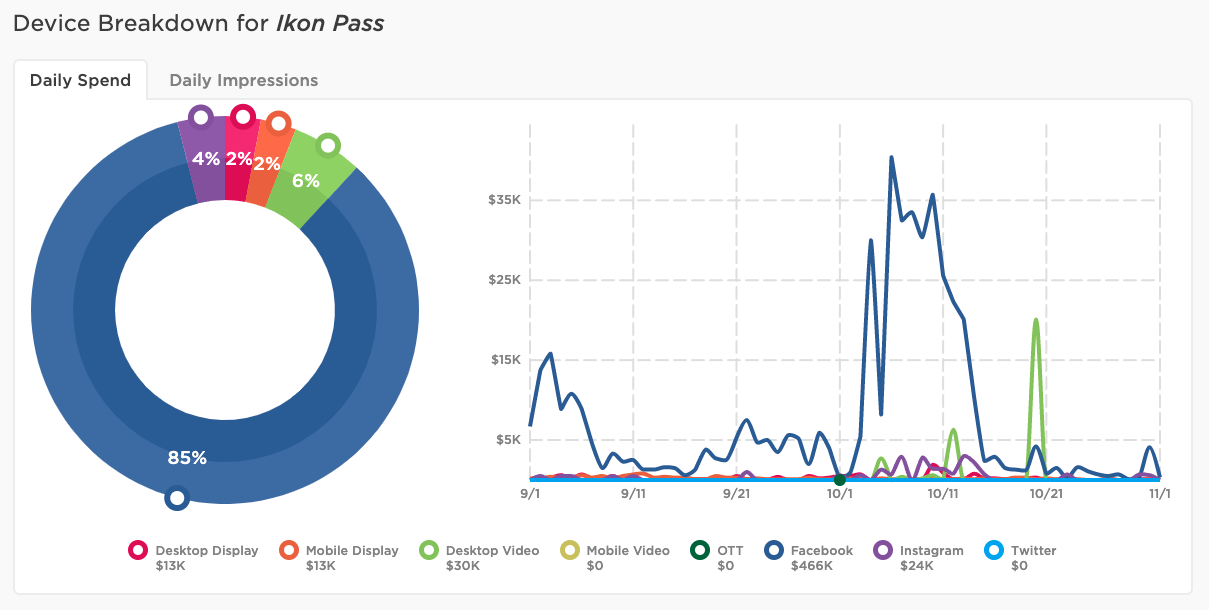 Looking at platform spend share, Ikon put all of their eggs into the Facebook basket, with 85% spend share funneled into the platform and Desktop Video coming in at a distant second with 6% spend share.
Epic Pass sets its sights on the future of the industry
Like Ikon Pass, the Epic Pass is a multi ski resort pass program spanning 37 ski resorts across the States, Canada, and Australia. But unlike Ikon, Epic offers more than 20 different types of passes, each providing a unique combination of ski resort access and perks. Epic Pass funneled over $302k into its ad campaigns from September through October, yielding 45.8M total impressions.
The resort ran a Kids Ski Free campaign around the same time Ikon Pass launched their discounted pass promotion. It's a strategic play on Epic's end, considering kids will mature into the category's primary demographic, as Boomers gradually age out and off the mountain.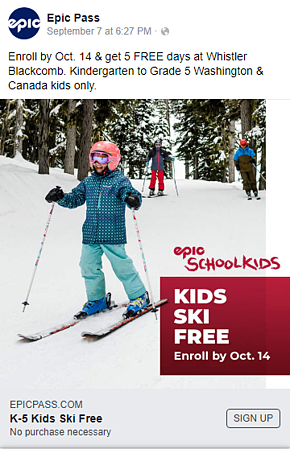 Epic's promotion ended on the same day of the Ikon season pass campaign, putting pressure on consumers to commit to one or both passes.
Compared to Ikon, Epic Pass invested significantly less into digital advertising in 2020 ($588k). But in 2019, the brand shelled out more than $1.8M on season pass promotions.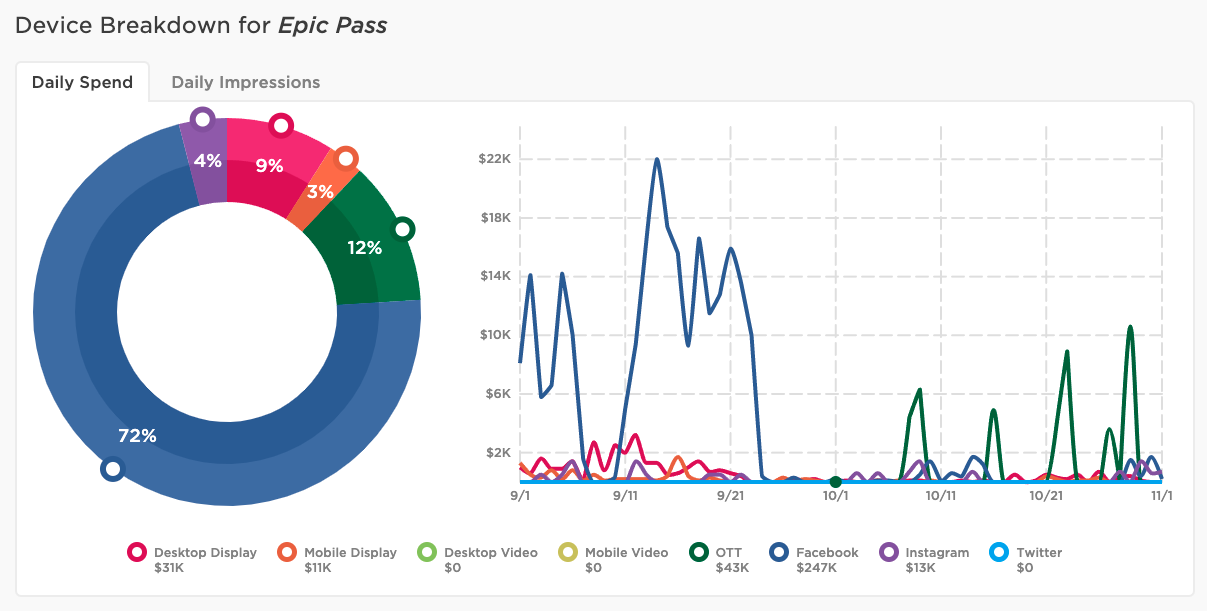 Like Ikon, Epic funneled the lion's share of their budget into Facebook (82%) while committing a small percentage of spend share into Desktop Display ads (11%) and OTT (12%). Overall, 69% of total impressions were attributed to Facebook, and Desktop Display campaigns received 19% impression share.
Taos Ski Valley celebrates community over competition
Taos Ski Valley is an independently owned and operated winter resort. However, it is also a part of the Ikon Pass destinations, meaning any Ikon Pass holder can ski at Taos.
The New Mexican ski resort spent $238k on its digital campaigns, reeling in 29.9M total impressions. Their top creative did not center on discounts or season pass promotions. Instead, Taos Ski Valley positioned family and community to cultivate ever-lasting memories on the mountain. While Epic and Ikon Pass's ad creative highlighted a lone skier catching air and kicking up fresh pow, Ski Taos celebrated the community as a whole.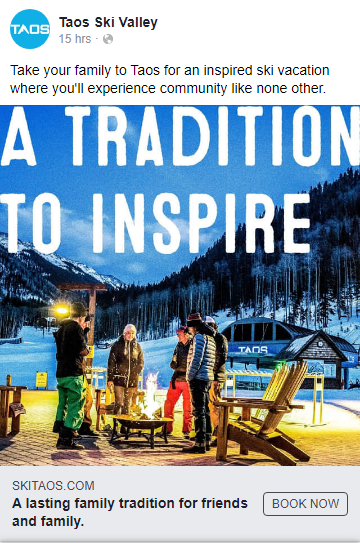 Since their spend strategy was not tied to time-sensitive promotions, Ski Taos could afford to be more experimental with their ad campaign run length. It seemed the resort was keen on testing campaigns on each channel every other week (mobile display one week, desktop display the next, etc.).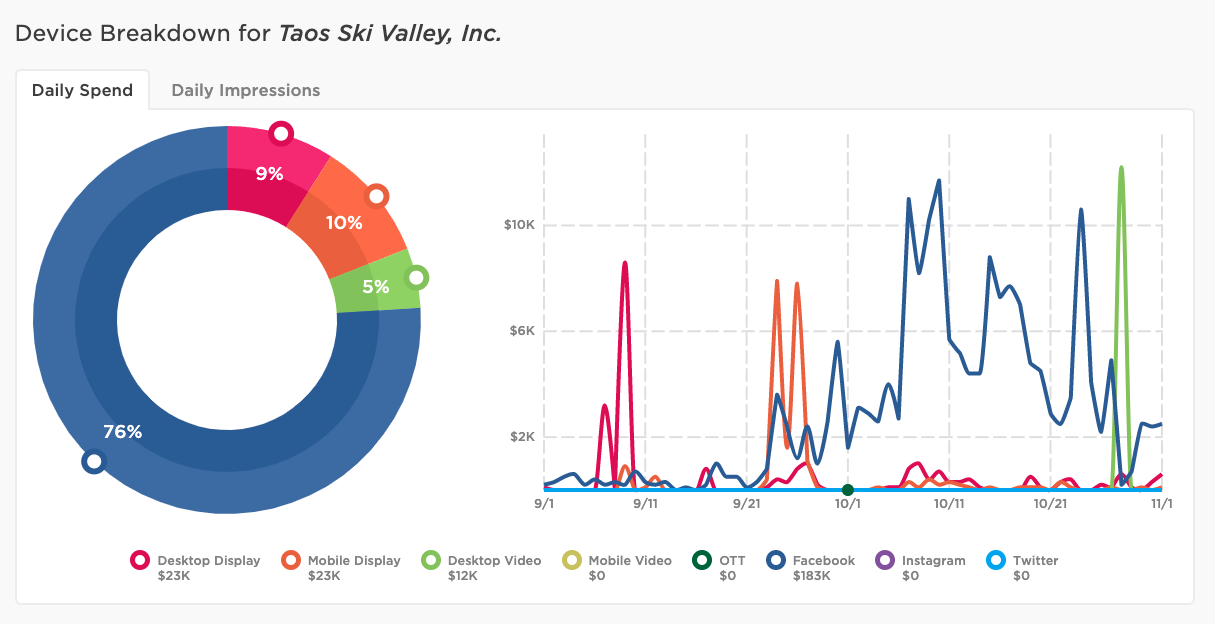 Last run of the day
No doubt, covid-19 has cast a dark cloud over many sectors of the economy, and mountain tourism is no exception. Beyond the economic implications for ski resorts, especially for its seasonal workers, the forced closure due to the pandemic is forcing the industry to confront another problem: climate change. Moving forward, mountain resorts and season pass programs like Ikon and Epic will need to continue to recoup their covid losses on top of brainstorming the long-term sustainment of their industry after the lifts close and snow melts.
To learn more about the data behind this article and what Pathmatics has to offer, visit www.pathmatics.com.