Markets With the Most Multifamily Construction Activity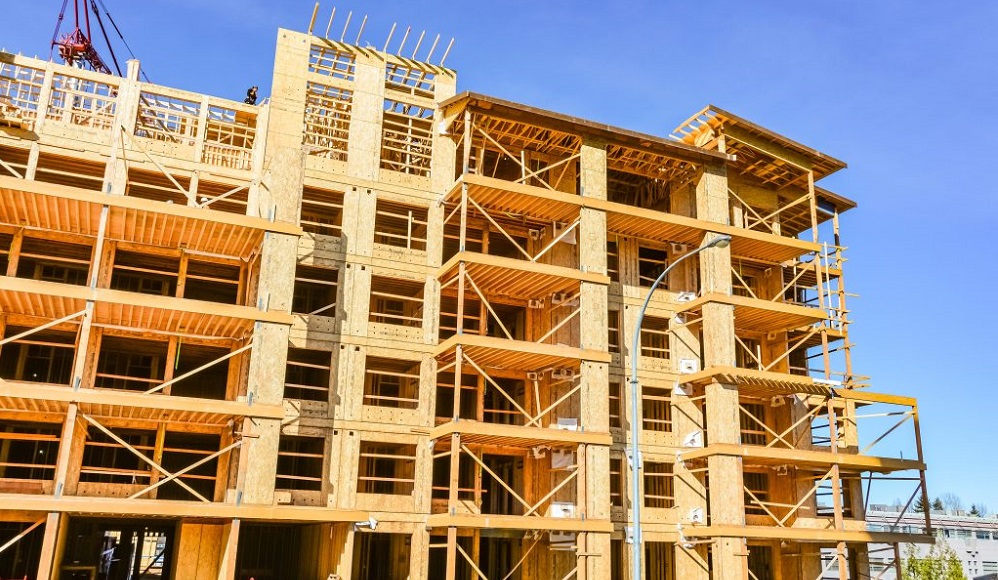 Apartment construction activity in the U.S. is at a record high, led by some key markets that are logging significant building rates.
Construction activity in the U.S. apartment market has skyrocketed over the past decade. As of 1st quarter 2022, there were nearly 760,000 conventional apartments under construction across the nation, according to data from RealPage Market Analytics. That is the biggest construction volume the U.S. has ever seen and will result in a 4.1% increase in the existing unit count.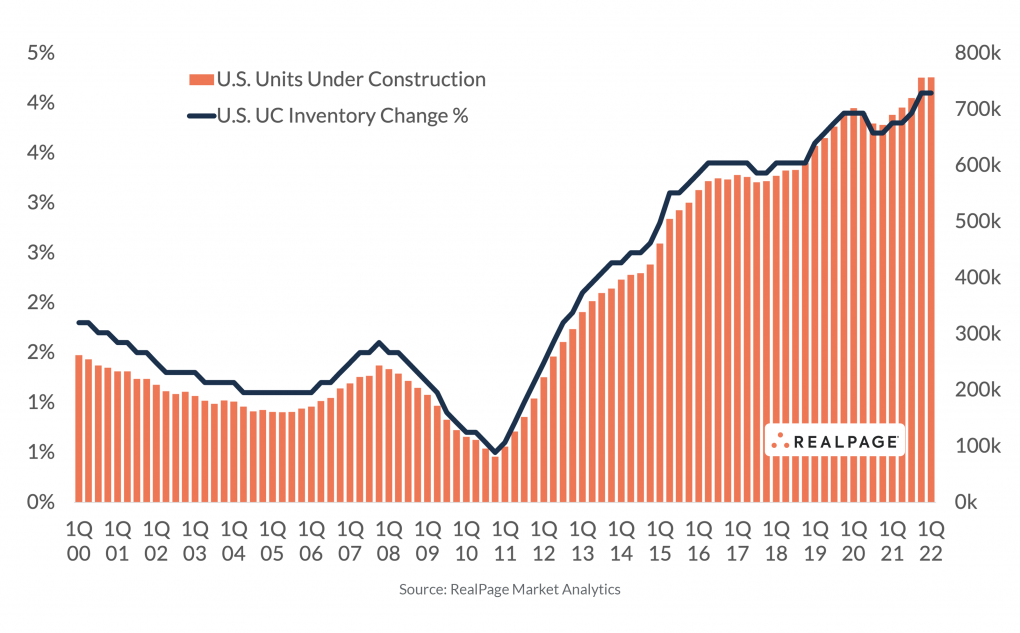 In addition to the typical heavy hitters, apartment markets with big volumes of stock currently underway also include Sun Belt markets and Mountains/Desert region areas as developers try to keep up with sizable in-migration.
[
](https://www.realpage.com/asset-optimization/market-analytics/)![](/uploads/220602-realpage2.png)
Phoenix
Phoenix is once again at the top of the charts for apartment construction activity. The more than 36,000 units underway in the West region market represents 9.5% of the existing inventory base. Despite being a development leader for much of the past several years, the Phoenix apartment market has outperformed. This relatively affordable market has seen a wave of new renters from more expensive areas along the West Coast. With new residents, however, came business relocations from nearby states, also drumming up apartment demand. As of April, apartment occupancy in Phoenix was well ahead of decade norms at 96.6%, while annual effective asking rent growth was incredible at 21.9%. While Phoenix is starting from a solid position, it is possible this market could feel some strain in the near term, as roughly 22,300 units – a big portion of the nation-leading supply volume underway – are set to complete in the coming year.
Austin
Over 33,000 new units are currently under construction in Austin, a volume that will increase the existing unit count here by 12.1%. That's the highest inventory increase expected among the nation's top 10 construction markets. On top of that, this has been one of the biggest growth markets during the current building cycle. The inventory in Austin has increased by 48.1% since the start of 2010. This was the nation's fifth-biggest increase after three Carolinas markets and Boise City, ID.
Like Phoenix, Austin has also been among the national leaders for rent growth in recent months, despite big building activity. As of April, prices were up 21.7% year-over-year. Occupancy was at a recent high for the market at 96.7%, though that did fall a bit shy of the national average. Apartment demand hit a recent high in Austin during the year-ending 1st quarter, spurred by strong job gains and corporate relocations and expansions in the tech industry.
New York
A regular on the construction activity leaderboard, New York is expected to see the delivery of almost 33,000 units in the near term. Since this is a very large apartment base, that new stock will grow inventory by just 1.7%. While New York was one of the hardest-hit markets during the worst months of the COVID-19 pandemic, this market has seen rebounding apartment demand in the past year, and that has led to annual rent growth of 22.9% and unheard-of occupancy above 98% as of April. This should help to insulate the market against the new supply wave that is on the way.
To learn more about the data behind this article and what RealPage has to offer, visit https://www.realpage.com/.