Foot Traffic Trends Reveal Consumers Ready for Holiday Cheer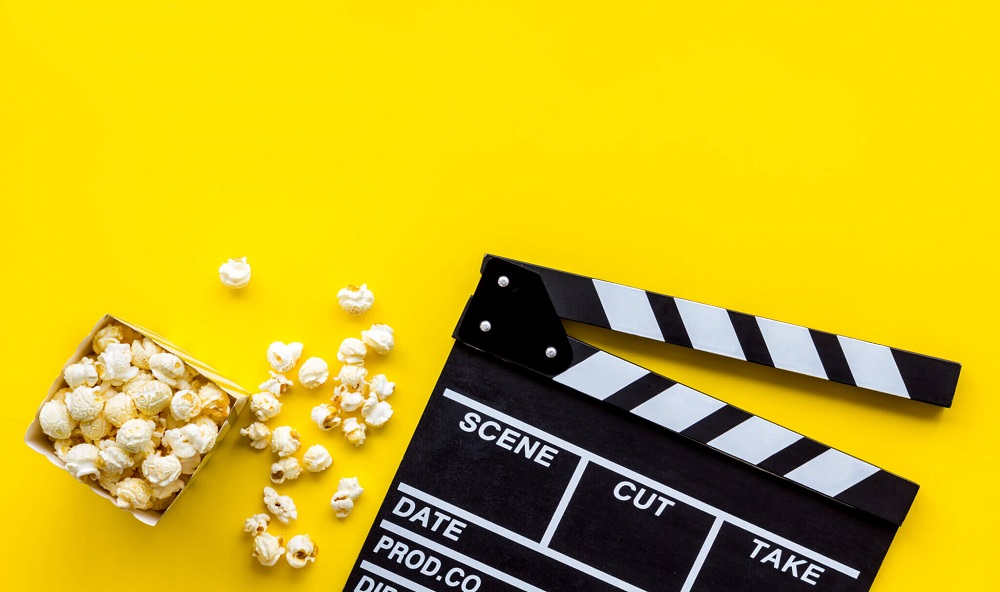 With COVID concerns fading, many consumers are now ready to enjoy life's simpler pleasures, from decorating their lawns for Halloween to going to the movies. So while inflation continues to dominate many of the retail headlines, diving into foot traffic trends in key discretionary categories provides plenty of reasons for optimism as 2022's holiday season picks up steam.
Black Panther: Wakanda Forever Draws In the Crowds
Despite the hand-wringing over the post-COVID future of movie theaters, audiences over the past year have consistently turned up to watch exciting releases as soon as they drop. Action and sci-fi/fantasy films succeed particularly well at the box office, so it's no surprise that movie theater foot traffic peaks are now usually driven by these genres – and recent foot traffic data suggests that the trend is continuing.
October 2022 saw its smallest year-over-three-year (Yo3Y) visit gap the week of October 17th with the release of Black Adam, and November started off even stronger with Black Panther: Wakanda Forever. The week of the film's release saw foot traffic to AMC Theaters and Regal Cinemas up by 29.3% and 21.0%, respectively, relative to the equivalent week in 2019.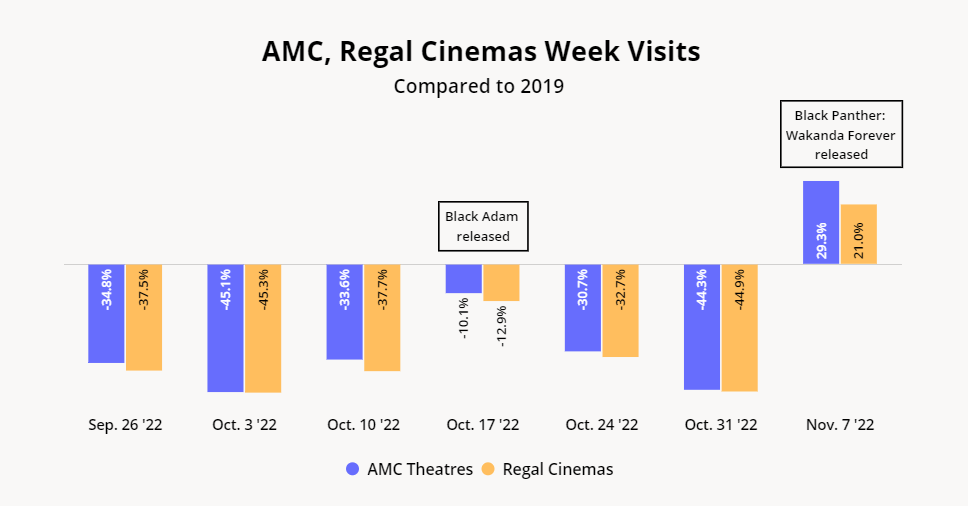 Ticket Price Increase Makes Up For Foot Traffic Decline
While looking at the graph above reveals the potential certain movies have of drawing audiences back to theaters, the numbers also highlight the persistent visit gaps that continue to plague the sector. But diving a little deeper shows that returning to pre-pandemic foot traffic levels is just one way that movie theaters can make a comeback.
As going to the cinema evolves from a regular activity to a special occasion outing, movie-goers are willing to pay more for each ticket. This means that chains such as AMC and Regal could potentially reach pre-pandemic revenue without pre-pandemic visit numbers, as illustrated by comparing opening weekend stats for the two Black Panther movies.
Over the opening weekend of Black Panther: Wakanda Forever, AMC and Regal received around half as many visits as during the opening weekend of 2018's Black Panther. At the same time, and despite inflation and tighter consumer budgets, Black Panther: Wakanda Forever drove only a 10% decrease in opening weekend box-office revenue domestically.
Of course, comparing opening weekend visit numbers cannot provide a precise assessment of the difference in visits for the two Black Panther films, since some guests visited the movie theater to see other films. Still, it's likely that a majority of movie-goers turned up to watch the highly-anticipated new release. The fact that Black Panther: Wakanda Forever could generate almost as much ticket revenue over its opening weekend with significantly fewer visits than the original Black Panther indicates that the future of movie theaters is bright.
Consumers Return to Pre-Pandemic Halloween Patterns
Movie theaters are not the only discretionary category seeing a post-pandemic comeback. Popular Halloween-themed shopping destinations also experienced a foot traffic resurgence this year, with Party City and Hobby Lobby both seeing major visit bumps the weeks of October 24th and 31st when compared to foot traffic during the equivalent weeks in 2019.
Some of the spike is due to calendar fluctuations – the week of October 31st through November 6th, 2022 is being compared to the week of November 4th through 10th, 2019. But the foot traffic surge in party and decoration-related retailers does indicate that consumers are ready to partake in seasonal celebrations once again – despite the economic headwinds – which bodes well for Black Friday and the holiday retail season.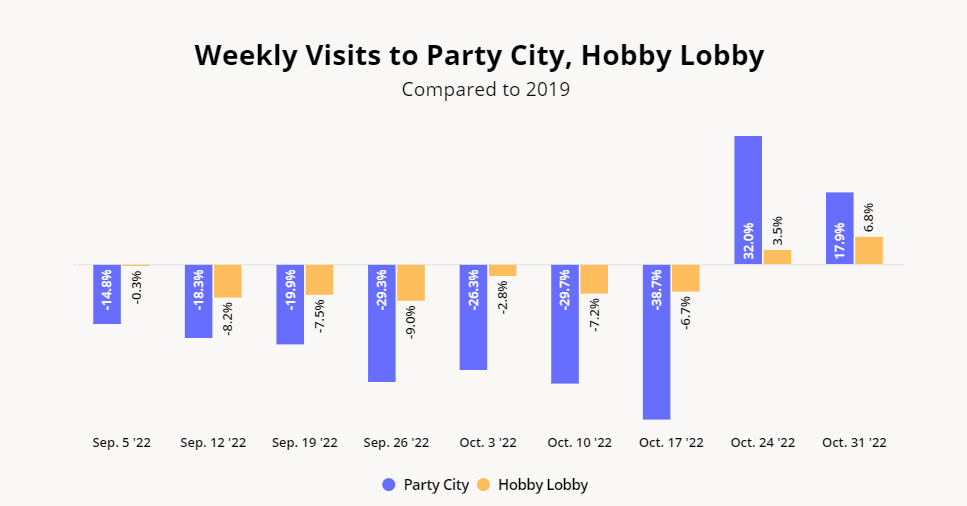 To learn more about the data behind this article and what Placer has to offer, visit https://www.placer.ai/.