Washington, D.C. Population Changes & Trends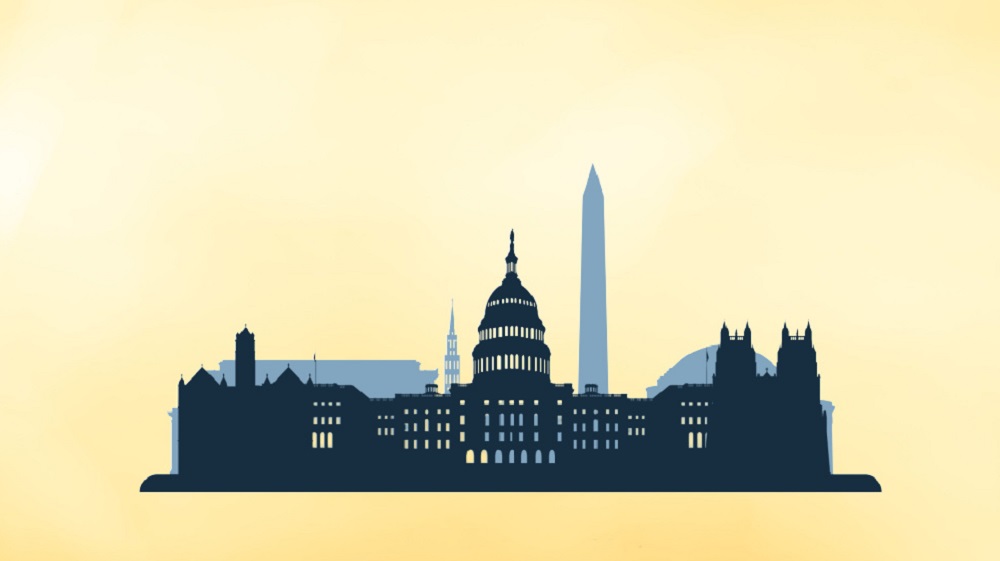 With its high concentration of government institutions, universities, and thriving art scene, Washington, D.C. has long attracted out-of-towners willing to relocate to take advantage of the city's unique professional, academic, and cultural opportunities. And while the population influx slowed over COVID, domestic migration trends appear to have fully bounced back, with both D.C. and its surrounding counties looking stronger than ever. We took a closer look at migration patterns and demographic trends over the past three years to explore who is moving in and who is moving out of the capital city and its surrounding areas.
Overall Population Changes
The COVID-19 pandemic significantly impacted population trends in major U.S. cities, and Washington, D.C. was no exception. Prior to COVID, the city – home to a large student population – was prone to certain seasonal fluctuations, with populations regularly dipping in May and rebounding in September. But in March 2020, as government buildings, offices, and universities shifted to remote work, D.C.'s population plummeted, and remained below 2019 levels throughout the rest of 2020 and much of 2021. Now, Washington D.C.'s population decline has not just reversed – the city's population is significantly higher than it was pre-pandemic. As of November 2022, the District had 6.5% more residents than in January 2018.
In contrast, neighboring cities Arlington, VA and Alexandria, VA – popular with many D.C. commuters – continued seeing stable growth patterns, even though the cities' proximity to the nation's capital lost much of its relevance with the shift to remote work. From January 2018 to November 2022, Arlington's population grew by 3.5% and Alexandria's population grew by 9.6%. Nearby Prince George's County, MD, another D.C.-adjacent area, also saw its population remain steady during the pandemic and beyond, with 3.5% population growth between January 2018 and November 2022. These counties seemed to follow migration patterns seen throughout much of the country, where smaller CBSAs (Core Based Statistical Areas) experienced growth.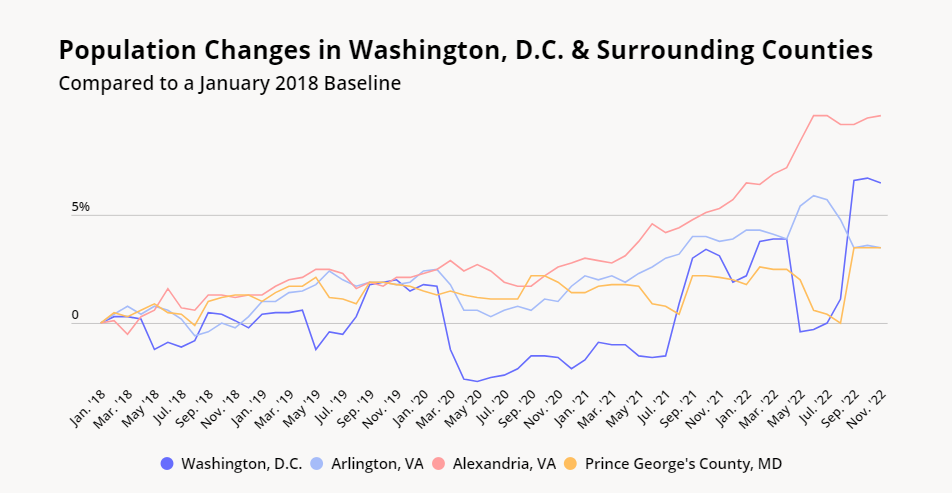 ‍Downtown Revival
The difference between the pandemic population trend line in Washington, D.C. and the population trend line in the counties surrounding the District may have to do with the different demographics that each county attracts. D.C. is known for its high share of young adults – 17.3% of D.C.'s population is between 20 and 29 years old, compared to just 13.1% of the general population nationwide. The median age in the District is also on the younger side at 34, in contrast to neighboring cities and counties such as Arlington, Alexandria, and Prince George's County, where the median age is higher – 36.5, 37, and 38, respectively.
Digging deeper into D.C.'s recent inbound migration trends also shows that the significant influx of new residents is mostly concentrated in the city's downtown areas. Neighborhoods such as the West End, Mount Vernon, and Capitol Hill saw their populations increase by 53.1%, 18.9%, and 13.7%, respectively, between December 2019 and November 2022.
Many of these D.C. newcomers are young professionals looking to establish careers in government, politics, or policy – a trend reinforced by the prevalence of single-occupancy housing in D.C. With 48.2% of all households occupied by a single person – compared to just 29% nationwide – the city is sometimes referred to as "the loneliest city in America." The single-occupancy households, high concentration of higher-education institutions, and wealth of government and policy jobs help make Washington, D.C. a desirable destination for young professionals.
These demographic patterns can also explain why D.C. saw a dramatic population drop over the pandemic – many of the city's residents were likely unattached students or young professionals who chose to leave once they no longer had a logistical reason to stay in town. Meanwhile, the more suburban nature of Alexandria and Virginia likely appeals more to families and individuals looking for a longer-term, more stable living arrangement – and who probably have reasons to stay in their city even without the draw of an easy commute.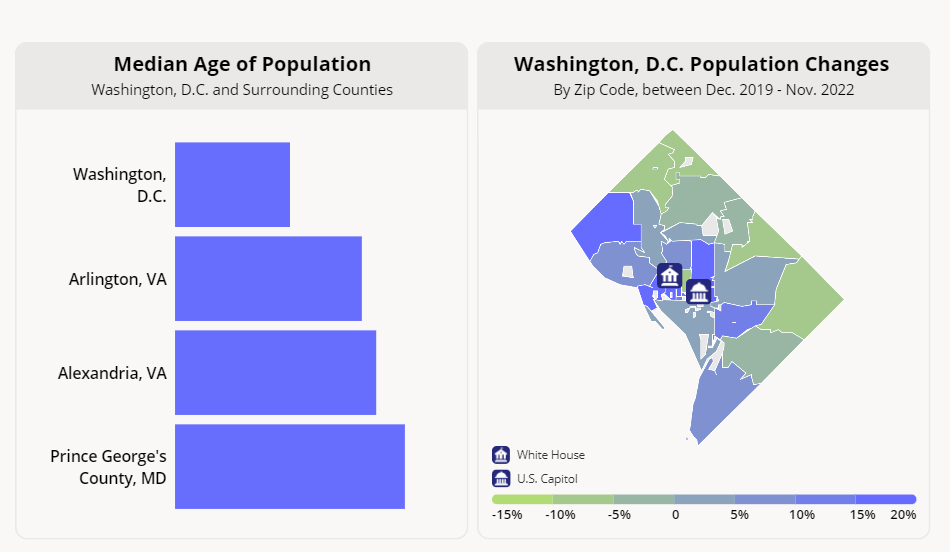 Demographic Shifts in the DMV Area
D.C.'s domestic migration patterns offers insight into the role of the city as a destination for young professionals drawn to the city for its job opportunities and proximity to the nation's political hubs. As these young professionals become more established in their careers and families, many choose to move to surrounding areas in Maryland and Virginia. Despite this, D.C. remains an important gateway city for upwardly mobile young professionals, and the surrounding areas only stand to continue to benefit from that positioning.
To learn more about the data behind this article and what Placer has to offer, visit https://www.placer.ai/.