Guest Sentiment Improves; New Drivers Behind Dining Decisions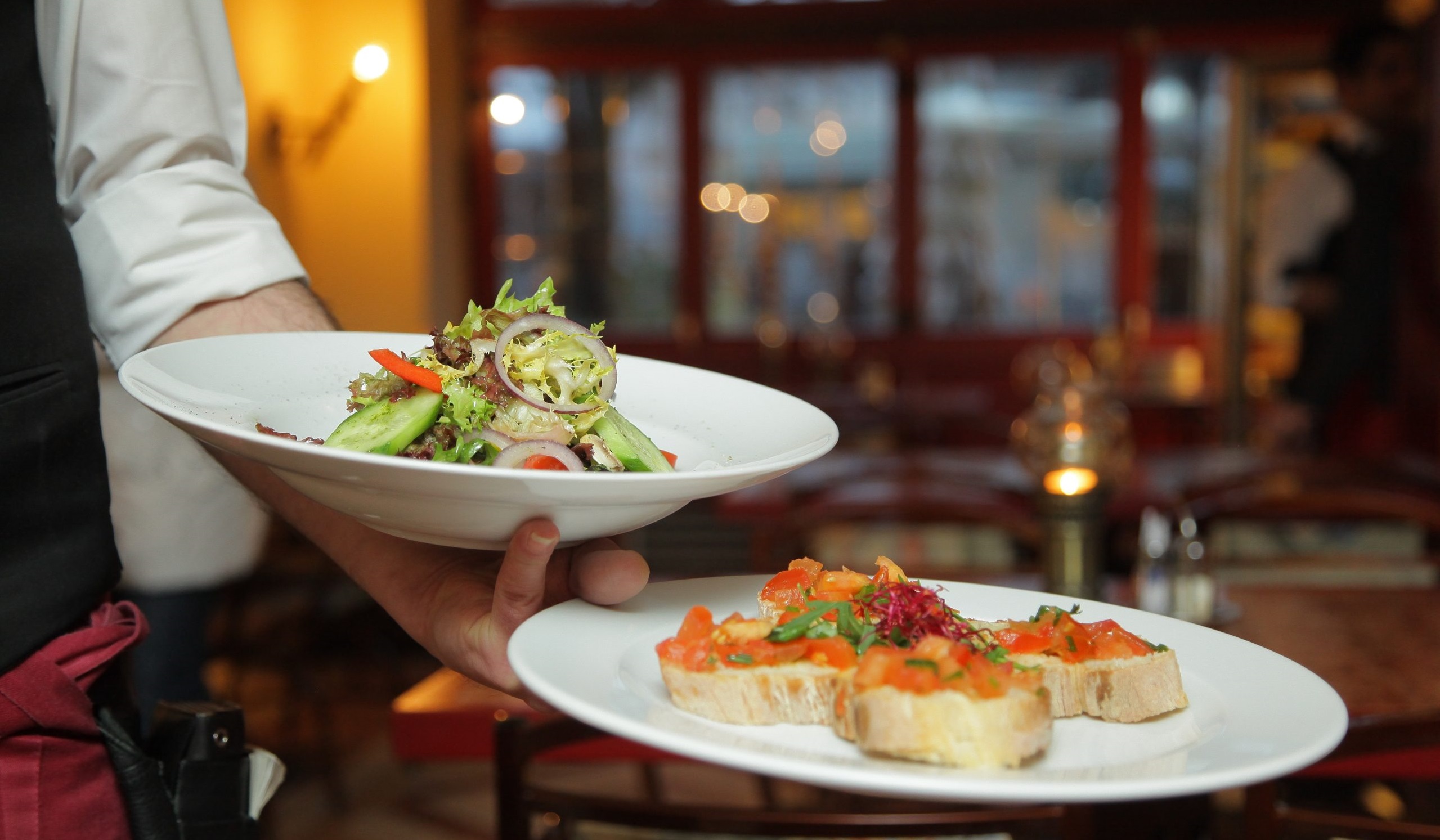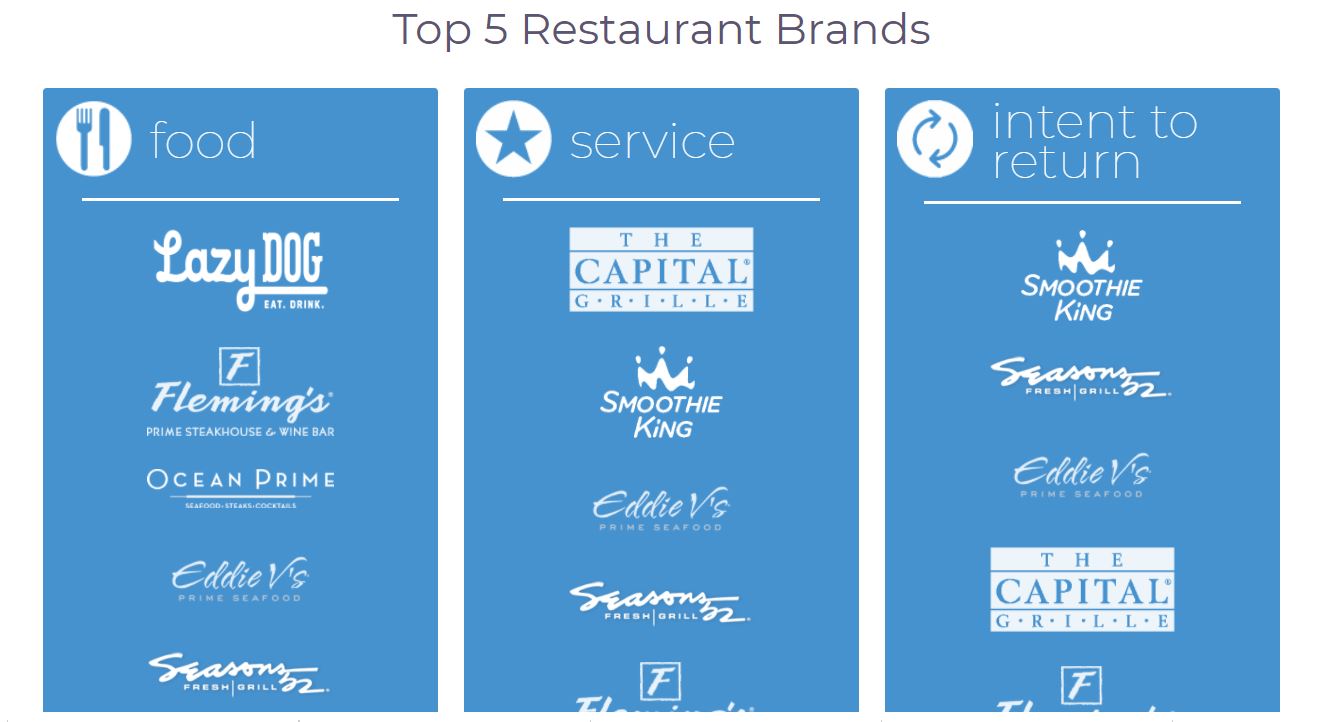 For an industry that was among the hardest hit by the pandemic, September brought some welcome good news. The sales recovery continued into September, which at -8.1% same-store sales growth, became the best performing month since February (before the pandemic hit restaurant sales at a national scale). Not only was this the first month of the COVID era that had restaurants losing less than 10% of their sales year over year, but it also represented a small acceleration in the pace of sales recovery compared to previous months.
But with COVID cases surging again, cooler weather starting to limit outdoor dining and as the uncertainty related to the election builds up (especially if results take longer to tally this year as many experts predict), there may be another flattening of the recovery curve for restaurants as we first experienced around July.
The good news went beyond restaurant sales and traffic, the latter also having its best month since February. Restaurant guest sentiment showed a considerable year-over-year improvement during September based on two key attributes of the restaurant experience: food and service.
For the last two consecutive months, over 50% of all guest online mentions related to restaurant food on were classified as positive. This is significantly higher than food sentiment measured a year ago and a huge improvement from the 34% of positive food sentiment measure back in April during the height of the pandemic impact. This is probably the result of guests adjusting their expectations to the current reality and being more forgiving of restaurants, particularly when they feel other aspect of the experience such as cleanliness and a sense of safety are being met. Is restaurant food much better today than it was a year ago? It's likely there are other concerns more pressing today, and guests may be a little more lenient as a result.
A similar pattern was observed for guest sentiment based on restaurant service, which became almost 7 percentage points more positive year over year in September. The percentage of all service-related mentions that were classified as positive approached 60% during the month, a far cry from only 33% of them being classified as positive back in April. Much as what was described for food, service guest sentiment during August and September has been among the most positive measured in years. Many service-related guest comments are centered around following COVID safety protocols and restaurants following through may be part of the story on these soaring service scores.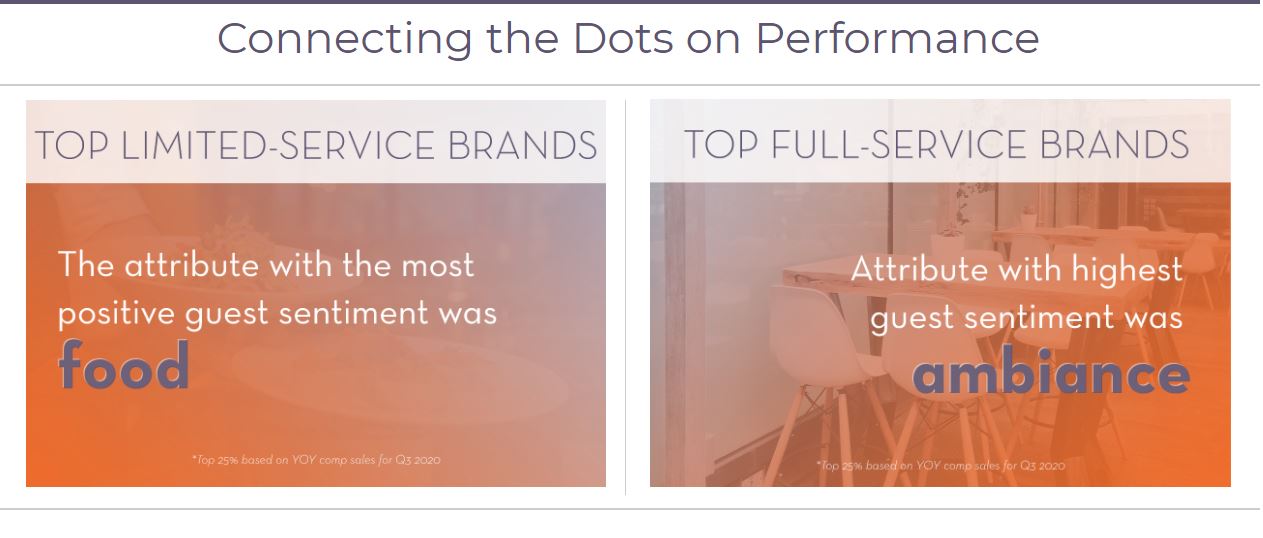 There is no doubt the pandemic upended the restaurant industry and guest behavior and expectations. Guest sentiment, as would be expected, took a severe tumble along all dimensions of the restaurant experience during the second quarter of the year, as the industry scrambled to get on its feet again. But by the third quarter there seemed to be a new sense of stability in place as operators and guests felt more comfortable in this new environment. Guest sentiment started improving as newfound expectations were being met. But what seems to matter the most for guests in this new reality? What aspects of the restaurant experience are they rewarding the most with increased sales and traffic?
Analyzing guest sentiment for top performing restaurant chains provides some interesting answers to these questions. Top performing chains were defined as those among the 25% of all restaurant chains per segment (full-service* or limited-service*) that had the highest same-store sales growth during the third quarter of 2020.
In the case of full-service restaurants, of all attributes that make up the restaurant experience (food, beverage, service, ambiance and value), ambiance was the attribute with the highest average guest sentiment for top performing chains. While on average ambiance scores for all restaurants have improved in recent months, a closer look into ambiance revealed that is the cleanliness component that is driving this improvement. In the case of those full-service restaurants that are outperforming the rest on sales, their guests have expressed it is their ambiance they feel the most positive about, while value was the attribute with the least positive score.
For limited-service restaurants the story is partially different. Top performing chains achieved their highest guest sentiment scores through food during the third quarter, more than any other attribute of the restaurant experience. It makes sense that for restaurants that are primarily focused on faster and convenient interactions, before and even more now due to COVID, guests seem to be placing a premium on food and less on things like ambiance and service. What is similar though was that, for top performing limited-service chains, value was also the attribute in which they received the lowest guest sentiment scores. It appears that during a pandemic that has changed almost all aspects of our lives, a great value may not be top of mind for consumers right now and there are other key drivers behind their dining decisions.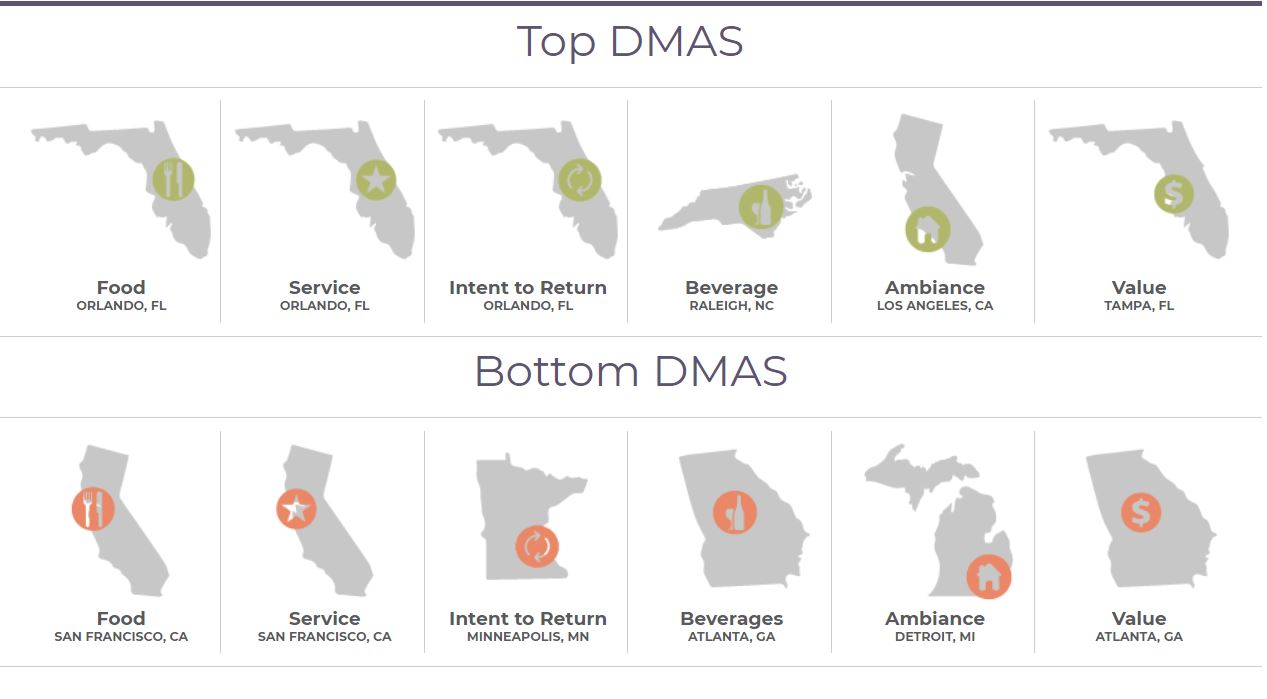 Another area in which there was a return to a certain sense of normalcy was in guest sentiment by major metropolitan area. As has been the case for years, guests in major markets of Florida have proven themselves to be among the most positive when rating their restaurant experiences. And within those markets, Orlando is typically the one with the strongest restaurant sentiment around several attributes each month. During September, this market had the most positive sentiment based on restaurant food, service and intent to return. Rounding out the strong performance by Florida was Tampa, the major metropolitan area with the strongest sentiment based on restaurant value.
The market with the most positive sentiment based on restaurant ambiance during September was Los Angeles. Digging deeper on the ambiance attribute shows some interesting results for the month. The three metropolitan areas with the most positive ambiance sentiment were Los Angeles, Orlando and New York. Nothing new in finding Orlando near the top, but Los Angeles and New York did not even crack the top 10 the previous month. Given that many ambiance-related reviews and comments are focused on the restaurant's cleanliness, it is interesting to find these two large cities which had to endure major COVID outbreaks and are still under tight capacity restrictions as having the most positive ambiance sentiment. This may be another example of guests adjusting their expectations to safety and cleanliness, particularly in those areas that were hit the hardest, and rewarding those restaurants that are following the expected protocols and giving them a sense of safety.
To learn more about the data behind this article and what Black Box Intelligence has to offer, visit blackboxintelligence.com.