Wegovy is Back on Shelves, Picking up Ozempic's Momentum in Obesity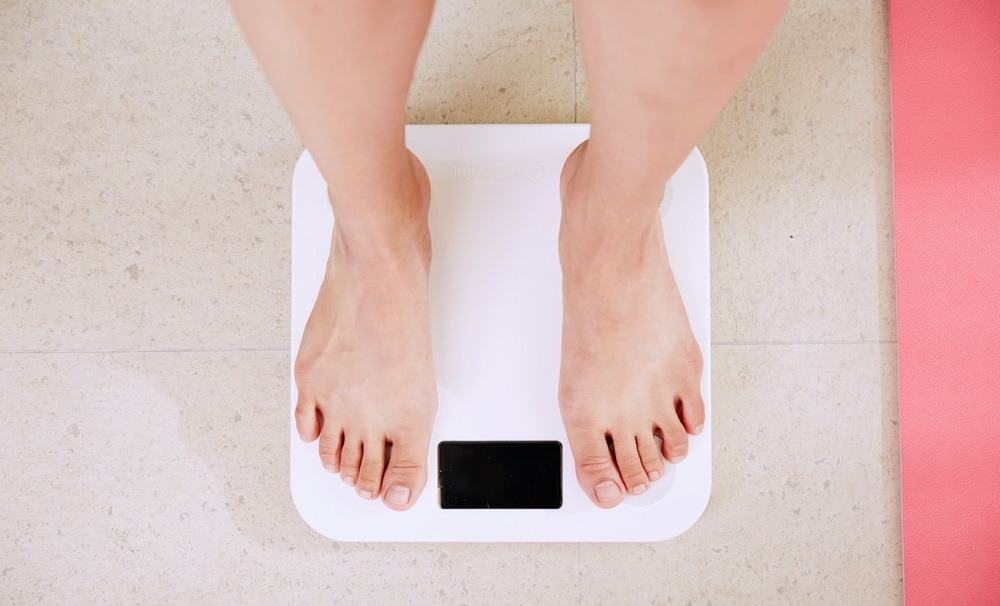 Key takeaways:
The GLP-1 market grew ~4x in four years, spearheaded by Ozempic (NVO), Trulicity (LLY), Mounjaro (LLY), and Wegovy (NVO)
Off-label use of Ozempic accelerated ~5x through Wegovy's supply shortages in 2H22
GLP-1 agonists, originally approved for the treatment of Type 2 diabetes, are now used ~11% of the time to treat obesity/weight-related diagnoses, up from ~2%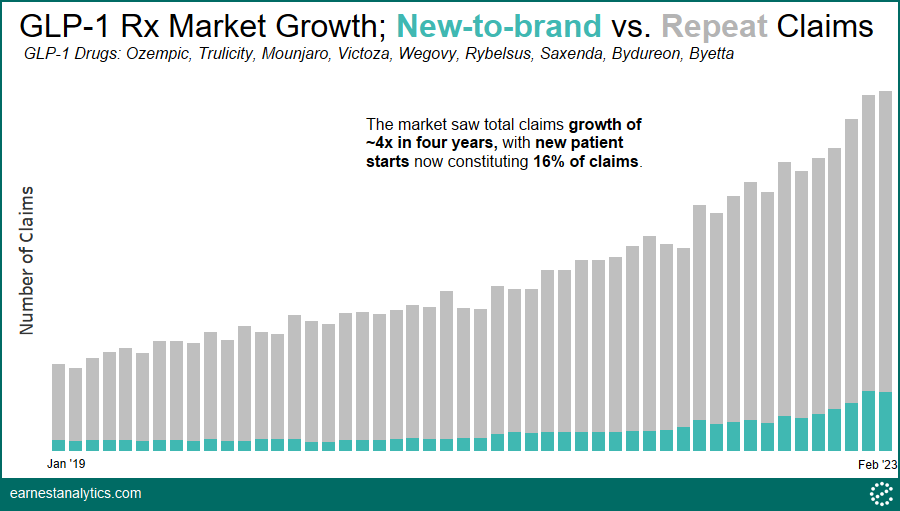 The total number of claims among the entire GLP-1 class of diabetes and obesity drugs grew rapidly in the past four years according to Earnest claims data; growing 4x in the past four years with particular accelerated growth in the past several months. February 2023 alone saw growth of 78% YoY, up from ~50% YoY in 2022 and ~30% YoY in 2021.
As a sign of continued growth, new-to-brand prescriptions accelerated in 2H22, and now constitute 16% of prescription claims, up from a relatively steady ~10% in the past.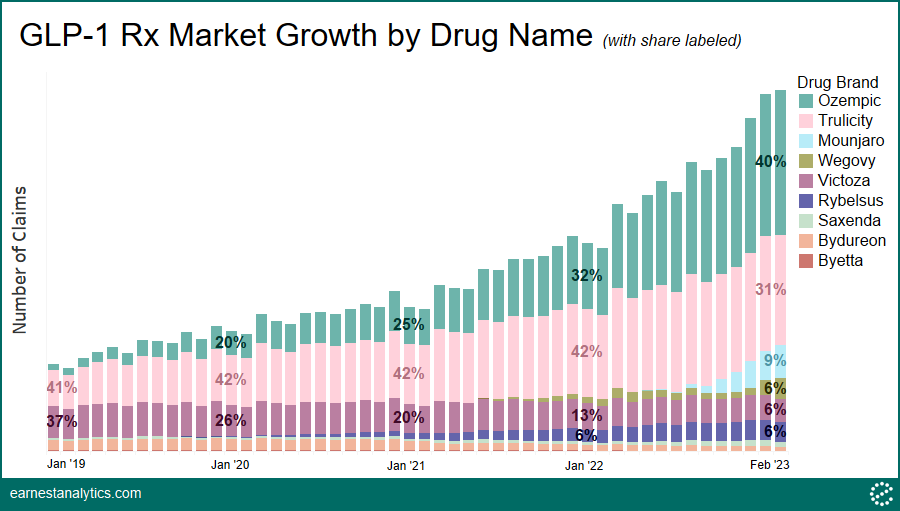 By drug brand, Ozempic and Trulicity are the top-selling GLP-1s in Type 2 diabetes. Ozempic, despite being later-to-market than Trulicity, made significant gains in claims share since its initial approval in 2017, and is now the market leader at 40% of claims to date.
Newer entrants, Mounjaro and Wegovy, have also gained significant traction and boast impressive growth trajectories despite limited time on market. Wegovy, now at 6% share, was approved for obesity in June 2021, but faced supply shortages for the majority of 2022. Newcomer Mounjaro by Eli Lilly, now at 9% of the market, activates both the GLP-1 and GIP receptors, offering patients improved blood sugar control and significant weight loss benefits, and is in fact looking to expand into obesity according to the company.
Off-label Ozempic use accelerated ~5x as Wegovy supply ran short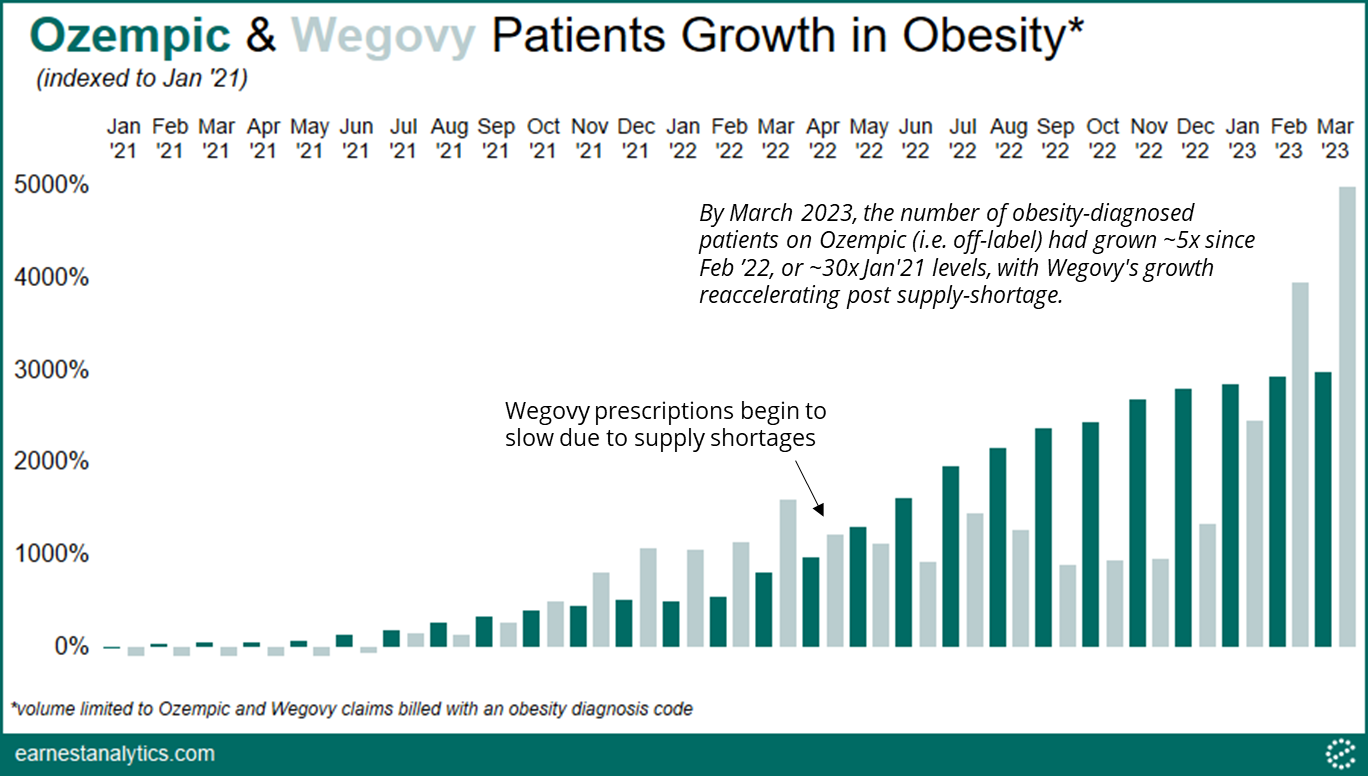 Wegovy and Ozempic have the same active ingredient (semaglutide), but are branded separately by Danish drugmaker Novo Nordisk due to differences in indication, concentration, and dosing schedule. Ozempic launched 4 years earlier than Wegovy and was already being used off-label in obesity prior to Wegovy's approval. Off-label Ozempic use grew in parallel with Wegovy's initial volume ramp in the second half of 2021 and on-label Wegovy rapidly surpassed off-label Ozempic use in September 2021. However, the Wegovy supply shortage hit an inflection point in March/April 2022 and prescriptions decelerated.
With Wegovy supply woes in mind, obesity remains an underpenetrated market for Novo Nordisk; however, the Danish drugmaker recently announced that Wegovy's supply rebound is on track. Indeed, Earnest data has begun tracking rapid month-over-month Wegovy growth starting in December 2022.
GLP-1 obesity prescriptions covered by health insurance accelerated to 11% share after Wegovy's approval in June 2021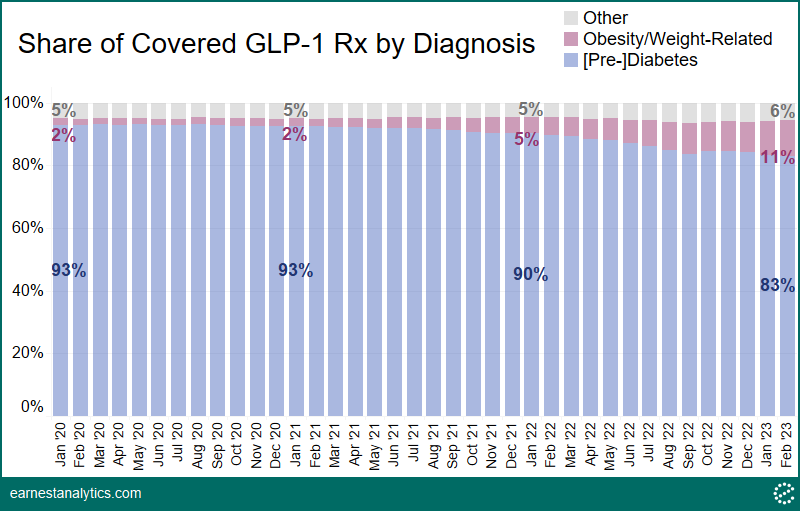 The share of insurance-covered GLP-1 claims with an obesity diagnosis, buoyed by Wegovy, is now ~11%.
Though Saxenda has been approved for obesity since 2014, Wegovy demonstrated more impressive weight loss outcomes than its predecessor and benefited from recent social media attention. Before Wegovy, however, GLP-1 use in obesity was relatively limited – from January 2019 to June 2021, the percentage of total monthly GLP-1 patients with an obesity diagnosis averaged ~2%. Since then, after Wegovy's approval, Earnest claims data indicate that GLP-1 use in obesity accelerated to 11% to date.
To learn more about the data behind this article and what Earnest Research has to offer, visit https://www.earnestresearch.com/.