Economic recovery looks very different among Asian countries
Not every country is experiencing the impact of the COVID-19 shutdown in a similar manner. By examining data from Datamyne, a leading provider of customs import and export data, we can see that each country's experience is unique.
Estimated YoY growth in tonnage of shipments to the US in May based on the first 10 days of the month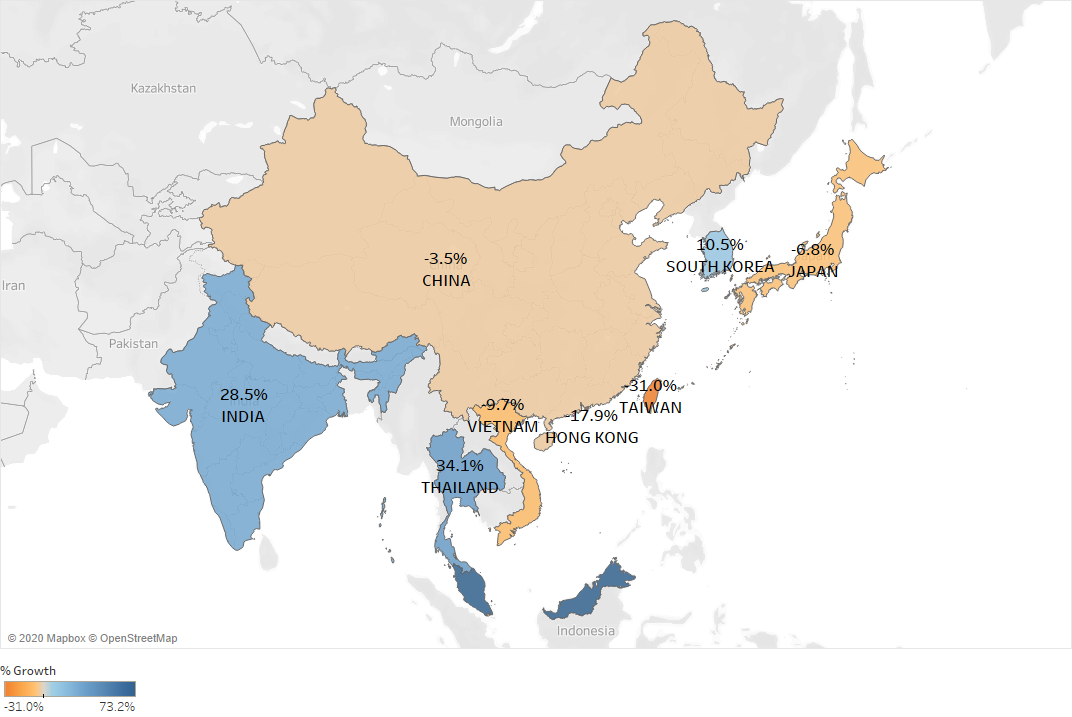 As the largest supplier of ocean shipments into the US, China saw the most dramatic decline among nations in the region, with shipments to the US falling 36% year over year in March. As dramatic as the reduction in Chinese shipments has been, the snap back has been equally as dramatic. Shipments for the month of April ended down only 5% versus a year prior. Sequentially, April was up 83% versus March. With Chinese factories open again, the country seems to be making up a lot of lost ground. With only 10 days into May, China is on track for a slight decline of 3.5% sequentially from April.
India has had a very different experience during the pandemic. The country experienced a slight reduction of shipments to the US in February which fully recovered. By April overall shipments were up 14% year over year and May is tracking to 29% growth based on early numbers.
Shipment stats by country

Datamyne has far more granular data, providing visibility at the shipper, company and even product level in some cases. We will follow up with more detailed coverage of the region.
To learn more about the data behind this article and what Datamyne has to offer, please reach out to Craig Hirschey at CHirschey@descartes.com.