Spanish Vacation with a side of pandemic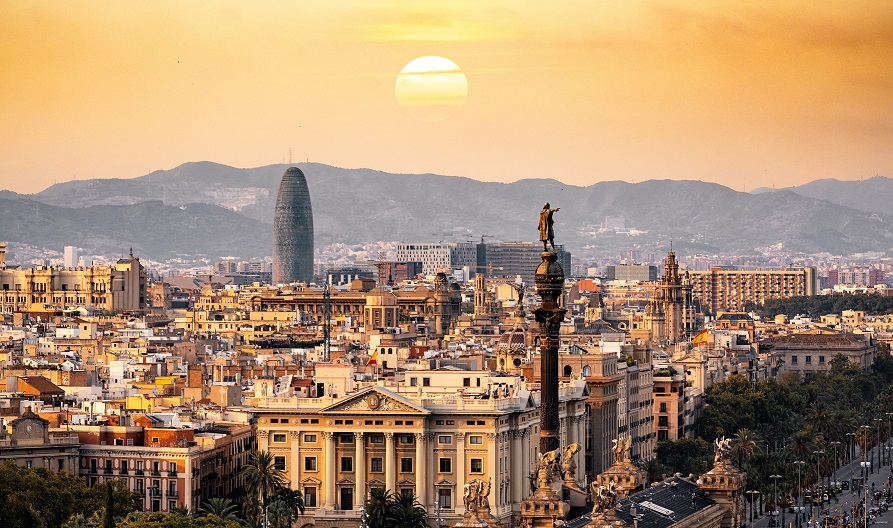 Data synopsis:
AirBnB 90-day forward occupancy in Spain has improved by 29% versus 30 days ago.
Overall, this metric is still down 44% versus a year ago.
Spanish borders are mostly closed in June, which is depressing the data. This should mean that July and August are seeing much lower rates of depression.
Dig Deeper:
Constantly shifting quarantining rules, mandatory mask wearing on airplanes and social distancing have left many asking whether the European summer vacation ritual will take a breather this year. With airlines such as American announcing increasing demand and air prices severely depressed it looks like summer is still on the calendar, although it's going to be anything but normal.
AllTheRooms Analytics is the world's first vacation rental search engine and an expert in vacation rental data. We used their data to uncover occupancy trends across Spain to see where people are actually booking.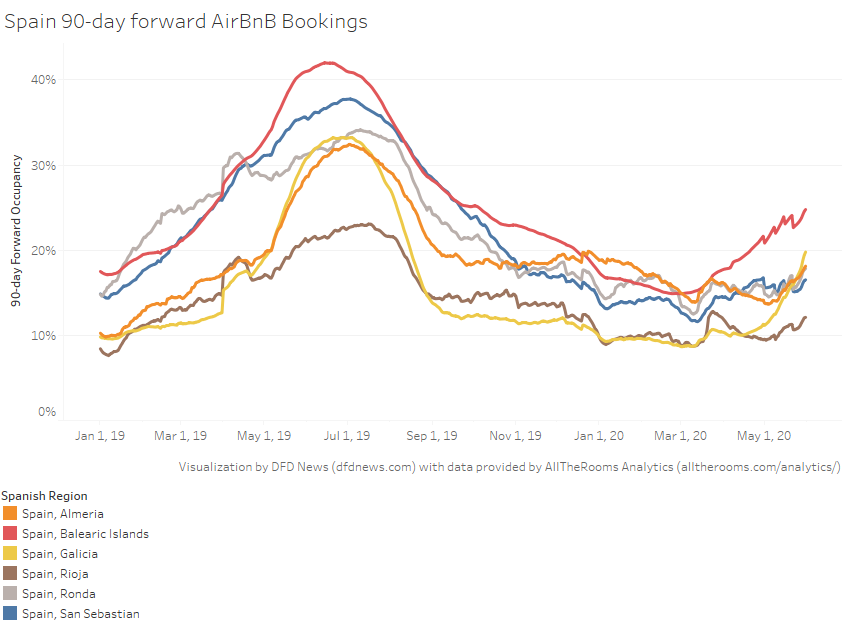 Spain's overall 90-day Airbnb occupancy rates, the percentage of nights that properties listed on Airbnb are booked over the next 90 days, reached 17.6% as of May 31st, a 29.0% increase month on month. This still represents a 44.0% drop versus 2019 levels.
The Balearic Islands, which includes Majorca, Ibiza, Menorca, and Formentera, had the highest forward occupancy rates, standing at 24.8%. This number was 41% a year ago and represents a 39.6% year on year drop.
The largest year on year declines were seen in Barcelona, Alicante, Valencia and Madrid. One explanation is that these cities are more heavily fueled by foreign tourists over the summer. Technically Spain is still in quarantine. The country has announced that tourists will be welcome back beginning July 1st. Losing all of June is a major factor in the depressed year over year numbers shown above. According to the Spanish government, the current mandatory 14-day quarantine will be lifted on July 1st.
Tourism represents 12% of GDP for Spain. Getting things restarted will be critical for the country whose unemployment rate is hovering at over 14%. One thing holding back tourism is clarity over which countries will be allowed in. Visitors will only be allowed from countries with "similar epidemiological situations," based on guidance from the European Centre for Disease Control and Prevention. Given the fluidity of COVID cases globally this could scare many people from traveling this summer. As we get closer to July, a clearer picture of tourism should emerge.
"The recovery in Spain may take longer than what we are seeing in the United States due to slower exit from lockdowns." said Joseph DiTomaso, CEO of AllTheRooms Analytics. "When the borders start opening up, we're going to see the rebound to 2019 levels accelerate in bigger cities. For now, markets such as the Balearic Islands suggest that there's still strong demand for short-term rental stays in resort towns and non-urban cities" he added.
To learn more about the data behind this article and what AllTheRooms has to offer, visit https://www.alltherooms.com/analytics/.