As millions stay home, home furnishing sites see record spend and visitation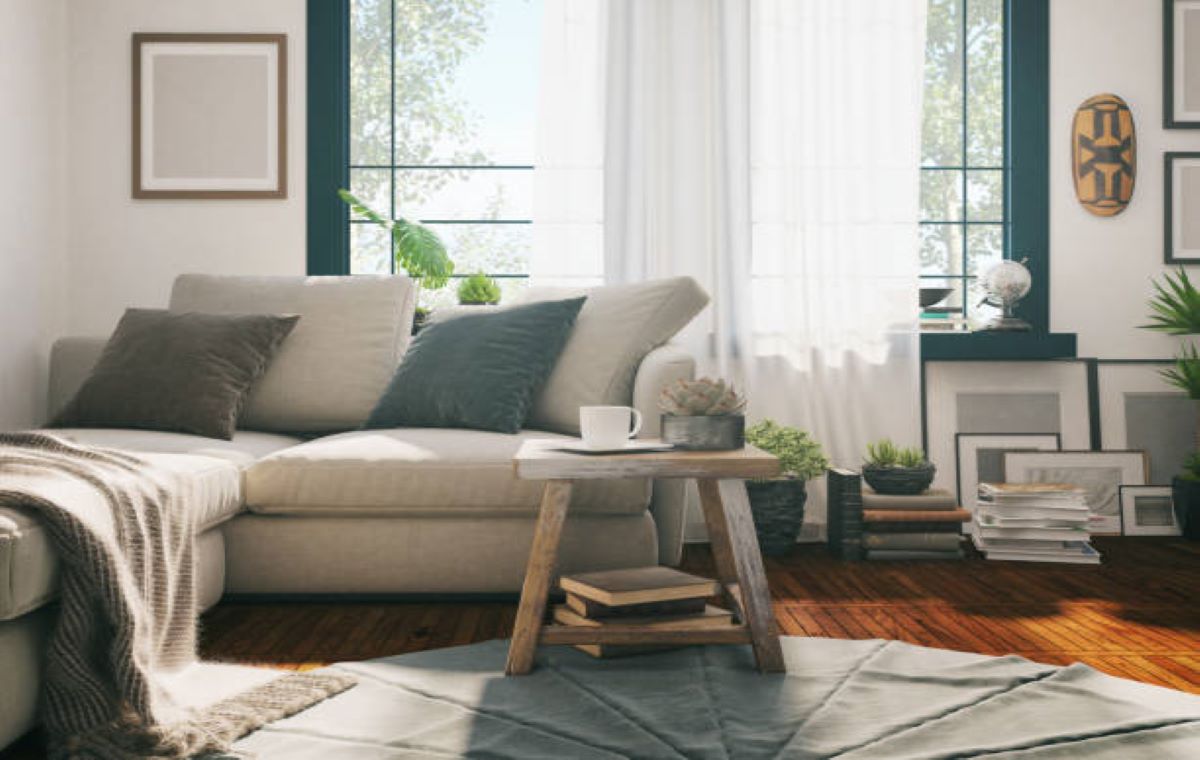 As millions of consumers are buying new homes and renovating their current homes during the COVID-19 pandemic, the retail home furnishings category has seen tremendous growth in both site traffic and spend.
In this analysis, Comscore examines recent trends in the online retail home furnishings category to understand how U.S. consumers engaged with these retailers online before and during the COVID-19 pandemic.
Using attitudinal and behavioral data from Comscore Plan Metrix Multi-Platform, we see that tens of millions of Americans are buying new homes and remodeling their current homes. In August 2020, 74.2 million consumers completed a home remodel job in the last year, an increase by nearly 20% compared to the same period last year. And, tens of millions of Americans indicate they are very likely to purchase a new home in the next six months, which sets up the trend to continue.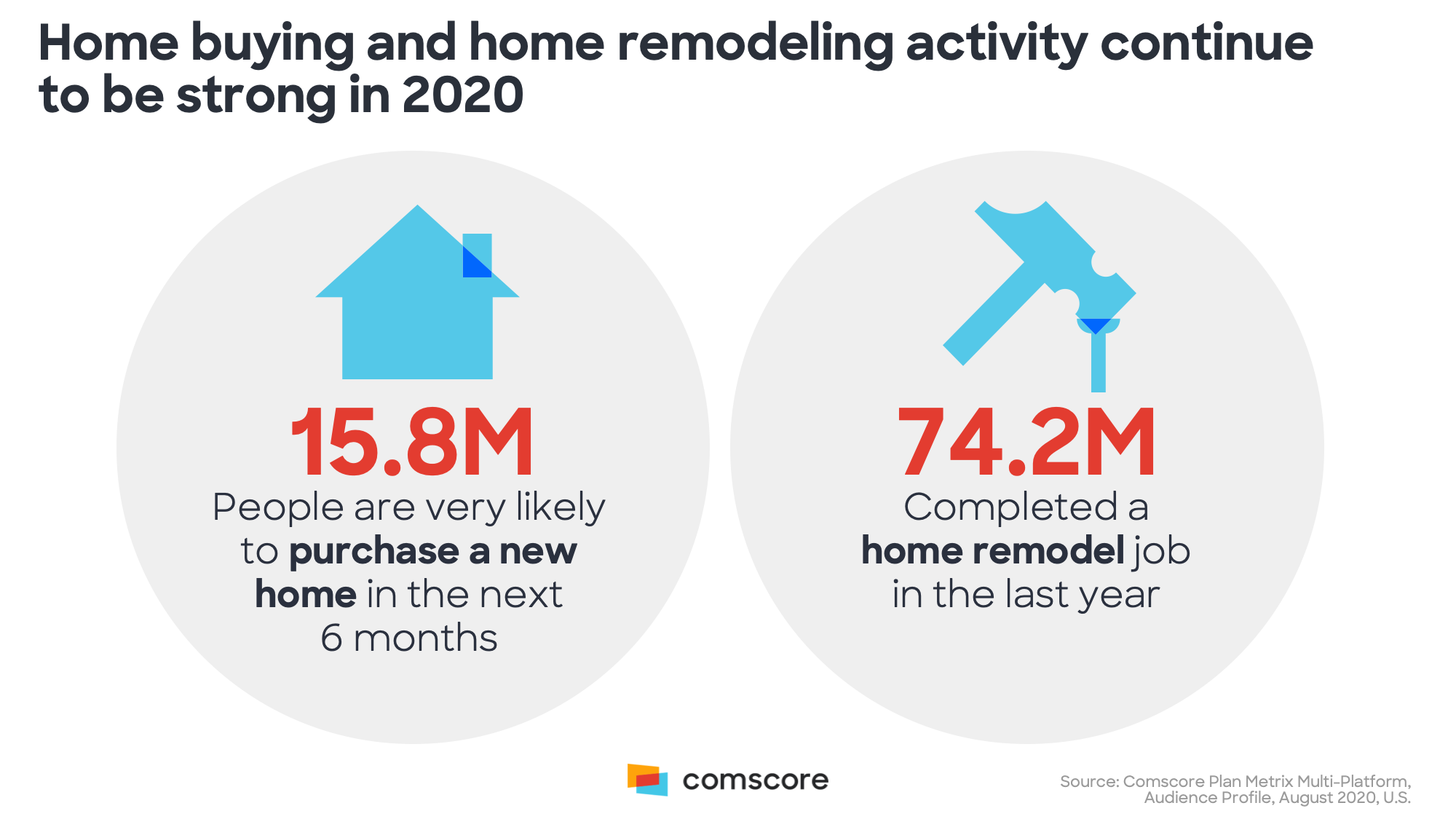 Home furnishings sites saw record visitation and online spend
Along with the surge of home remodels in 2020, we see from Comscore Media Metrix Multi-Platform that sites in the retail home furnishings category have also seen record high visitation numbers in 2020, with a peak of 133 million U.S. unique visitors in May 2020. We typically see an uptick in visitation to the retail home furnishings category from winter to spring months, but this year has increased noticeably more than the norm, up +26% from February to May. Additionally, visitation trends for the top three home furnishings retailers all spiked at the onset of the COVID-19 pandemic and have maintained higher than normal visitation since, even more pronounced than in the category as a whole. More importantly, when compared to 2018 and 2019 numbers, we see that the category has maintained this higher level of visitation for all months following the May 2020 peak.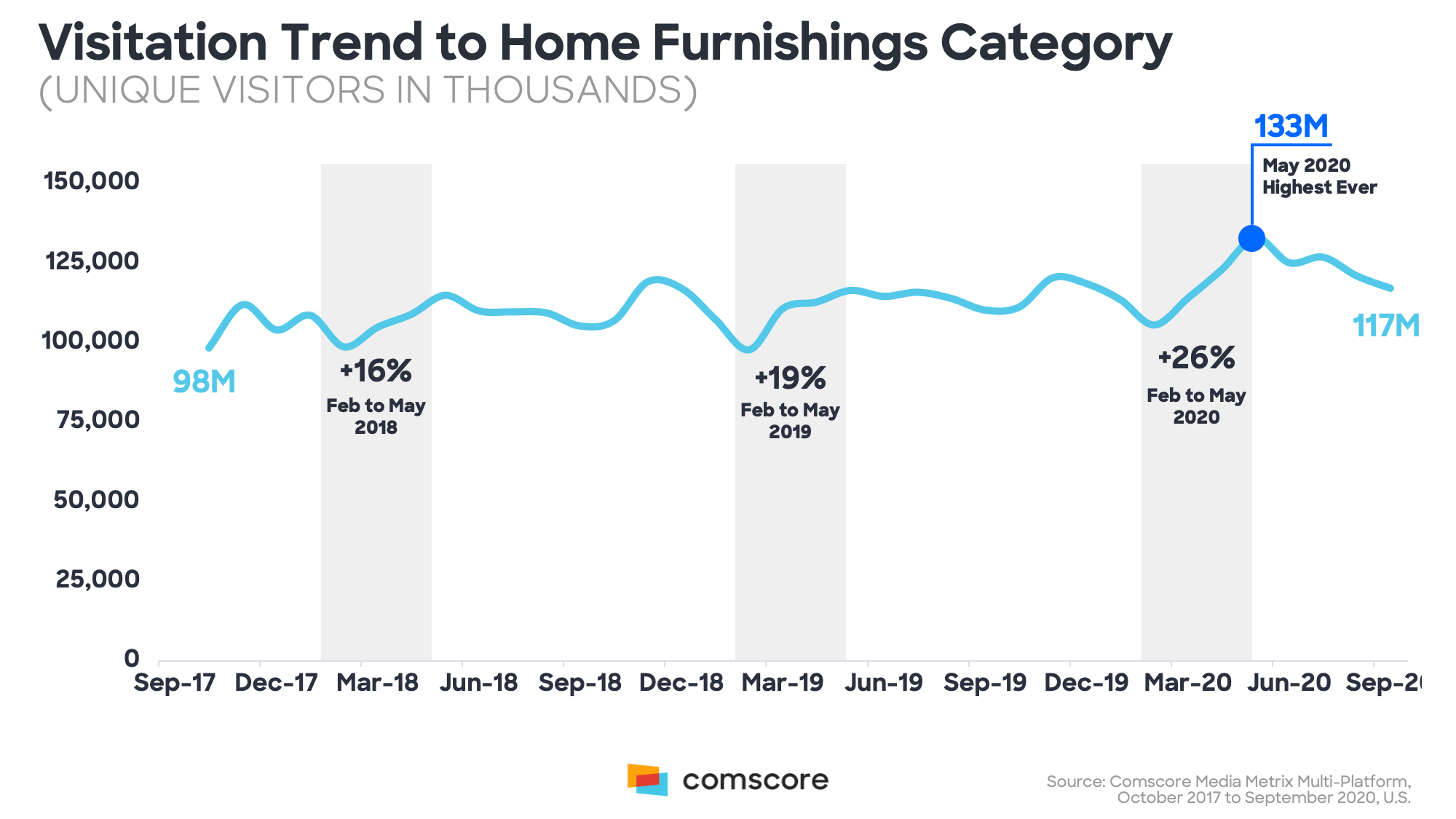 Consistent with online engagement, we've seen that the pandemic has also accelerated online spend significantly beyond prior years. Comscore e-Commerce and m-Commerce Measurement research indicates that online spending in the furniture, appliances and equipment category shot up to $12.1B in Q2 2020, making it the highest quarter ever, as consumers were spending more time at home and home spending became top of mind. The Q2 2020 quarter-over-quarter growth was unprecedented, boasting a nearly 50% increase vs. Q1 2020, compared to low single digits in the comparable periods of prior years. While seeing a slight decline post-peak, Q3 2020 was also significantly above the pre-COVID average, meaning that online spending on home goods continues to post record-breaking numbers.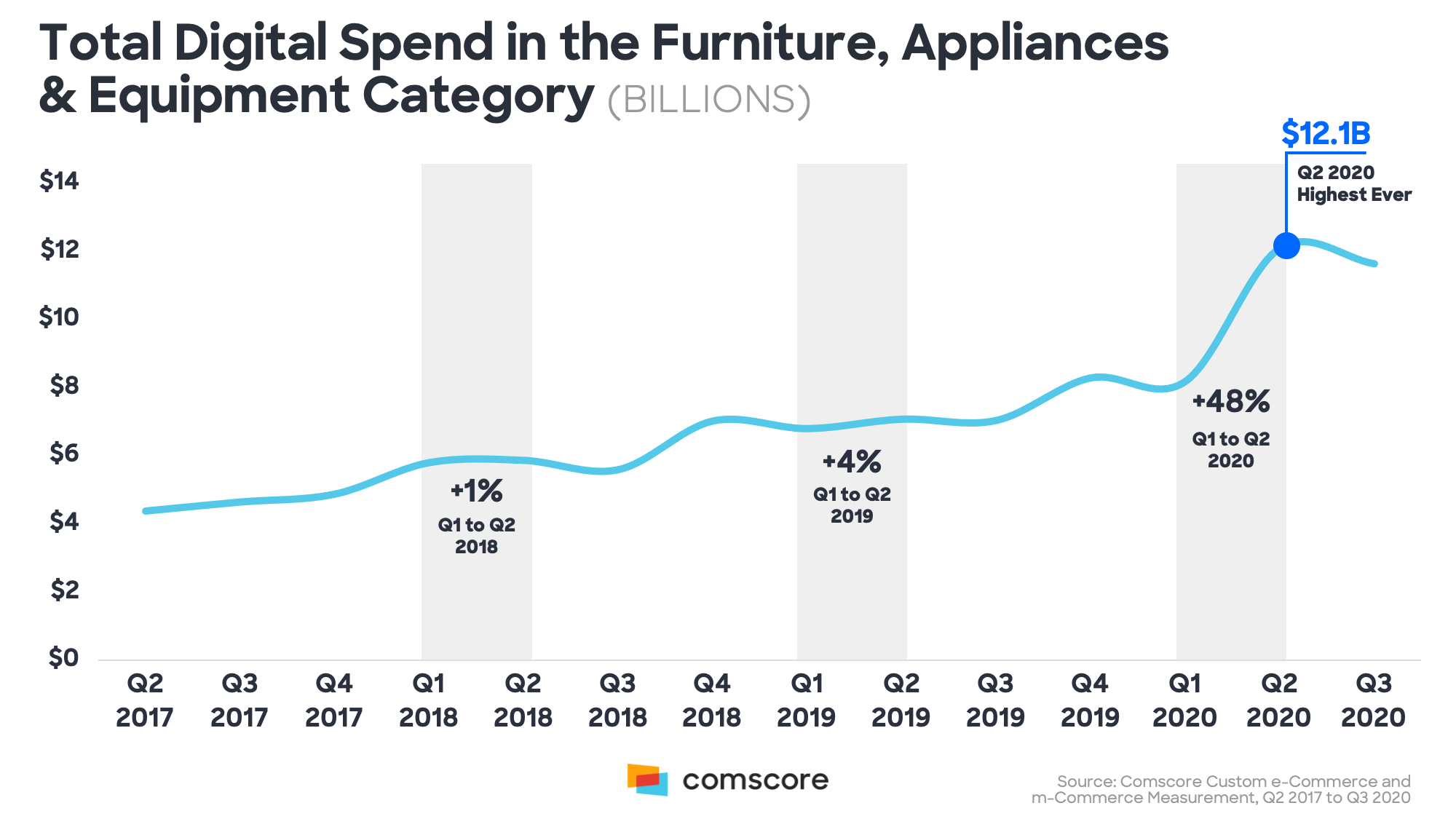 High potential for capturing sales during the online research process
How can online retailers take advantage of these shifts towards online home furnishings shopping and buying? Of the 108 million consumers who purchased a home goods product online from March through August 2020, 75% agreed that they conducted research online before making a major purchase. More specifically, one in every five customers who purchased home goods online purchased those products after watching video reviews.
This presents an area of opportunity for online retailers to influence the research and buying process by providing access to information such as reviews, detailed product information, and shipping details. Two of every three consumers who purchased home goods online also gave advice to friends and family on what products to buy, so this is a highly desirable group to attract to your site. Consumers have shown a high degree of comparison shopping, especially with Décor and Furniture sites. Higher quality reviews and product information can help prevent consumers from leaving sites to visit and potentially ultimately purchase on competitor sites.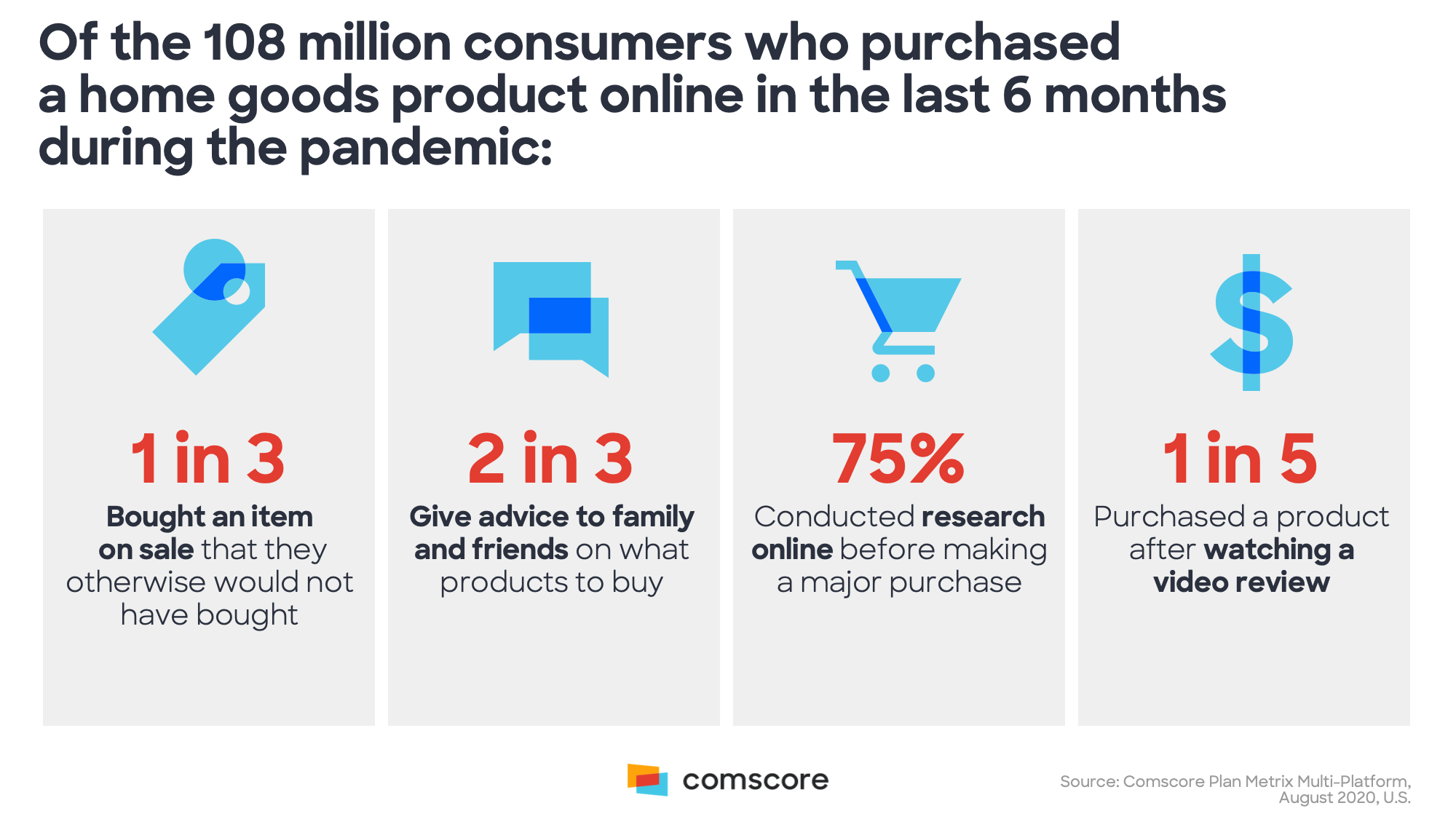 2020 has accelerated online trends for home furnishings
As consumers spend more time at home during this tumultuous year, we've seen online shopping and spending within the home goods category accelerate to record levels. This presents an opportunity for retailers to understand and anticipate where shifts are happening so that they can stay on top of changing consumer behaviors. With the winter months coming and consumers having fewer opportunities to spend time outside, retailers can capitalize on consumers' increased interest in upgrading their homes. Q4 typically sees the most spend each year, so it will be interesting to see if retailers can manage to benefit from this trend and continue selling at record levels online.
To learn more about the data behind this article and what Comscore has to offer, visit https://www.comscore.com/.