Annual Recap: Jobs in 2020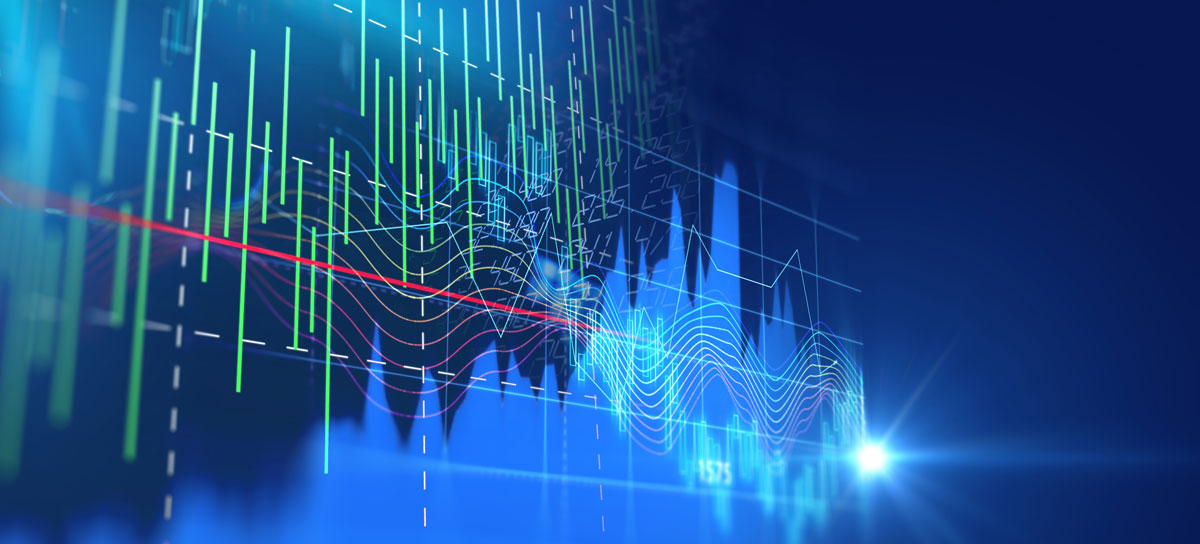 This month we're taking a step back from our usual monthly stats to share an annual review of our job market data. Here are the highlights from 2020:

2020 year in review
2020 saw nationwide job listings down 2% year-over-year. Surprisingly, given the overall economic turmoil incited by the pandemic, just 5 months last year saw decline, while 7 months showed growth. At the lowest point job openings were down 27%, but by the end of 2020 jobs were back up to 67% of pre-COVID levels.

Breaking the year down:
Jan–Feb: Life as normal, job listings increased by 136,324 (5%)
March 1–May 13: Job listings decreased by 781,124 (-27%)
May 14–Nov 21: Job listings increased by 519,593 (67% of those lost)
Nov 22–Dec 31: Job listings decreased by 94,900
Drilling down to the state level, surprisingly nearly 50% of states saw relatively minimal change overall in 2020 (between -5% and 5%). While we may be left with the memory of the -24.43% drop we saw in the Q2 2020 LinkUp Economic Indicator Report, many states have made up that ground.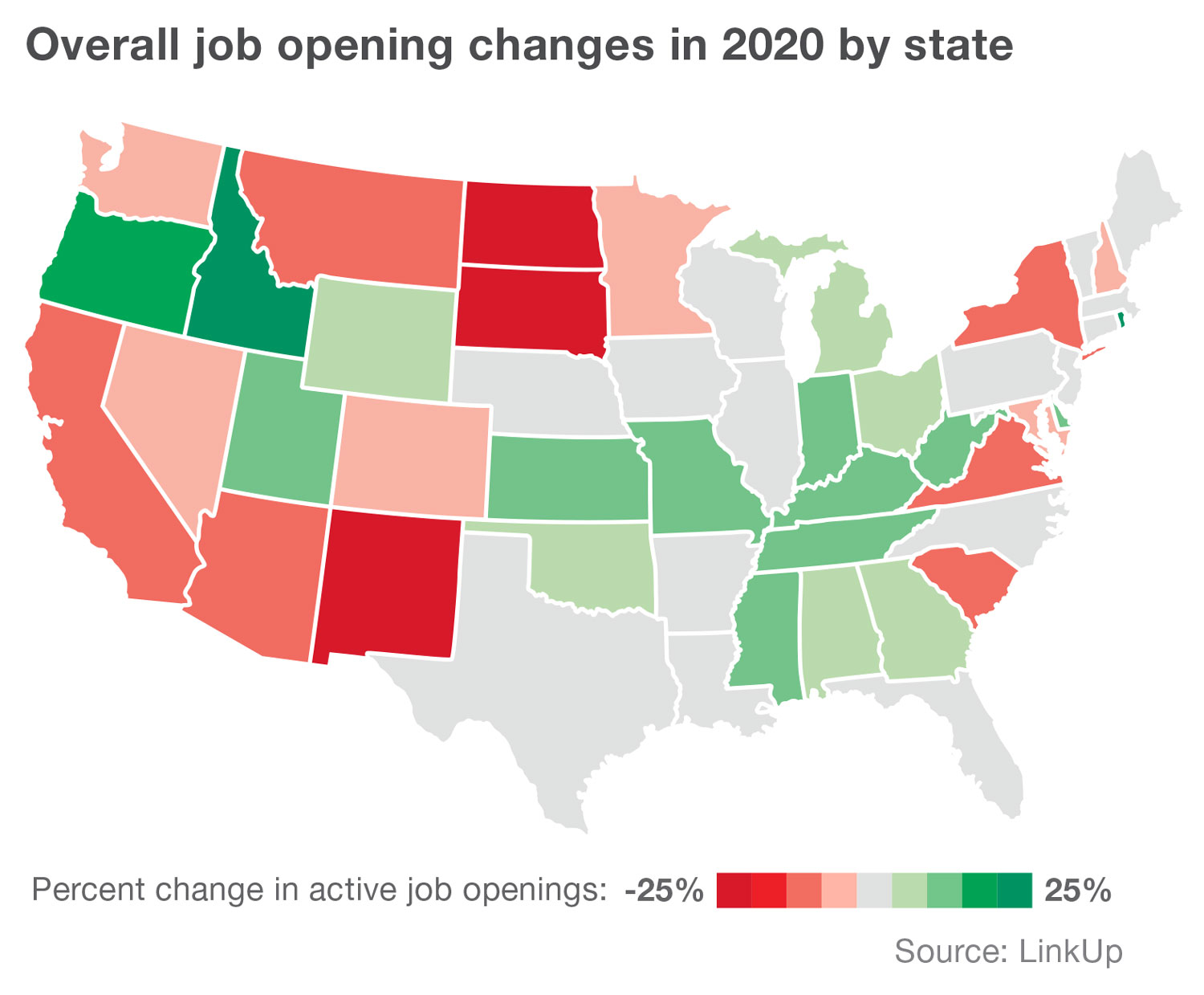 Idaho has the greatest growth in job openings over the year at 21%, with the ranking likely due to significant growth and expansion, inbound migration, and the state's first Amazon building. States with the largest declines: SD, NM, ND.
Trending and changing occupations
The pandemic significantly altered the occupational landscape in 2020, demanding more workers in some occupations and less in others. We've seen some strides toward recovery, but overall most occupations have experienced decline since COVID struck.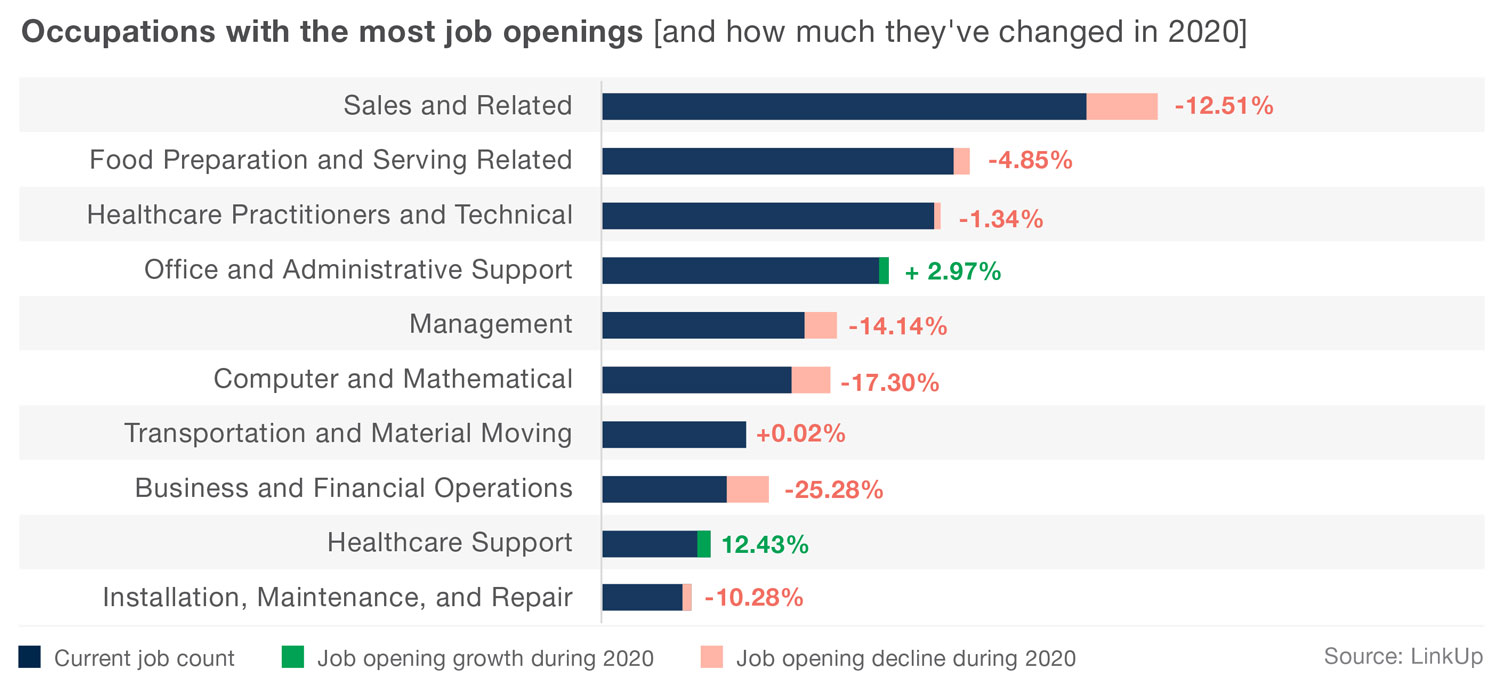 Unsurprisingly, Healthcare Support tops the list of occupations with the most growth in 2020, along with Production and Life, Physical, Social Science. Occupations with the most decline include Business and Financial Operations; along with Architecture and Engineering; and Education, Training, and Library.
To learn more about the data behind this article and what LinkUp has to offer, visit https://www.linkup.com/data/.