Consumer Switching Behavior Due to Inflation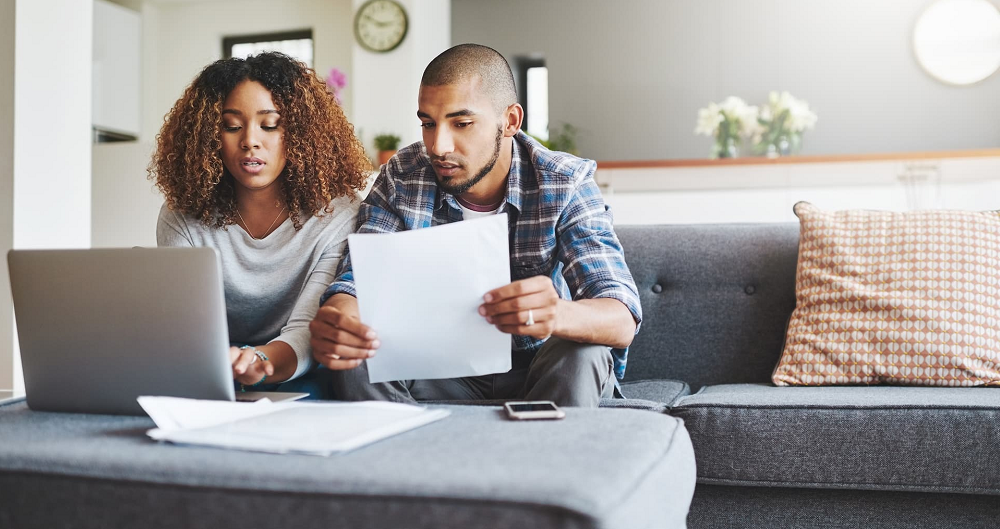 Consumers looked for inexpensive alternatives
In order to deal with increased prices due to inflation, consumers have modified their spending habits, and are choosing lower-cost alternatives to help them stick to their budgets. Trends over the past 24-months seem to indicate that consumers are more likely to substitute products/services or procure them from less expensive sources than do away with them altogether. Shopping at retail liquor outlets instead of going out to restaurants seems to reflect this consumer switching behavior.
Stores that promote bulk or discount products are more heavily favored
Record-high inflation rates have resulted in consumers either vigorously pursuing discounts and promotions or shifting to buying in bulk. Total spend in Dollar1 and Wholesale2 stores was up by 17% and 29% respectively during the second half of 2021 vs. the second half of 2019. This performance suggests consumers' preference for buying more quantities in one go amidst rising gas and product prices.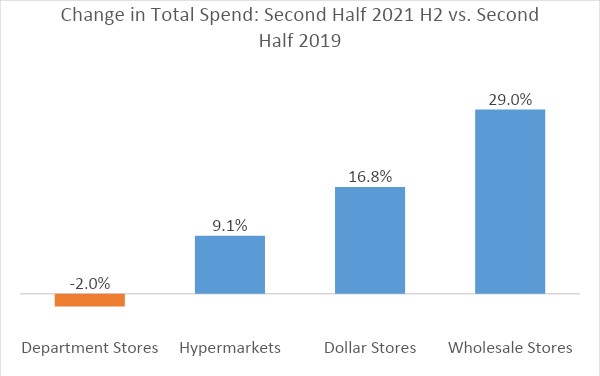 Department store trends reflect winners and losers
The industry has been exhibiting mixed performance in terms of net revenues and sales, stemming in part from inflation, which is pushing up retail and apparel costs. Among the department stores3 we tracked, consumers spent 2% less at department stores during the second half of 2021 vs. the second half of 2019, as they have put purchases of non-essential items on the back burner in favor of essentials as well as casual attire due to working from home, etc.
Sidling up to the kitchen counter: Alcohol for the home is on the rise
Reduced alcohol consumption within bars and pubs, while sales at retail stores increased.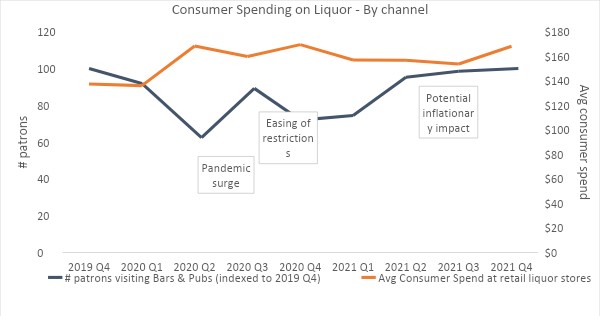 The number of consumers at bars and pubs declined in October – December 2021 after rising steadily during prior quarters, while those who bought liquor at retail stores remained steady. Some of this had to do with restricted measures due to COVID. This may also indicate that consumers are adapting to rising prices by choosing to drink at home rather than within the premises of bars and pubs.
Increased consumer-level spend at retail liquor stores October – December 2021 (especially via online channels4) also reflects consumer preferences for taking alcohol home.
An Intelligent Financial Life: Wading Through Uncertain Times
As the post-pandemic world sees changing paradigms towards income, spending, and savings, there is an emerging opportunity to navigate financial trends with more intelligence than ever before. With the consumer shift to digital engagement, the ability to help people plan their finances and optimize their savings and investments is increasingly data driven. Inflation is at record highs – and people need to be financially more aware than ever before. While there is a clear gap in the way certain segments of the populace are dealing with financial decisions in our new normal, bringing smarter and intelligent decision-making into this sphere can create a more equitable playing field.
To learn more about the data behind this article and what Yodlee has to offer, please reach out to Dylan Curtis at Dylan.Curtis@yodlee.com.