Grab vs Bolt: Ride-hailing Market Share in Thailand
Southeast Asia's ride-hailing market keeps evolving as more players join and as users' behavior shifts. As most of the Southeast Asian countries reopen, the ride-hailing market has gradually grown back to normal pre-covid figures. In Thailand, Bolt and Grab are the two major ride-hailing apps still in the game after Gojek sold its Thai business to Airasia last year.
At Measurable AI, we build and own a unique consumer panel and are the largest transactional email receipt data provider for the emerging markets. We are well regarded for our comprehensive dataset across the digital economy including the ride-hailing industry.
According to Measurable AI's latest e-receipts data, Grab remains the biggest player in the Thailand ride-hailing market, owning around 70% of the market share in the first quarter of 2022, by order volume.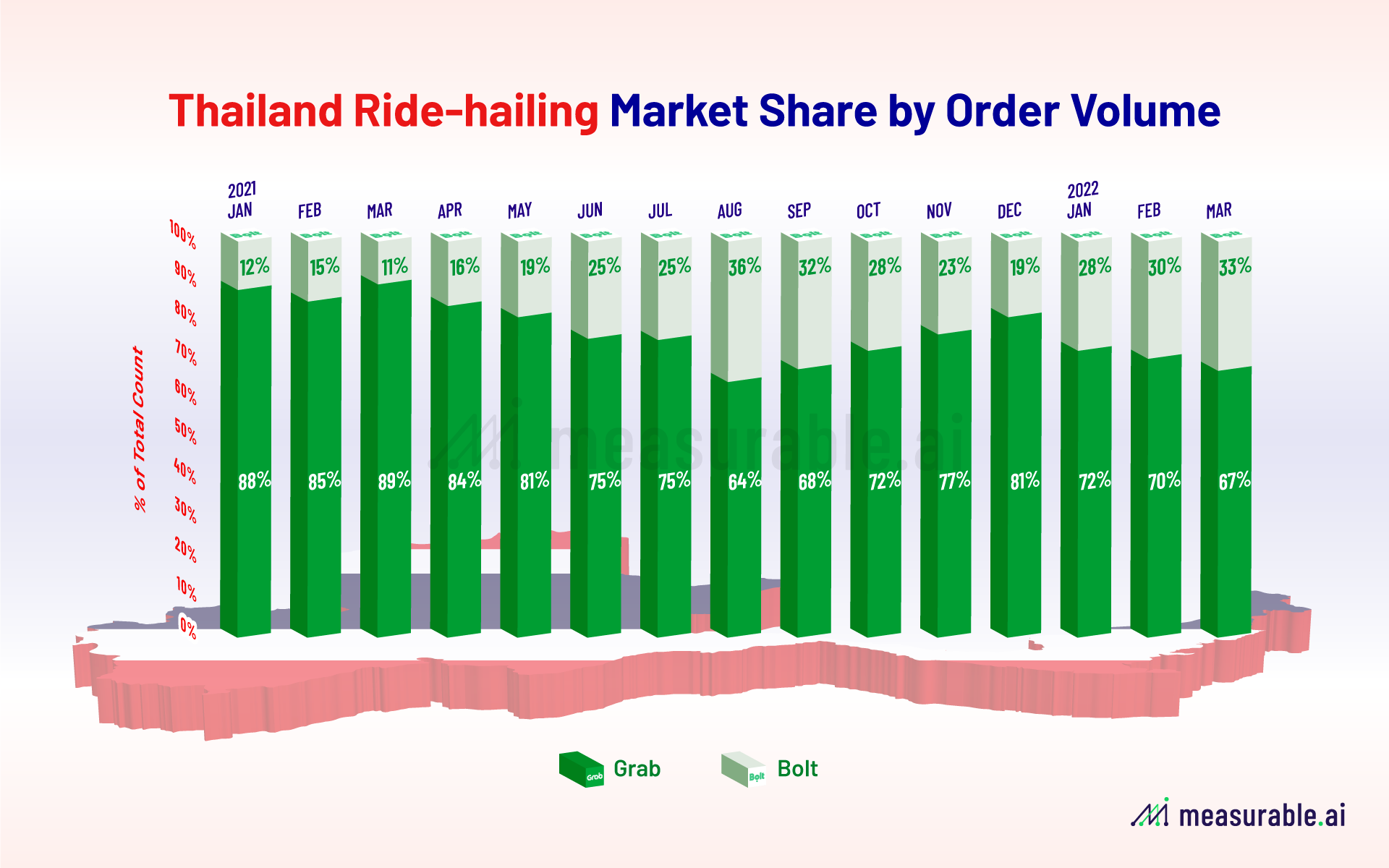 Bolt's market share started at around 12% back at the beginning of 2021, and has kept growing throughout the years. In August 2021, when Gojek already quit the Thai market, Bolt once shared around 36% of the market share by order volume. As of March 2022, Bolt accounts for around 33% of the market share against Grab.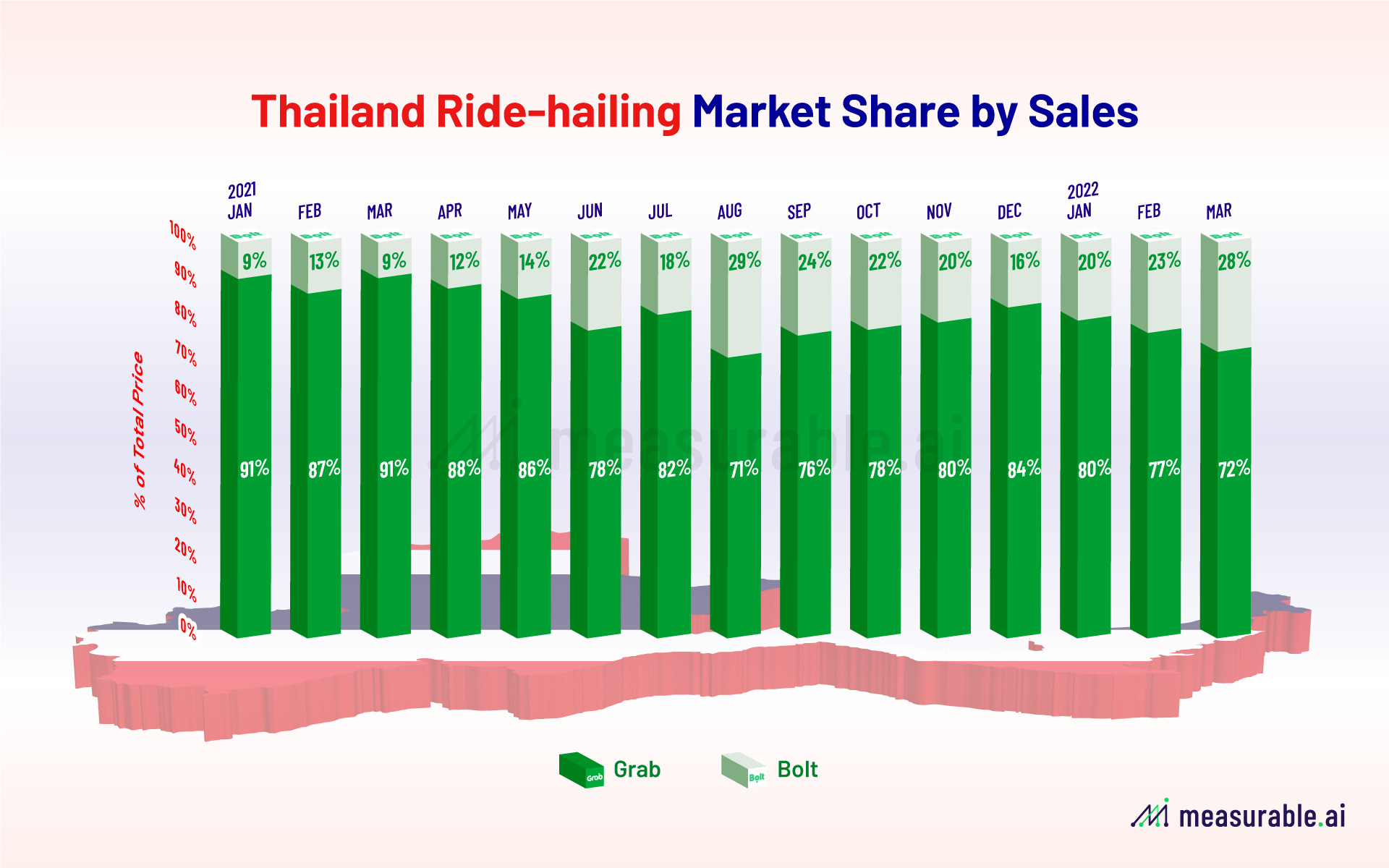 When it comes to market share by sales, Bolt's growth is a bit less significant compared to its chart by order volume. Its relatively lower average order volume (AOV) might have contributed to this. When Bolt just launched in Thailand, it committed to zero driver commission for six months and set a fare lower than the market. All this helped Bolt establish its reputation as a lower price ride-hailing company in Thailand.
Based on Measurable AI's e-receipts data in Thailand, Grab's ride-hailing users spend on average 131.4 THB (3.86 USD) in 1Q 22, much higher than Bolt's AOV at 93.5 THB (2.74 USD). Both companies' users spent much less during the summer of 2021, but soon this grew to its highest AOV since 2021.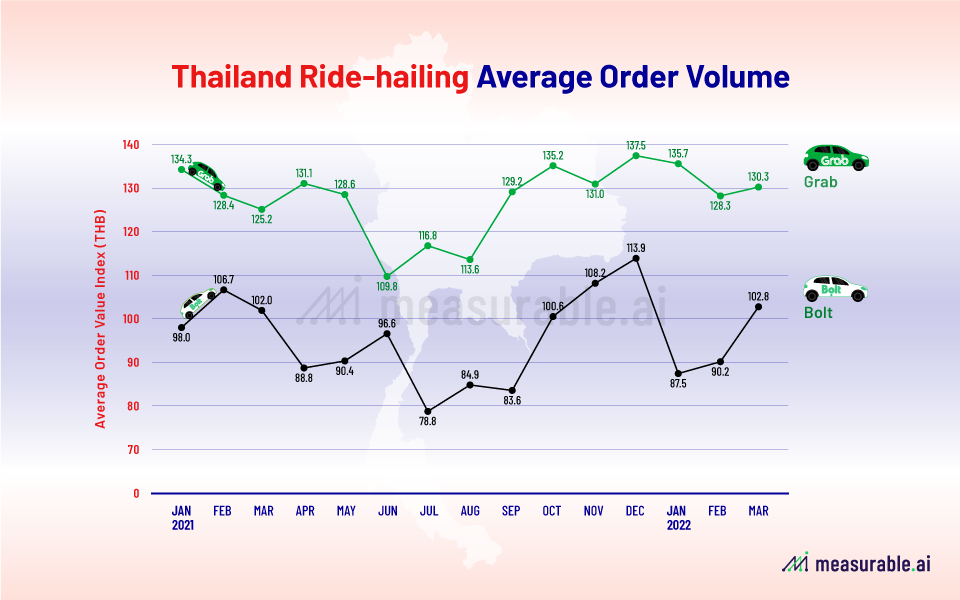 Bolt, the Estonian ride-hailer who's popular in East Europe and Africa entered the Thailand market in mid 2020, when the whole ride-hailing business was hit by the pandemic. Despite the fact that Thailand is the only Southeast asian market Bolt now operates in, it's growing steadily in the market. Other potential players in the ride-hailing space in Thailand include the Airasia Super app, inDriver, and Lineman Taxi.