Machine Learning Launches Outpace Cloud Client Adoption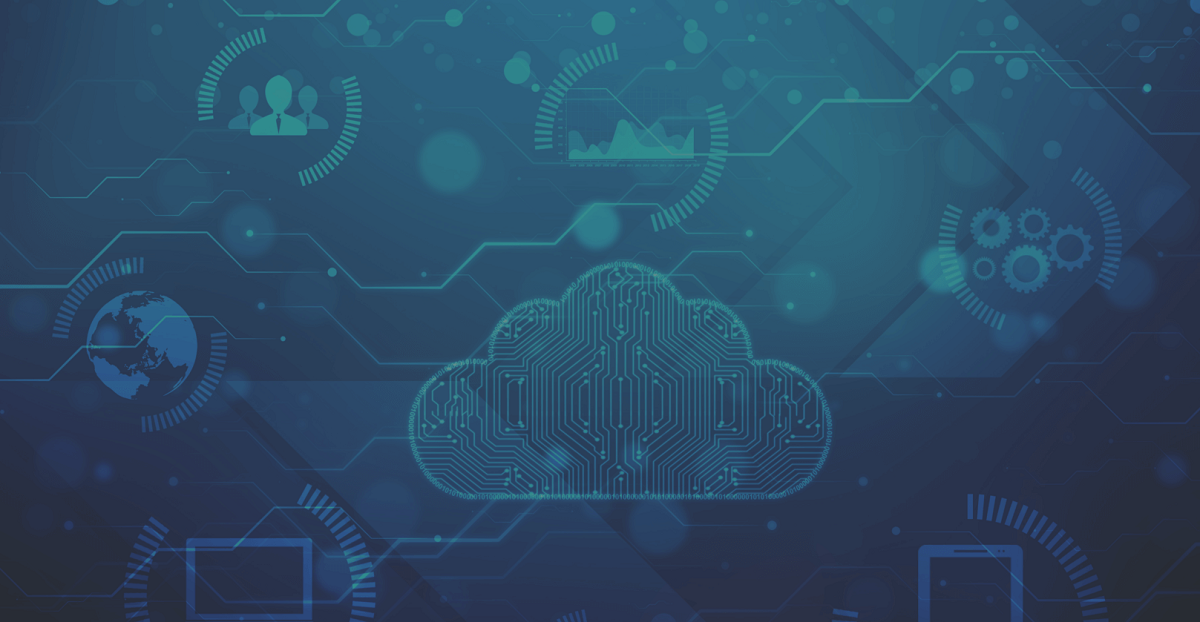 Amazon, Microsoft, and Google have launched over 100 cloud computing products since 2017, including nearly 50 in the Machine Learning category alone. Yet, the data suggests that customers typically do not feel compelled to adopt these new products, particularly in the Machine Learning (ML) category.
The latest Beacon by 7Park Cloud Infrastructure report examines the use of 119 new products launched in 15 different categories since 2017 across the Amazon Web Services (AWS), Microsoft Azure, and Google Cloud Platform (GCP). Machine Learning (ML) is the leader by a wide margin: the three companies have released 22 new ML products, followed by Security (13), and Analytics (12).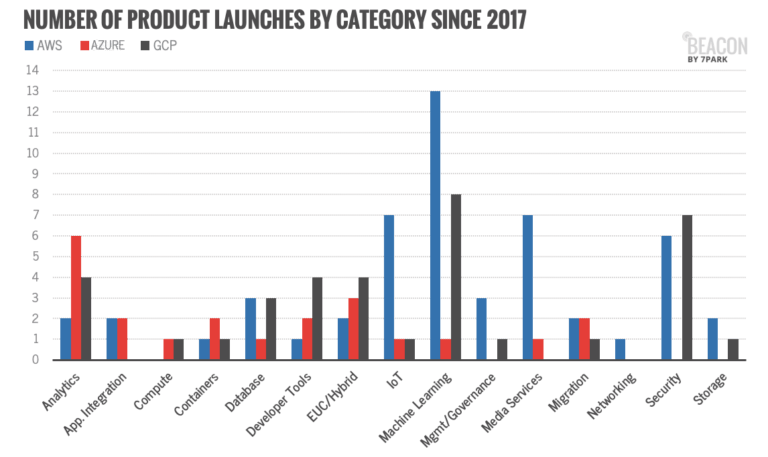 However, those ML launches have not translated into sales.
Amazon alone launched 13 new ML products, but the category only reached 0.3% of spending on all AWS products in 1Q20. ML product usage among GCP customers has remained flat despite the launch of 8 new products. Note that Microsoft released just one new ML product over the same period.
Customers may be testing these newer ML services instead of leveraging them for large production workloads. Adoption rates for new products are slightly higher for more established categories like Security and Analytics, although customers appear to prefer to migrate from older tech.
AWS Guard Duty, a threat detection and monitoring services for AWS launched in late 2017, has garnered significant spending, reaching a $76M run-rate. SageMaker and Glue, both launched in mid-late 2017, appear to be at a >$40M run-rate. Overall, security services continue to be broadly adopted after launch, increasing from an average of 4 per customer to 7 in 2020.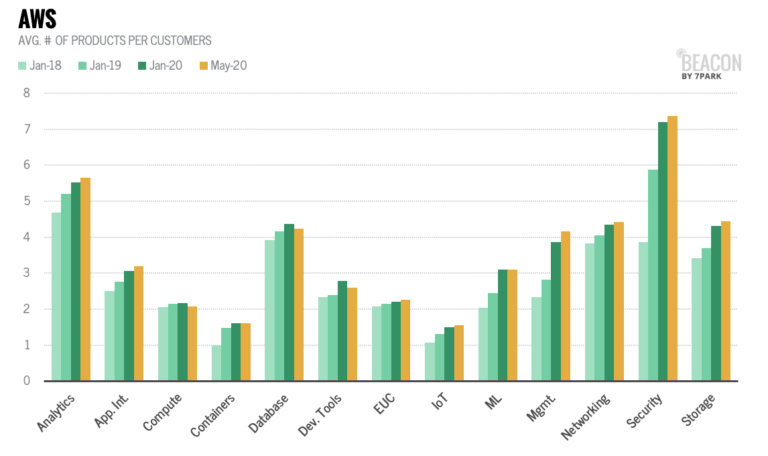 GCP customers have nearly doubled their use of Analytics products over the last two years, averaging 2 in 2018 to 4 in 2020, driven by increased usage of GCP Stackdriver Logging and Monitoring, Cloud Pub/Sub, and Dataflow.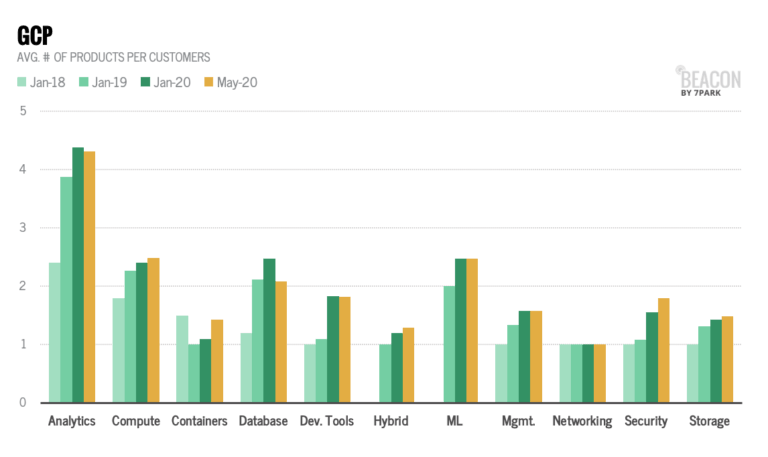 It's important to note again that ML has not commanded the Azure product launch spotlight. The fastest-growing categories of adoption include Analytics, Security, and Database, all of which have been areas of focus for Azure product launches.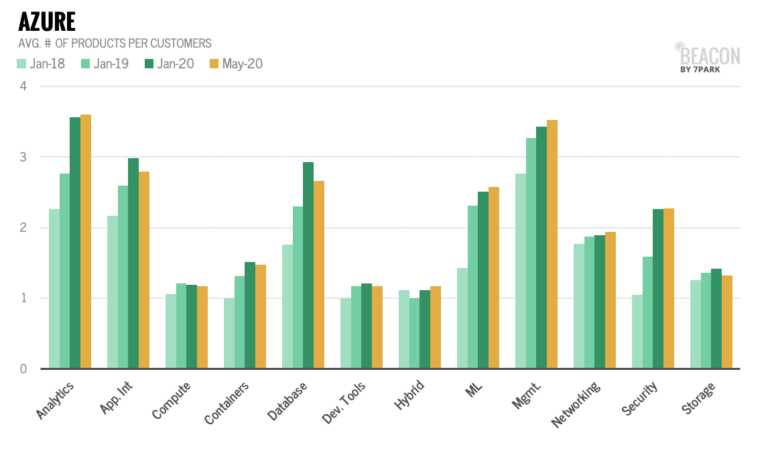 This data does not suggest a reversal of the ongoing and rapid growth rate of enterprise cloud computing adoption. AWS customers have steadily increased the number of products they consume. Azure and GCP have seen the adoption of their respective product suites gradually increasing over time since 2018. Both offer fewer products overall than AWS but have a higher utilization rate of their portfolio on average.
However, the data does indicate that customers may be shedding some products in the current macro environment, including products in areas like Security that offer many services, and Developer Tools, which may suggest that some customers are putting their expansion projects on hold.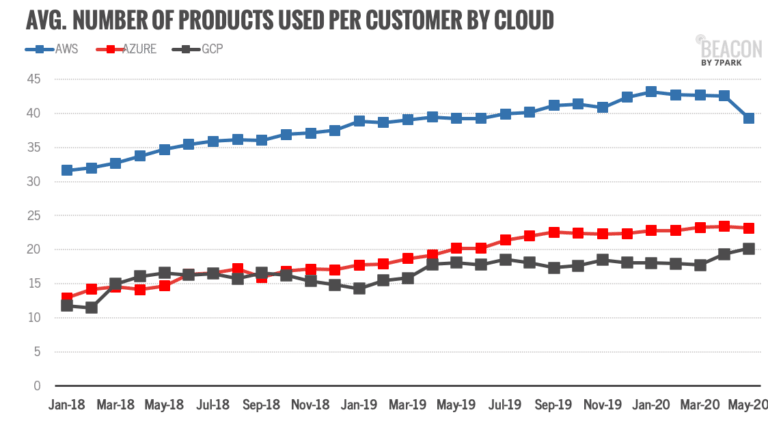 To learn more about the data behind this article and what 7Park Data has to offer, visit https://www.7parkdata.com/.