Single-Family Rent Prices Post Lowest Growth Rate in More than Nine Years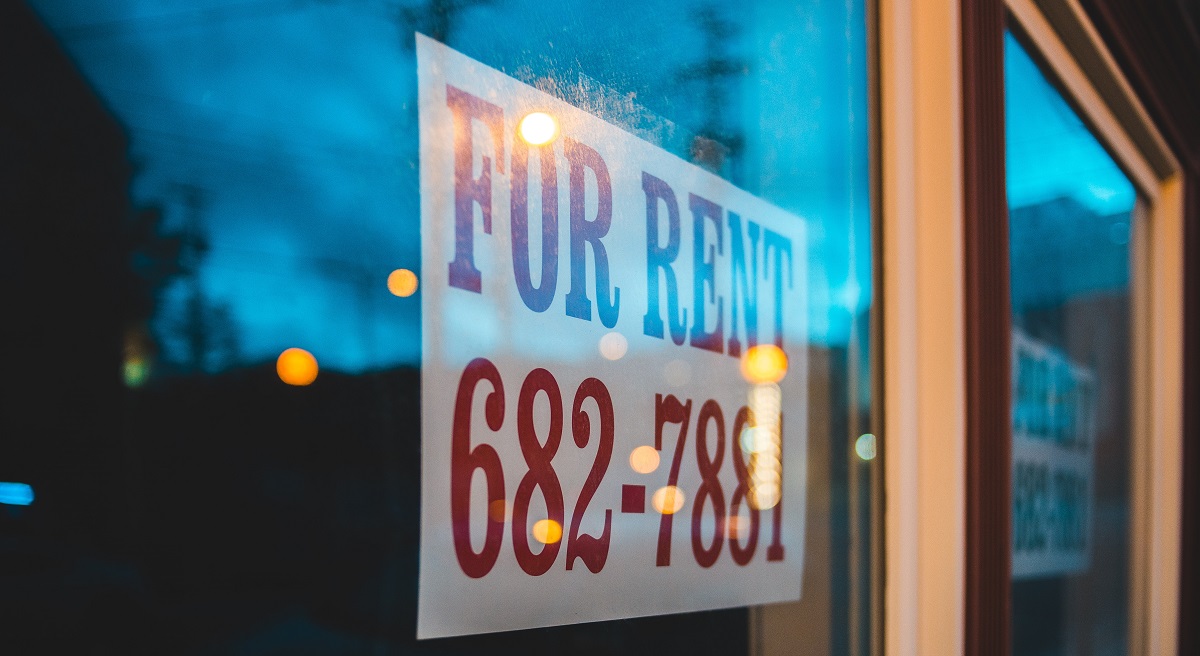 Rent increases slowed across all price levels, though rents for lower-priced homes increased faster than those of higher-priced homes in April compared with a year earlier.
Phoenix had the highest increase in rent in April from a year earlier, showing only a small slowdown in growth.
U.S. single-family rents increased 2.4% year over year in April 2020, a slowdown from the prior month and prior year, and the lowest growth rate since November 2010, according to the CoreLogic Single-Family Rent Index (SFRI). The index measures rent changes among single-family rental homes, including condominiums, using a repeat-rent analysis to measure the same rental properties over time. Income uncertainty and shelter-in-place orders left renters hesitant to seek new living arrangements, including renting and buying, and worked to slow the pace of rent increases.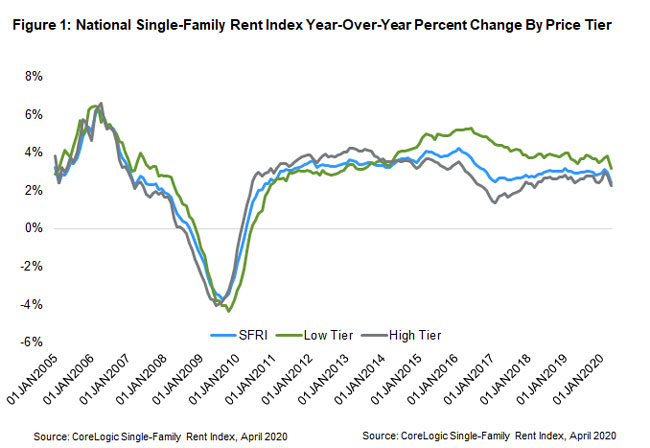 Lower-priced rentals continued to prop up national rent price growth, which has been an ongoing trend since April 2014 (Figure 1). However, year-over-year growth among low- and high-price tiers did slow in April 2020. Rent prices for the low-end tier, defined as properties with rent prices less than 75% of the regional median, increased 3.1% year over year in April 2020, down from 3.6% in April 2019. Meanwhile, higher-priced rentals, defined as properties with rent prices greater than 125% of a region's median rent, increased 2.3% in April 2020, down from a gain of 2.4% in April 2019.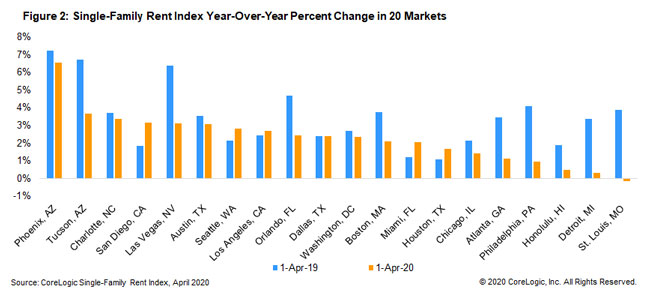 Rent growth varies significantly across metro areas. Figure 2 shows the year-over-year change in the rental index for 20 large metropolitan areas in April 2020. Phoenix had the highest year-over-year rent growth this April as it has since late 2018, with an increase of 6.6%, followed by Tucson (+3.7%) and Charlotte (+3.4%). St. Louis was the only metro area to experience an annual decline in rent prices at -0.1%. St. Louis also had the largest deceleration in rent growth in April, showing annual rent growth of 4 percentage points lower than in April 2019. In April, widespread job loss stretched across the country as the effects of the pandemic, and the resulting recession, emerged. However, some areas were hit harder than others, causing a ripple effect for local rental and housing markets. For example, Detroit experienced a 24.5% annual decline in employment in April, causing rent price growth to slow from a 3.3% year-over-year gain in April 2019 to just 0.3% in April 2020. Rent growth in Phoenix experienced a relatively minor 0.7 percentage point slowing in annual rent growth rate as employment declined 7.6% locally.
To learn more about the data behind this article and what CoreLogic has to offer, visit https://www.corelogic.com/.