Black Friday 2020: Light foot traffic projected in luxury shopping areas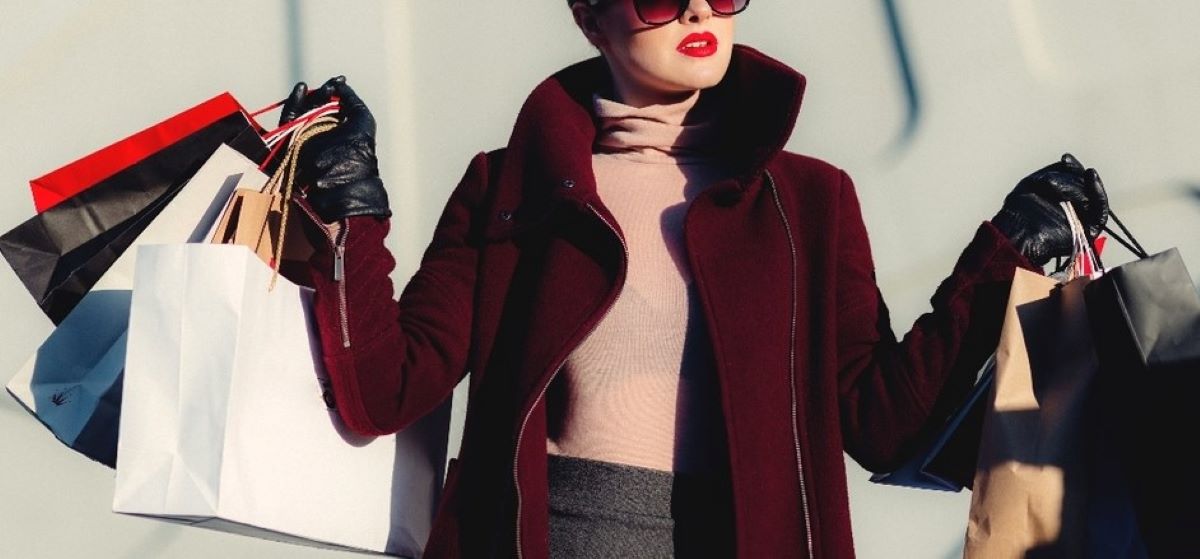 Nearly nine months into the global COVID-19 pandemic, luxury retailers in big cities across the U.S. wait and hope that Black Friday will inject a much-needed dose of foot traffic into local stores. But with infection rates rising, migration from big cities underway, and a lack of tourists, luxury brands need more than hope.
In this post, we examine human mobility data from popular shopping areas in Los Angeles, New York, Miami, Chicago, and San Francisco. We identify where Black Friday 2020 shoppers are expected to be, the brands they're likely to support, and behaviors that indicate an opportunity for Tier B fashion retailers to move in on luxury retailers' real estate.
What foot traffic data tells us about Black Friday 2020
Big cities and urban neighborhoods across the U.S. continue to struggle with COVID-19. However, some luxury brands and store locations have seemingly found a formula for recovery and growth heading into Black Friday 2020.
Below, we examine the following five well-known shopping areas from across the country:
Rodeo Drive in Los Angeles
Madison Avenue in New York
Bal Harbour Shops in Miami
Oak Street District in Chicago
Union Square in San Francisco
In each case, we analyzed current foot traffic data and patterns from five luxury retailers' locations. We then compared our findings with the same foot traffic data from Black Friday, 2019.
Our objective was to obtain baseline performance data indicators around performance results of how these five shopping districts perform today versus this time last year.
To do this, we used our Neighborhood Insights foot traffic tracker, powered by data from millions of smartphones across the U.S. This data is completely anonymous and was only collected from individuals who opted into the project.
Neighborhood Insights, offering both free and paid versions, allowed us to zoom into any area of the U.S. to gain valuable retail foot traffic statistics. This foot traffic counter also lets you drill down to the Census Block Group level to gain granular insight into heavy foot traffic areas. This provided us with a bird's eye view of areas expected to experience high foot traffic on Black Friday. This enabled us to assess the state of recovery and predict the relative performance of our five target shopping areas.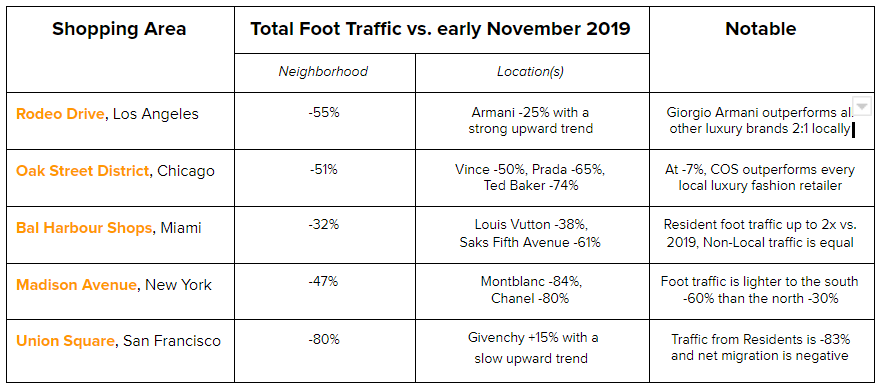 Indicators, trends, and stand-outs
Beyond the top line metrics, each neighborhood and brand we examined has a unique story to tell. That said, on the whole there are clear trends and indications with serious implications.
The data we studied indicates Black Friday 2020 will be challenging for most brick-and-mortar luxury retailers. However, this will present a unique opportunity for B-list brands to make a push into what has traditionally been the realm of luxury retail real estate.
Givenchy and Giorgio Armani show resilience among peers
While the neighborhood the store is located in shows a slight to flat recovery trend, the individual Givenchy store near Union Square is experiencing 15% more foot traffic than in 2019 as we head into Black Friday 2020. This is notable in that total foot traffic in the Union Square area has been down 80% since early June. Clearly, the Givenchy brand in this location has found a way to engage bricks and mortar consumers that their category peers in the neighborhood have not.
Another interesting case is the Giorgio Armani store on Rodeo Drive. Foot traffic data indicates this location has rebounded to within 25% of 2019 levels, with a strong upwards trend heading towards Black Friday 2020. Total Foot Traffic in this shopping area is flat at -55% compared to 2019 and has been since early summer. There is no other luxury retailer in the area near the Giorgio Armani store's traffic.
COS and other mid-range fashion retailers are leaning-in
Looking at the mobility data and retail foot traffic statistics for each of our five shopping destinations, it is not difficult to envision a significant change in each neighborhood landscape over the coming months and years. The indicators in the data repeat themselves again and again.
Essentially, a long term reduction of retail foot traffic driven by the COVID-19 pandemic and further aggravated by resultant bankruptcies and store closures is creating room for brands catering to a slightly lower price tier to push into real estate and shopping areas that were once considered the exclusive purview of luxury fashion and accessory retailers. Why? Because the people that are migrating to the neighborhood aren't as affluent as those leaving, and are more likely to engage with a Tier B luxury retailer.
For example, H&M's COS brand has forged itself as a strong challenger to the brick-and-mortar luxury retailer status quo in the Oak Street District of Chicago. Defying the weak performance of more fashionable luxury brands, COS leads all local retailers in terms of financial recovery. COS's foot traffic is back to within 7% of 2019 levels heading into Black Friday 2020.
Compare that to a neighborhood average of -51% with a sharp drop in visits from non-locals that began in early October. Clearly the COS store there has an edge over struggling luxury retailers.
Madison Avenue's retail foot traffic may never be the same
Madison Avenue is synonymous with luxury brand shopping. Every A-list clothing and accessory retailer in the western world has a store here. However, since COVID-19 first struck the U.S. store visits and revenue have dropped significantly and several luxury brands have had to close their doors.
Total foot traffic is down roughly 47% since 2019 in the area around Madison Avenue between 55th Street and 72nd Street. We purposefully left-out the Census Block Groups to the east of Madison Avenue, bordering Central Park. These areas see more foot traffic from residents and park, than from shoppers.
Generally, the small collection of neighborhoods that form the bulk of the Madison Avenue shopping area is experiencing a flat recovery with a slight upwards trend. With visits from non-locals down, and the return of workers stalled, it is primarily locals now propping up luxury retailers here.
Local luxury retailers lag behind Madison Avenue's overall recovery curve, with traffic at specialty brand Montblanc's down 84% since Black Friday of 2019. Traffic at Chanel's 57th Street store is down 80%. Even with the Black Friday swell, it is difficult to envision a strong shopper turnout on Madison Avenue.
With that, we will turn to our findings for each upscale shopping area we examined to see what the data uncovered.
MIAMI - BAL HARBOUR SHOPS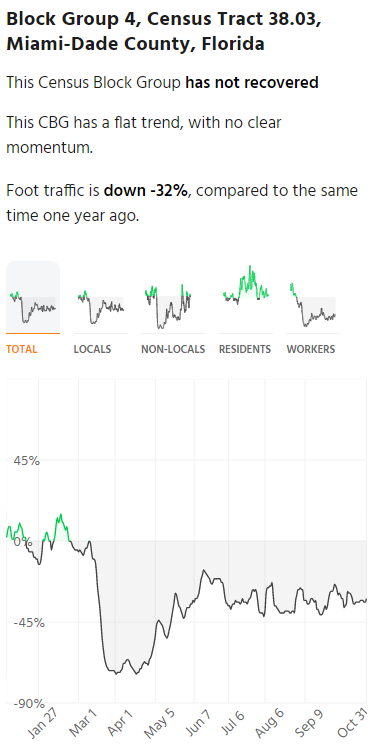 On the whole, this prestigious Miami Beach neighborhood has recovered the most of the five we examined. Total foot traffic has returned to within 32% of 2019 levels heading into Black Friday and traffic from tourists and COVID-19 migrators now peaks above 2019 levels.
While this neighborhood progresses towards recovery, luxury retailers still struggle, with the Louis Vuitton store trailing the neighborhood average at -38% foot traffic versus 2019, and the prestigious Saks Fifth Avenue location down 61% over the same time period.
LOS ANGELES - RODEO DRIVE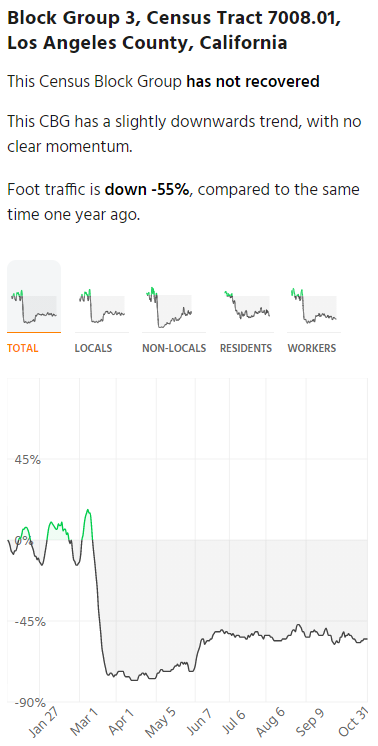 ‍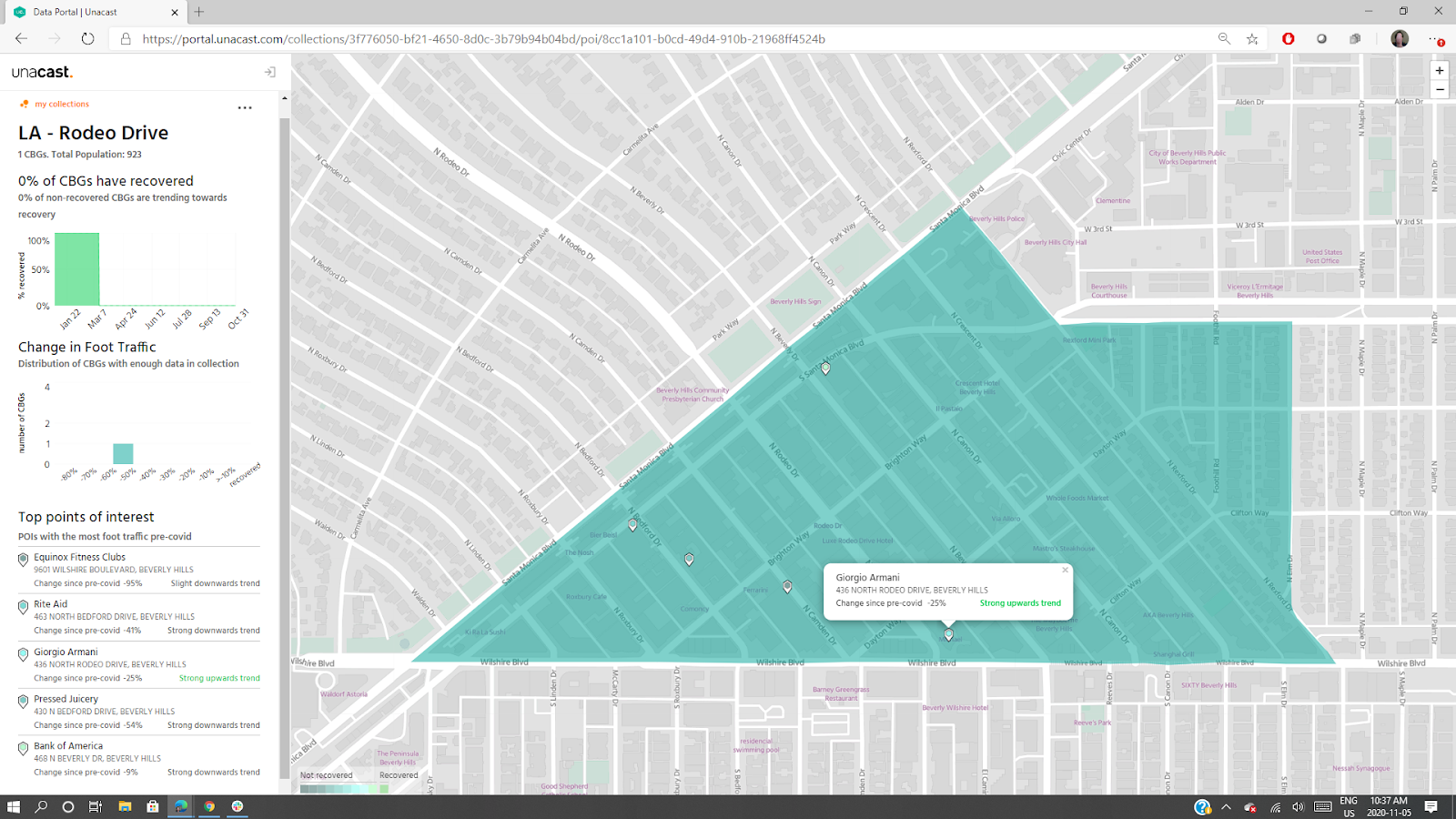 ‍
One of the most iconic shopping destinations in the world, L.A.'s Rodeo Drive, is a good example of how affluent populations are going about their consumer lives in a pandemic. Total foot traffic in the neighborhood remains stubbornly flat since early June 2020, while visits from non-locals are trending upwards.
While the neighborhood shows no momentum for resilience heading into Black Friday 2020, some luxury brands do. One point of interest is the Giorgio Armani store at 436 North Rodeo Drive, as mentioned above.
CHICAGO - OAK STREET DISTRICT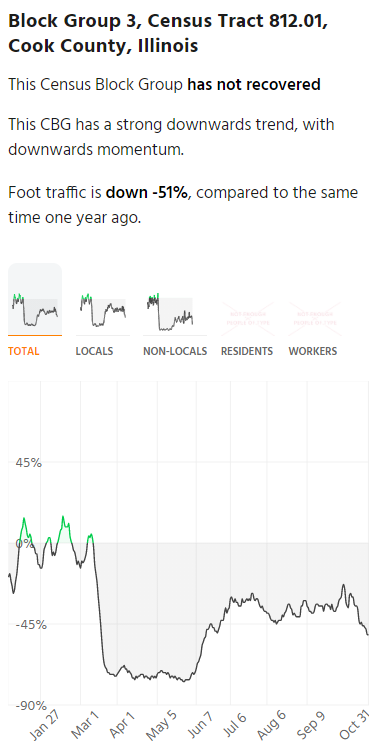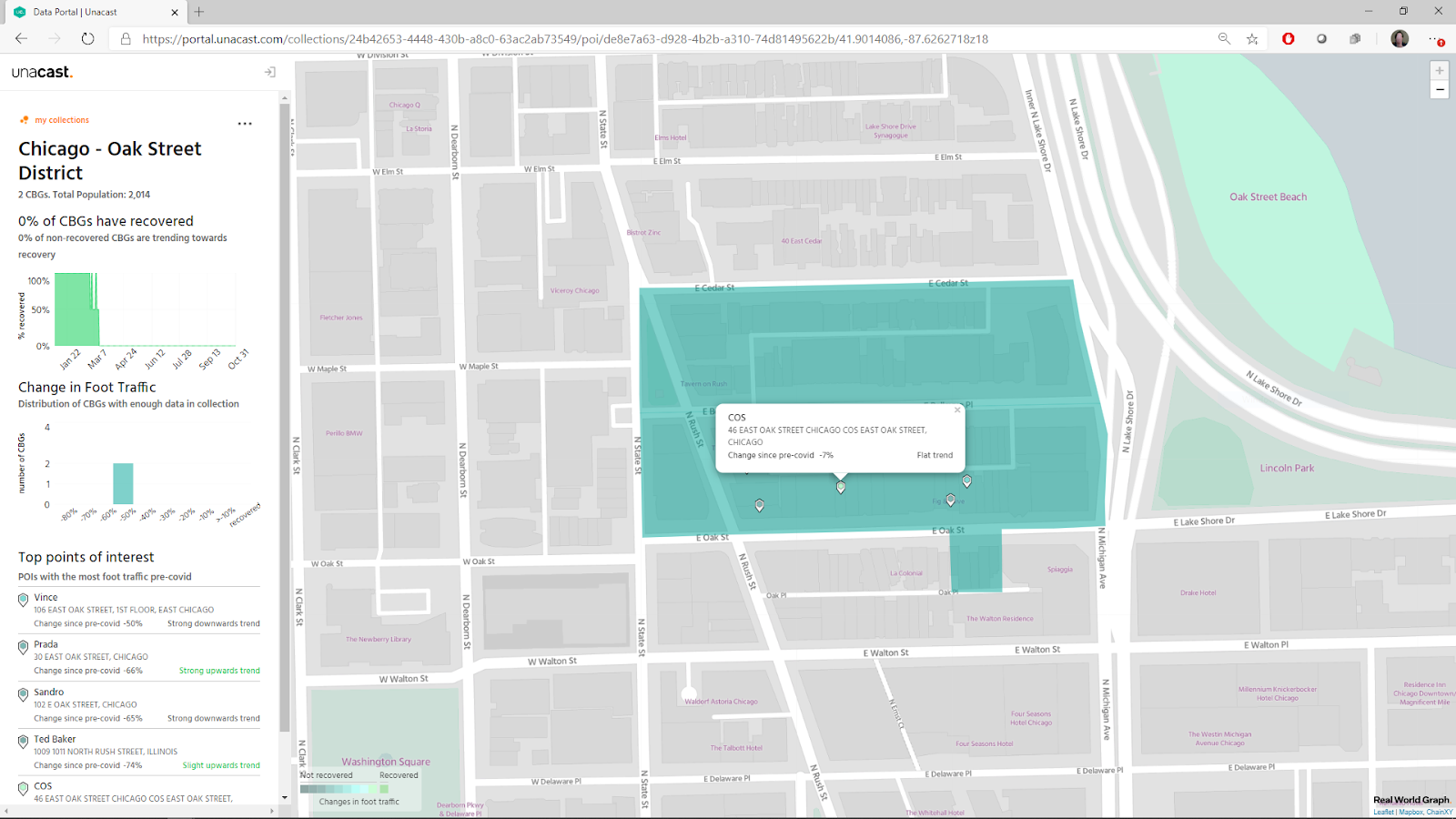 Total foot traffic in the Oak Street District, a classic shopping destination in Chicago's Loop neighborhood, was recovering well until early October 2020, when it dropped sharply. The decline is attributed to a drop in traffic from residents and tourists alike.
Luxury retailers continue to struggle in the Oak Street District. Foot traffic at well-known brands such as Vince, Prada, and Ted Baker are down 50% to 75% since last year.
SAN FRANCISCO - UNION SQUARE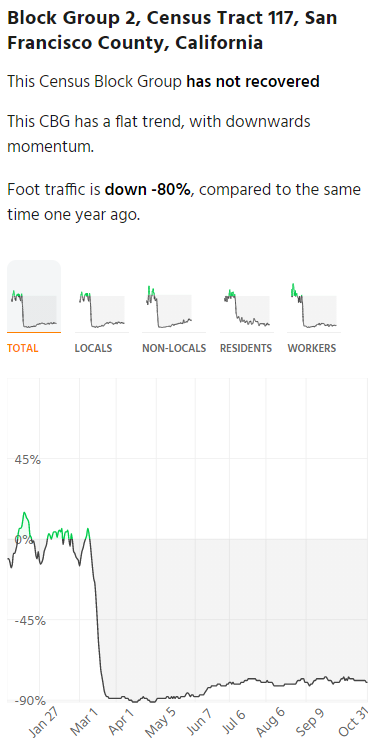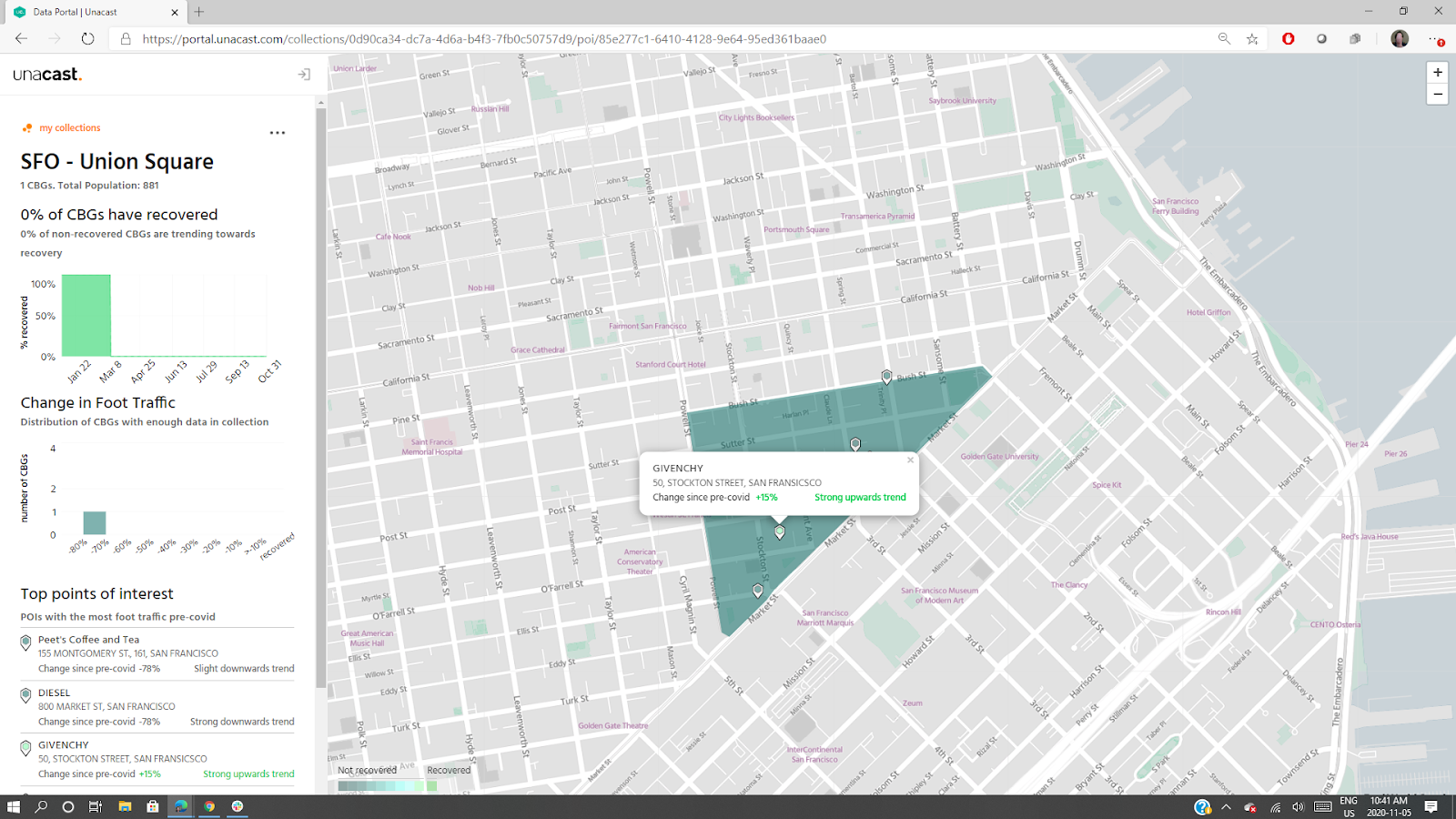 Union Square is the least recovered and least resilient of the five shopping areas we examined for this report. The only growth there appears to be limited to tourist traffic. However, the uptrend is meager at best.
While most retailers around Union Square—luxury or otherwise—continue to struggle, only a select few seem to have figured out their COVID-19 success formula.
NEW YORK CITY - MADISON AVENUE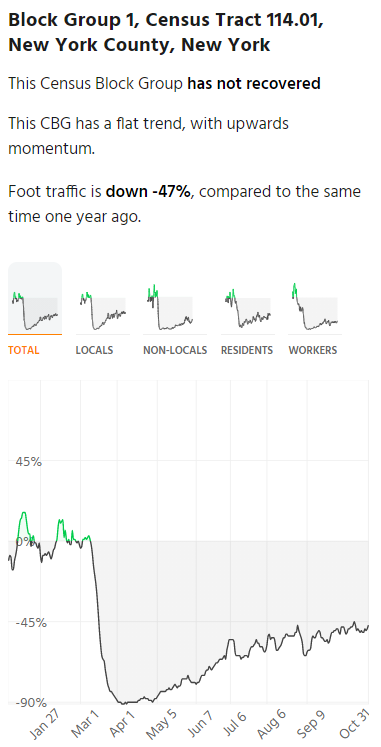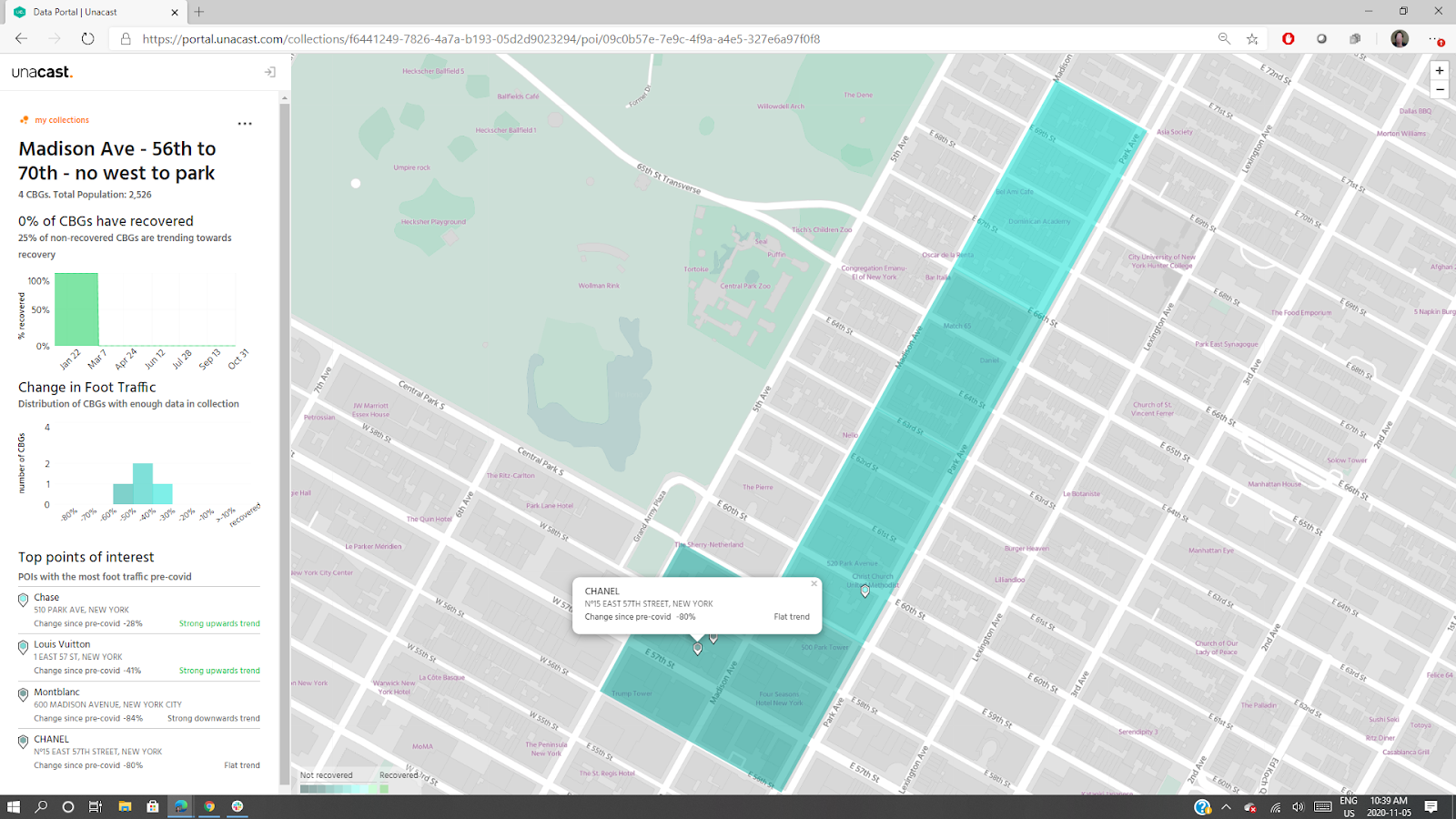 With total foot traffic down 47% since 2019, this small collection of neighborhoods that form the bulk of the Madison Avenue shopping area is experiencing a flat recovery with a slight upwards trend. Luxury retailers are well behind the recovery curve.
Summing up our retail foot traffic data analysis
As the U.S. approaches Black Friday 2020, an examination of the available human mobility data makes three things clear.
First, no major urban center is impervious to the negative effects of the COVID-19 pandemic. Foot traffic in big cities everywhere is down dramatically, with a few neighborhood anomalies of resilience, and a small handful of retail brands that have found early resilience.
Second, when looking at the relative foot traffic of luxury brands compared to their slightly down market competitors, it is clear that some luxury shopping areas now show signs of being at a tipping point. As the affluent migrate from these areas and are replaced, we'll likely see some luxury brands in these five areas replaced by more affordable brands.
Third, it is difficult to ignore the glaring discrepancy between the Union Square neighborhood and the others we have studied. While Madison Avenue, the Oak District, the Bal Harbour Shops and Rodeo Drive have all recovered half or more of their foot traffic, Union Square is a ghost town. That the Givenchy store location has found a way to grow their traffic over last year is impressive. However, it's not an indication that luxury brands have a bright future in Union Square.
The more probable path ahead for most urban shopping destinations is a shift in the local market towards lower-priced retail options, a decrease in rent for CRE leaseholders, and a slow but steady shift of buying power away from urban centers and towards smaller cities and towns.
To learn more about the data behind this article and what Unacast has to offer, visit https://www.unacast.com/.