Turkey Wednesday 2020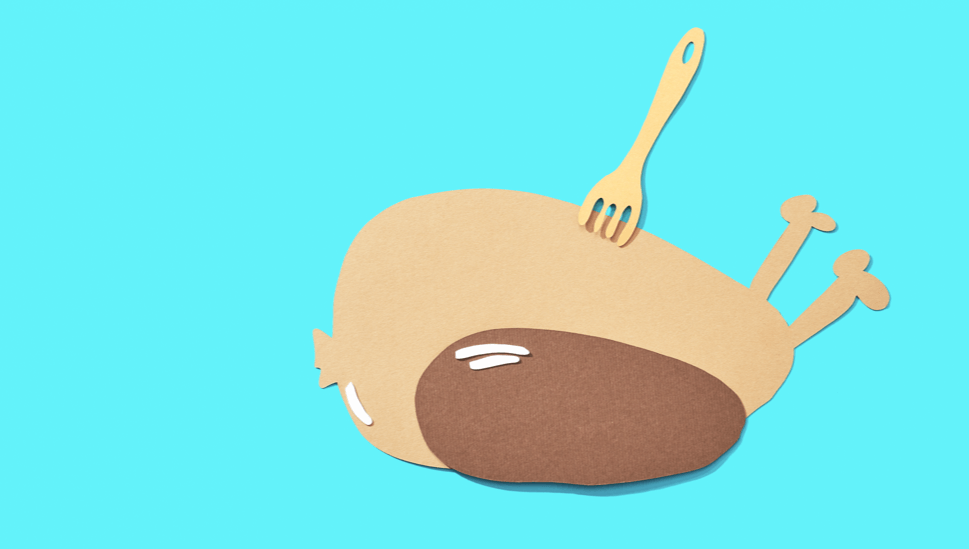 When we think of the 'most wonderful time of the year' our minds rightfully drift to Christmas, Thanksgiving, and maybe for the truly shopping-minded, Black Friday and Cyber Monday. But lost in the shuffle is a key day in the grocery calendar: Turkey Wednesday. On that day, shoppers across the country hurry to their local grocery store to get the last-minute needs for an ideal Thanksgiving meal.
From the moment we identified this pillar of the supermarket calendar, we tracked it to see how different trends and events could impact its position. And no year has been as fraught with uncertainty as 2020.
So how did Turkey Wednesday play out in 2020?
Visits Down
Comparing Turkey Wednesday in 2020, on November 25th, to its 2019 equivalent saw a significant decline in visits. Analyzing eight of the most significant grocery chains showed an average decline of 19.8% compared to Wednesday, November 27th, 2019. And while this shouldn't necessarily come as a shock, it does indicate that shopping patterns are still not fully stabilized, something likely supported by a resurgence of cases in the US.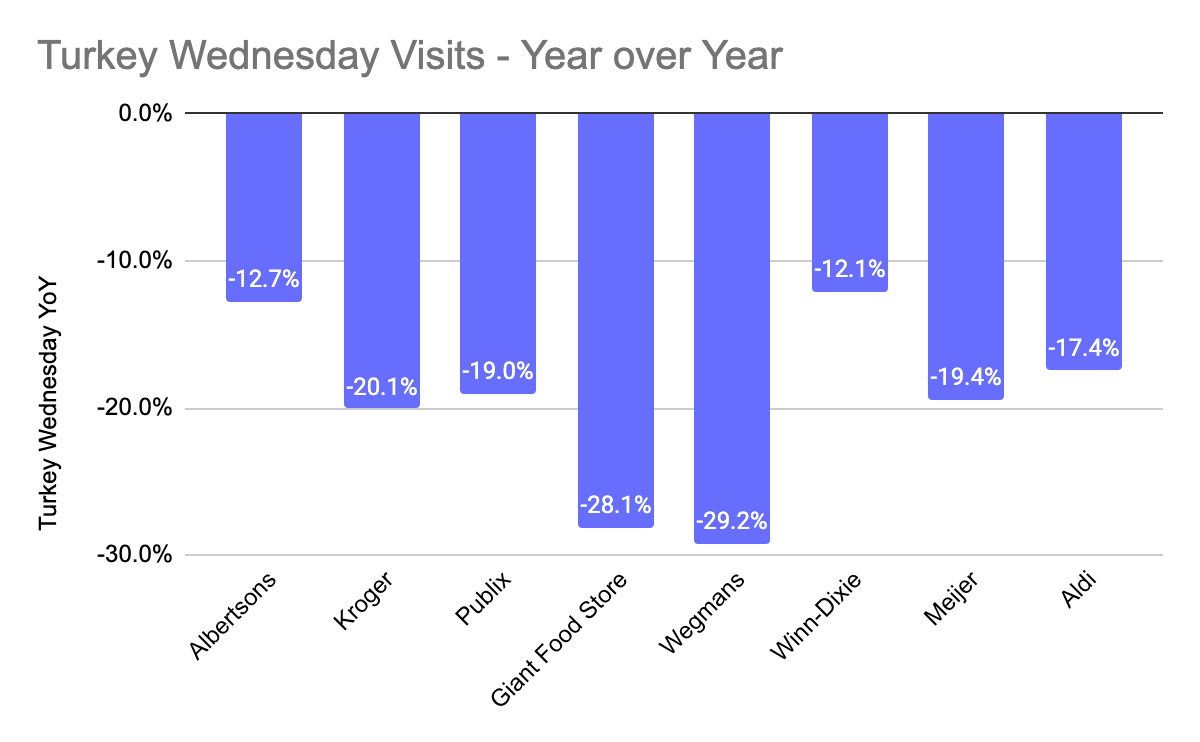 How Far Did It Fall?
And while visits were clearly far from their normal peak, there are interesting takeaways that come from looking more deeply at several key brands. In 2018, Turkey Wednesday was the highest-traffic day for Albertsons and the second highest in 2019. Yet, in 2020, Turkey Wednesday dropped to the 7th biggest day of the year overall passed by several days in the grocery surge that took place in early March. And this is before the pre-Christmas rush that could push it further down the list. Nonetheless, the day still marked a significant peak with visits up 67.5% above the daily baseline for the period from January 2018 through November 26th, 2020.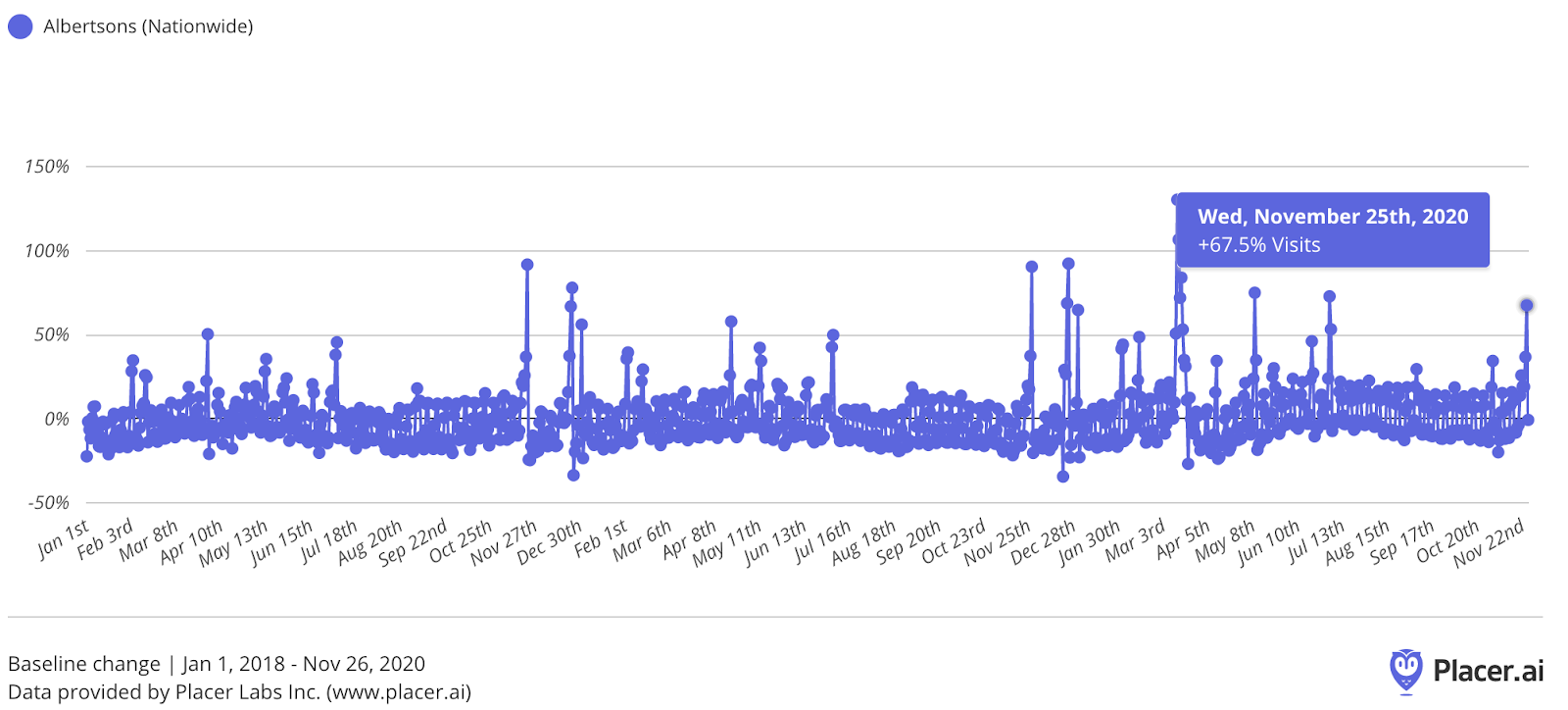 A similar trend was seen with Kroger for whom Turkey Wednesday was the most visited day in 2018 and 2019. Visits on the day, while still 41.6% above the daily baseline for the period from January 1st, 2018 through November 26th, 2020, made it just the 8th most visited day in 2020 thus far.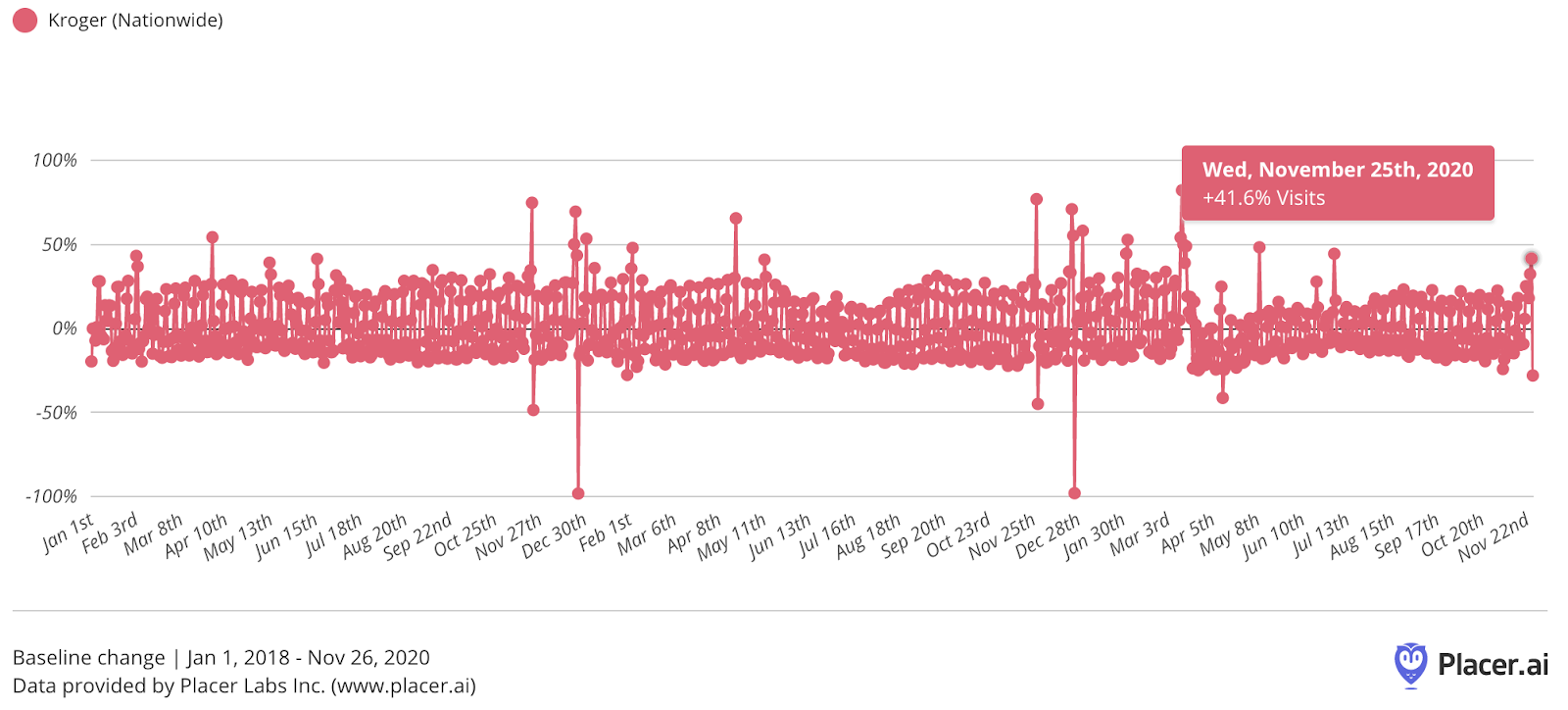 For Publix, visits were 51.8% above the baseline for the period, making it the 4th highest-traffic day in 2020 thus far.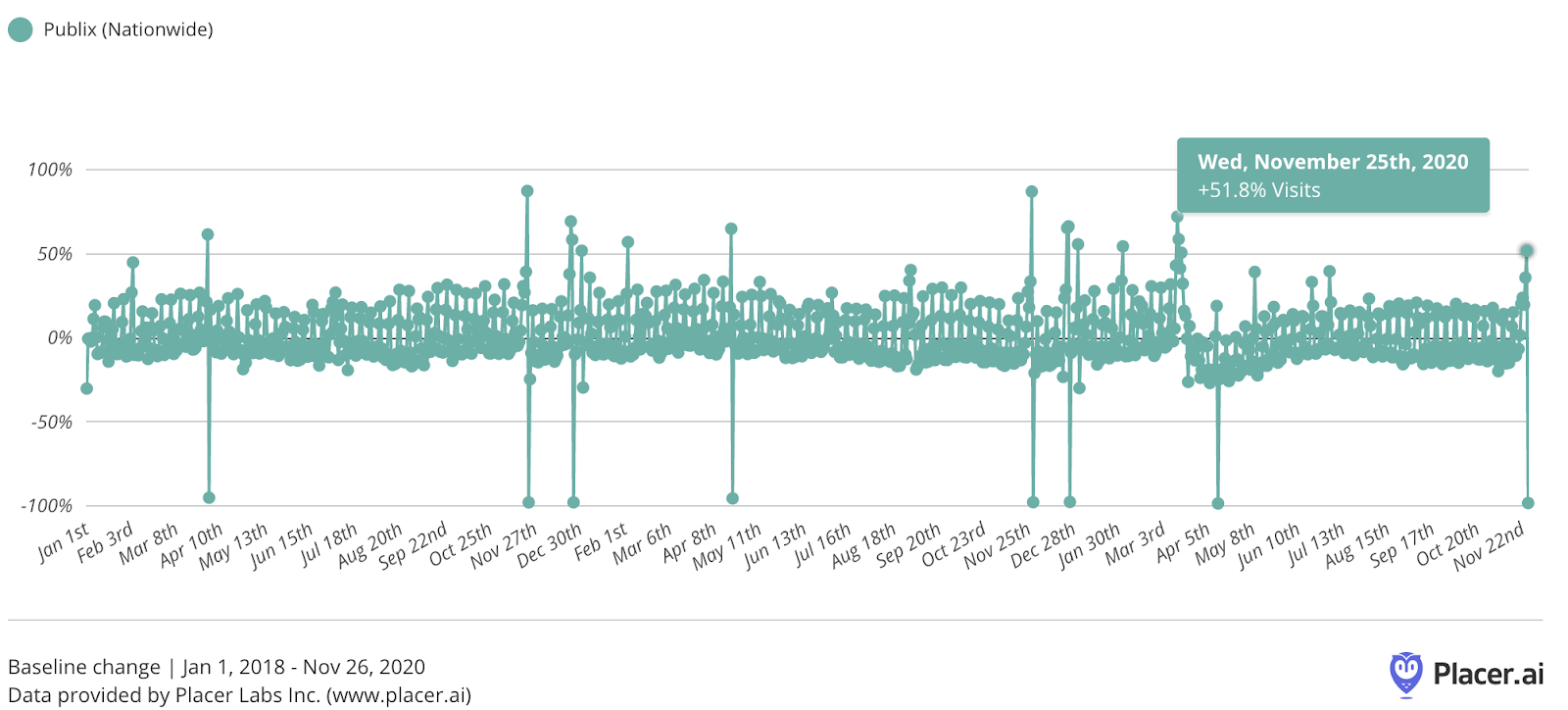 A Unique Shopping Trend
But however you slice it, Turkey Wednesday was less significant than the years prior – and the reason why could be hugely significant for the wider retail landscape. While visits on Turkey Wednesday were down an average of nearly 18% for these eight grocery brands, the picture was far different in the days that preceded it. Visits to these same chains on the Monday and Tuesday prior to Thanksgiving were actually up 1.8%. Kroger and Publix saw visits up 4.1% and 1.4% respectively on those days, while Wegmans saw a massive swing from visits down 29.2% year over year on Turkey Wednesday to down just 4.1%, the Monday and Tuesday that preceded it.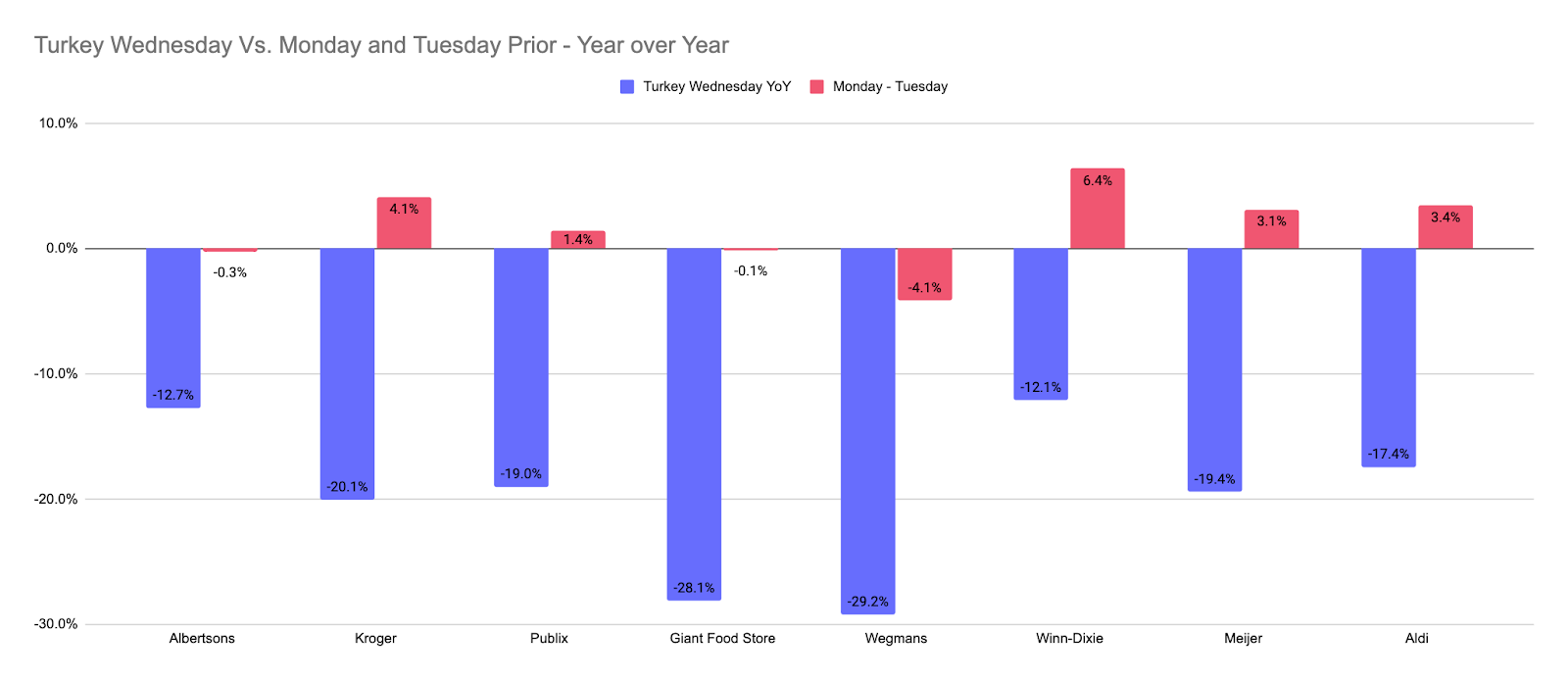 And this matters a lot.
Brands are seeing a customer base that is likely more prepared than normal, with mission-driven shopping pushing more visitors to require fewer visits. This makes many customers less reliant on a desperate last-minute dash to the supermarket the day before a major holiday. And the weekly visit data for these brands supports that idea. All the brands measured saw strong and steady visit improvements in the weeks ahead of Thanksgiving indicating that more people preparing earlier than usual.
And while the lack of a full travel season likely helped, it is clear that shopping behavior shifts seen earlier in the pandemic are lingering especially as case numbers rise.

Big Takeaway
This leads to a very important conclusion – brands across retail must be ready for a dilution of traffic away from major shopping days as they shift to a more distributed mix. This could actually provide a major benefit for those brands that have prepared for this eventuality, though could impact others that are more reliant on single spikes.
To learn more about the data behind this article and what Placer has to offer, visit https://www.placer.ai/.