Asia Pacific: Hotel performance ups and downs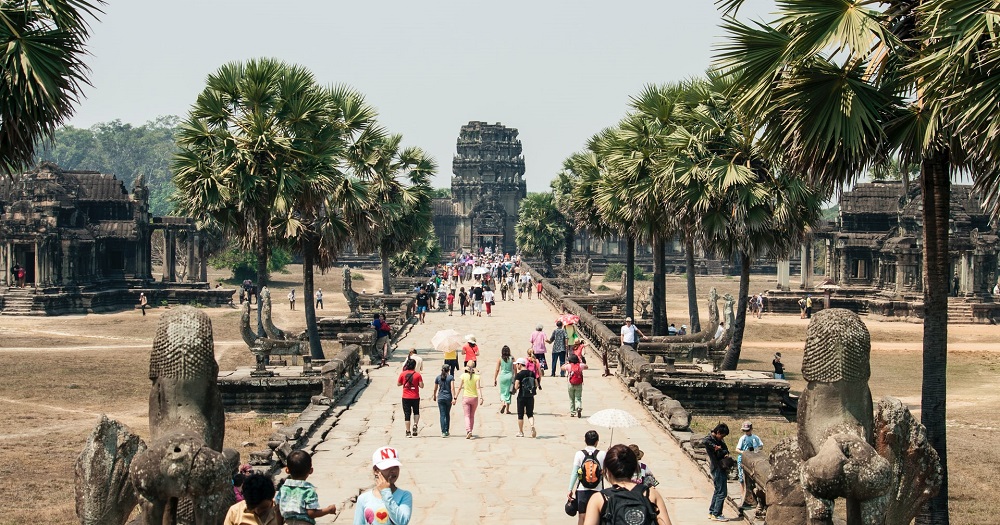 The Asia Pacific region has seen increasing challenges through the first seven months of 2021, with situation varying greatly by country.
While India has been steadily recovering from its latest outbreak, Australia and Indonesia are now facing new restrictions.
Mainland China, which was already at 2019 performance levels, has seen new cases arising and performance dipping. Southeast Asia has been mostly quiet, but there is hope in the Phuket Sandbox program, which allows vaccinated foreign tourists to enter the island without the same level of restrictions as those unvaccinated.
Continued diversity
Although Asia Pacific has quite a way to go before the entire region is back to pre-pandemic levels, Northeast Asia, thanks to Mainland China, and Australia & Oceania, driven by Australia and New Zealand, are clearly ahead of 2020 levels but still only pacing at roughly half of their 2019 comparables.
For example, Northeast Asia's occupancy came in at 50% in the first half of 2021. That was up from 2020 (36%) but substantially below 2019 (68%). Australia & Oceania is also behind the pace—53% in H1 2021, 45% in 2020 and 73% in 2019.
At the same time, during the first half of 2021, Central & South Asia a saw similar occupancy level as 2020, while Southeast Asia's occupancy in H1 (35%) was slightly lower than 2020 levels (39%) and even further behind 2019 levels (66%).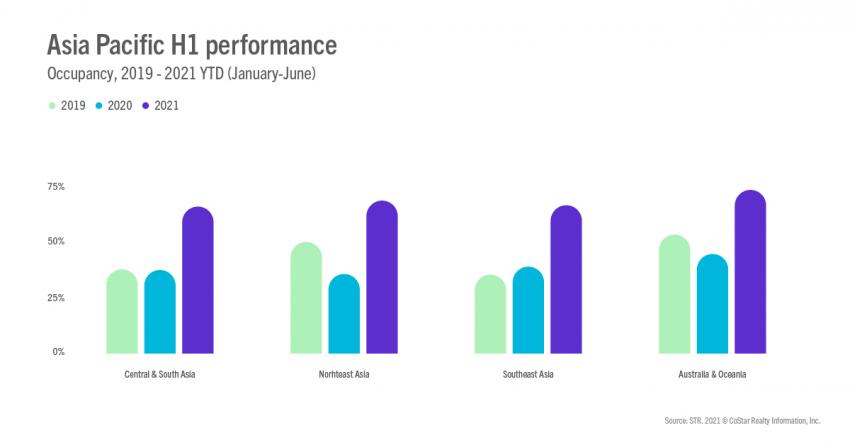 Recent Growth
India faced a challenging time in March-April, with cases increasing across the country. Since then, the country has seen a progressive approach to vaccinations in key markets across the country, and as a result, an increase in travelers—especially business demand. Whereas India's first recovery demand was concentrated in leisure destinations such as Goa, heavily populated markets such as New Delhi and Mumbai have recently seen an increase in demand reaching more than 50% occupancy levels.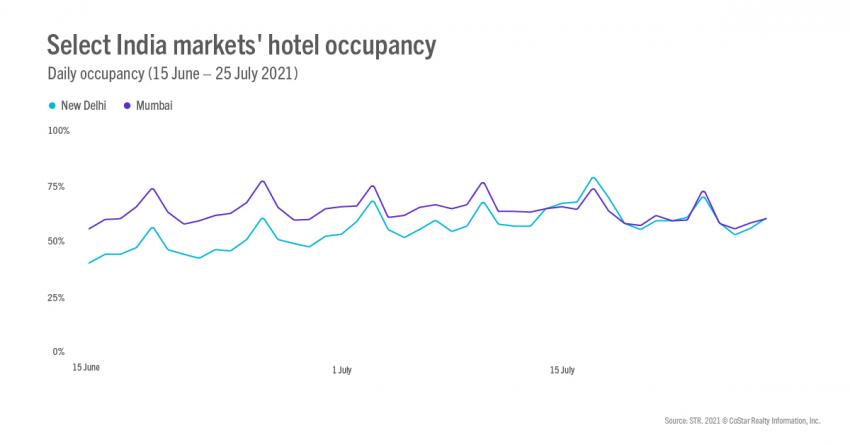 The Maldives has been able to capitalize on the "one island one resort" concept for the past nine months, with its inherently favorable setup from an isolation perspective, and this had a positive impact in driving demand to the island - especially high-net worth travelers. There has been a strong correlation between demand and how restrictions fluctuate in source markets to the Maldives, but overall, the islands have been able to regain decent demand successfully.
Holding at various levels
Mainland China, already at 2019 levels as previously mentioned, saw occupancy levels between 70%-80% in the last few weeks of July. Shanghai posted 80% occupancy levels during weekdays due to corporate and MICE demand coming back to the market. However, recent cases have pushed down performance in certain markets such as Nanjing, as seen in the graph below. City Centre would naturally command higher occupancy levels during more normal trading conditions, but also fall the deepest as challenges return.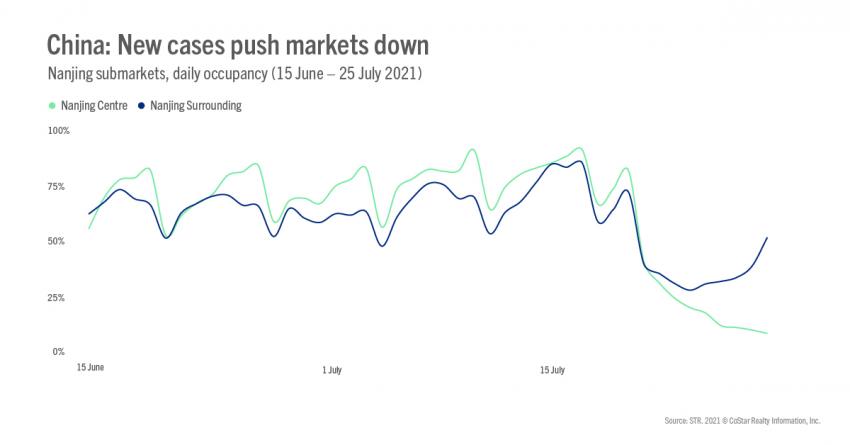 Another country holding successfully has been New Zealand. The country has seen a comparatively good performance thanks to high enough level of domestic demand.
Although Singapore has restrictions in place at the moment, occupancy has reached high levels thanks to quarantine demand. With over 70% of the population now fully vaccinated, there is potential for the country to open up more in Q4.
Recent Decline
Australia and Indonesia, on the other hand, have so far stood out and seen reasonable domestics demand levels, in some areas even business travel during weekdays. However, for the first time, both countries are now seeing more extended and severe restrictions, and as a result people movement and hotel performance in Australia and Indonesia has been affected drastically.
As seen in our latest press release, Australian markets with longer restrictions have seen occupancy levels below 20%. For the week of 26 July-1 August, the STR-defined Sydney Surrounding market, as well as Sydney, posted 15.6% and 15.8% occupancy levels, respectively. Those were each market's lowest weekly levels in 2021.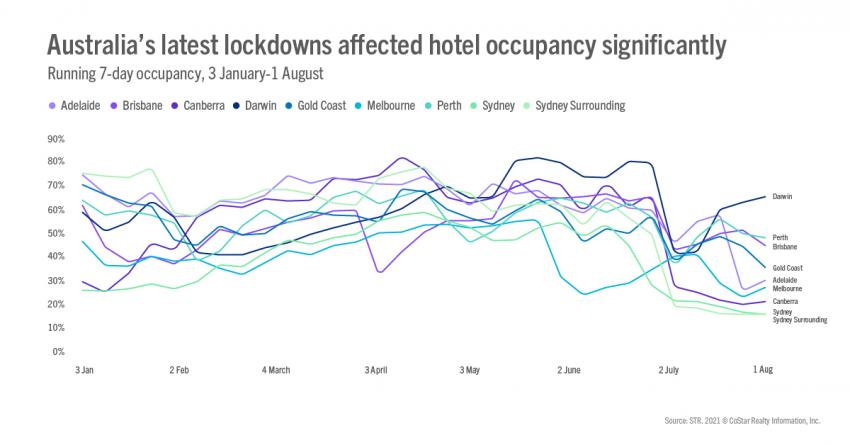 Continued very low demand
On the other side of the spectrum, Sri Lanka, Taiwan, and the Pacific Islands still have a fair number of closed rooms. Other markets such as Vietnam and Cambodia have seen continued impact due to slow vaccination rollout and the continued outbreaks in the countries, which is affecting the economy in general in both markets.
Is the future brighter?
As we've seen in one of our previous articles, markets in Asia Pacific, as well as in the rest of the world, have seen shorter booking windows. Islands relying in international demand, such as Phuket or Maldives, have seen an important impact on performance due to the changes in restrictions in their source markets.
However, occupancy on the books shows strong demand thanks to traveler's flexibility to book longer stays along with flexible cancellation policies from hotels and airlines. Thailand villas and alternative accommodations haven seen strong demand from European travelers for the Christmas period. At the same time, some degree of business demand is expected to return in the fourth quarter of 2021.
In conclusion, hotels around the world have learned so much over the past 18 months and improved their relationships with owners and lenders, as well as clients, being able to adapt to the new consumers sentiments and regulation shifts.
In addition, more people are using data to understand how these trends and changes are working and, of course, there are many lessons to learn.
To learn more about the data behind this article and what STR has to offer, visit https://str.com/.