Shipping Fees Matter on the Margins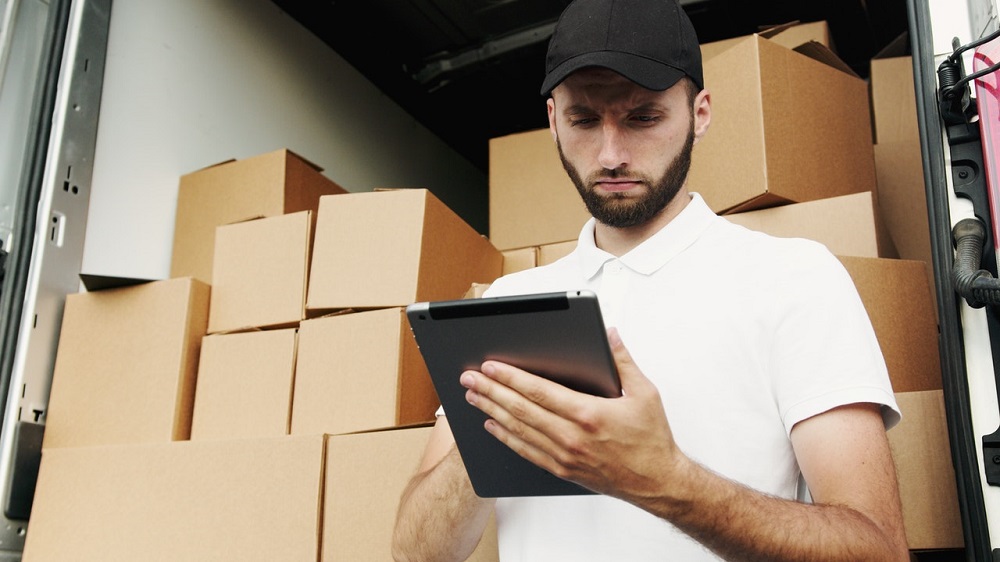 CE Receipt can help users understand company performance not only by tracking topline spend, but also by digging into margin drivers with a breakout of shipping costs. Free or reduced cost shipping promotions for online orders can eat away at retailer margins, making this a key area to track for the holiday season.
Despite supply chain issues and a shift back to brick-and-mortar shopping this year, average shipping charges in our CE Receipt Shipping Index have remained remarkably similar to last year's in the holiday shopping period to date. November's average shipping charged to shoppers increased just five cents versus last year, while so far in December shipping costs have inched down by a mere two cents. With the frenzy of rush shipping still to come, it will be important to track how these trends play out for the rest of December.
CE Receipt Shipping Index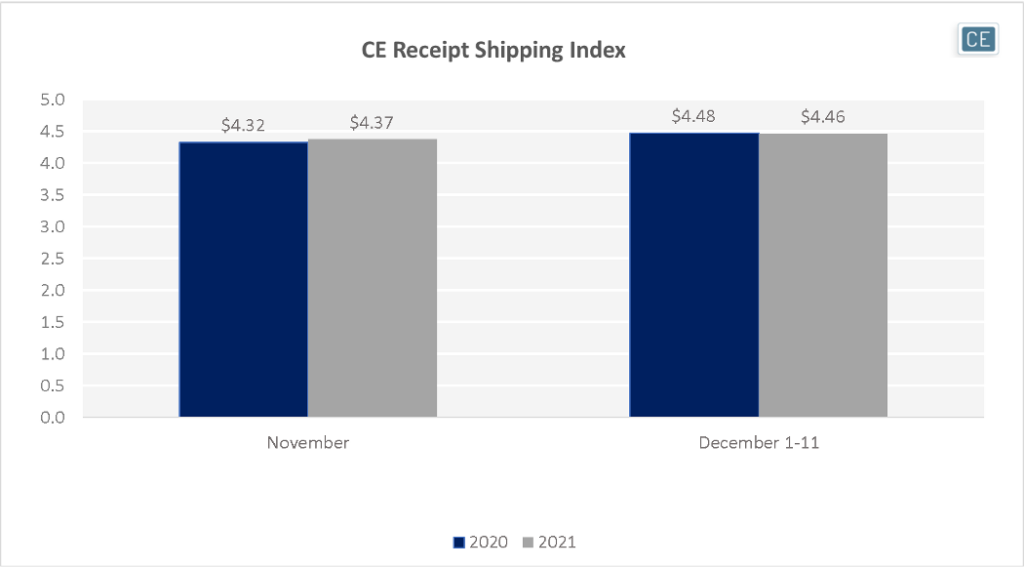 Don't be fooled by averages though. There have been sizable movements in shipping charges within the brands tracked by CE Receipt. Notably, Gucci went from charging for shipping in November 2020 to having no shipping charges in November 2021. Among other retailers with margin at risk as high shipping costs last year have plummeted this year are Ashley Furniture (where average shipping dropped from 14.79 last year to 4.27 this year), iRobot (9.89 to 0.56), and Nautica (7.98 to 1.36). In general, sporting and outdoors companies seemed to be pervasive among those dropping shipping charges, with Academy Sports + Outdoors, Adidas, Dick's Sporting Goods, Champs, and Mountain Hardwear among the companies with the largest declines in average shipping November 2021 versus November 2020. We do note that many companies in our tracked universe offer different shipping options for different types of items, so product mix may be playing a part as well as promotions.
Largest Decrease in Shipping Charges per Order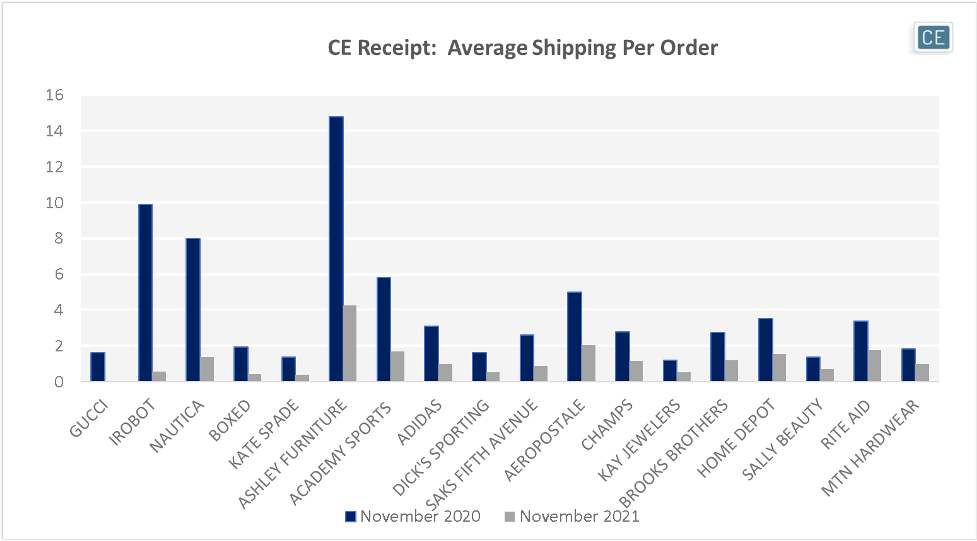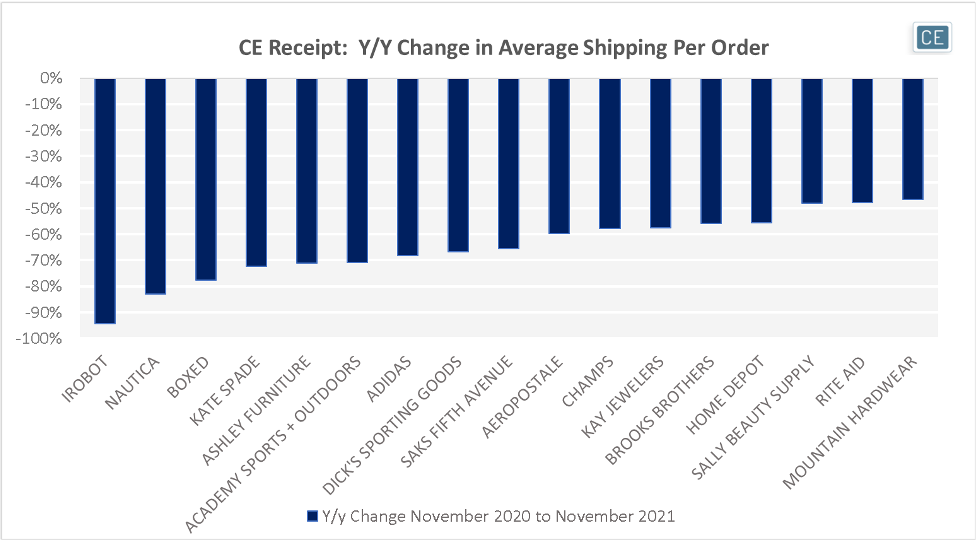 Of course, what goes down may also come up. As the index average indicates, several companies also may be trying to save back some margin by increasing average shipping per order. Among those seeing higher average shipping spend this year versus last year are apparel companies such as North Face (where average shipping went from 0.25 to 6.88 per order), Zara (0.87 to 4.89), and Home Furnishings sellers such as Purple (0.76 to 4.09), Birch Lane (1.75 to 8.43), and Garnet Hill (3.07 to 13.34). Wish was also notable as having average shipping charges that crossed the $10 threshold this year – from 6.56 last year to 11.73 this year.
Largest Increase in Shipping Charges per Order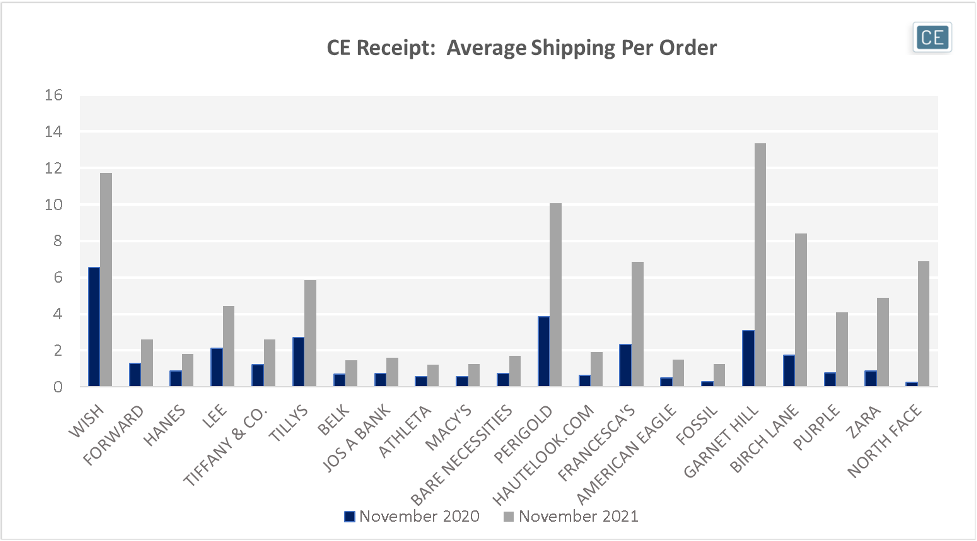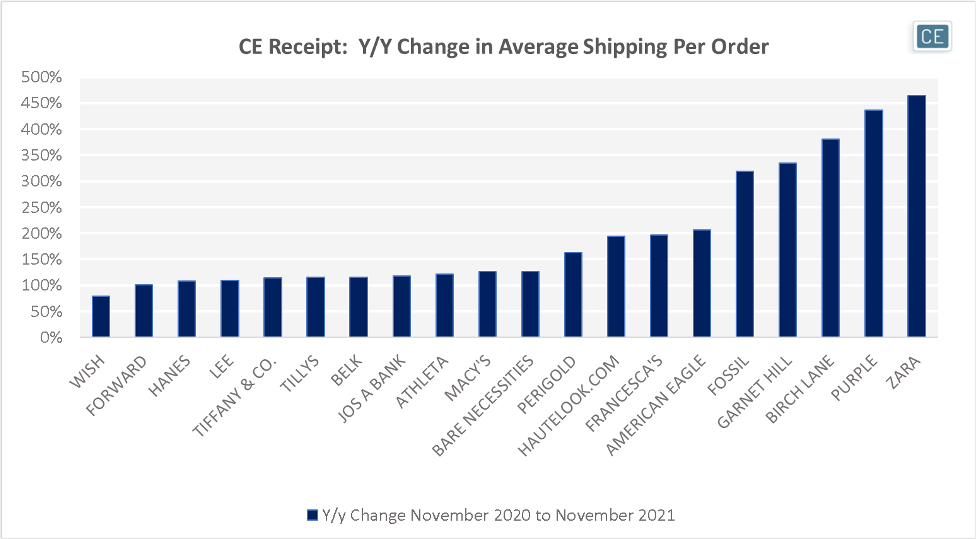 To learn more about the data behind this article and what Consumer Edge Research has to offer, visit www.consumer-edge.com.