Which company is winning the restaurant food delivery war?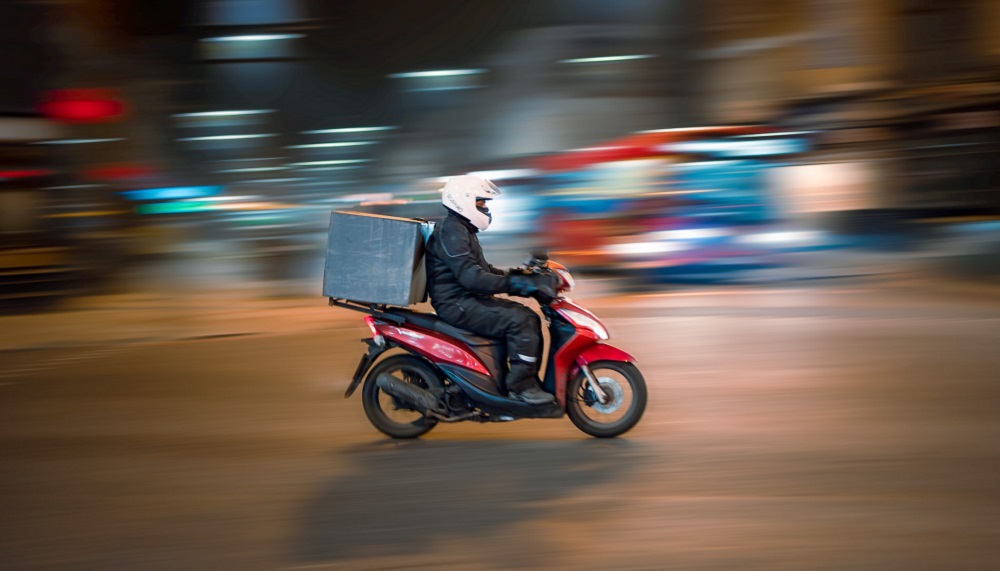 When many Americans sheltered in their homes early in the coronavirus pandemic, meal delivery sales reached new heights. Our data reveals that in November 2021, sales for meal delivery services grew 13 percent year-over-year, collectively.
The ongoing pandemic may also be driving more Americans to make their first meal delivery purchase. In November 2021, 50 percent of U.S. consumers had ever ordered from one of the meal delivery services in our analysis, up from 44 percent a year ago.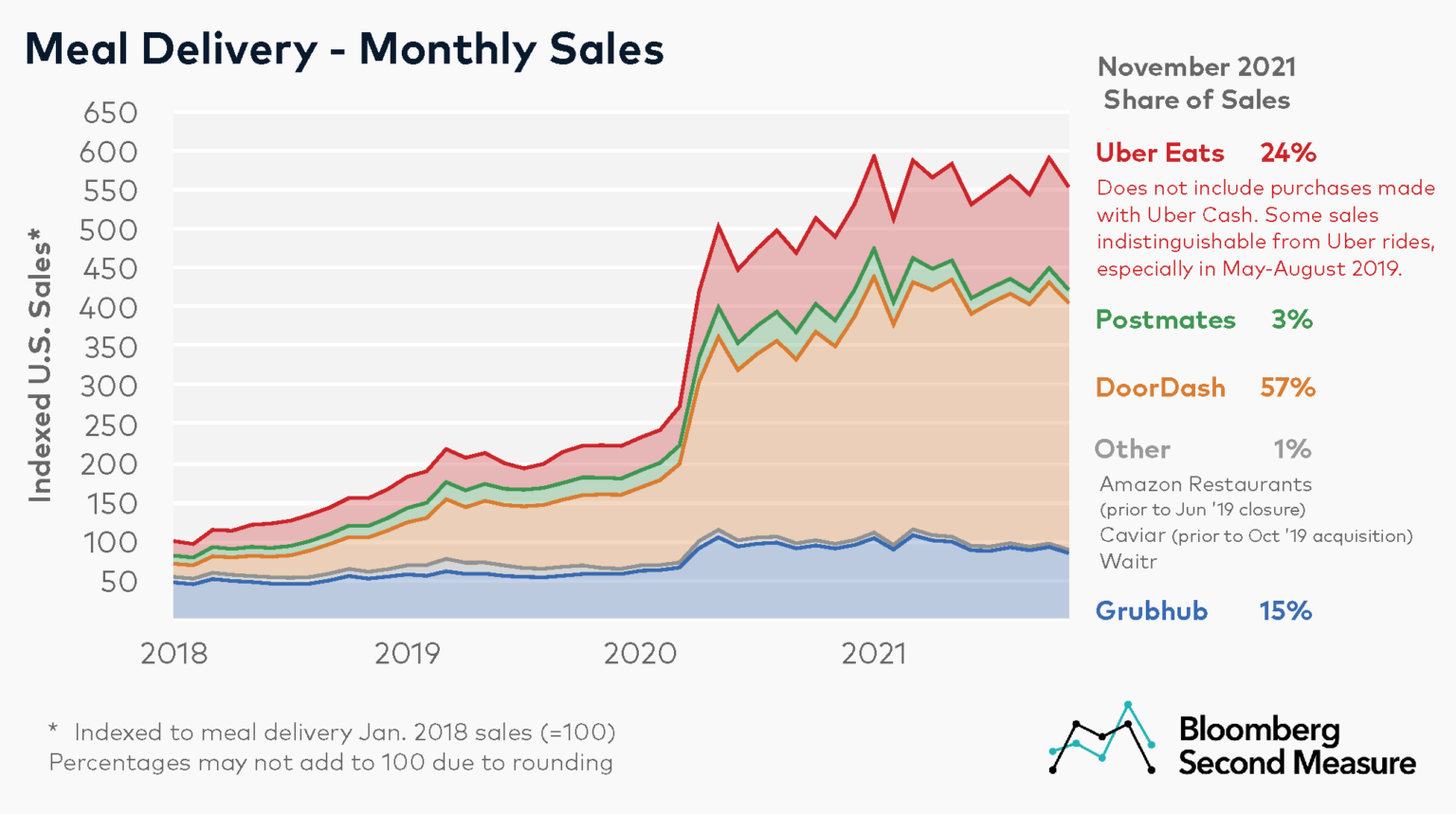 These thriving businesses have been in the spotlight during the COVID-19 era. Last December, DoorDash made its public market debut with one of the biggest IPOs of 2020, while Uber acquired Postmates at the end of November 2020 in an attempt to consolidate market share and boost profitability. Uber is also seeking ways to diversify its existing business, such as by launching a U.S. grocery delivery service and piloting same-day delivery with Costco. Uber has also expanded its prescription delivery partnership with Nimble and acquired alcohol delivery company Drizly. Meanwhile, DoorDash has partnerships with CVS as well as regional and national convenience stores for the delivery of household essentials. DoorDash also recently partnered with Albertsons to expand its grocery delivery offerings and reportedly engaged in talks to buy Instacart. In September, DoorDash also announced that it was adding alcohol delivery to its app.
DoorDash and its subsidiaries earned 57 percent of U.S. consumers' meal delivery sales in November 2021, while our data indicates Uber Eats came in second place with 24 percent. It's worth noting that our sales metrics may differ from publicly reported earnings for a number of reasons. First, some Uber Eats transactions are indistinguishable from Uber Rides transactions in Bloomberg Second Measure's data, and this issue was especially pronounced from May 2019 to mid-August 2019. Additionally, Bloomberg Second Measure's data does not include Uber Eats' purchases made using Uber Cash or purchases made by corporate customers, an area where Uber Eats is reportedly making inroads. Our analysis includes debit and credit card purchases from a panel of millions of U.S. consumers. Postmates earned 3 percent of the U.S. meal delivery market in November, bringing Uber's total market share to 27 percent.
Grubhub and its subsidiaries, which include Seamless and Eat24, came in at 15 percent of U.S. meal delivery consumer spending in November 2021. (Purchases made through LevelUp, which Grubhub acquired in late 2018, are not included in our analysis. Neither are college student meal plan purchases made through Grubhub subsidiary Tapingo.)
One of the industry's smaller services, Waitr, earned 1 percent of national sales in November 2021. In January 2020, the company announced plans to lay off all drivers in favor of using contractors. The change came weeks after Waitr installed a new CEO as it tried to boost share prices and remain listed on Nasdaq.
Average sales per customer on the rise at meal delivery companies, especially DoorDash and Uber Eats
In addition to more consumers ordering from food delivery services, the average sales per customer has increased for these companies during the pandemic. DoorDash and Uber Eats have seen the most growth in average sales per customer over the past two years. At DoorDash, the average sales per customer in the third quarter of 2021 was 112 percent higher than in the third quarter of 2019. For Uber Eats, the average sales per customer rose 91 percent during the same time period.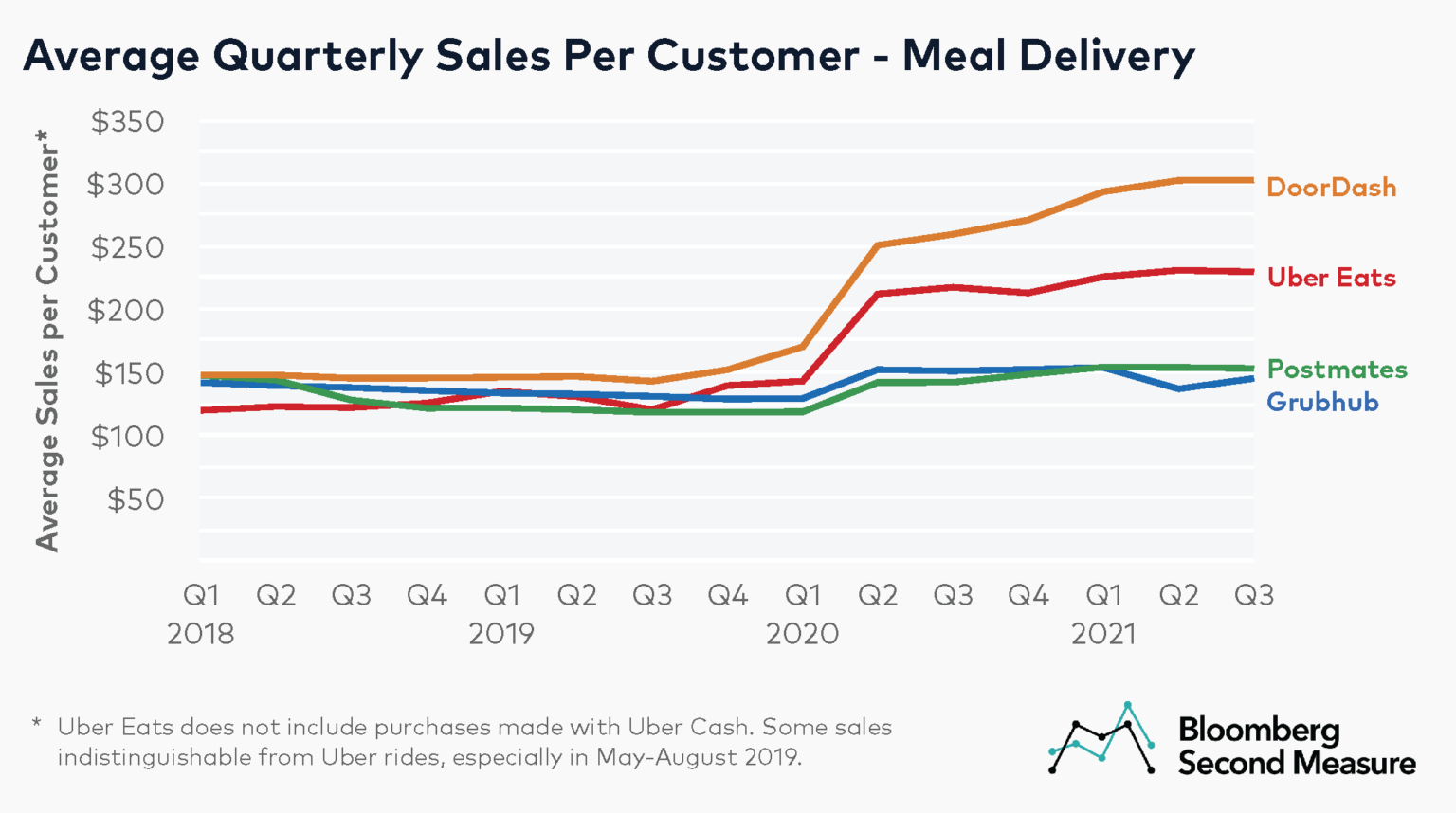 In the third quarter of 2021, DoorDash customers spent the most, with an average of $302 per customer. Uber Eats' quarterly customer spend was the second highest with an average of $229, while customers at Grubhub and Postmates spent an average of $153 and $145, respectively.
Subscription meals have appeal
As meal delivery services look for new ways to grow in cities big and small, one emerging answer is subscriptions. Last year, Grubhub announced its answer to Postmates Unlimited (launched in 2016) and DoorDash's DashPass (launched in 2018). Notably, in December 2019, DoorDash partnered with Chase to give free DashPass memberships to millions of credit card holders. (These free memberships are not included in Bloomberg Second Measure's data.) In November 2021, Uber launched its new "Uber One" subscription plan, which offers benefits for both rides and delivery services.
In November 2021, 3 percent of Postmates customers were subscribers. Meanwhile, DashPass attracted 27 percent of DoorDash's customers, not including the promotional memberships they offered Chase users.
Companies vie for restaurant partners
Another very popular growth strategy for meal delivery companies has been forming partnerships with the nation's top chain restaurants. (Though many services have also been in the news for listing restaurants that do not want partnerships.) In 2020, DoorDash officially teamed up with Little Caesars Pizza, a brand that has never previously offered delivery. DoorDash has other deals with Wendy's, Chick-fil-A, and McDonald's, the biggest fast food chain in the country, which also offers delivery with Uber Eats.
Starbucks has a contract with Uber Eats, Popeyes with Postmates, and Taco Bell and KFC with Grubhub. Yet, as Uber Eats and Grubhub public filings show, partnerships don't always lead to revenue. Often, larger partners pay the delivery services lower fees, decreasing their take rates or even causing them to lose money. Conversely, some restaurants that are relying heavily on delivery amidst the COVID-19 pandemic have reported losing money on orders as meal delivery companies charge high service fees, prompting policy intervention in many cities. New York City has also recently passed legislation to improve conditions for food delivery workers.
However, the partnerships seem to be driving sales for some of the restaurants. The Cheesecake Factory and Chipotle have publicly credited DoorDash with boosting their revenue. In November 2021, Bloomberg Second Measure data shows 6 percent of The Cheesecake Factory's sales came through DoorDash (before subtracting DoorDash's cut or the delivery tip). The meal delivery service also accounted for 10 percent of November sales at Buffalo Wild Wings and 11 percent at Chipotle.
Fewer customers are loyal to a single meal delivery service
Despite overall industry growth, the battle for customers is getting more intense because fewer of today's diners are loyal to just one service. (Grubhub's CEO has cited "promiscuous customers" as a hindrance to his company's growth.) In the third quarter of 2019, 60 percent of Grubhub's customers didn't use other meal delivery services. Two years later, it's fallen to 48 percent, as competing services woo customers with different restaurant offerings and promotional prices.
DoorDash saw 61 percent of customers use them exclusively in the third quarter of 2021, and for Uber Eats, it was 46 percent. Postmates has the lowest percentage of exclusive customers (34 percent). All of the services in our analysis have a lower percentage of exclusive customers than they did two years ago.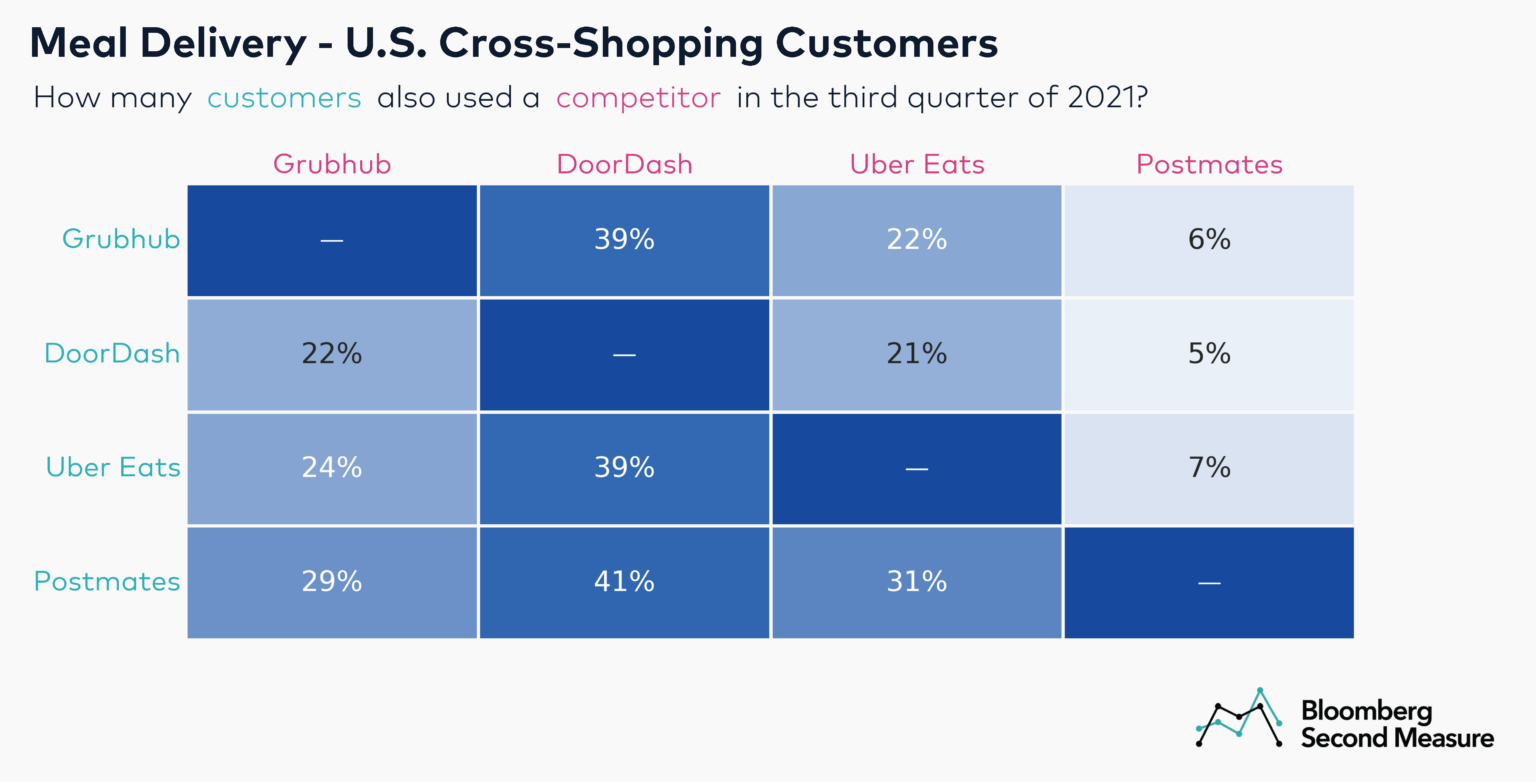 Not surprisingly, the biggest meal delivery services are also the most likely to share customers. About 40 percent of each company's diners also ordered food from top competitor DoorDash in the third quarter of 2021.
As more restaurants form exclusive delivery partnerships, more diners are going to have to hop between apps to cover all their favorite takeout spots. The least loyal customers, it seems, will also be the most well fed.
To learn more about the data behind this article and what Second Measure has to offer, visit https://secondmeasure.com/.