Market Recovery Monitor - 8 January 2022
The first week of 2022 (2-8 January) was somewhat typical for a first week in January. U.S. hotel industry occupancy dipped to 45.4%, which was eight percentage points lower than what it was in the comparable week of 2019 but eight percentage points higher than a year ago. In STR's 23 years of daily performance measurement, this most recent week's occupancy was among the lowest for the comparable time period—better than what was seen in 2000 and 2011 but worse than most all of the early 2000s. The highest occupancy for this week was posted in 2018 at 56.8%, with the next highest at in 2007 (54%). The week was held back by weekday occupancy (43%), which was the lowest since mid-February 2021. Weekend occupancy was much better (51%) and relatively strong with an index to 2019 of 94 (three percentage points behind 2019's occupancy).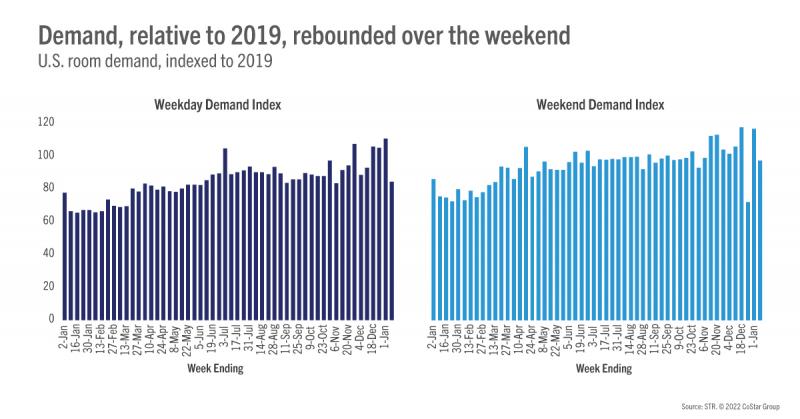 Market-level occupancy varied from a high of 79% in the Florida Keys to a low of 28% in rural Maryland (Maryland Area). Fifteen markets had occupancy of 60%, including nine in Florida. Overall, 35 of the 166 STR-defined U.S. markets reported higher occupancy than in the same week of 2019, the smallest number of markets to do so in the past 10 weeks. For the total U.S., occupancy indexed to 2019 was 85, which was the lowest since the end of May 2021. Nearly one quarter of all U.S. hotels reported occupancy under 30% for the week, which was more than a week ago.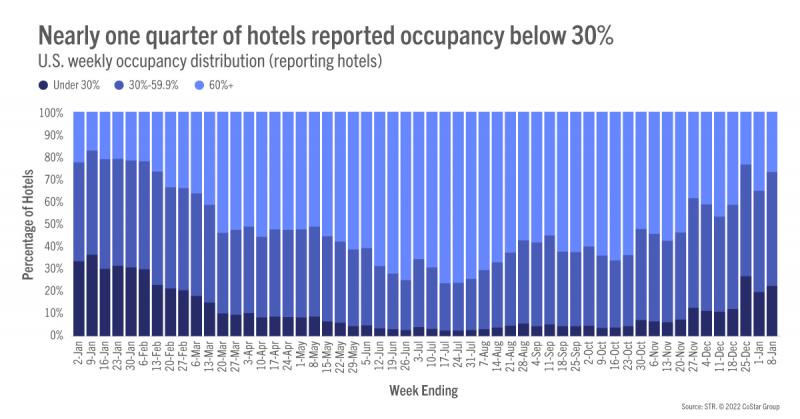 The Top 25 Markets fared slightly better than the rest of the nation with weekly occupancy of 47%, but the Top 25 index to 2019 was much weaker (78) and at a 10-week low. No Top 25 Market reported weekly occupancy above the level seen in 2019, and occupancy ranged from 66% in Miami to 33% in Chicago. Seven markets saw occupancy below 40% in the week, including Washington DC, Boston, San Francisco, and Minneapolis. Occupancy was even lower among the 17 submarkets categorized as central business districts (CBDs) where occupancy was 35% for the week. Four CBDs had occupancy above 50% (Dallas, Los Angeles, Miami, and Tampa) with Dallas leading the group at 56%. The St. Louis CBD saw the lowest occupancy of the group (23%) and was the fifth lowest of any submarket, just ahead of Niagara Falls (22%). The lowest occupancy submarket for the week was Branson, MO (12%).
Airport hotels showed the highest weekly occupancy (55%), which could be the result of continuing cancellations by airlines due to staffing shortages and weather-related issues, but in 2019, airport locations also led the nation in occupancy. Resort hotels followed next at 48%. Not surprising, the lowest weekly occupancy was in Urban hotels (38%) where more than a third of hotels reported occupancy under 30% for the week.
As expected, average daily rate (ADR) fell from the record-high seen in the previous week to a level that was 95% of what it was in 2019, the lowest 2019 index since June 2021. Even though ADR lessened, most markets (61%) reported weekly ADR ahead of 2019, but the number doing so also fell. In the previous eight weeks, 88% of all markets had ADR above 2019 levels. Like occupancy, weekend ADR bounced back with its relative level to 2019 at 109 and in line with previous weeks.
Revenue per available room (RevPAR) dropped significantly week on week and the index to 2019 (81) fell to its lowest level of the past 31 weeks while remaining in STR's "recovery" category (RevPAR indexed to 2019 between 80 and 100). A week ago, nearly all markets reported "peak" RevPAR (RevPAR indexed to 2019 above 100). This week, only 36% of markets saw RevPAR in the "peak" category, the lowest percentage of the past 31 weeks. Weekend RevPAR improved with the index to 2019 at 103, among the lowest seen in some time but not the worst. On a 28-day moving total basis, RevPAR remained above 2019 with an index of 105, down from 108 a week ago, with 83% of markets at "peak" RevPAR.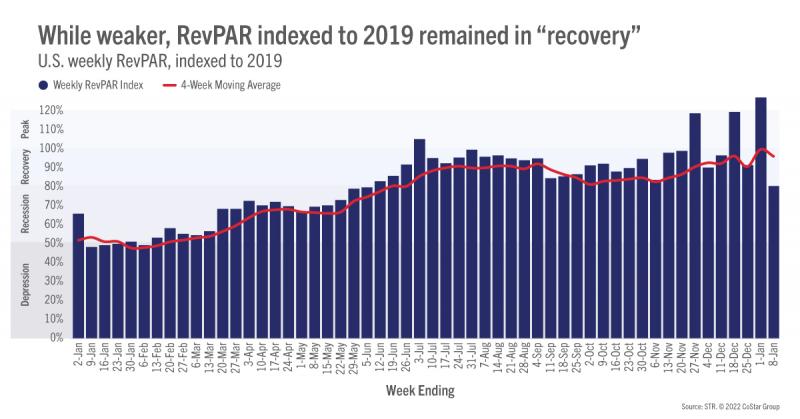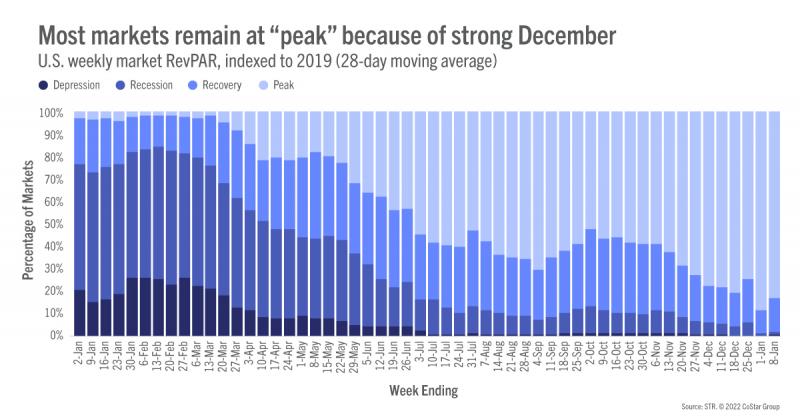 Outside of the U.S.
At 41%, occupancy outside of the U.S. was at its lowest level since early June 2021, but the index to 2019 was not that far off from what has been seen over the past several weeks. ADR fell week on week, but the index to 2019 rose for a second straight week.
Country-level occupancies ranged from 82% in the Maldives to 12% in Morocco. After lagging the rest of Europe two weeks ago, Russia moved to one of the top occupancies (65%) around the globe with a 40% week-on-week increase. The country's absolute level 80% ahead of the 2019 comparable. At a market-level, Saint Petersburg, Russia Provincial, and Moscow all saw double-digit growth versus last week and 2019.
Morocco will continue to suffer from Morocco's National Office of Airports decision to suspend all passenger flights to and from the country until 31 January 31 2022. Occupancy for the last week sat at 12%, down 63% from the previous week.
Within the top 10 largest countries based on hotel supply, occupancy was not much better. Mexico and China were at 46% each. Canada's occupancy dropped to 30%, its lowest level since mid-2021. Germany again had the lowest occupancy of the top 10 at 25% and Indonesia was at the top at 49%.
The U.K. saw its occupancy drop to 39%. The country's sost significant declines came from regional destinations, which had seen a boost during the Christmas season, likely driven by uncertainties around international travel due to Omicron. Major cities also saw a week-over-week decline, notably Newcastle, Manchester, Edinburgh, Glasgow, Birmingham, and London, all down more than 20% versus last week. January is likely to be a challenging month for the U.K. due to the lack of leisure demand and reduced international in-bound demand.
Collectively, global markets saw little change in performance with the number in "recession" (RevPAR indexed to 2019 between 50 and 80) or "depression" (RevPAR indexed to 2019 under 50) unchanged (64%) from the previous week and like what had been seen most of last year.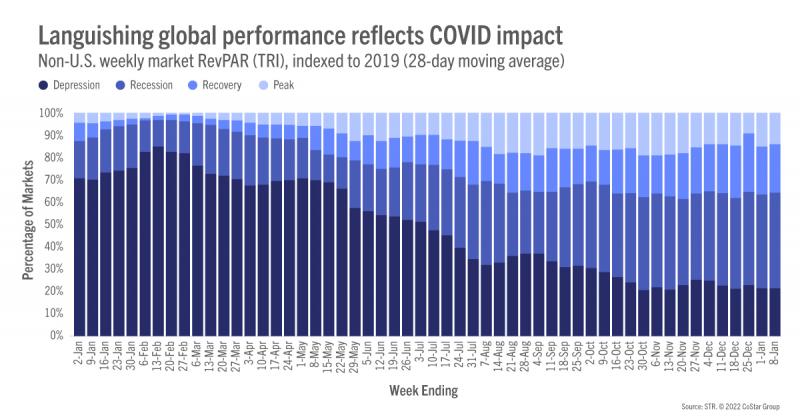 Big Picture
There is little doubt that Omicron is affecting performance now that the holiday travel rush has ended and demand is more dependent on corporate business. That will likely be the case for the next several weeks, however, the industry remains on a recovery trajectory with signs that travel will pick up again. In its recent earnings call, Delta Airlines reported that bookings are regaining momentum for early February and that Omicron pushed back its recovery by about 60 days. Delta's December demand was about 70% of December 2019's load. In comparison, the U.S. hotel industry saw December demand at 99% of 2019's level. This week's demand, which historically is among the lowest, was 88% of 2019. While slowing, the industry is in far better position than it was a year ago.
To learn more about the data behind this article and what STR has to offer, visit https://str.com/.