Uber vs. Lyft: Who's tops in the battle of U.S. rideshare companies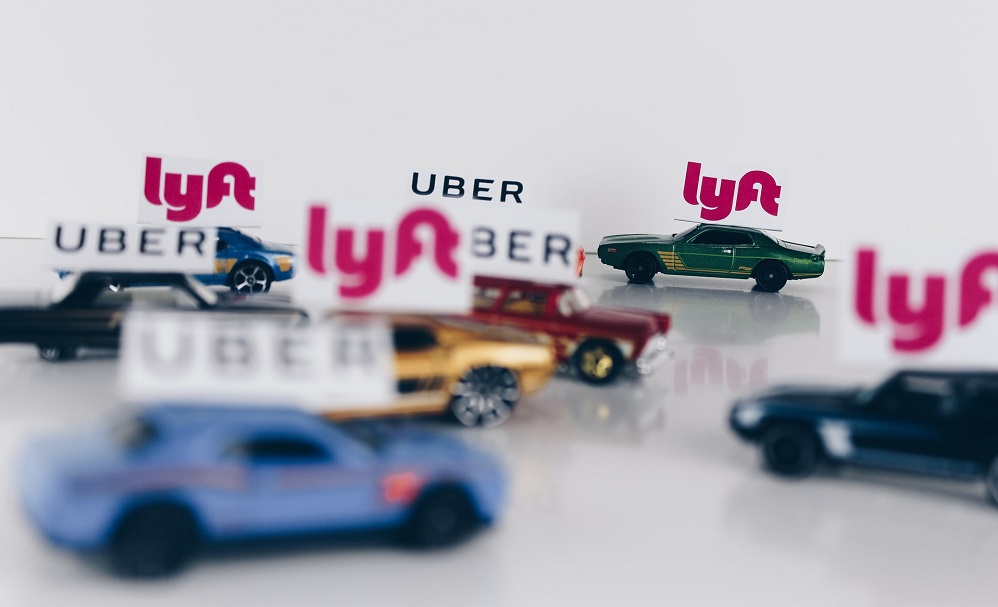 When U.S. cities and states faced shelter-in-place orders to limit the spread of the coronavirus, Americans' reduced mobility resulted in plummeting sales at rideshare companies. With the exception of year-end dips in 2020 and 2021, sales have been gradually recovering since April 2020. Bloomberg Second Measure transaction data shows that Uber sales were up 80 percent year-over-year and Lyft sales were up 49 percent year-over-year in April 2022.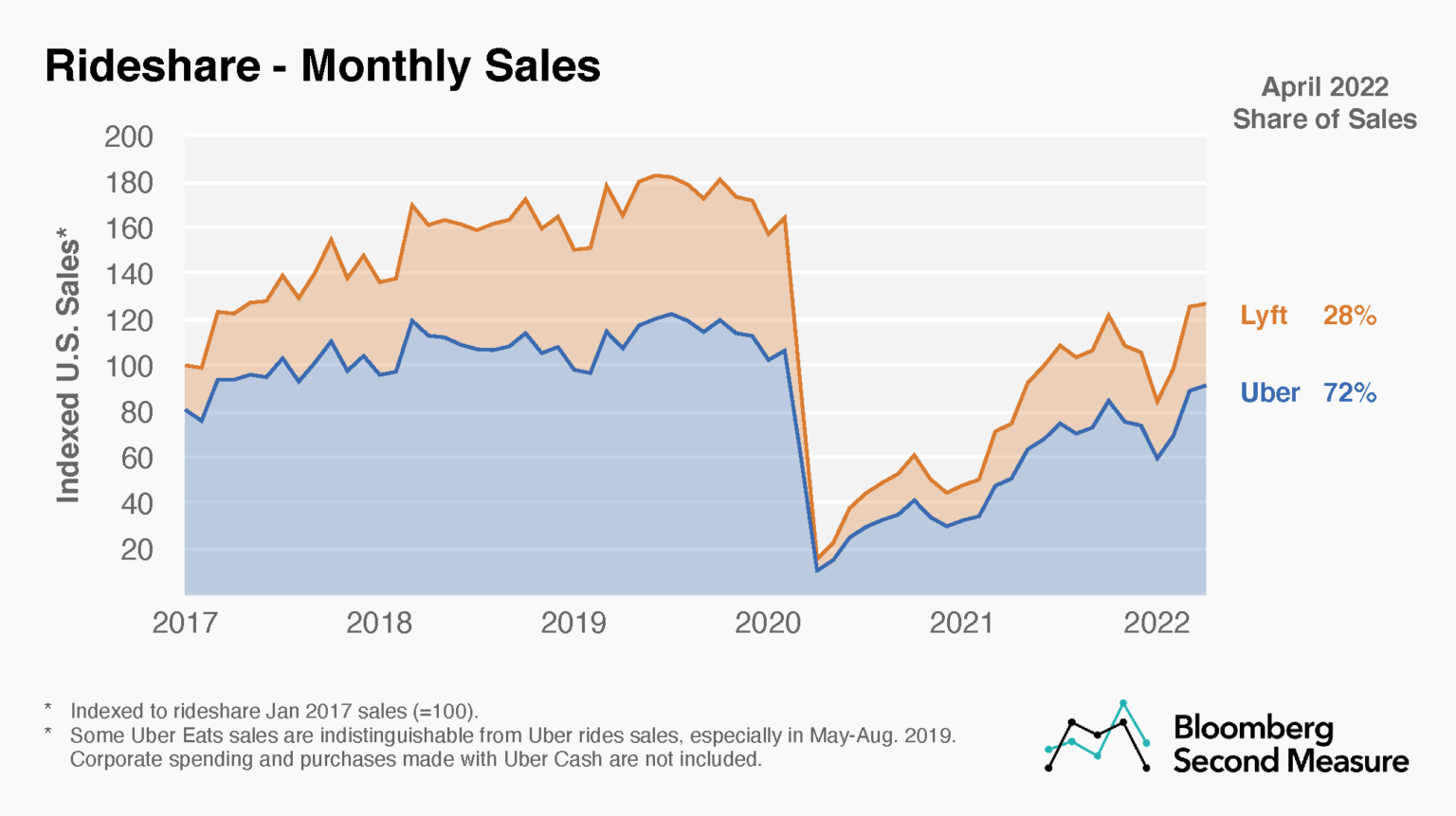 The breakdown of April 2022 sales between Uber and Lyft reveals that market share has remained stable, relative to prior months. Uber still dominates, taking in 72 percent of U.S. rideshare spending. Starting in August 2017, Uber's share of the market excludes most Uber Eats transactions, though some remain indistinguishable, especially from May to mid-August 2019. Both Uber and Lyft are also reportedly making inroads with corporate rideshare clients, although Bloomberg Second Measure's analysis excludes business spending.
Sales per customer on the rise for both Uber and Lyft, driven by higher transaction values and more transactions per customer
As the rideshare industry continues to rebound from the pandemic and some companies add fuel surcharges in response to rising gas prices, consumers may be paying more for their rides. In April 2022, the average monthly sales per customer at Uber was $86, a 24 percent increase year-over-year and a 58 percent increase from April 2020. Likewise, the average sales per customer for Lyft in April 2022 was $76, an 18 percent increase from the same month in 2021 and a 38 percent increase from two years ago.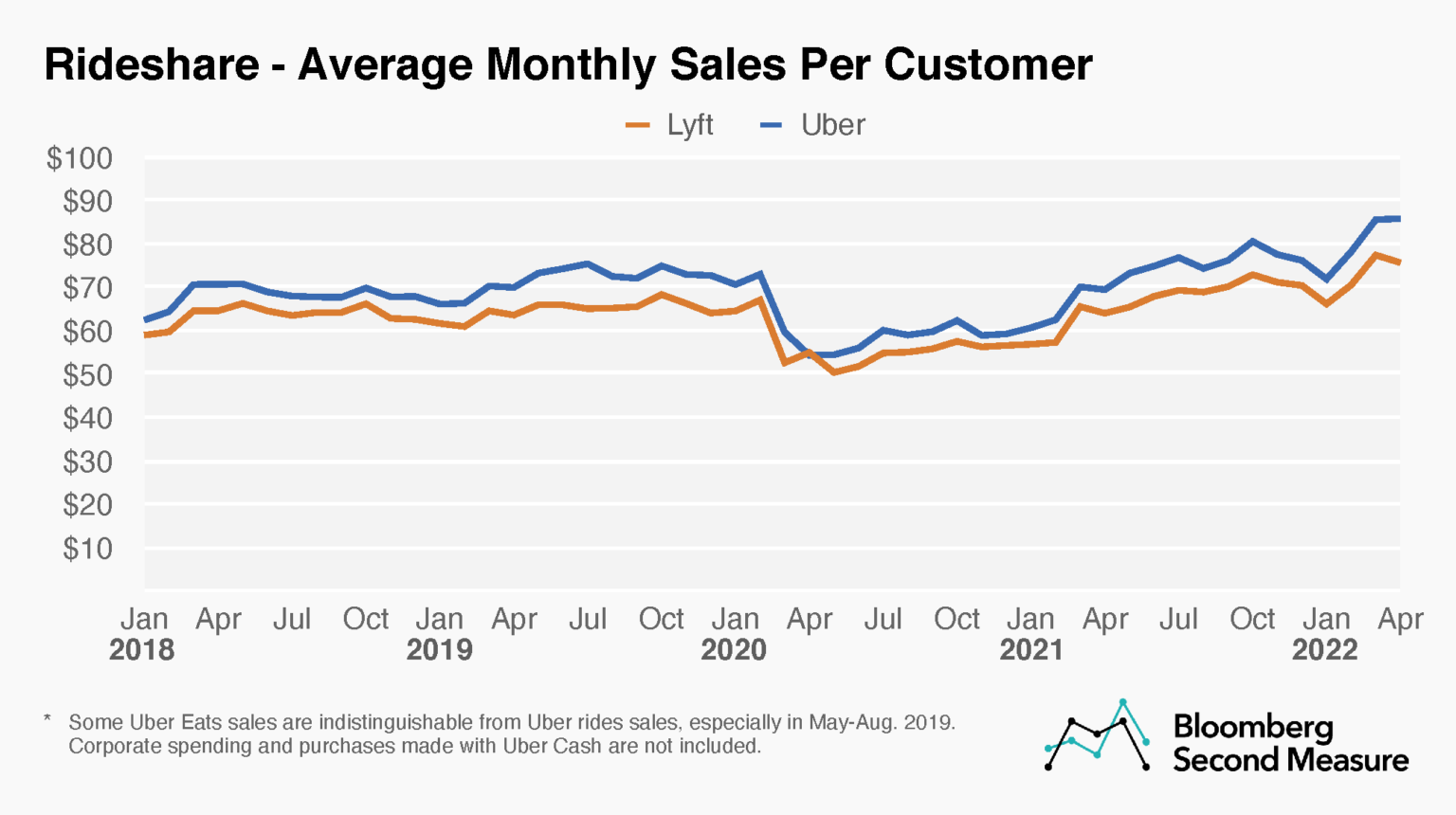 A closer look reveals that the increase in sales per customer is driven by a combination of higher average transaction values and customers transacting more frequently. In April 2022, Lyft's average transaction value increased 2 percent year-over-year and the company had a 15 percent increase in average transactions per customer during that time. For Uber, the average transaction value increased 7 percent and the average transactions per customer increased 15 percent compared to one year ago.
In an effort to mitigate rideshare driver shortages and rising fares, Uber reached a partnership deal to list New York City taxis on its app at the end of March 2022.
Uber and Lyft in regulatory battle over driver classification
In August 2020, rideshare operators entered a standoff with regulators in California over how employees are classified and compensated. Both Uber and Lyft were on the brink of suspending operations before reaching an agreement with the state to continue service. In November 2020, Uber and Lyft won a major victory when California voters approved Proposition 22, which allows gig economy companies to continue classifying their drivers as independent contractors rather than as employees. However, in August 2021, a Superior Court judge ruled Proposition 22 unconstitutional, a decision that Uber reportedly plans to appeal. Gig worker classification is also currently in contention in Massachusetts.
Uber also among top U.S. meal delivery companies
Uber has established itself as more than a rideshare company. Its successful foray into food delivery has surprised its own CEO. As meal delivery companies are thriving in the COVID-19 era, Uber purchased Postmates in July 2020 and alcohol delivery service Drizly in February 2021. Uber Eats has also expanded its offerings by forming a prescription delivery partnership with Nimble and piloting same-day grocery delivery with Costco. In November 2021, Uber launched its new "Uber One" membership, which offers premium benefits for both rides and delivery services. Uber also launched Uber Explore in select cities in March 2022, giving consumers the option to book experiences like dinner reservations or live events through the app.
In December 2021, Lyft also announced that it was entering the food delivery space through a new partnership with Olo. Unlike meal delivery apps such as Uber Eats and DoorDash, Lyft will not launch a consumer-facing platform. Instead, it will be a last-mile delivery provider that works with restaurants currently using Olo's Dispatch software.
Uber and Lyft among brands vying for scooter and bike sales
Uber and Lyft have also segued into micromobility, specifically scooters and bikeshare. Lyft launched a scooter fleet in September 2018, but in 2019, it announced it was pulling scooters out of six U.S. cities due to a lack of riders. In May 2020, Lime received funding from Uber and also acquired Jump Bikes, which Uber bought in 2018. Micro-mobility has also shown declining sales in light of the pandemic, collectively falling 64 percent year-over-year in 2020. However, scooter and bike sales rebounded in 2021 and the first few months of 2022.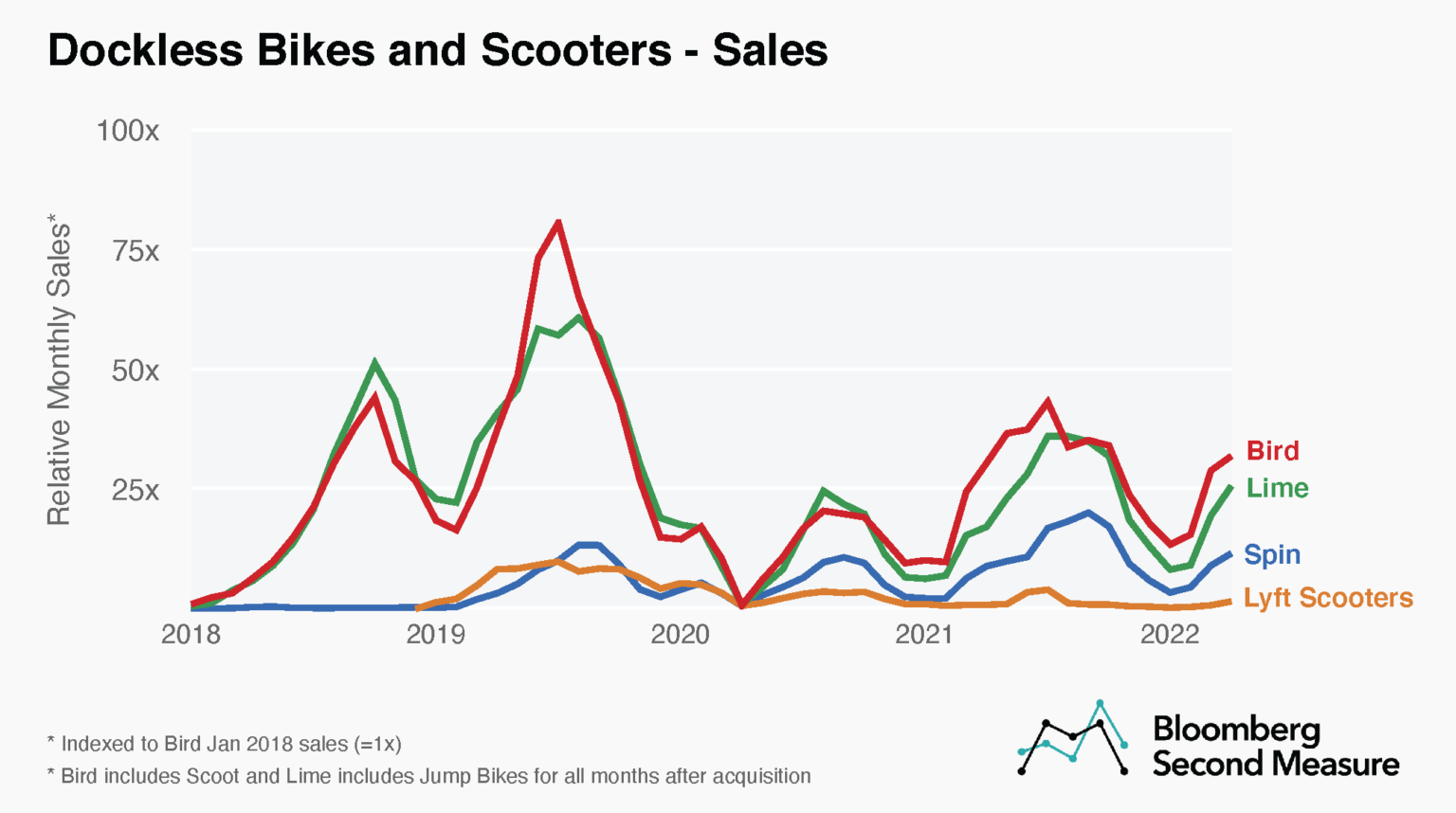 Bird kept busy in late 2019, raising $275 million in new funding in October 2019 and launching a kids' scooter, Birdie, in November 2019. The company also acquired Scoot in June 2019. In 2021, Bird had the highest U.S. sales among the micromobility companies in our analysis.
In December 2019, Lime announced it would be leaving four U.S. markets and eight international ones. Even before COVID-19, Lime and its competitors were experiencing the annual winter slump after most saw sales grow over the summer. In 2019, Lime's sales dropped 67 percent from July to December, while Bird's sales fell 81 percent over the same period.
The legal landscape for scooters is perpetually shifting, as federal agencies and cities across the country grapple with regulating this new form of urban transport. In January 2020, it was reported that the U.S. Consumer Product Safety Commission conducted probes into scooter safety while the previous fall, Los Angeles suspended Uber's scooter permit over a data-sharing dispute. Other cities are concluding pilot programs, seeking public feedback, and implementing strict regulations that have prompted some companies to leave the market.
In November 2021, Bird went public via a SPAC deal and started trading on the NYSE under the ticker BRDS. Lime is also reportedly considering a public debut in 2022.
Remembering rough roads traversed
Though Uber has always worn the U.S. rideshare crown, one of the most pivotal years in its history was 2017. That January, the #DeleteUber hashtag went viral, and Uber's market share dropped 5 percentage points in a single week, the start of what would turn out to be a challenging year.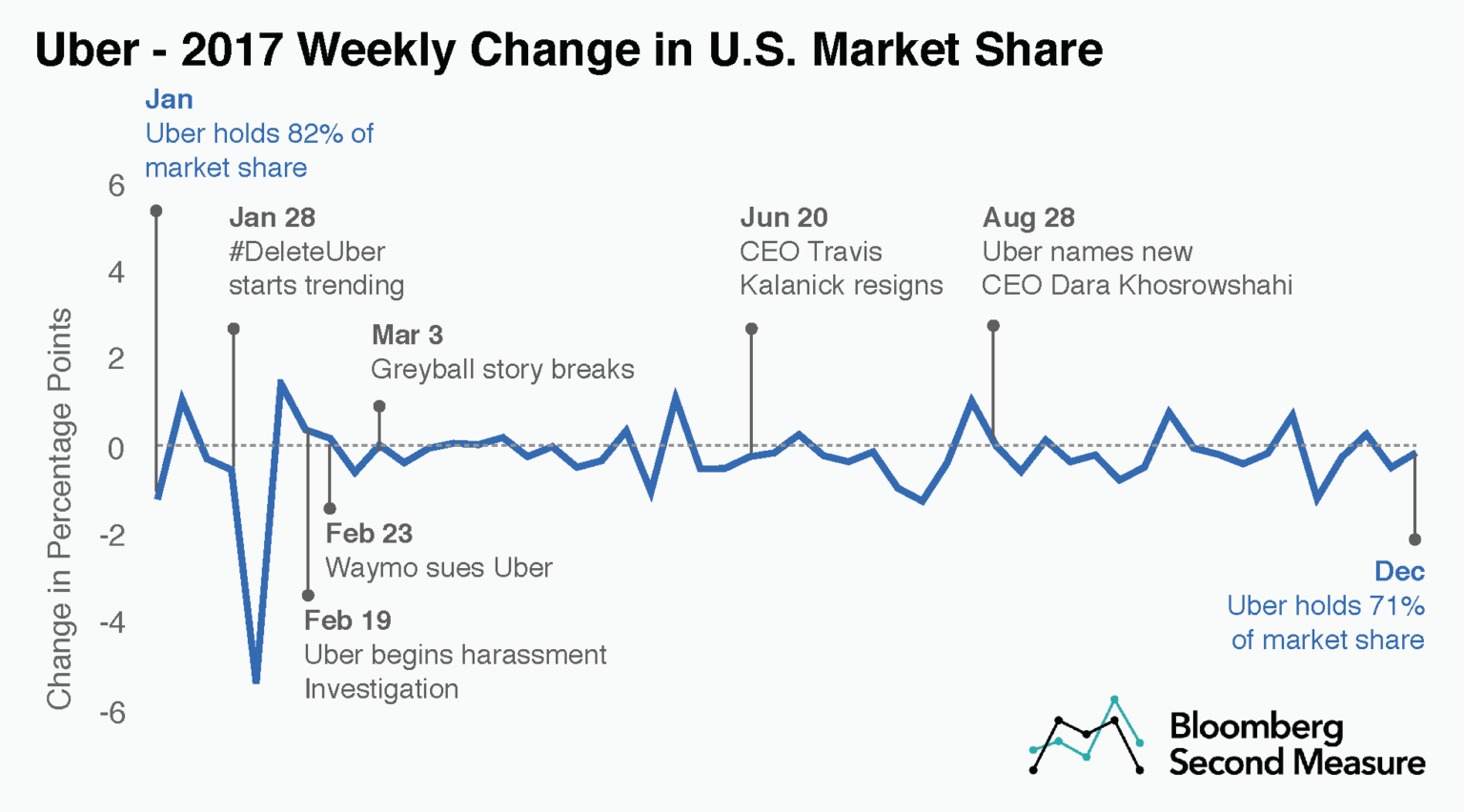 Former CEO Travis Kalanick resigned in June 2017 following other publicized issues, including questions surrounding the company's culture. A new CEO and 2018 brand overhaul have since helped Uber elevate its image and calm market-share fluctuations.
To learn more about the data behind this article and what Second Measure has to offer, visit https://secondmeasure.com/.