iPhone 14 Series Preliminary Sales Performance Shows Structural Change Amidst China Cell Phone Market Growth Decline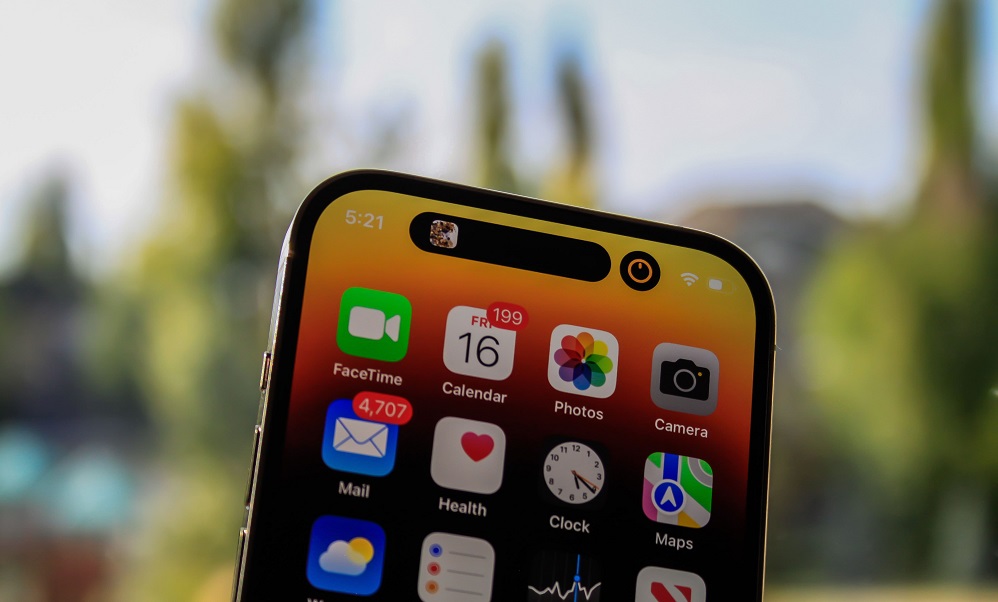 iPhone 14 series pre-order and preliminary sales showed: 1) similar performance as iPhone 13 series with slight year-over-year decline; 2) standard models have seen significant decline while Pro series achieved sizable year-over-year growth.
iPhone 14 Pre-Order Performance
(7-day pre-order sales during September 9-15)
Sandalwood e-commerce data showed 7% y/y sales volume growth for iPhone 14 series on Tmall compared to iPhone 13 series during the 7-day pre-order period. Sales value also grew 17% y/y. Units sold by Pro series increased by 56% y/y, whereas standard models declined by 70% y/y.
iPhone 14 Series Cumulative Sales Performance
(Data up to September 19)
Up until September 19, cumulative sales volume of iPhone 14 series declined 6% y/y compared to iPhone 13 series, of which standard model sales declined by 71% y/y. Pro series sales, on the other hand, grew 38% y/y.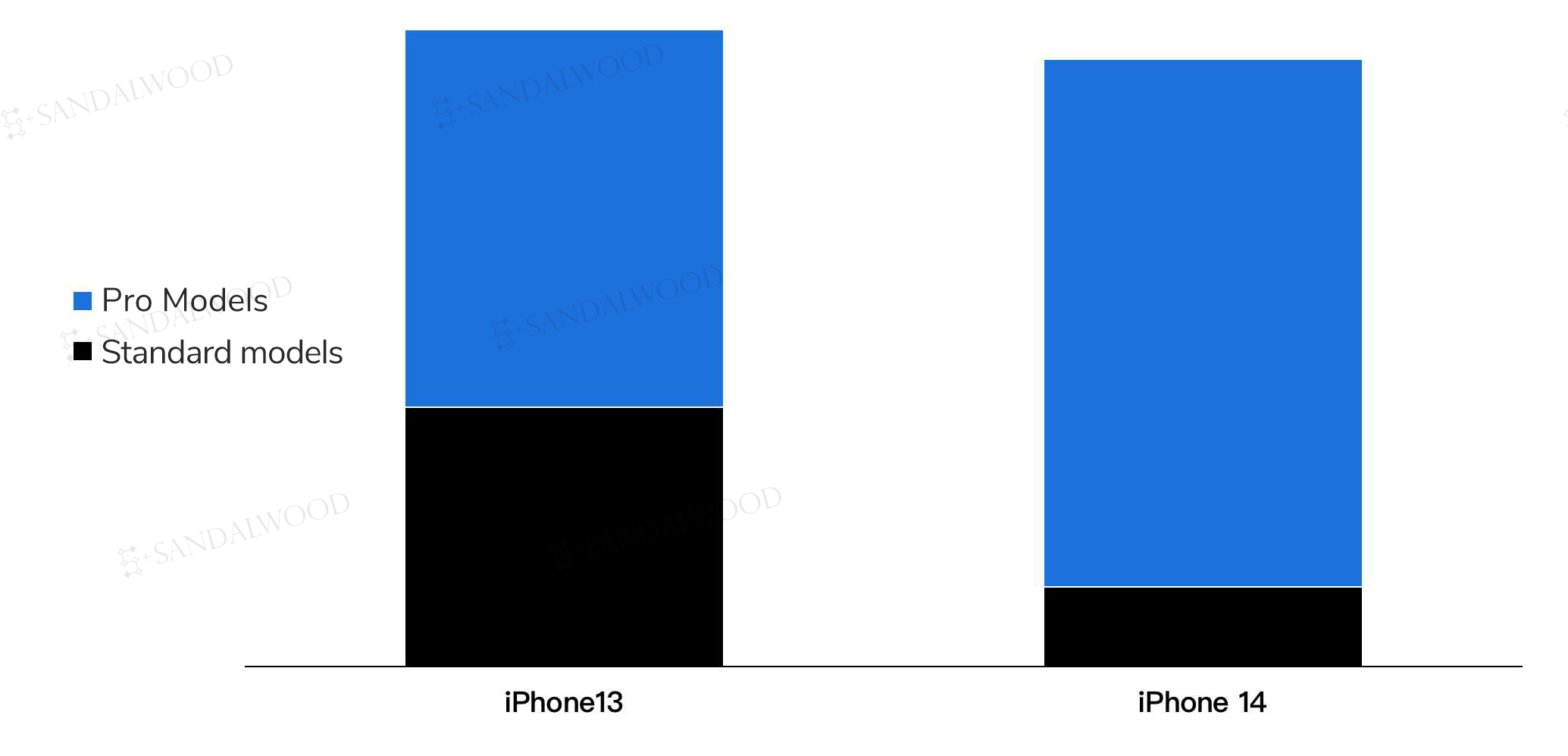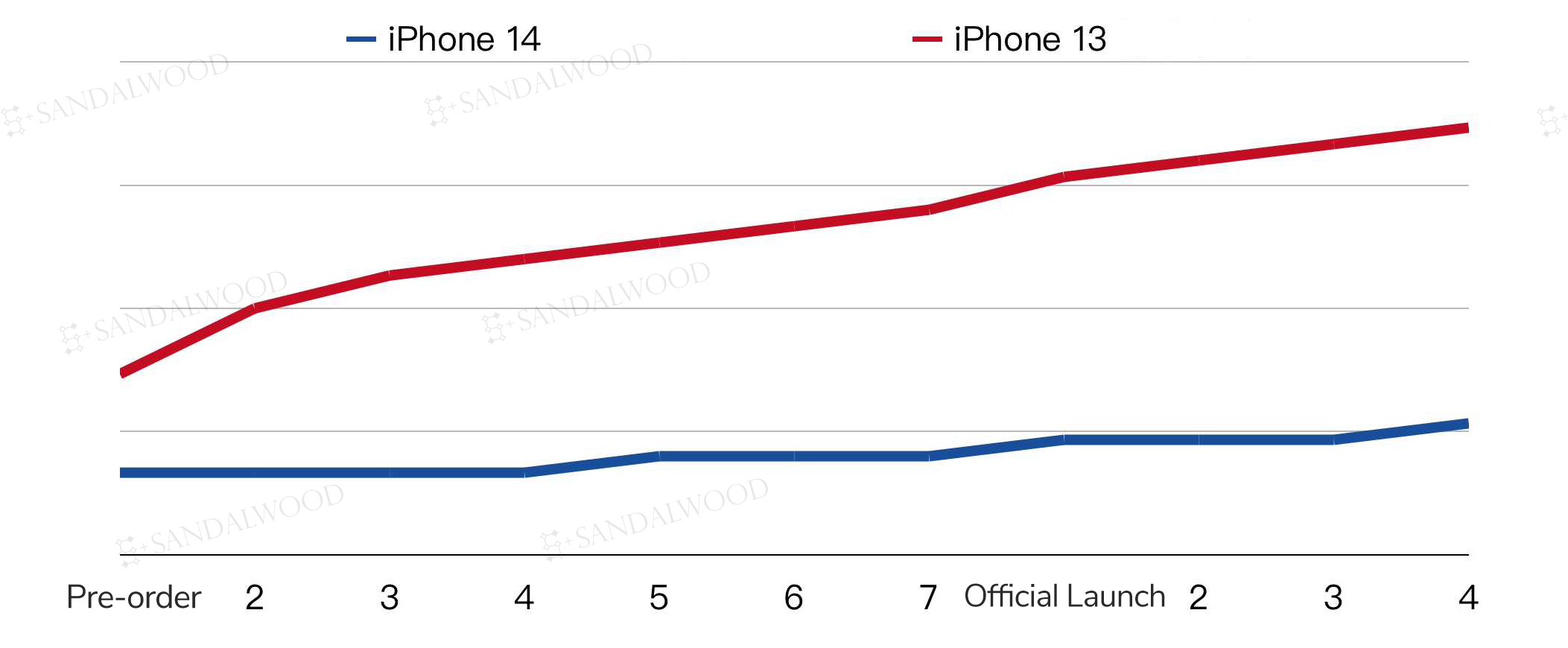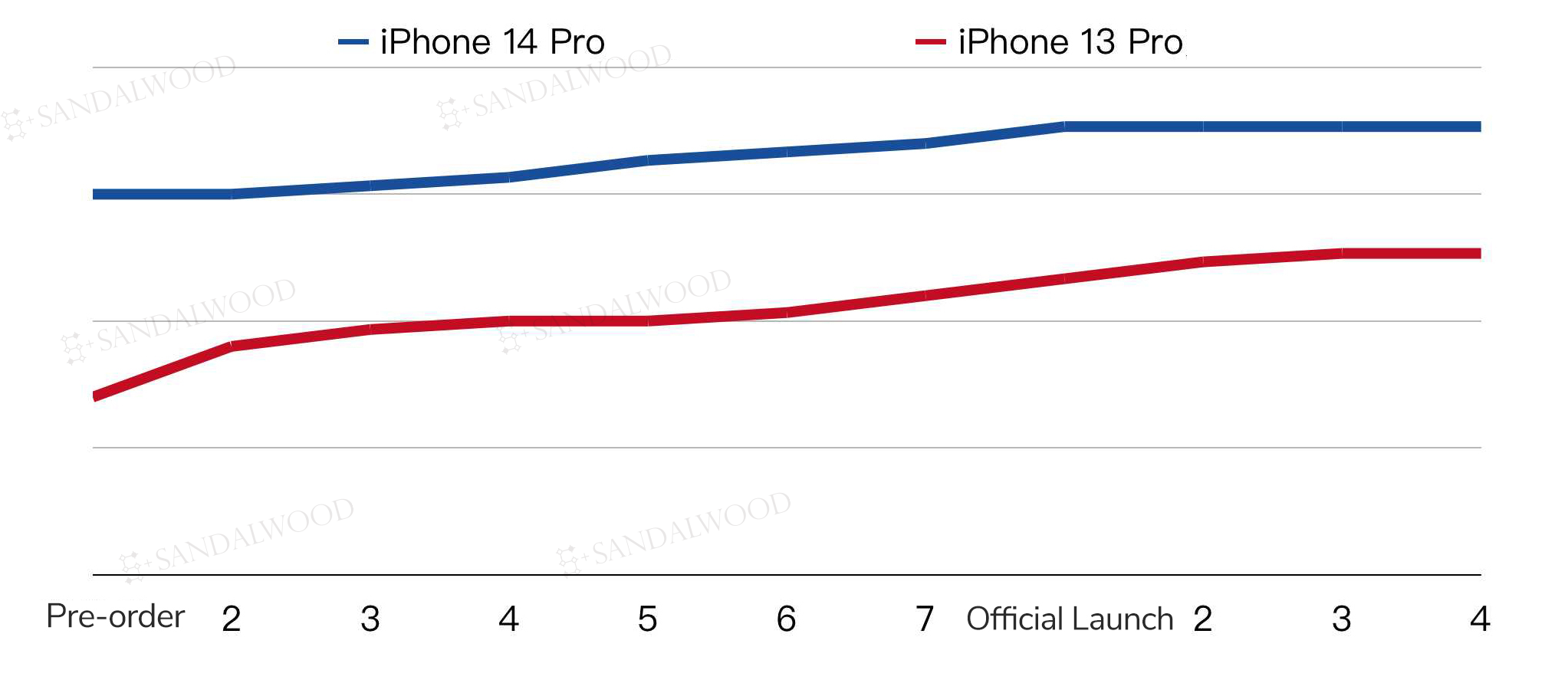 iPhone 14 series sales data shows iPhone's product strategy shift under the current global economic slowdown, lack of consumer demand, and rising supply chain cost. Its future performance is worthy of investors' attention.
Global Cell Phone Market Growth Decline
Global cell phone market growth declines in 2022 due to maturing industry and macro factors. Take China as an example, the overall cell phone shipment volume declined 23% y/y from January to July 2022 according to China Academy of Information and Communication Technology.
Sandalwood data shows that the overall e-commerce smart phone sales volume in China reached 62.81 million (-2% y/y) from January to August 2022. With -4%, -4%, -10% y/y growth respectively in June, July, and August, the market has seen accelerated decline throughout recent 3 months.
The overall e-commerce smart phone sales value grew 3% y/y from January to August and reached 200 billion RMB (around 28 billion USD) in China with -1%, +3%, -4% y/y growth in June, July, August respectively.
iPhone Product Strategy Shift
Under the current market slow down, Apple adjusted its iPhone product strategy as such to boost sales: 1) Increase product differentiation between Pro series and standard series; 2) Add large-screen product line to standard series; 3) Raise price for higher-level models.
While some models have experienced price increase, the starting price of the standard series remains unchanged. Apple applied chips and cameras from previous Pro models on the standard series to keep pricing friendly to consumers. iPhone's customer base further expanded with the addition of large-screen product line to the standard series, which may have sizable effects on Android's large-screen market.
To learn more about the data behind this article and what Sandalwood has to offer, visit http://www.sandalwoodadvisors.com.