Aldi's Success Highlights Growing Demand for Value Groceries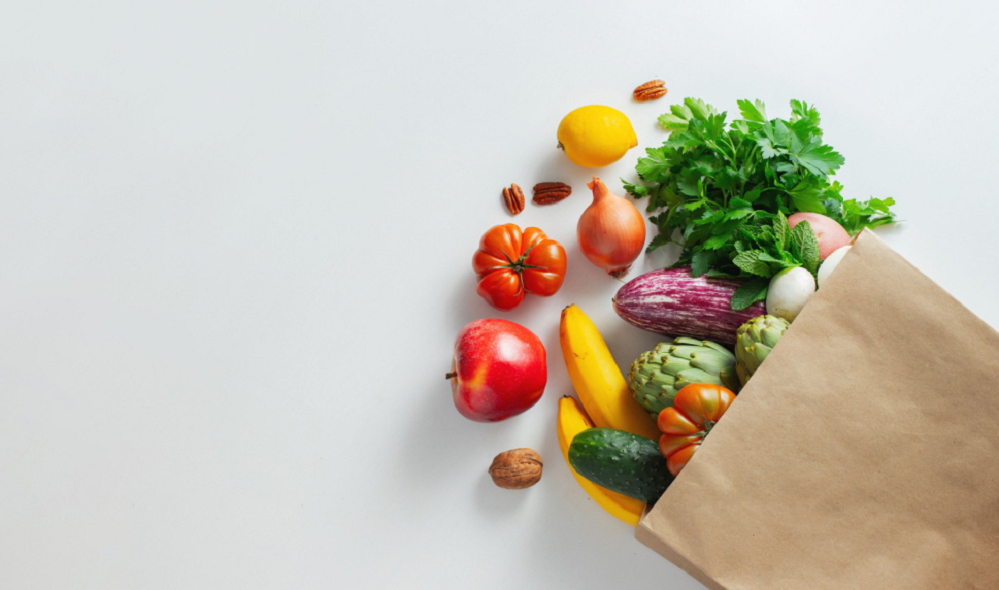 Aldi, the popular European grocery chain that first came to the United States in 1976, has quietly grown to be one of the largest grocery banners in the country, with close to 2,300 stores across 38 states. By consistently providing quality groceries at rock-bottom prices, Aldi has become a go-to destination for cash-strapped consumers eager to cut grocery costs.
Despite an overall dip in inflation, rising food prices continue to inflict significant pain on American consumers. As food prices jumped 11.3% in January compared to 2022, we checked in to see how value grocers like Aldi are faring in the new year.
Keeping it Simple
With no loyalty program or rewards card, Aldi keeps prices low across the board by maintaining a no-frills grocery experience: Its stores are small, its limited inventory is often displayed in cardboard boxes, and some 90% of its products are their own private-label. But while the chain may not carry 15 different kinds of spaghetti sauce, its product line includes plenty of specialty items, including organic and gluten free products. Aldi also cuts costs by encouraging customers to bring their own bags and operating a self-return shopping cart system. On Wednesdays (or Sundays in some areas), Aldi spices up its offerings by rolling out a weekly assortment of limited-time "Aldi Finds" – including an array of discounted non-grocery items like comforters and sewing machines.
And this simplicity-first strategy is clearly paying off – overall visits to Aldi increased by 30.8% between Q4 2019 and Q4 2022. And while some of this foot traffic growth is undoubtedly due to the rapid expansion of the chain's store fleet, the average number of visits to each of its stores has also increased by 9.3% over the past three years.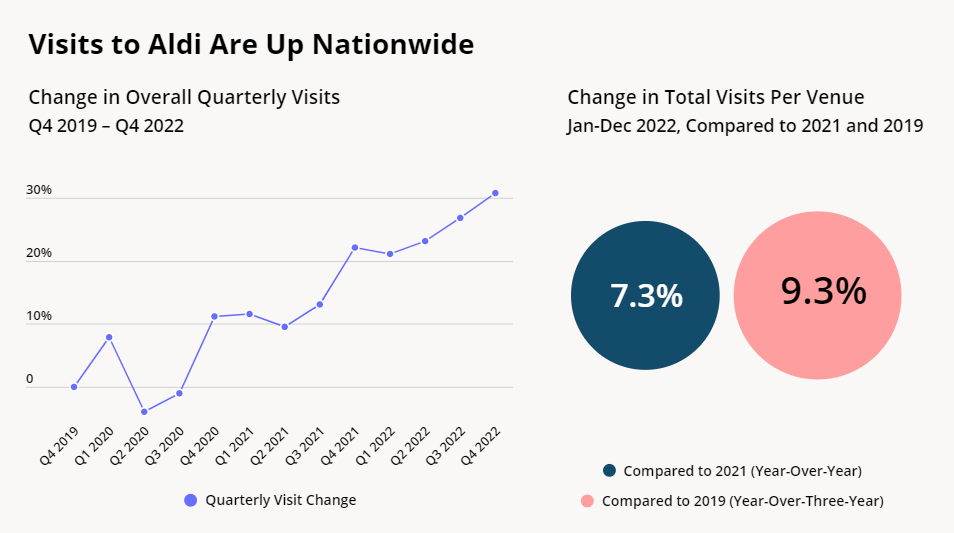 California, Here We Come
While Aldi's growth efforts have been focused primarily on the eastern and midwestern parts of the country, Aldi expanded into California in 2016. Today the chain boasts some 95 stores in the Golden State, concentrated mainly in SoCal.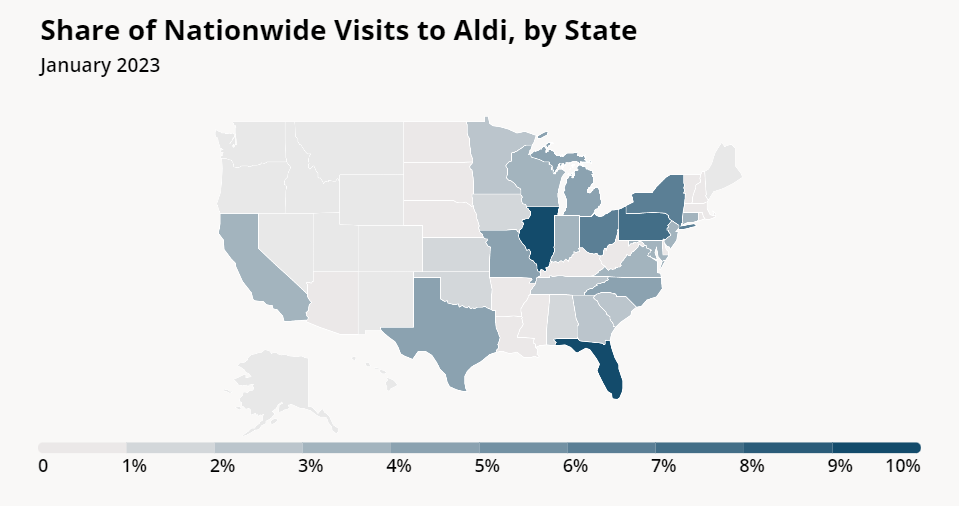 When Aldi first entered the California market in 2016, it was coming to a state that already had its own well-established discount grocery chain – Grocery Outlet Bargain Market. Indeed, with close to 450 stores across eight states, about 250 of them in California and the vast majority on the West Coast, Grocery Outlet Bargain Market has long been a Golden State favorite. By purchasing overstock and closeout products from a variety of suppliers, Grocery Outlet is able to offer brand-name products at deeply discounted prices. Its constantly-shifting inventory, which encourages customers to embrace the "thrill of the hunt," also makes for an exciting shopping experience.
But, while Grocery Outlet's deep local roots would surely have presented challenges for any newcomer seeking to enter the market, foot traffic analytics show that both brands have thrived in the Golden State. Visits to Aldi and Grocery Outlet California locations – both of which have responded to increasing demand by expanding their footprints in recent years – remain significantly higher than statewide grocery benchmarks. And despite a difficult overall period for the local grocery space, the two chains have experienced near-uniform positive foot traffic growth since August 2022, both year-over-year (YoY) and year-over-three-year (Yo3Y). The continued success of the two brands shows that as food prices continue to soar, there's plenty of demand to go around for chains that can meet consumers' grocery needs without breaking the bank.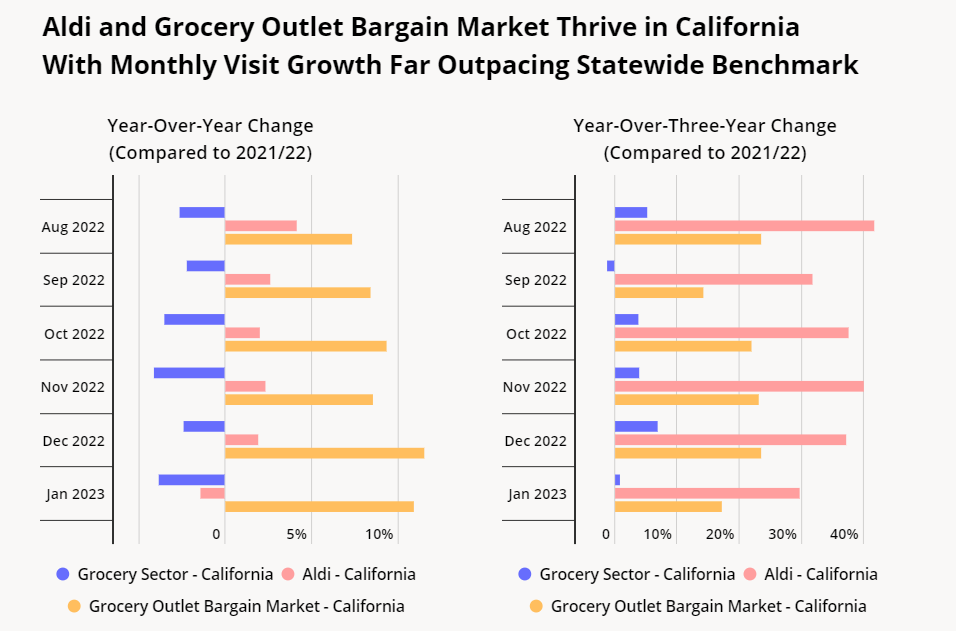 Key Takeaways
Aldi's basic formula – an unadorned shopping experience that provides quality goods without the fuss – has propelled the chain into the U.S. grocery stratosphere in recent years. And as surging food prices lead families across the country to tighten their belts, Aldi – alongside other value grocers like Grocery Outlet – appears poised for continued growth.
To learn more about the data behind this article and what Placer has to offer, visit https://www.placer.ai/.