5 Retail & Service Categories Holding onto Pandemic Gains in 2023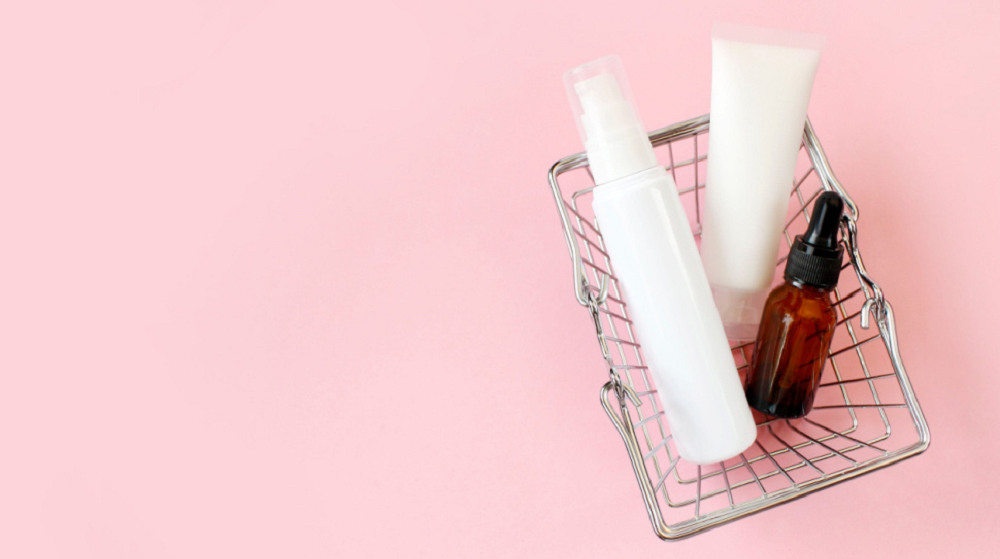 When the first COVID-related restrictions were announced in March of 2020, many thought the damage to brick-and-mortar retail would be permanent and widespread. But the pandemic also gave many segments a significant boost – and almost three years after the first social distancing measures, several of these categories are still enjoying elevated visit shares. We dove into the data to see which sectors are still benefiting from their pandemic gains and what may lie ahead for these categories in 2023.
Beauty & Self Care
Visits to the beauty & self care category took a hit in the early days of the pandemic as shelter-in-place orders, social distancing, and masks rendered new makeup purchases obsolete – but the segment quickly bounced back. As soon as the country began reopening, consumers eager to put their best post-lockdown face forward flocked to leading beauty retailers such as UIta, which has seen elevated visits relative to pre-pandemic for most of 2021 and 2022.
And the category has gone from strength to strength, with the current inflation driving budget-conscious shoppers to look for affordable splurges instead. In January 2023, beauty & self care foot traffic was up 35.2% relative to pre-pandemic January 2020 and up 25.5% relative to January 2022 – while visits to Ulta grew 43.8% and 31.5%, respectively, in the same periods – indicating that the category's meteoric rise may not be over yet. The growing focus on health and wellness products alongside the return of other key categories like makeup appear to be helping players in this space turn short term gains into longer term strength.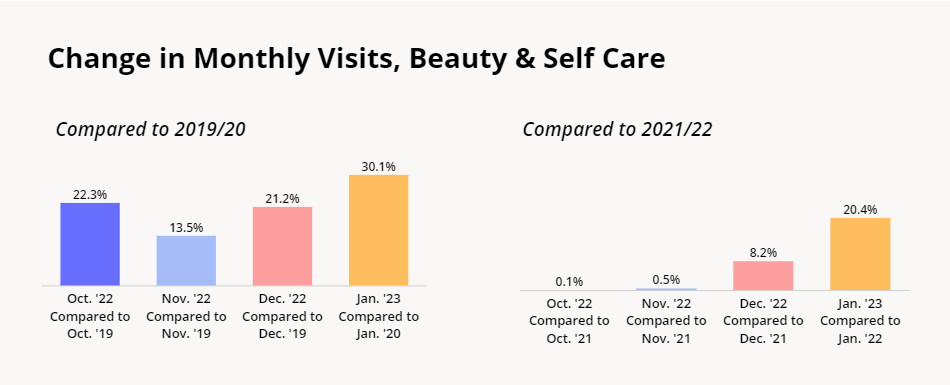 Gas Stations & Convenience Stores
Like the beauty & self care category, gas stations and convenience stores saw a temporary drop in visits in the early days of COVID – when consumers rarely drove further than the local grocery store or superstore – only to bounce back with a vengeance. And while the dramatic gas price hike of mid 2022 did bring visits back down slightly, foot traffic to the category is still far ahead of pre-pandemic numbers, with January 2023 gas station & convenience store visits up 22.8% relative to January 2020. Impressively, this is coming even as many professional visits have shifted to hybrid employment and looked poised to maintain their balance of virtual and in-person work.
With public transportation usage still below 2019 levels in many cities and many gas station leaders stepping up their food offerings, the sector is likely to continue seeing success in the year ahead.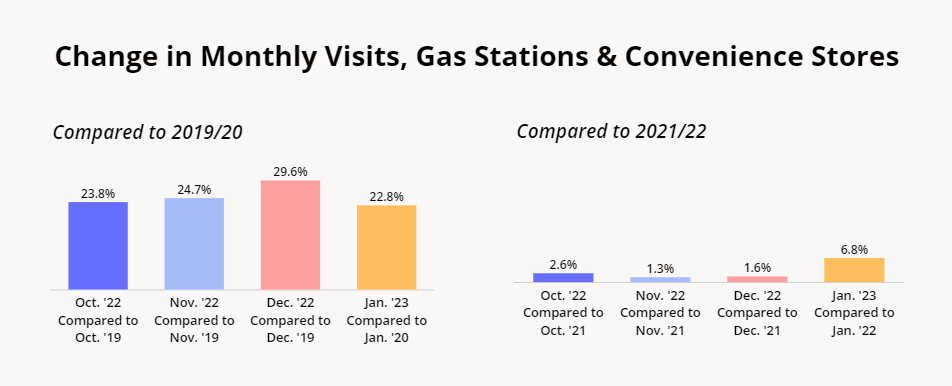 Discount & Dollar Stores
Discount & dollar stores operated as essential retailers and remained open throughout the pandemic, which led many shoppers to visit this category for the first time in 2020 and drove many retailers in the sector to expand their footprint significantly. And the larger store fleets meant more opportunities to welcome new customers, which helped leading discount brands such as Dollar General, Five Below, and others serve the large contingents of inflation-weary shoppers in 2022.
Dollar General, Dollar Tree, and Five Below all have plans to continue expanding their retail footprint in 2023 as well. So although year–over-year (YoY) visit growth slowed towards the end of 2022, the coming year may well mark another year of growth for the category, with January 2023 visits already up 3.9% relative to January 2022.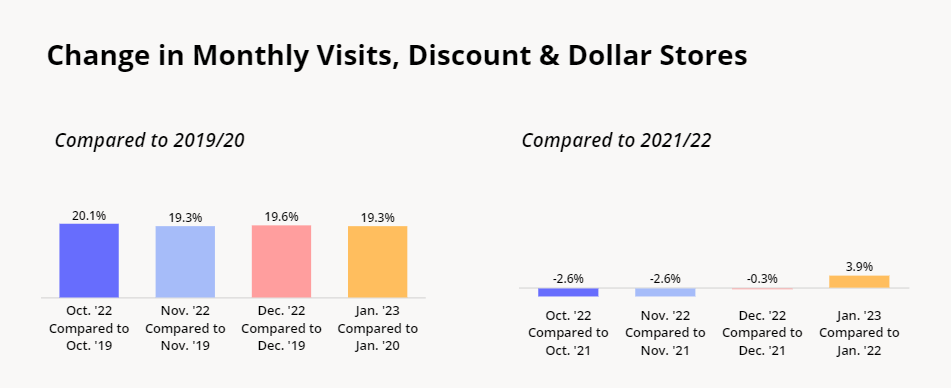 Fitness
The remarkable return of offline fitness may have surprised some naysayers who believed that the COVID-induced "home-workout revolution" would remain even once gyms and fitness studios opened back up. But foot traffic data indicates that many consumers still want to get their fitness fix outside the house – and gym visits skyrocketed as soon as COVID concerns began to wane.
In fact, looking at data from the past year indicates that visits have not just returned to pre-pandemic levels – instead, fitness foot traffic in 2022 has consistently and significantly exceeded 2019 numbers. The category capped off last year with December 2022 visits up 19.3% relative to December 2019 and up 17.5% relative to December 2021, and January 2023 visits were elevated as well both YoY and year-over-three-years (Yo3Y). With the increase in consumer awareness around health and wellness since the pandemic, there is every reason to believe that the fitness category will continue to thrive in the year ahead.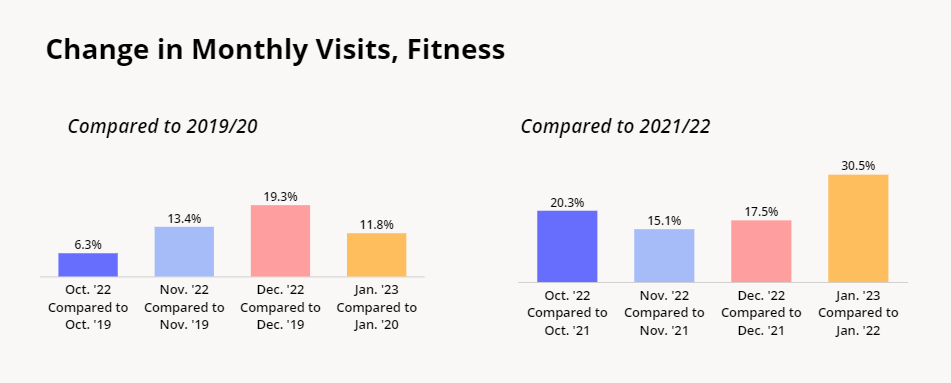 Pet Stores & Services
The pandemic led to a surge in pet adoption, and existing pet owners stuck at home also ramped up their spending on pet care and treats, leading to a surge in foot traffic to the category. And while YoY visits began dipping in the second half of 2022, traffic is still far ahead of pre-pandemic levels, with January 2023 visits to the category up 11.0% relative to January 2020.
The category may not see the same growth in 2023 as it did over COVID, as inflation leads some pet parents to make difficult spending decisions. Still, the increase in pet ownership relative to 2019 is likely to help the category maintain its pandemic visit gains in the new year.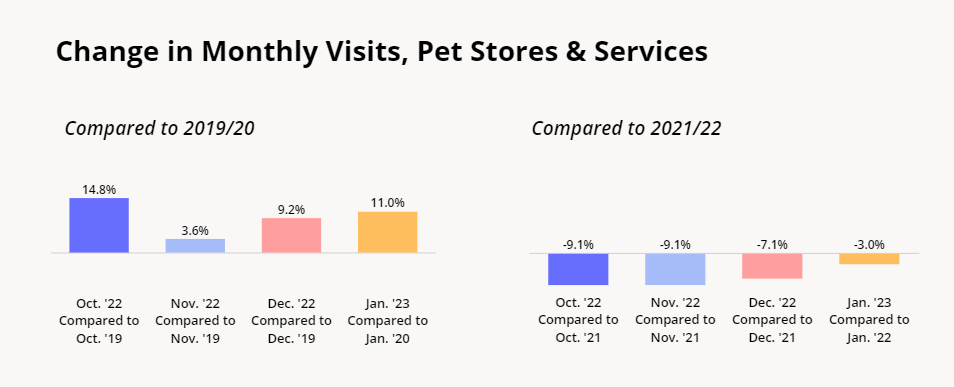 To learn more about the data behind this article and what Placer has to offer, visit https://www.placer.ai/.