Slow Start to Netflix's Basic-with-Ads Rollout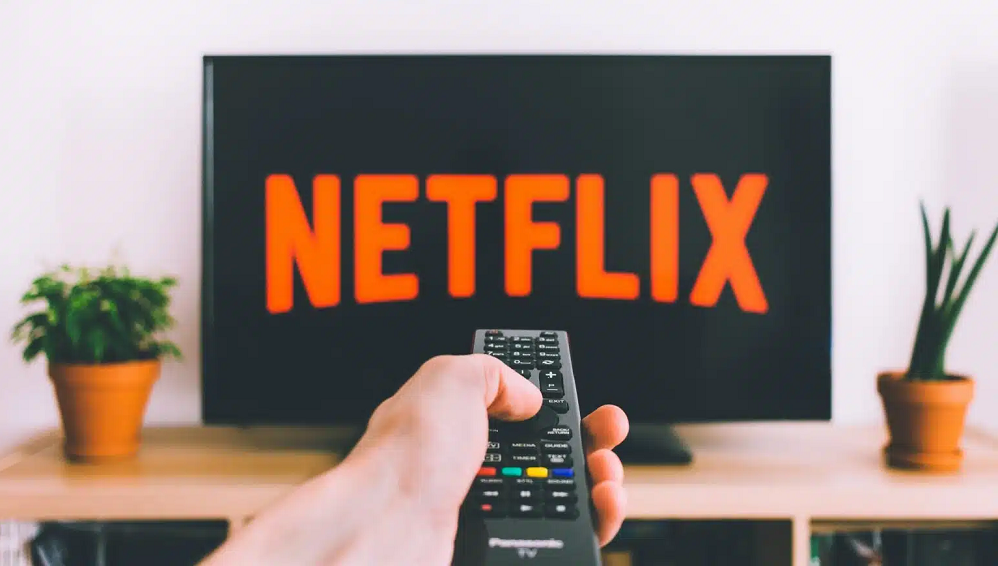 -Just 0.46% of Netflix US subscribers had the basic-with-ads plan as of January 31st
-The ad-supported plan accounted for ~8% of total new sign-ups in Dec and Jan, primarily at the expense of Netflix's ad-free basic plan
On Nov 3rd, Netflix launched its lower priced and first ever ad-supported plan at $6.99 per month. Its three other streaming plans are all ad-free; the lowest priced "Basic" plan at $9.99 per month.
As of January 31st, 2023, the plan has barely made a dent in the composition of subscribers, according to Earnest's Orion spend data. The new ad-supported plan constituted 0.46% of total subscribers, slightly up from 0.33% in December, but barely noticeable among its overall streaming plan composition of Premium's 45% share, Standard's 43% share, and Basic's 11% share.
8% of Total Gross Adds and Little Meaningful Acceleration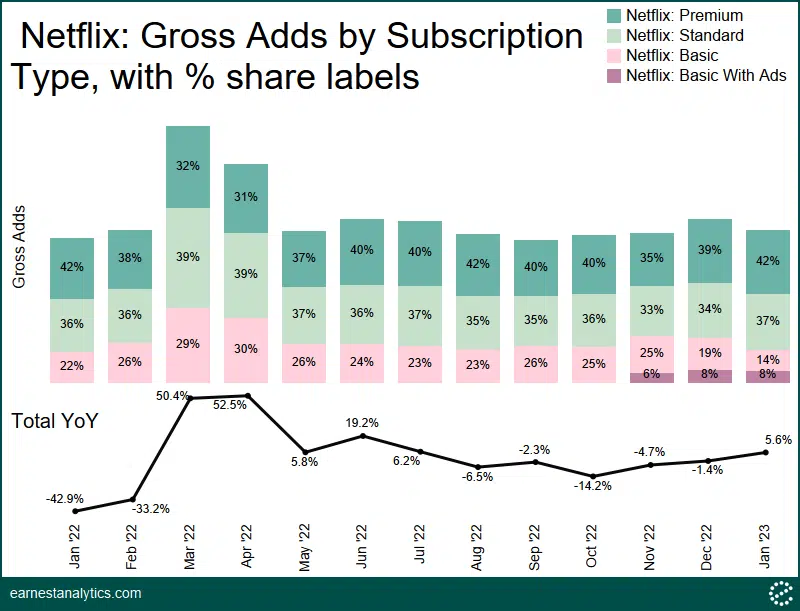 Gross subscriber adds in January 2023 grew 5.6% compared to January 2022 growing for the first time in five months. Premium plans comprised 42% of new subscribers in both periods. Standard made up 37% in January 2023, up a single point from 2022. Basic comprised 22% of new subscribers in January 2022, and combined Basic (14%)+Basic with Ads (8%) also comprised 22% in January 2023, suggesting the new plan primarily cannibalized subscribers who would have otherwise chosen Basic without ads.
Nevertheless the rollout did correspond to a broader turnaround for Netflix. The unveiling of the lower priced Basic+Ads plan in November happened in conjunction with a swing to positive gross ads growth that continued into 2023.
Management indicated they intend for this to be a "slow-build" as they navigate through the market's reaction. On their most recent 4Q'22 earnings call, the company's COO and Chief of Product reiterated that it's still "ridiculously early", and that they're only just getting started as they "crawl" through and learn from the initial phases of this launch. Some initial learnings, he added, include: 1) that they're pleased with the tech and the engagement, 2) that they have indeed seen incremental gross adds driven by a now available lower-priced option, and 3) that there has been minimal plan-switching from their high-priced plans. These learnings could include how to best meet the demands of advertisers whom Netflix refunded in December for not meeting initial viewership guarantees (reportedly, with a ~20% shortfall) based on its "pay on delivery" terms.
To learn more about the data behind this article and what Earnest Research has to offer, visit https://www.earnestresearch.com/.