Phoenix hotels achieved second highest Super Bowl weekend ADR and RevPAR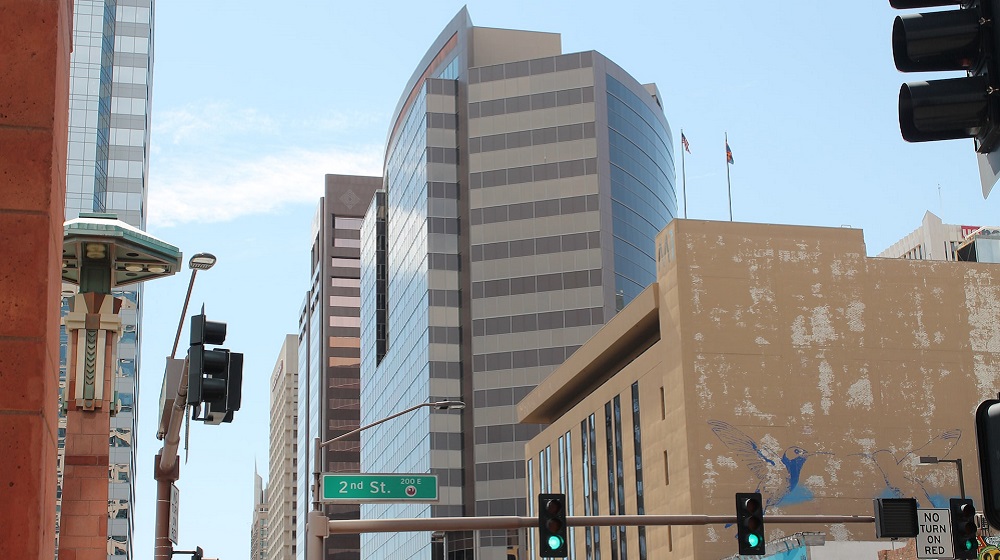 As forecasted, Phoenix's hotel industry ranked second all-time among Super Bowl host markets in average daily rate (ADR) and revenue per available room (RevPAR) during the weekend of the big game.
While the market's rankings were as forecasted, the values that produced that status were different than projected. ADR ($538) and RevPAR ($468) beat forecasts, while occupancy (86.9%) was lower. When adjusting for inflation (real), Phoenix's ADR and RevPAR were easily all-time highs for the market. The real RevPAR value dipped to third among Super Bowl hosts behind Miami (2020) and New Orleans ($482).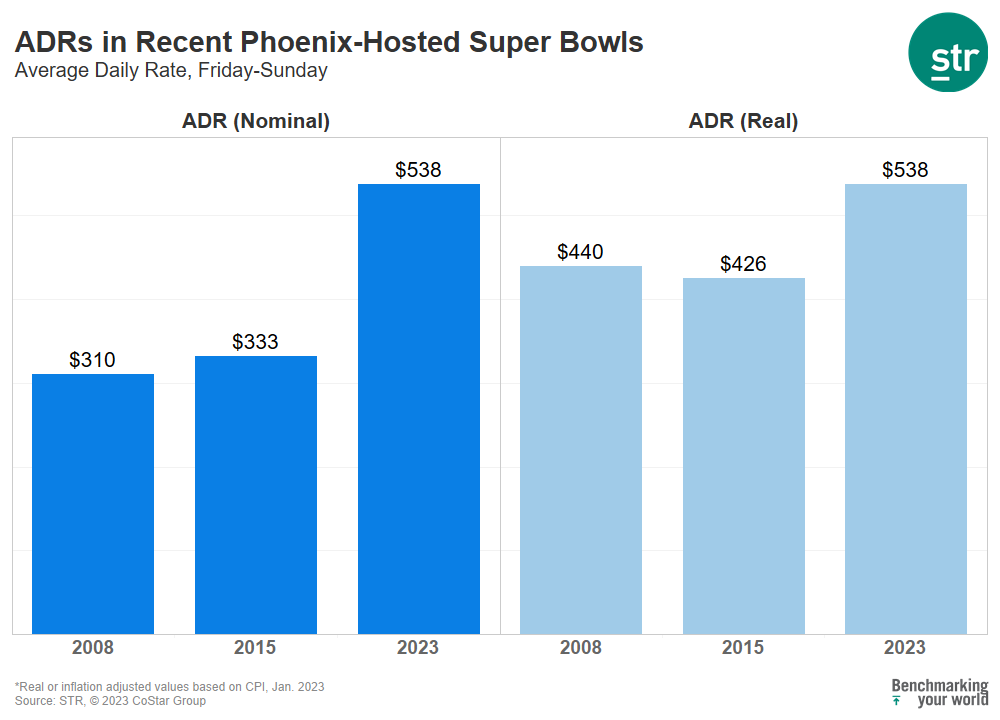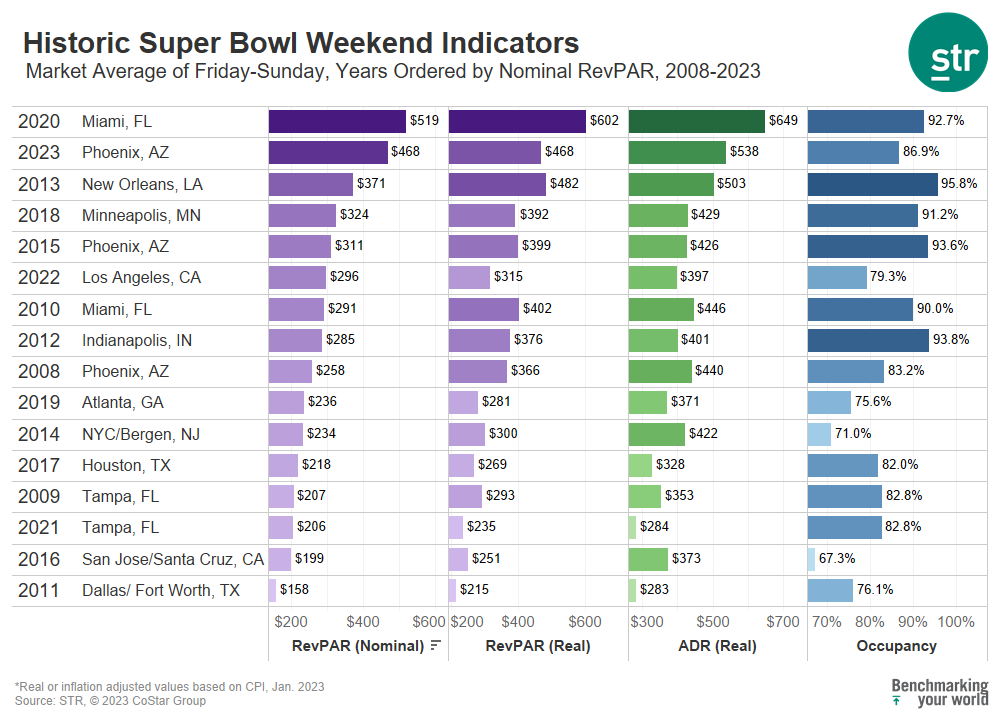 This year's big game took place during Phoenix's normal peak season and coincided with the annual WM Phoenix Open, which is the most attended PGA Tour event on the calendar each year. Saturday, 11 February claimed the number one ADR spot for the week at $544 with 22 hotels in market obtaining ADR above $1,000. The market's previous daily ADR records were recorded when Phoenix last hosted the Super Bowl in 2015.
This was the fourth time that Phoenix hosted the Super Bowl. Miami is the only other city that has hosted four times. When comparing 2023 hotel performance to 2008 and 2015, nominal and inflation-adjusted ADR and RevPAR significantly outperformed previous host years. This year, hotel occupancy was 86.9%, which was lower than 2015 (93.6%) but above 2008 (83.2%). However, this year generated 5,200 more occupied hotel rooms than 2015. Hotel inventory increased nearly 7,000 rooms (+10.9%) during the same period, which accounts for the lower occupancy.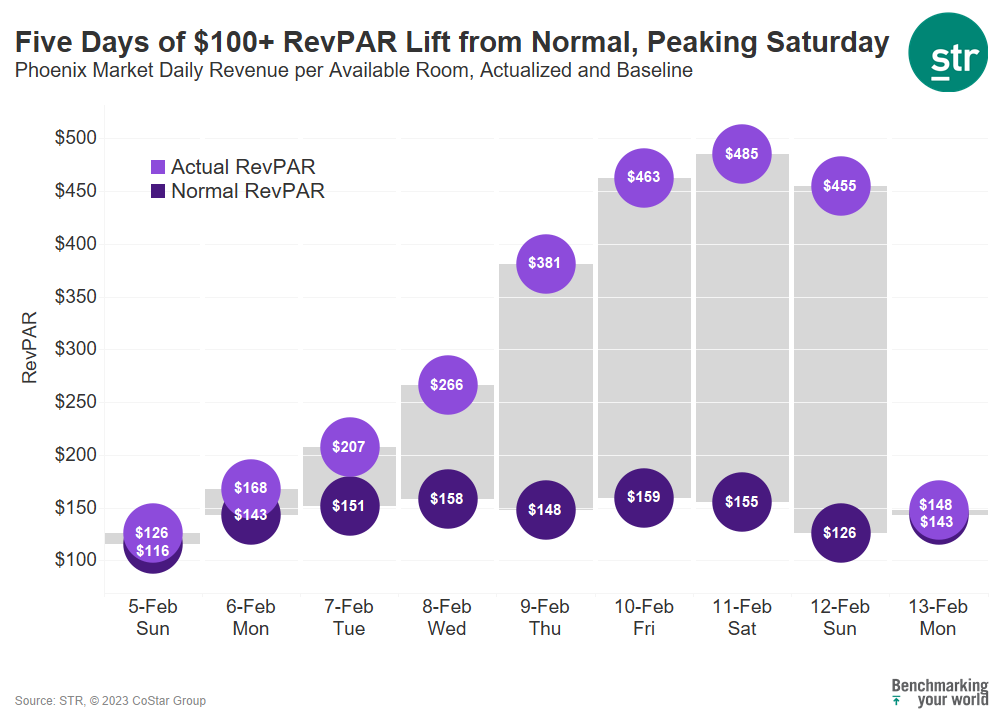 When comparing to normal performance of the same week, market ADR and RevPAR showed a better than $300 premium or a 150% index for ADR and 260% index for RevPAR. Occupancy was 13 percentage points above standard levels on Thursday and Friday, 18 points or higher than normal levels on Saturday and 27 on Sunday.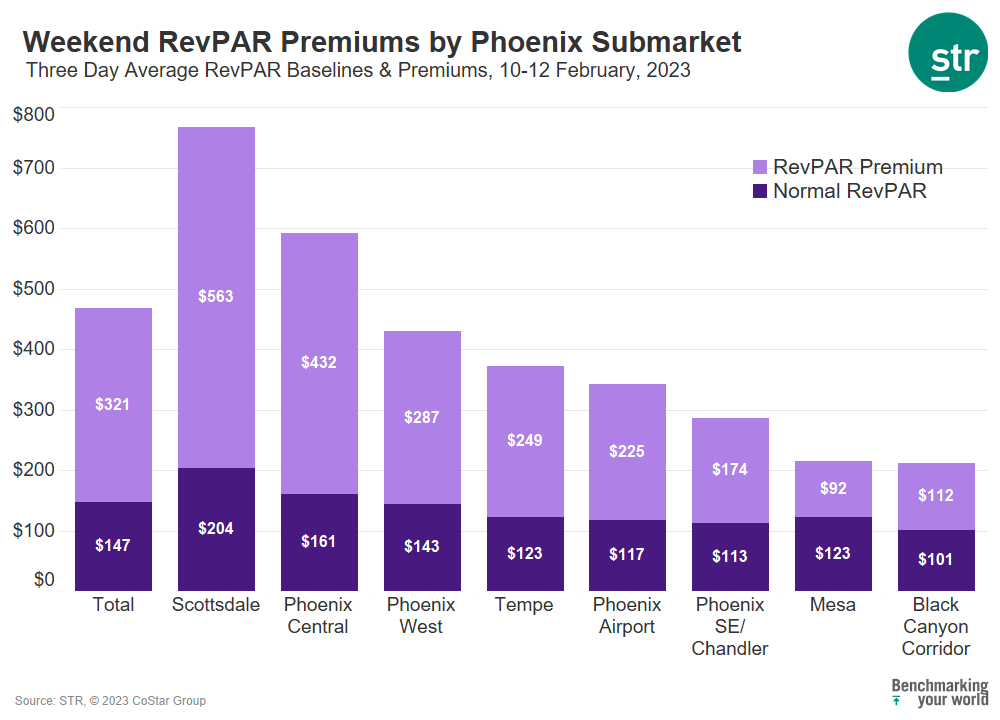 Almost every submarket experienced higher than $100 RevPAR premiums, but Scottsdale achieved the highest premium, followed by Phoenix Central (downtown) and Phoenix West, which houses State Farm Stadium. Scottsdale represents nearly 70% of the of the luxury class hotel room inventory in the market, and with Super Bowl average ticket prices around $8,000, it appears that many of the attendees also opted for higher-end accommodations.
As previously mentioned, Phoenix drops a spot in real RevPAR when adjusting for inflation. New Orleans' (2013) achieved higher occupancy during its host year, which was also bolstered by Mardi Gras festivities occurring in the same month. However, Phoenix sold 73,000-plus more hotel rooms over the three-day weekend than New Orleans. Phoenix had nearly two-thirds more hotel room inventory in 2023 than New Orleans had in 2013, thus the different in occupancy.
To learn more about the data behind this article and what STR has to offer, visit https://str.com/.