Ulta Beauty: Poised for Success into 2023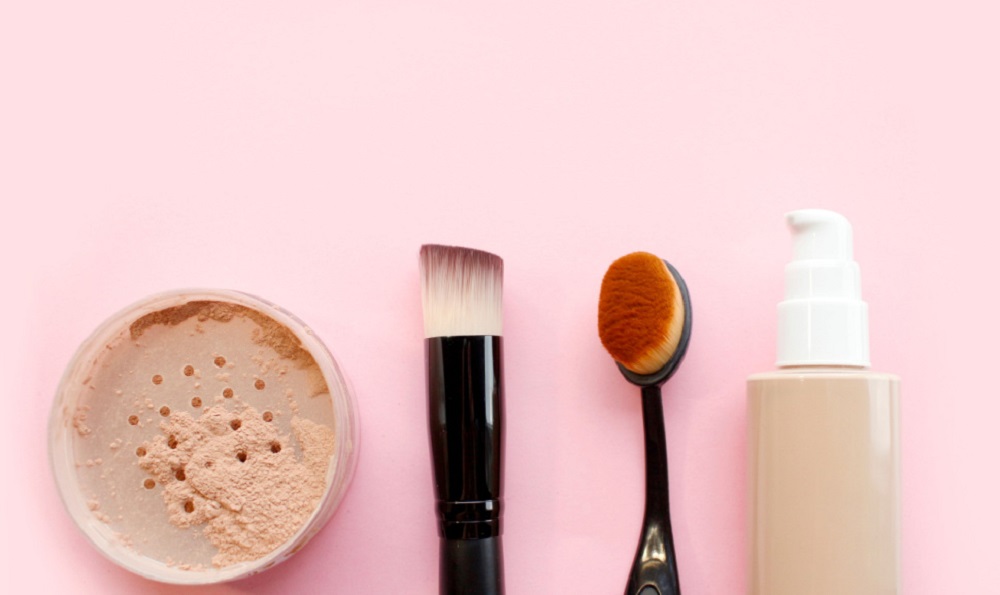 The past few years have seen Ulta Beauty exceeding all expectations, even as economic headwinds impacted many retail categories. The company has shown an ability to withstand the dual pressures of a pandemic and inflationary concerns, highlighting the broad appeal of beauty and self-care.
With the first few weeks of 2023 behind us, we take a closer look at 2022's performance and see how the brand is faring into 2023.
2023 Performance
Early 2023 weekly foot traffic trends showcase Ulta's strength, with both visits and visits per venue exceeding last year's numbers even considering the strength shown in early 2022. The chain is continuing to exceed all expectations and prove that affordable luxuries like lipstick or a new perfume can bring customers through the door.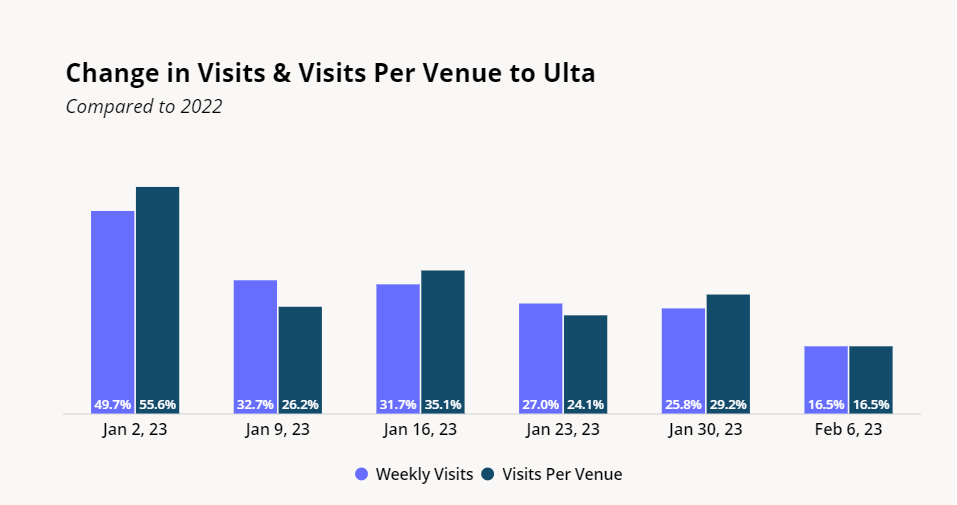 Quarterly Visits Up, Both Nationwide and Regionally
Digging into 2022 visits reveal more strong foot traffic trends to the beauty retailer, with quarterly visits to the chain up both year-over-year (YoY) and year-over-three-year (Yo3Y). The consistency of Ulta's elevated foot traffic becomes even more notable when considering that 2021 was a year of marked retail successes and that 2022 saw plenty of retailers struggling to exceed their year-over-year (YoY) visit levels.
Ulta's success is also apparent when zooming into regional foot traffic patterns. New York saw the strongest visitation trends in 2022, both YoY and year over three years (Yo3Y) – Q4 2022 saw visits to New York Ulta locations up 45.6%, on average, relative to Q4 2019. Other regions also had a strong showing , with Q4 2022 Ulta visits in California up by 27.6%, while Texas's visits grew by 19.2%, Florida's visits were up 25.3%, and Illinois visits increased by 18.3% in the same period.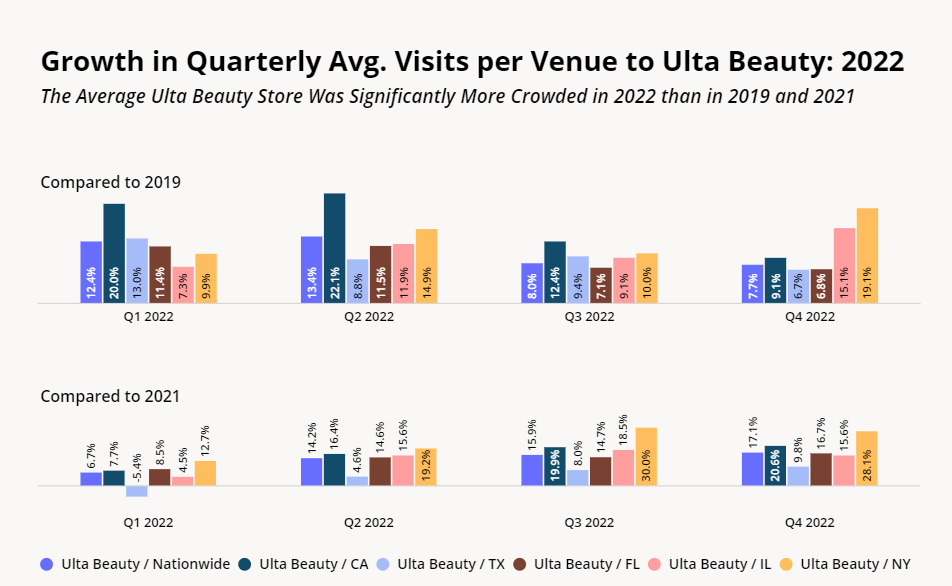 Quarterly Visits Per Venue
Some of Ulta's visit increase is due to the chain's growing store fleet – Ulta has expanded its operations significantly over the past few years. As of October 29th, 2022, Ulta operated 1,343 stores across 50 states, up from 1,264 in January 2022 and 1,174 in February 2020, exceeding its goal of opening around 50 stores yearly.
But this aggressive growth strategy has also been met by consistent demand, with increased visits per venue both nationally and regionally. Once again, the chain saw an increase in its quarterly average visits per venue metric on a YoY and Yo3Y basis, with only one state – Texas – seeing a slight foot traffic dip of 5.4% in Q1 2021. And that dip was quickly righted, with visits to Texas Ulta's up 4.6%, 8.0%, and 9.8% YoY for the rest of the quarters in 2022. The visits per venue trends indicate that the overall traffic increase is not just due to Ulta now operating more stores than it did three years ago – the stores are also, on average, significantly more crowded.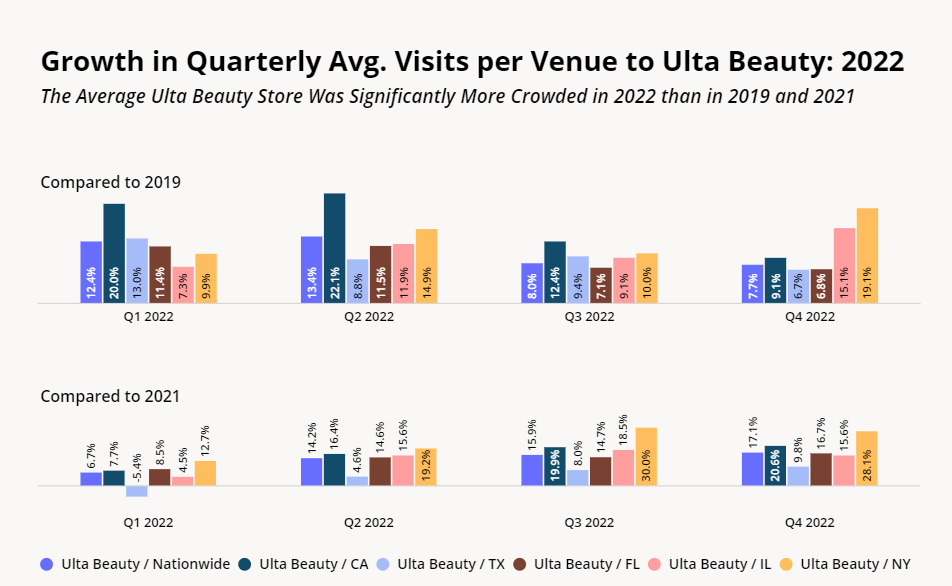 Ulta's Wide Customer Base
Ulta's success can be partially attributed to its strategic positioning as the top beauty destination for millennials and Gen Z. Collaborations with celebrities and TikTok stars have helped the brand stay relevant while offering products across a wide range of price points has ensured that Ulta can cater to a broad customer base.
The average Ulta shopper tends to be younger than the general population, with a median age of 32.8 compared to the nationwide median of 38.1 (according to data from the 2019 Census 5-year ACS Estimate). These trends also persist on a regional level – in Florida, where the median age is substantially higher at 42.0, the Ulta shopper is also older than the nationwide average at 36.0 – but significantly younger than the median Floridian.
Ulta also offers products across the pricing range which allows the brand to adjust its local merchandising mix based on local consumer preferences. Location intelligence data indicates that this strategy helps the brand reach a wide customer base, with the median household income (HHI) in Ulta's trade areas varying by state and region. Some states, like New York and California, have a median HHI that is higher than the HHI for the trade areas of Ultas in those states, whereas in other states – such as Illinois and Texas – the trend is reversed. This variation in HHI suggests that while Ulta has captured a younger shopper population, it can attract customers from all over the income spectrum, contributing to its widespread appeal.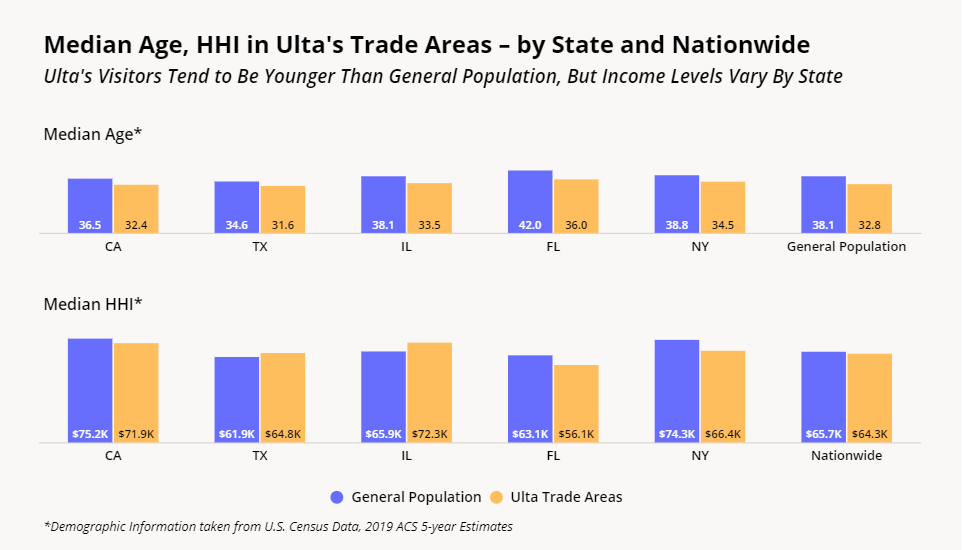 Ulta's Blush With Success
Ulta's strategy of providing a shopping experience that welcomes all shoppers regardless of age or income level has been wildly successful, with visits to the chain consistently elevated across all metrics and time frames. With its sharp focus on the shopper experience, Ulta is positioned to continue exceeding expectations.
To learn more about the data behind this article and what Placer has to offer, visit https://www.placer.ai/.