What's in Store for Self-Storage?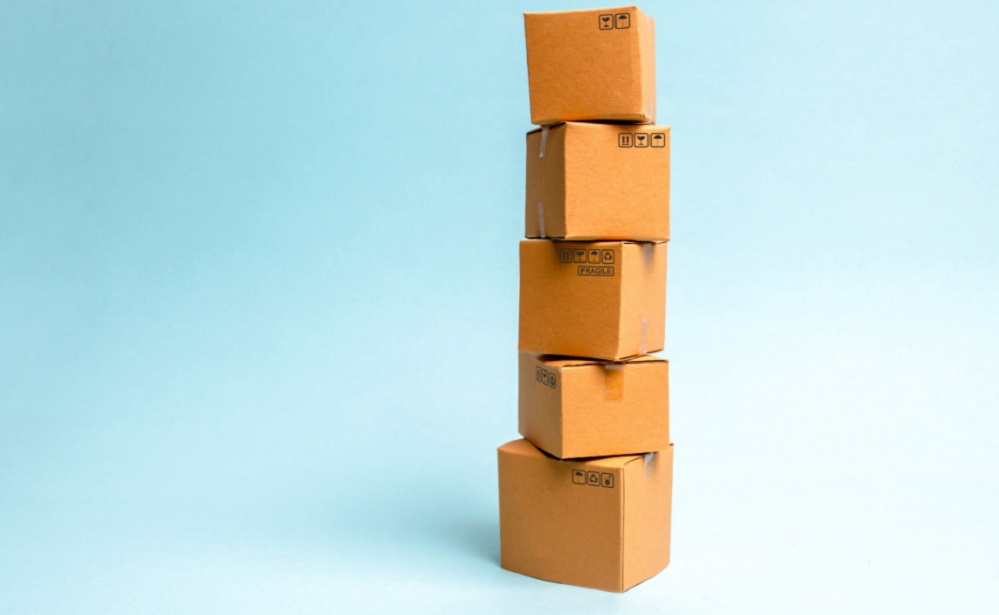 In recent years, demand for self-storage facilities has grown relative to the pre-pandemic era. For many consumers at the onset of the pandemic, the prospect of spending more time at home induced a decluttering spree that necessitated extra storage. At the same time, many Americans relocated and businesses re-evaluated their office needs – transitions that often required storage space.
In 2023, foot traffic to self-storage complexes remains robust. We dove into the visitation metrics for the self-storage category and industry leaders – Public Storage and Extra Space Storage – to understand the current trends in the space.
More to Store
The latest location intelligence suggests that self-storage chains are sustaining pandemic visit gains even as consumers are spending more time outside the home and more businesses return to at least some form of in-person work.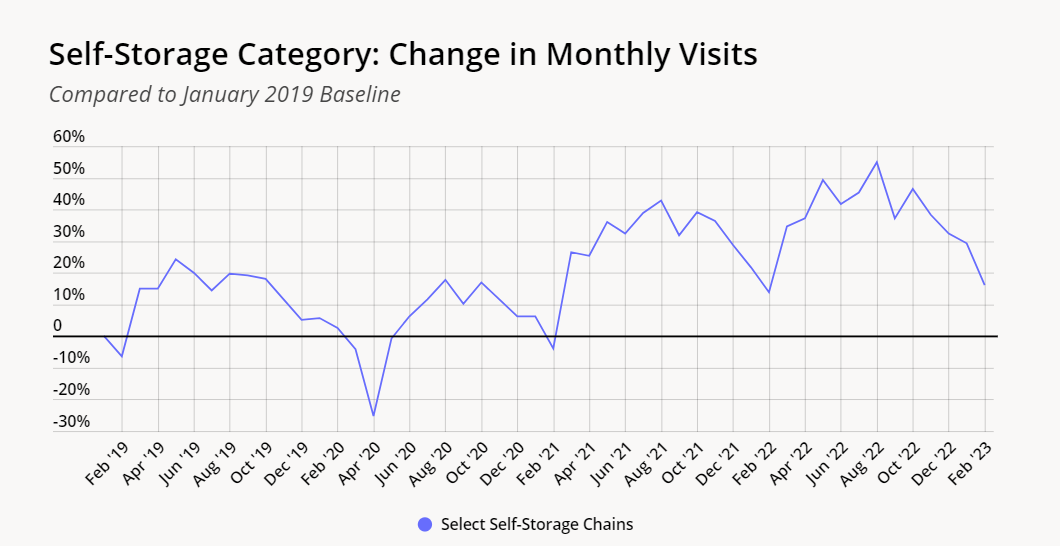 One explanation for the growth in foot traffic to self-storage units – indicating increased demand – could be the ongoing economic headwinds. Some consumers impacted by the recent inflation and rising cost of living may be downsizing their living spaces, with many younger Americans finding themselves again living with their parents and in need of a place to store their belongings.
Serial Storers
Once items have been placed in storage, revenue for self-storage companies hinges on unit renters continuing to see enough value in their items to justify continuing to store them. One way to assess the value consumers derive from external storage is to see whether consumers visit their units after making the initial deposit. Regular visits likely indicate that consumers value their stored items and want to continue storing them, rather than throwing them out.
Visitation metrics from 2022 indicate that many consumers with a rented storage space visited their unit multiple times a year. Two of the biggest brands in the self-storage space – Public Storage and Extra Space Storage – saw a large percentage of returning visitors in 2022. Nearly 40% of both chains' visitors visited two or more times during the year. And 15.4% of visitors to Public Storage and 17.8% of visitors to Extra Space Storage returned at least four times during 2022.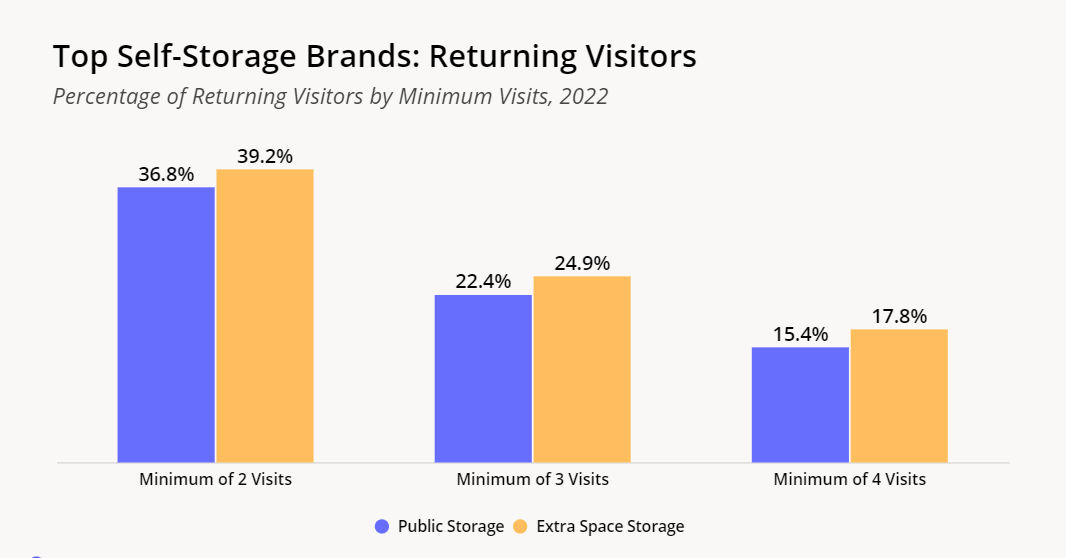 The relatively high rates of returning visitors could indicate that many storage consumers continue to make use of their stored items and consider the investment in an external storage unit worthwhile. These returning visitors are likely to continue renewing their contracts – the main source of revenue for these businesses.
Everyone's Storing
Repeat visits aren't the only metric that defines self-storage visitors. Analysis of visitor demographics using the Census 2019 (5-year ACS) dataset reveals that – as may be expected – a high percentage of renters and multi-unit home dwellers visit self-storage facilities.
The rate at which self-storage visitors ascribe to these two categories surpasses the national benchmark for both, but the percentage of visitors from multi-unit homes is only slightly higher than the percentage of visitors from single-family homes – a near 50/50 split. The larger gap between the percentage of renters and homeowners suggests that rentership is a more predominant characteristic among self-storage visitors than is multi-unit living.
Still, a relatively large percentage of single-family home owners also patronize self-storage facilities. This indicates that there is still relatively high demand for a commercial storage unit even among consumers that typically have more available space at home.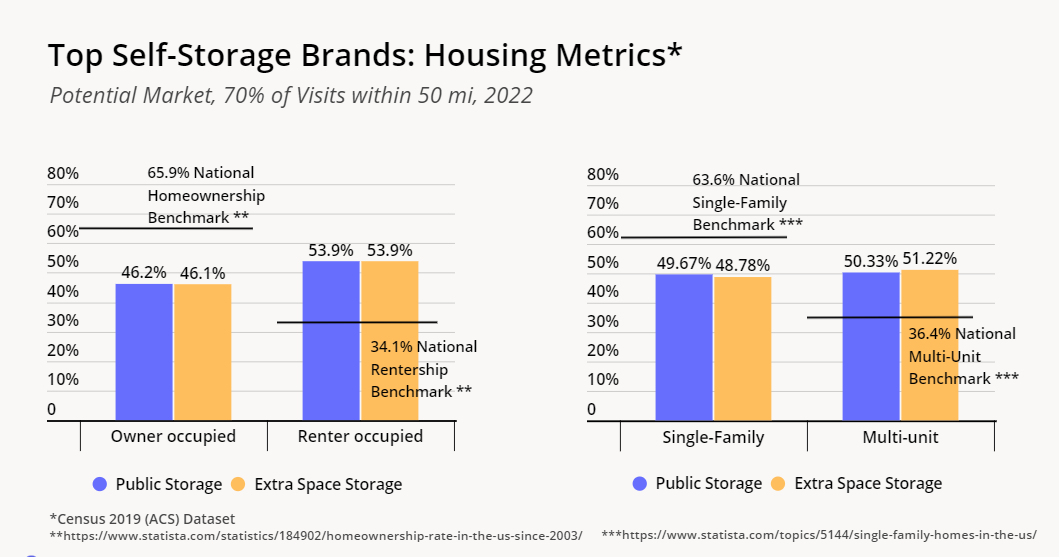 ‍Settling the Store
The self-storage industry – which benefited from a pandemic visits boom – is still sustaining foot traffic growth. Consumers from a range of housing circumstances are seeing self-storage as a worthwhile space-saving solution in today's economic climate. And renters of commercial units are putting them to frequent use, giving all indications that demand is high and will remain so for the foreseeable future.
To learn more about the data behind this article and what Placer has to offer, visit https://www.placer.ai/.