Georgia credit card data paints a clearer picture of what the reopen looks like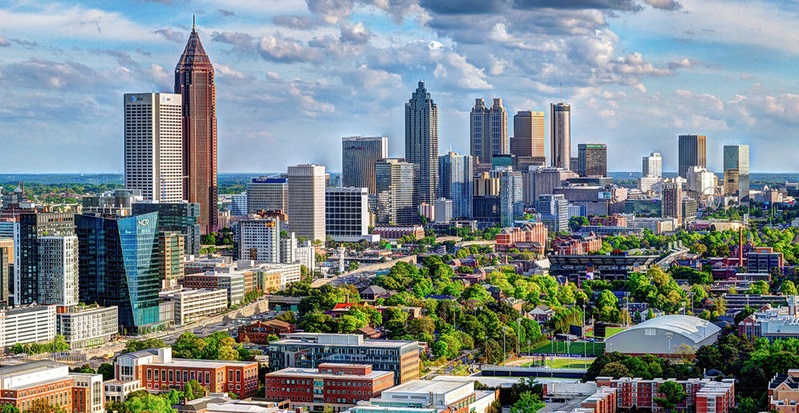 Data synopsis:
The average category of spend in Georgia is down 19% YoY, a marked recovery from down 46% in the final week of March.
Other than taxis, the hardest hit categories of Cinemas, Ticketing, Theme Parks, Trains/Bus, Taxis, Airlines and Cruises have seen almost no recovery post opening.
Dig Deeper:
As one of the first states to reopen, many eyes are on Georgia to understand the impact. After nearly 2 months into the reopen, many state officials are quick to point out that there hasn't been a rebound in new COVID cases. To give context for this lack of infection rebound we take a look at credit card receipt data from Envestnet | Yodlee to understand how open the state actually is. Envestnet | Yodlee is a leading financial data aggregation and analytics platform, enabling visibility into trends of spending.
Below you can explore how each category has changed over the course of the pandemic. Hover over a cell to see a line chart of the data. This view is optimized for desktop browsing.
The first thing that's apparent in the data is that most of the businesses seeing strong recoveries are ones that don't require customers to be packed into small confined spaces such as travel, events and cinemas. Restaurants was the single exception, showing strong improvement in customer spend since the March low. Restaurants have staged a dramatic recovery from -44% YoY to -10%. This data could mean that additional precautions such as masks and additional cleaning regimens are helping to combat the spread as people become more active once again.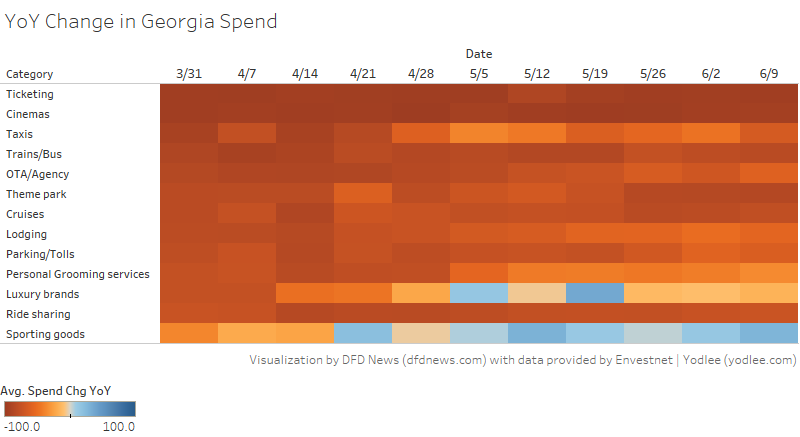 The above chart focuses on only the hardest hit categories so we can see what the recovery looks like. The most dramatic improvements in decline percentage versus late March were Luxury Brands (60%), Sporting Events (47%) and Personal Grooming (41%). These sectors remain extremely depressed but are thawing compared to their lowest levels.
The above chart shows the raw levels of change in year over year spend for the hardest hit categories.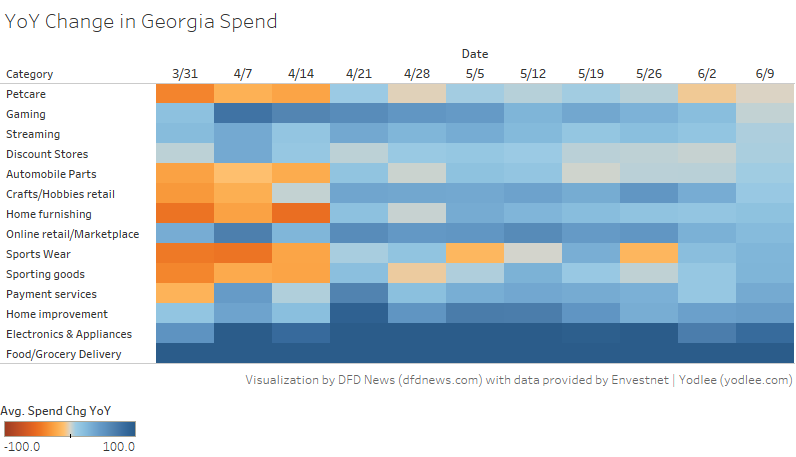 The above chart focuses on sectors that have seen a positive impact from the quarantine and subsequent openings. These categories mostly represent essential spend and entertainment. Food delivery was the best performing category in the state, up 157% YoY. This is down from the category's peak of 262% YoY growth, hinting that people are more comfortable either eating out or in physically visiting a grocery store to get their food.
Looking at the data we see that reopening has had a positive economic impact on Georgia. While it's still very early days for the state and spend across most categories has a long way to go, there are clearly signs of encouragement. All large venues remain closed which is likely one contributing factor in new COVID cases remaining low. As the state reopens further we will watch to see how far the recovery progresses.
To learn more about the data behind this article and what Yodlee has to offer, please reach out to Dylan Curtis at Dylan.Curtis@yodlee.com.