TikTok paves way for video editing apps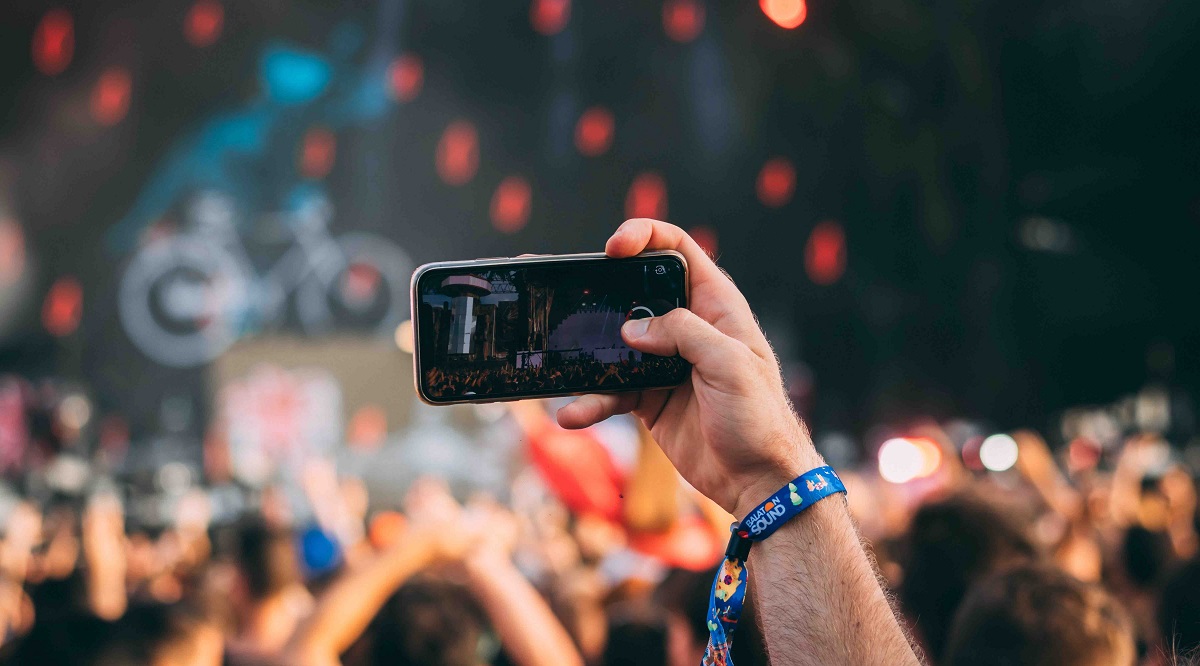 When we received stay-at-home orders back in March, the app market, and social media in particular, got a huge boost. Facebook, WhatsApp, Messenger, Instagram, TikTok, Snapchat and Twitter all broke their respective records for time spent in-app, globally, in March 2020.
I, for one, spent too many hours scrolling through TikTok– I even made it to "beanTok" (if you know, you know). Anyway, more people than ever were tuning in to watch the latest trends, AND more people than ever were contributing to the content. How do I know?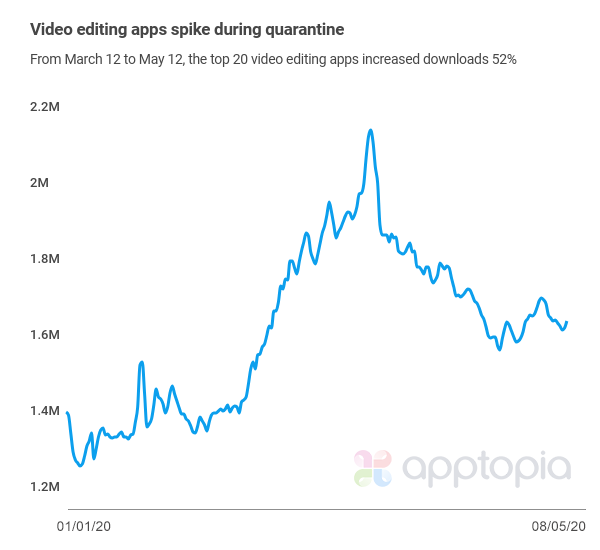 All of a sudden, my feed was inundated with wannabe influencers. But, more notably, the video editing app market experienced an unusual surge in downloads (+52%), starting mid-March and peaking mid-May. These apps allow even the most amateur creator to quickly slice and dice footage, overlay music, and add visual effects.
Why does this growth matter? $$$, obviously. This market of 20 apps has generated $72 million in total revenue in the past 365 days. While the apps are free to download, most of them require a monthly subscription in order to use their premium features. And people are willing to pay. In Q2 2020, in-app purchase (IAP) revenue increased 15% QoQ, and 28% YoY.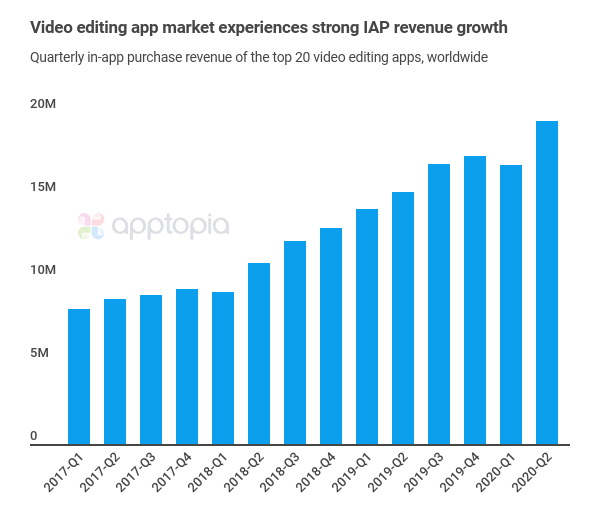 Now, let's give credit where credit is due. Where would these video editors be if it weren't for short-form video apps like, TikTok? To help answer this question, I compared the monthly global downloads of the video editing market to TikTok's monthly global downloads. Conclusion: TikTok downloads appear to be a good predictor of video editor downloads. This is especially clear on the right side of the chart, where you see TikTok downloads surge, then plummet.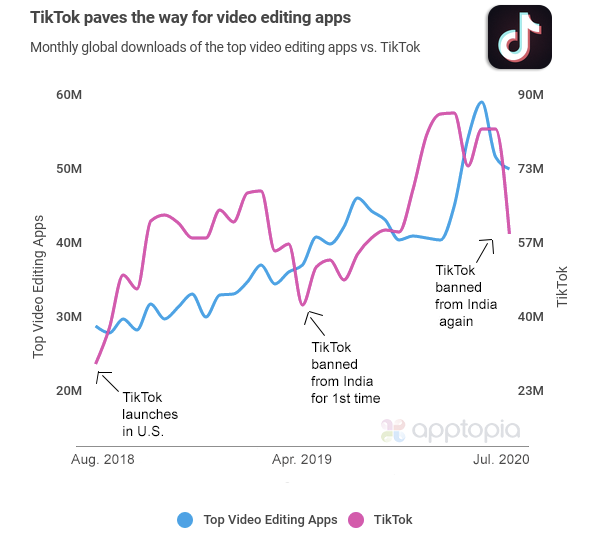 While TikTok isn't solely responsible for the growth of these apps, it's clearly played a large role in bringing short-form video to the forefront of the industry. As talks to ban TikTok in the U.S. continue, other short-form video apps are seeing success. For deets on those guys, check out our last blog.
Assuming that TikTok and short-form video persists, which video editing apps should we be paying closest attention to? Well, the biggest app of the market, by far, is InShot. So far, the app's been downloaded 88 million times in 2020 and averages 45 million monthly active users.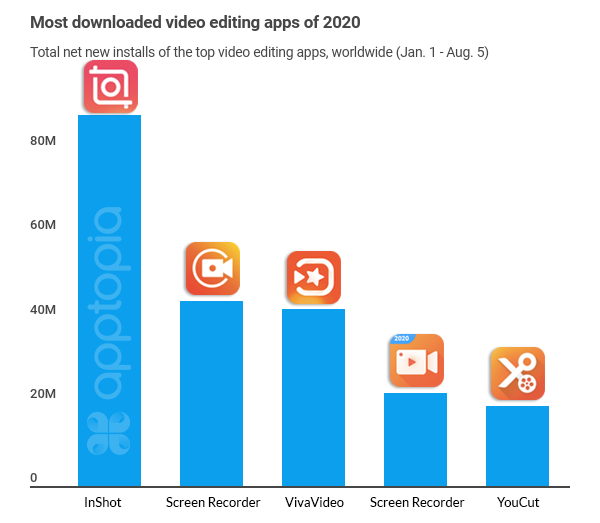 The apps downloaded most since January, after InShot, are: Screen Recorder by InShot (GP only), VivaVideo (GP & iOS), Screen Recorder by VideoShow (GP only) and YouCut (GP only). Yes, all of their app icons look incredibly similar. Yes, two of them have the same name. And a few of them may be related? Insta Shot is the publisher behind InShot, while InShot Inc. is the publisher behind Screen Recorder and YouCut. Please tweet me with theories so we can straighten this mess out @LenahanMadeline.
It's also worth mentioning that the top revenue-generating video editing apps so far in 2020, in order, are: Splice, VivaVideo, Magisto, InShot, and Funimate.
To learn more about the data behind this article and what Apptopia has to offer, please reach out to Connor Emmel at cemmel@apptopia.com.