Are companies hiring again? Analysis on new openings by sector.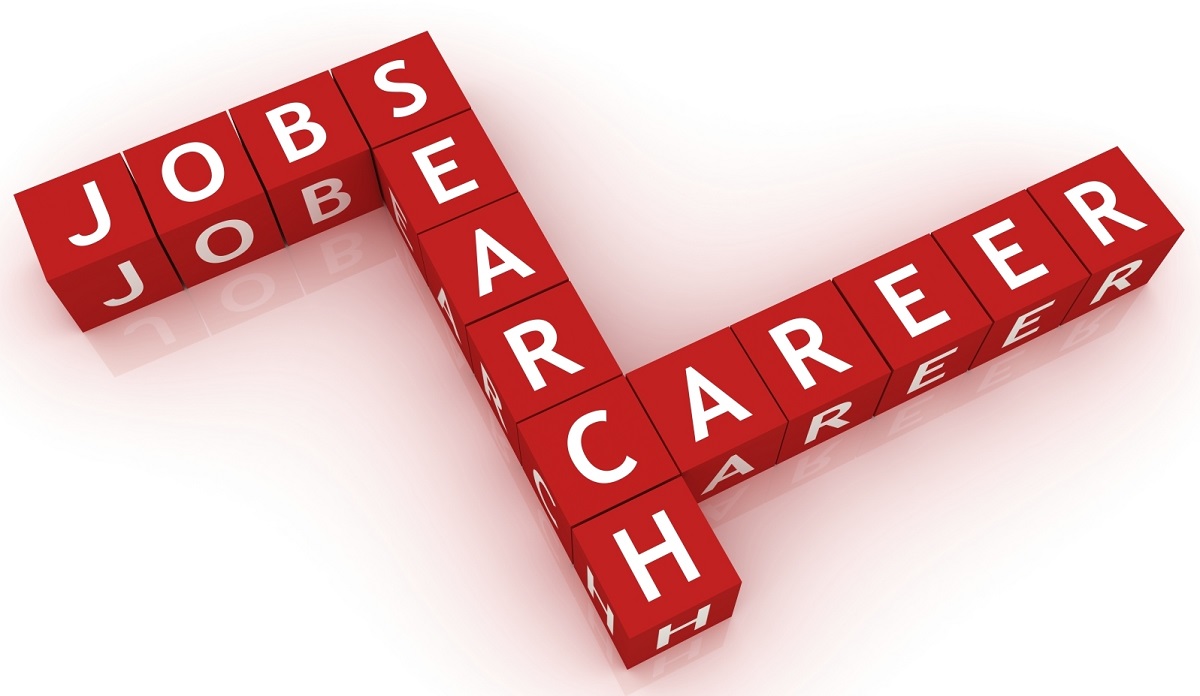 Data Synopsis:
Through the middle of August over 1,000,000 job postings were published in the U.S., nearing a return to prior year levels.
The percentage of new job postings by sector has not fluctuated substantially.
Most sectors are still posting fewer jobs than they did a year ago.
Dig Deeper:
The U.S. job market is making a recovery according to data from LinkUp, a high-quality job listings dataset that delivers timely and valuable insights into the labor market. Through the middle of August, over one million new positions were published which is in line with numbers from a year ago. The rebound in job postings in July and August is especially encouraging considering the sharp decline in hiring as a result of the COVID-19 economic shutdown. The month of May saw only 607,938 new job postings which is a 35% decrease from April and a 48% decrease from March.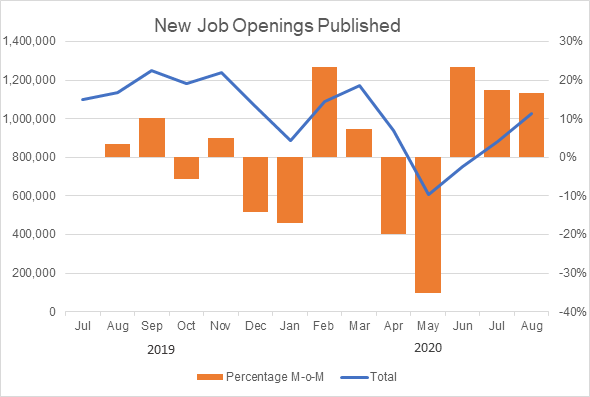 Across sectors, the percentage of new postings did not fluctuate substantially from July 2019 to August 2020. The only sectors with a significant percentage share increase were Building Maintenance and Food Preparation & Serving, which occurred from March 2020 onwards. Some of the largest percentage drops were seen in the Administrative Support sector during May and June 2020 as well as in Business Operations.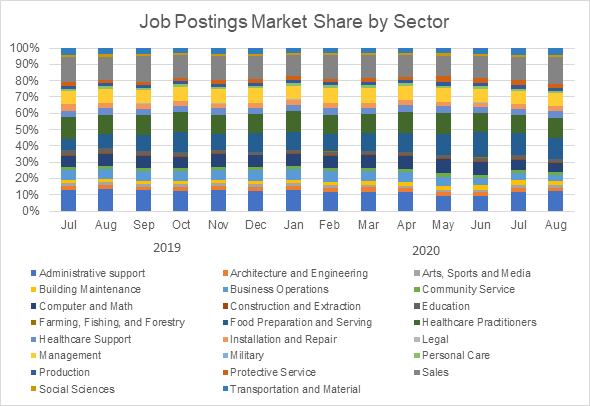 By indexing all the data to July 2019 numbers it can be seen that the worst performing sectors during the height of the economic shutdown were Administrative Support, Education, Sales, Arts, Sports & Media, Transportation & Material, Business Operations, and Legal. All these sectors experienced a decrease in new openings of over 50% from July 2019 to May 2020.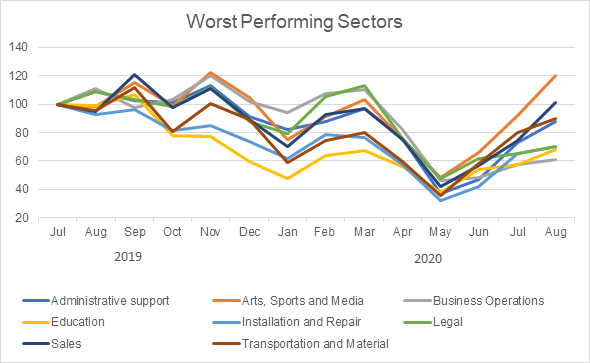 As of August 2020, companies were more eager to publish new openings across all the sectors. Even the aforementioned worst performing sectors registered an increase in new openings from June 2020 onwards. However, as of August 2020 only Arts, Sports & Media, and Sales recovered to July 2019 job postings levels.
Looking at the best performing sectors, only Food Preparation & Serving, Healthcare Support, Personal Care, Protective Service, and Sales recorded more new openings in August 2020 than in July 2019. However, if August finishes as strong as it began, it can be expected that about half of all sectors will have returned to July 2019 levels.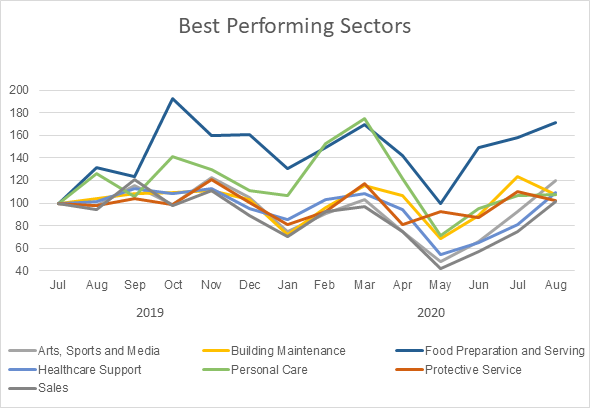 To learn more about the data behind this article and what LinkUp has to offer, visit https://www.linkup.com/data/.