Worldwide digital games market: August 2020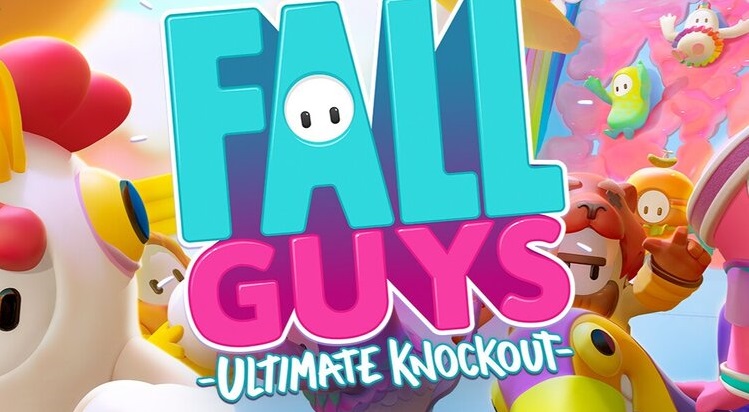 August digital games revenue totaled $10.8B, up 16% year-over-year. Digital console earnings grew the most and were up 88% compared to the same month in 2019. Revenue also rose by 15% on PC and 3% on mobile.
Digital games have earned $82.8B through the first eight months of 2020, a growth of 13% from the same time span last year. Gaming revenue took off in March as COVID-19 lockdowns spread worldwide. Since then, each game device type (mobile, PC or console) has generated higher year-over-year revenue.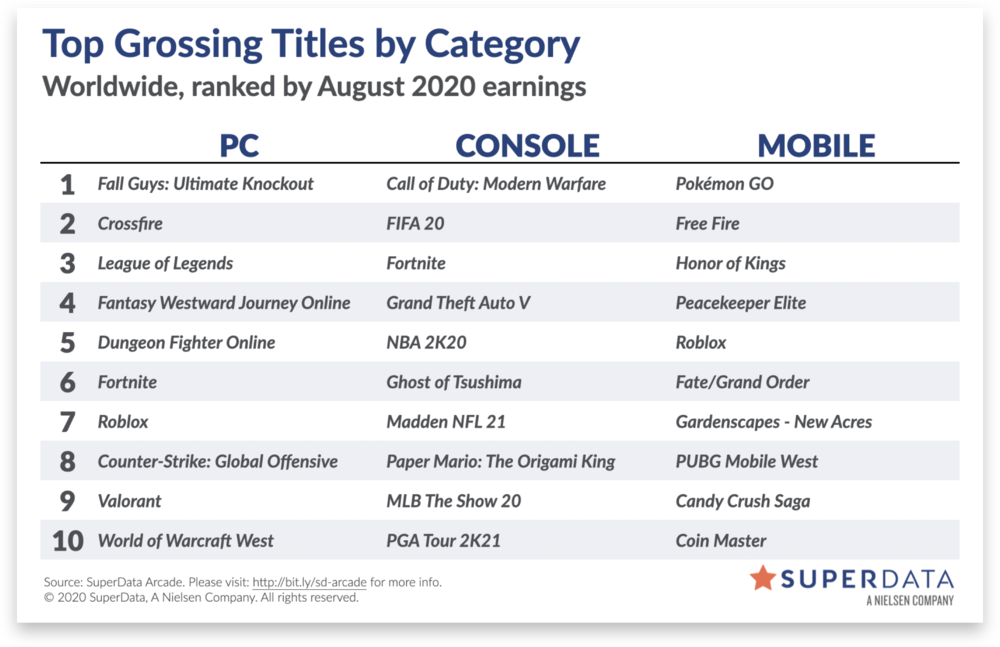 Fall Guys: Ultimate Knockout had the highest-earning launch of any PC title ($185M) since Overwatch in May 2016. The innovative take on battle royale, published by Developer Digital and developed by Mediatonic, was free to PlayStation Plus subscribers, but 8.2M players still paid for the PC version. The breakout success of Fall Guys was especially impressive since it came from a relatively small development team. The game's chaotic, wacky gameplay was a big draw on gaming video content platforms like Twitch, where it topped the viewership charts in the lead-up to launch.
Horizon Zero Dawn sold 716K units on PC during its release month. The former PlayStation 4 exclusive had a PC launch nearly as large as The Witcher III: Wild Hunt and significantly larger than Assassin's Creed Odyssey. Horizon also sold more units at release than the PC edition of Death Stranding (477K), which became available in July 2020 after an eight-month PlayStation 4 exclusivity window ended. After the success of Horizon on PC, Sony has already stated that it is looking into bringing other PlayStation exclusives to computers.
Premium sports games earned $321M in August as the fall slate of sports titles began rolling out. Madden NFL 21 from Electronic Arts sold 570K digital units during August after its release at the very end of the month. While NBA 2K21 did not launch until September, August NBA 2K20 earnings were up 165% over what NBA 2K19 generated in August 2019. The game likely benefited from the unprecedented circumstance of the NBA season continuing during the summer. PGA Tour 2K21, a new 2K sports franchise, also debuted in August. The title, which is a rebranded continuation of The Golf Club series from HB Studios, sold 580K digital units during its release month.
Fortnite revenue grew 76% month-over-month on PC and console, more than offsetting its falling mobile revenue. Player spending jumped in late August thanks to a new season of content featuring cosmetic items based on Marvel Comics characters. This is in sharp contrast to its mobile revenue, which fell by 62% after Apple and Google removed the game from the iOS App Store and Google Play as part of the ongoing legal dispute between Epic and the two technology companies. (Our published mobile revenue totals do not encompass the Android version of Fortnite available outside of Google Play.)
Pokémon GO continued its upward momentum in August and broke its all-time earnings record. The game generated 25% more that its previous revenue peak achieved during August 2016. It benefited from warm weather and frequent limited-time events that appealed to its passionate player base. Pokémon GO has historically performed best in the summer and revenue will likely begin a seasonal decline in either September or October.
PlayerUnknown's Battlegrounds Mobile was the 8th highest earning mobile title in its last month before being banned in India. The game was frequently the country's highest-grossing game before India's government furthered a widespread crackdown on Chinese apps (Tencent has operated the mobile version of PUBG). Also in August, the game's overall revenue and player numbers did not change significantly, which indicates that bans of the mobile version of Fortnite did not lead to a mass player exodus to PUBG Mobile.
To learn more about the data behind this article and what SuperData has to offer, visit https://www.superdataresearch.com/.