Parks: One of the few beneficiaries of the COVID-19 pandemic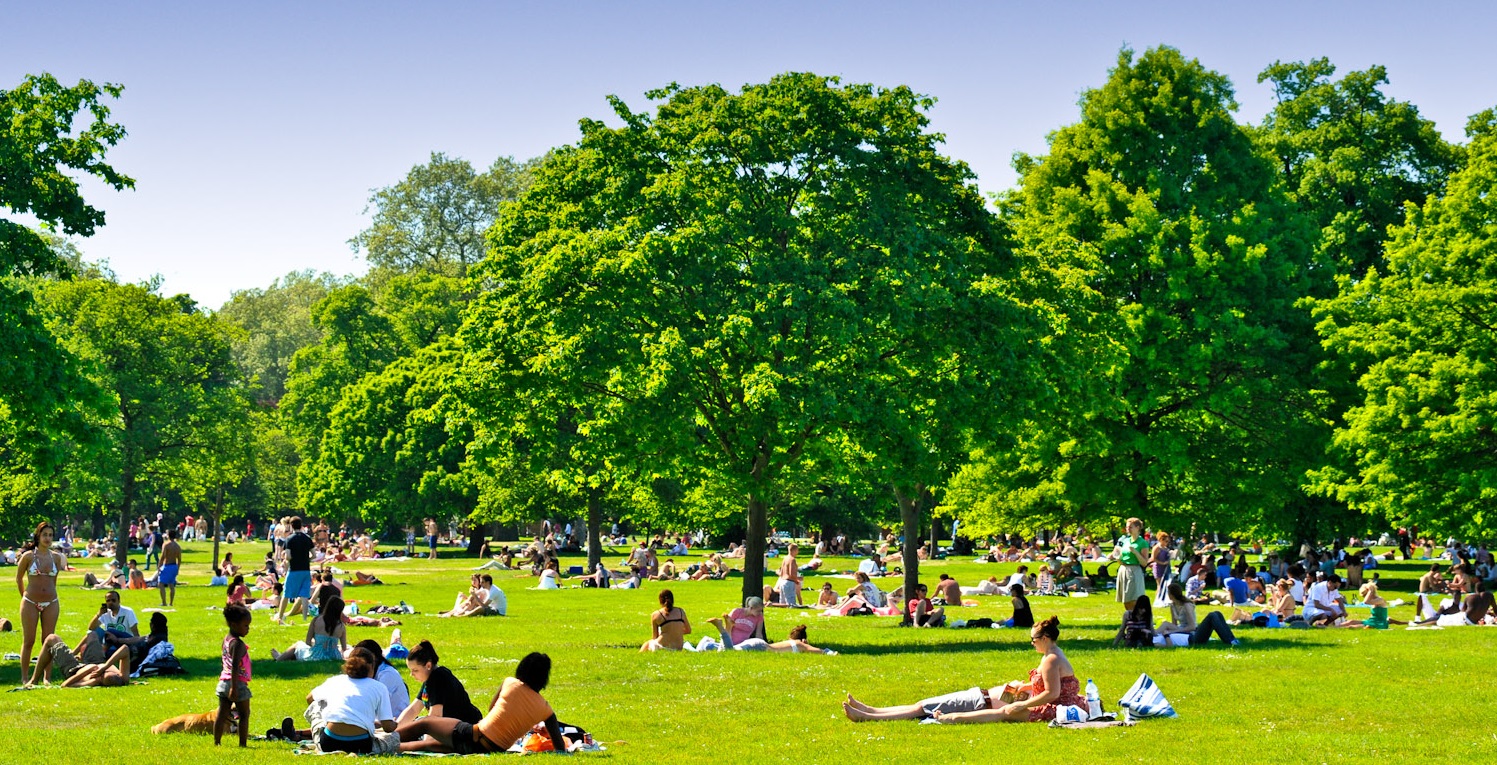 Data Synopsis:
Some countries experienced a 50% decline in park traffic while many experienced an increase of up to 90% year-over-year
Park activity accelerated YOY as people adjusted to COVID-19
Park traffic in tourist destinations suffered the most
Dig Deeper:
Google analyzed 50 countries and tracked five different types of activities in which people participated in before and during the ongoing COVID-19 pandemic. Those five activities and their change during the pandemic are shown below: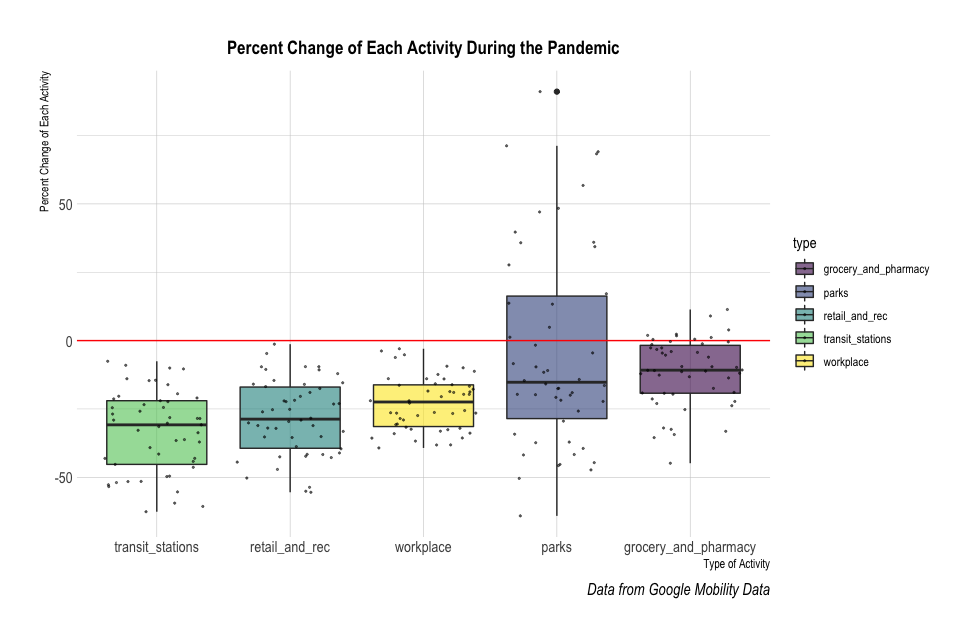 As would be expected, transit stations experienced the biggest drop in usage as people weren't traveling as much (-30% change on average). Grocery stores and pharmacies remained essential and only averaged a -9% change. Activity in parks was by far the most volatile and was the only category to experience an uptick in traffic. While some countries had lower park usage, many countries had a huge increase in traffic. With limited entertainment options and working from home as the new norm, people sought refuge at local parks.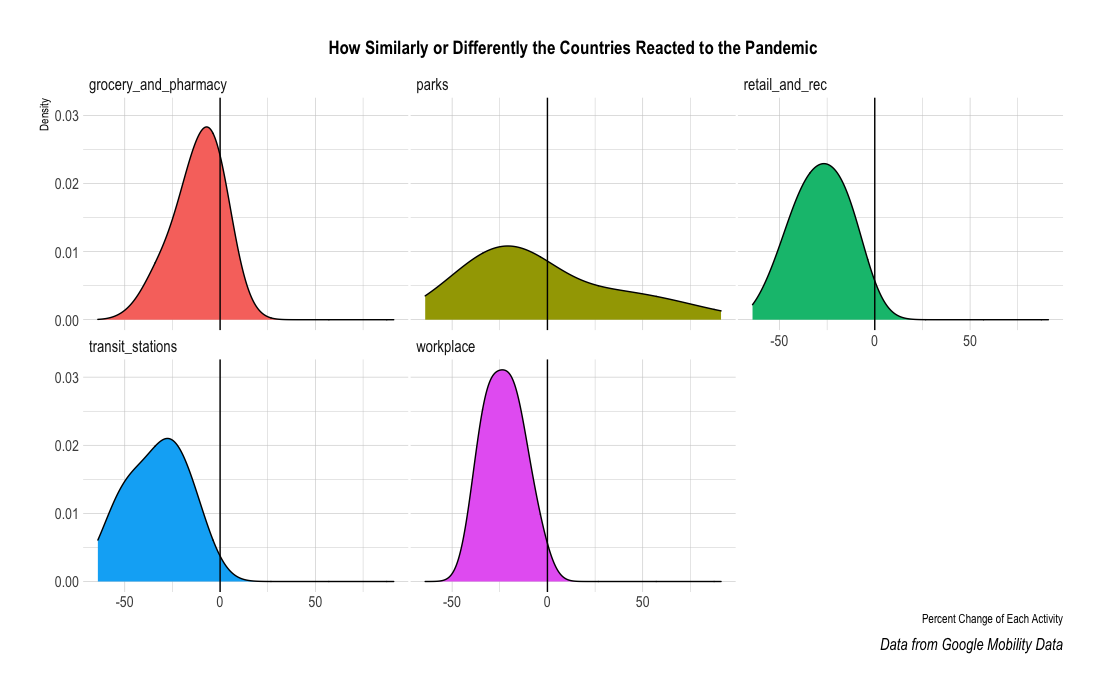 The above density curves show how the 50 countries reacted similarly or differently to each activity. When comparing workplace activity and retail shopping, most countries reacted similarly as evidenced by their tight ranges. Transit stations experienced more variety. Parks had the greatest dispersion with many countries experiencing a 50% decline in traffic while others experienced an increase of up to 90% from a year ago.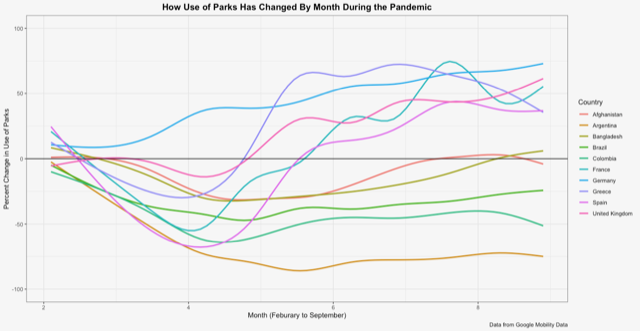 People in countries like Denmark and Germany consistently came out to parks in droves while Estonia, Switzerland and Bosnia experienced a spike during the later weeks. With international travel halted, Costa Rica and The Bahamas didn't have their typical tourism wave and their park activity suffered.
With colder months ahead for many of the countries in the study, the newfound interest in parks will be tested. Perhaps people warm up to the risks of flying in a COVID-19-world and revisit the usual tropical destinations.