The Queen's Gambit penetrates pop. culture and mobile chess games benefit

Since The Queen's Gambit debuted on Netflix (10/23/20), mobile chess games appearing at the top of app store search results, as a grouping, have increased their average daily downloads 63% in the United States and 11% worldwide. The percentage change looks at the average daily downloads of 10 days prior to debut compared with that of debut day plus 9 days after.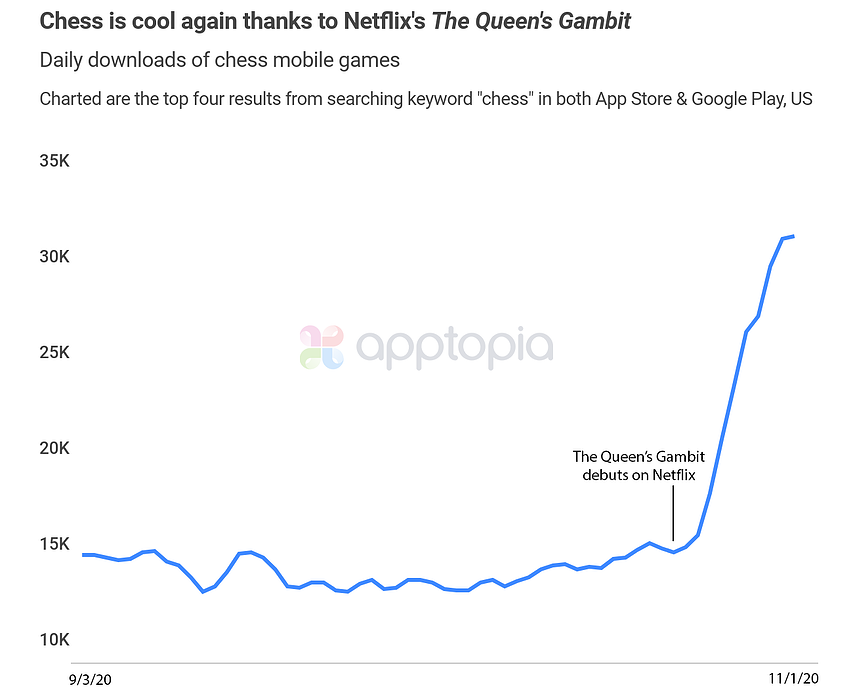 The Queen's Gambit is a fictional television series about an orphan chess prodigy. On 10/28/20, the series became the most watched series of the day on Netflix in the United States. Some forms of Chess have been around for thousands of years, so its popularity isn't new but its penetration into popular culture has been reinvigorated thanks to the entertainment value of the show and Netflix's distribution.
I've watched several episodes of the show myself and it certainly makes chess look cool and makes me wish that I was any good at it at. My immediate thought after watching the trailer for it was that this would seep into culture and I would see it in Apptopia's data. Most everyone has a mobile phone which makes mobile games the most accessible games in the world, outside of maybe tic-tac-toe. This extends beyond games as well - Apptopia mobile app data is necessary to get a read on consumer and cultural trends and fads.
Chess is not associated with any name brands so I imagined that people trying to play chess would simply type "chess" into their App Store or Google Play search. I did this myself and took the top four results from each store to study and chart data with. That is what you are seeing in the image above.
Chess - Play & Learn is the largest chess mobile game in the United States by all measures. It is also the top search result in both the App Store and Google Play when searching keyword "chess." It is the only app studied that was making substantial revenue via in-app purchases, averaging $8,880 per day over the last 30 days. At this point in time, it has not seen a bump in revenue due to The Queen's Gambit.
To learn more about the data behind this article and what Apptopia has to offer, please reach out to Connor Emmel at cemmel@apptopia.com.