Lockdown 2.0: In person learning disappears again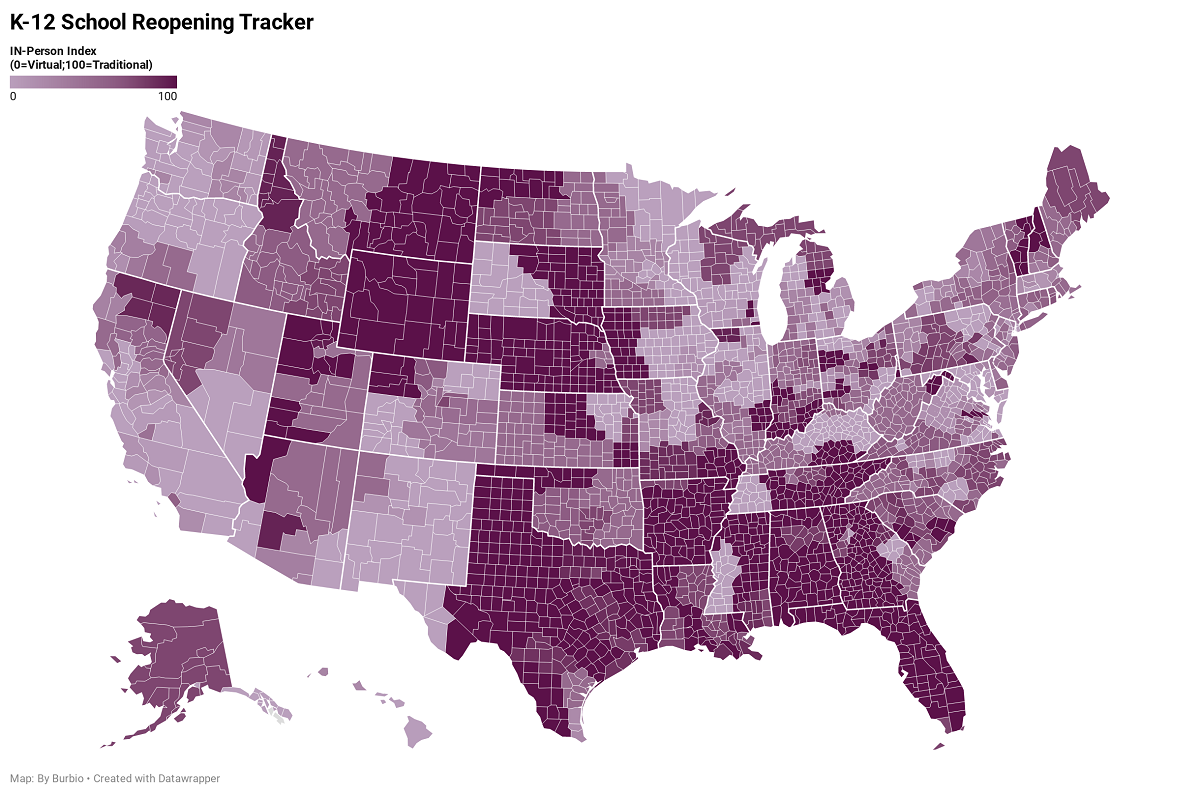 With Covid rates rising across the US, K-12 schools that had introduced in-person learning are rapidly shifting to virtual. In the last week alone almost eight percent of US school children – totaling over 4MM students – have seen their in-person schools "go-virtual."
As of Labor Day, just over 60 percent of K-12 students were attending virtual only schools. That number dropped to under 40 percent as of early November as the Sun Belt and Rockies almost completely returned to in-person learning, generally "traditional" every day in person schooling, and the Northeast and the Midwest returned with a heavy mix of "hybrid" – students attending in-school 2-3 days a week.
The outliers to the in-person trends fell into two categories: In terms of states, "locked down" west coast states New Mexico, Hawaii, Arizona, California, Oregon and Washington and mid-Atlantic states of Virginia, Maryland, and the District of Columbia were almost entirely virtual. The second categories were large cities that were located in states that otherwise had in person learning; Chicago, Atlanta, Boston, Philadelphia, Kansas City, plus others. New York City was an outlier in that it did offer in-person learning through a "hybrid" plan, and in Texas and Florida Miami, Tampa, Dallas and Houston did have their students return. But by November 1st most 'virtual' schools across the US had plans to return their students to classroom as their was general agreement that schools are not a vector of spread.
That progress has come crashing down in the last two weeks. K-12 school districts go "virtual" for two different reasons: "Community spread" Covid thresholds set by state health departments can trigger school districts closing, as can staff shortages created by Covid-positive staff or students triggering mass quarantines. Further, those same rising cases prevent schools that are virtual from opening. All that is in play in the current decline in-person learning.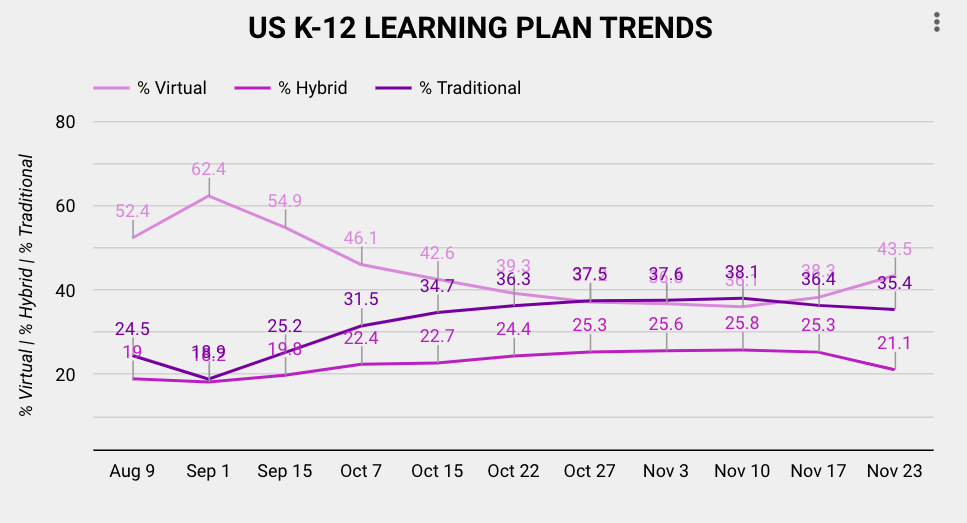 Three weeks ago major districts such as Boston, Atlanta, and Chicago shelved in-person re-opening plans due to Covid rates, and in the last ten days city districts such as Indianapolis, Detroit, Cincinnati, Boise, Oklahoma City, Santa Fe and Colorado Springs that had students in class switched to virtual. Then last week, New York City closed K-12 schools; the city educates roughly 2% of all US public school children. That closure occurred two days after Michigan had closed high schools and the same day as Kentucky closed all K-12 schools entirely. Finally, individual districts throughout the Midwest, the Rockies and now the Northeast are announcing virtual transitions daily.
At this time Burbio's School Opening Tracker is showing 43.5% of US K-12 students attending virtual-only schools (up from 36.9% in just 7 days), 35.4% attending schools that offer in person teaching every day, and 21.1% offering hybrid education. We expect this number to continue to drop in the immediate term as schools fear holiday-related Covid spread and are reeling under the logistics of testing and tracing regimens, irregular schedules, and a combination of virtual and in-person education that stresses teachers.
The balance of the academic year is going to very rocky for K-12 education and the economic impact is being widely felt. School learning plans affect retail sales, mobility and energy usage, local employment conditions and consumer sentiment. Different parts of the country are having different levels of success opening schools and this can be measured to the county level, along with projections, as districts are now announcing dates when they plan to reconsider major decisions. Further, looking into the spring and summer we expect to see everything from an extended academic year in many districts, to delayed starts into next academic year, and it will take all of 2021 for the K-12 education to resume something that resembles normal.
To learn more about the data behind this article and what Burbio has to offer, visit https://cai.burbio.com/school-opening-tracker/.