Europe Dominates World's Most Liquid Markets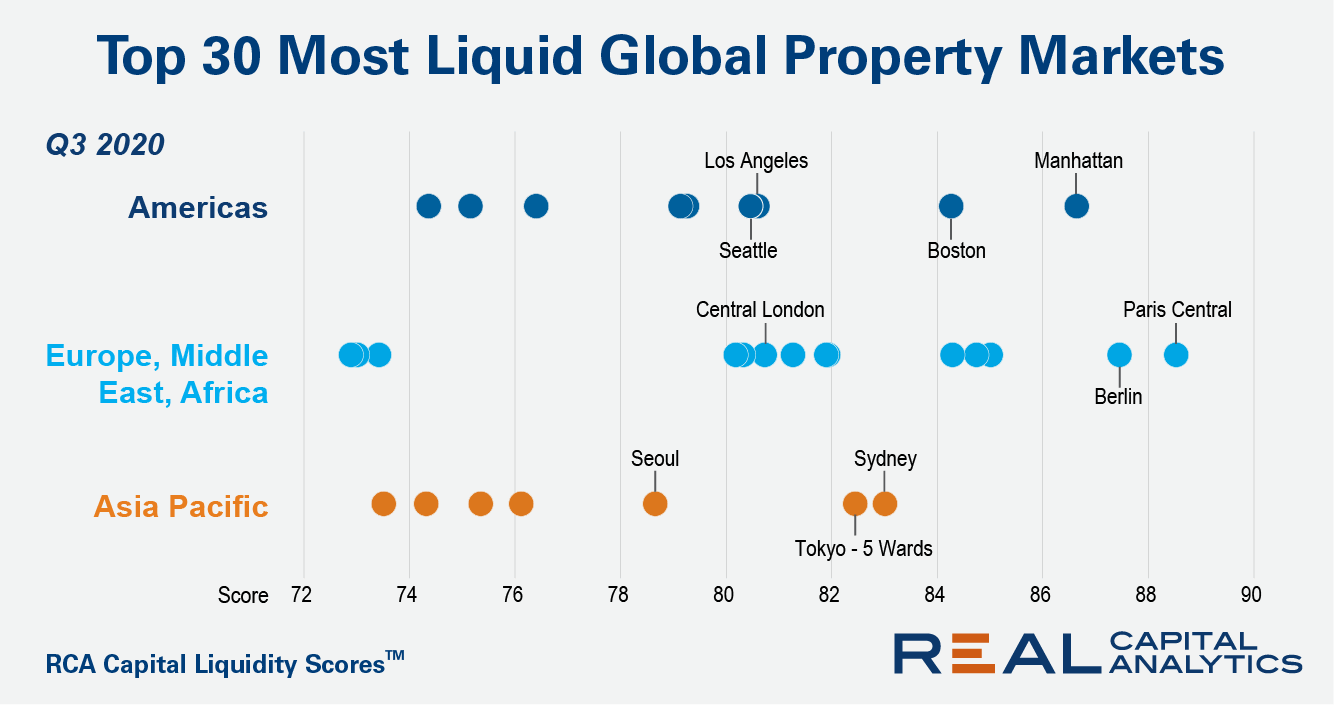 Europe's biggest commercial real estate markets have maintained higher liquidity through the ongoing Covid-19 pandemic than markets in the Americas and Asia Pacific, according to the third quarter 2020 update of the RCA Capital Liquidity Scores.
European markets now comprise 14 of the top 30 most liquid markets in the world, as shown in the chart below. Globally, the vast majority of markets tracked by RCA showed shrinking liquidity late last year. That Europe's biggest markets have been relatively resilient shows how investment activity held up better in the region than elsewhere in the world through the first six months of the pandemic period.
The most liquid property market in the world remains Central Paris, despite the fact that the score fell 1.1% over the past year. Berlin, in second place, saw its liquidity score fall by 3.2% versus Q3 2019, and in Manhattan liquidity dropped by 5.1%. The Q3 2020 score puts Manhattan liquidity at a 10-year low, with all six components of the score showing a drop.
The most liquid market in the Asia Pacific region is Sydney, which overtook Tokyo – 5 Wards at midyear. However, both markets recorded a pandemic-induced slowdown. Even in Seoul, where sales activity proved more resilient than in almost any other major market globally, a drop in the number of buyers and the institutional investment component was enough to pull down the score by just over 1% from a year prior.
To learn more about the data behind this article and what Real Capital Analytics has to offer, visit https://www.rcanalytics.com/.