Macro Views from Spring 2021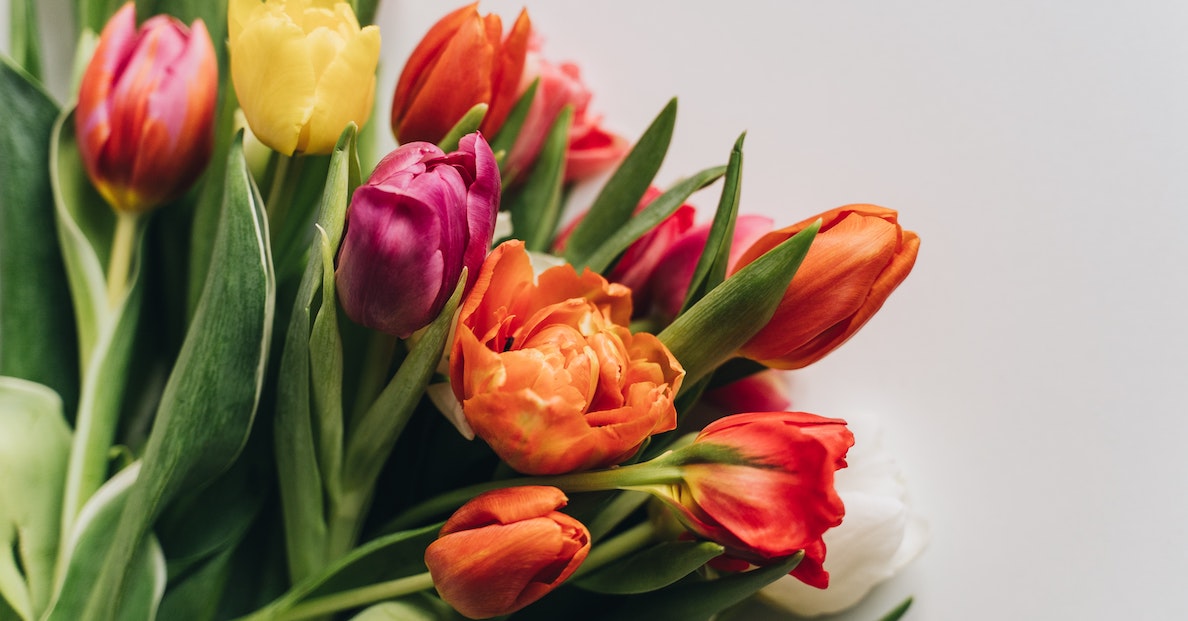 We are excited to show you several data points and macro takeaways from our Spring Technology Spending Intentions Survey and COVID-19 Impact drill down series, citing participation from 1,500 IT decision-makers.
IT Spend
Across all respondents, the average estimated change in IT spend for Total 2021 vs. Total 2020 is +5.1% to +6.8% y/y (95% confidence level), a +20bps to +320bps increase from our December polling, and a +260bps to +560bps increase from our September polling. The average anticipated change for Q1 and Q2 is also trending positively, with Q2 standing much stronger than Q1.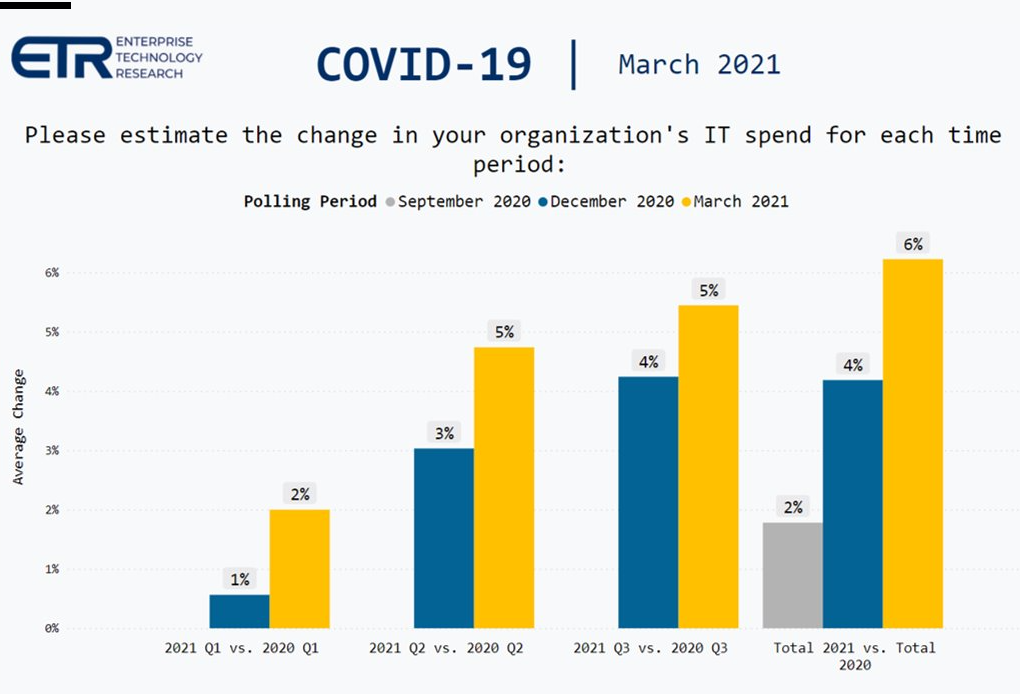 Hiring / Deployment Trends
Our dataset reveals a decline in organizations citing plans to have employees work from home and cancel business trips in the next three months. Significantly fewer organizations are citing plans to freezing hiring, freeze new IT deployments, and lay off employees. More organizations are citing plans to increase hiring, while acceleration in new IT deployments is stable vs. three months ago.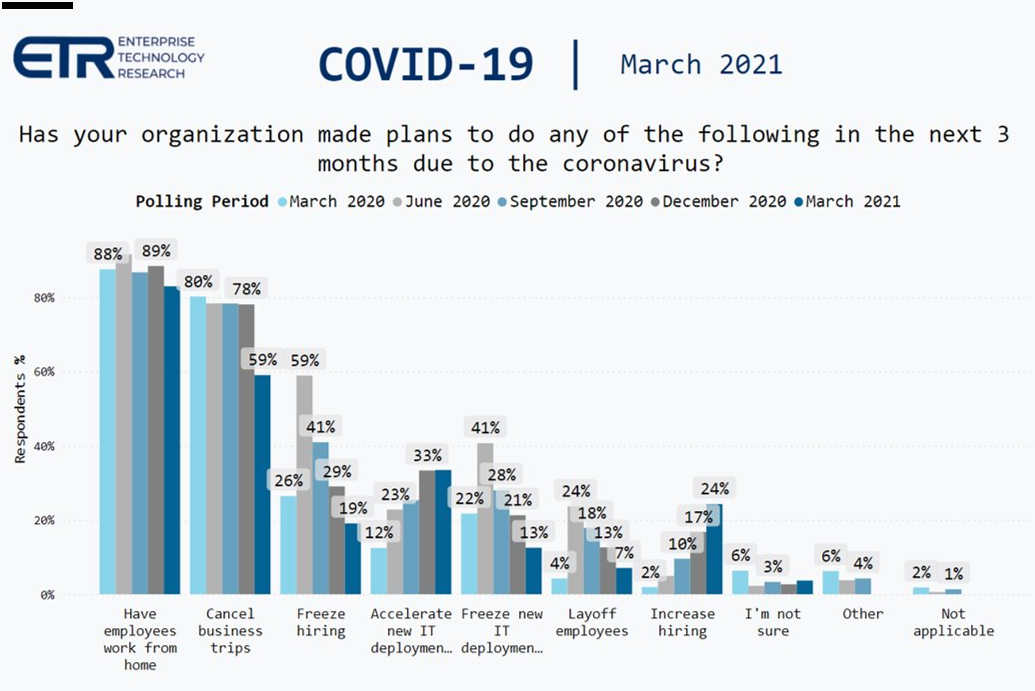 On-Premise Spending
An average of 33.5% to 39.1% (95% confidence level) of respondents intend to continue mostly spending on cloud infrastructure and applications once they return to physical offices. Approximately 24.2% to 29.4% of organizations indicate their spending on physical IT infrastructure to be below pre-COVID levels once back in the office.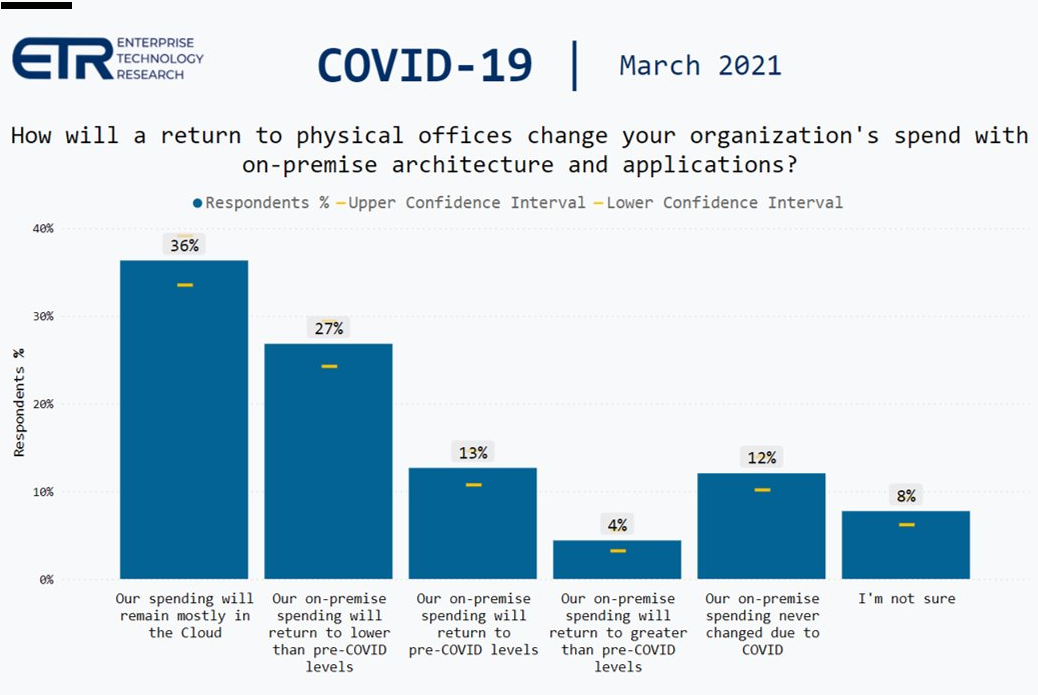 Sector Bifurcation
Outsourced IT and IT Consulting continue their recovery from 2020 declines, with the largest portion of their vendors seeing +5pts or more acceleration y/y.
Business Processes (Appian, Progress) and ECM Software (Veeva Systems, Acquia, Adobe, Open Text, Box, Oracle) also see a high proportion of vendors improve vs. last year.
On the negative side, we see a high portion of Video Conferencing (Zoom, AWS Chime, Cisco, BlueJeans, LogMeIn, Skype & Lync, Fuze), IP Telephony (Five9, Genesys, Cisco, Mitel, Polycom, Avaya, LogMeIn, Siemens), and Virtualization (AWS WorkSpaces, Nutanix, Dell VxRail, Cisco, Citrix, F5 Networks) vendors decelerate -5pts or more from last year.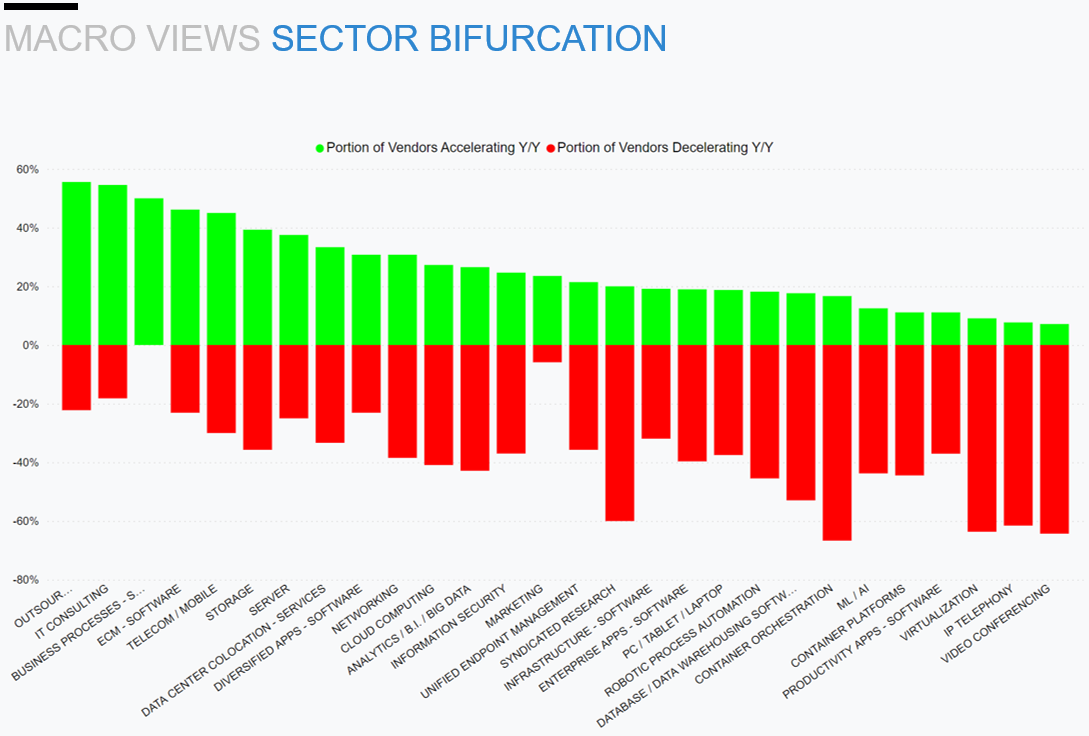 To learn more about the data behind this article and what ETR Research has to offer, visit https://etr.plus/.