Amazon Warehouses Are Prime for Property Investors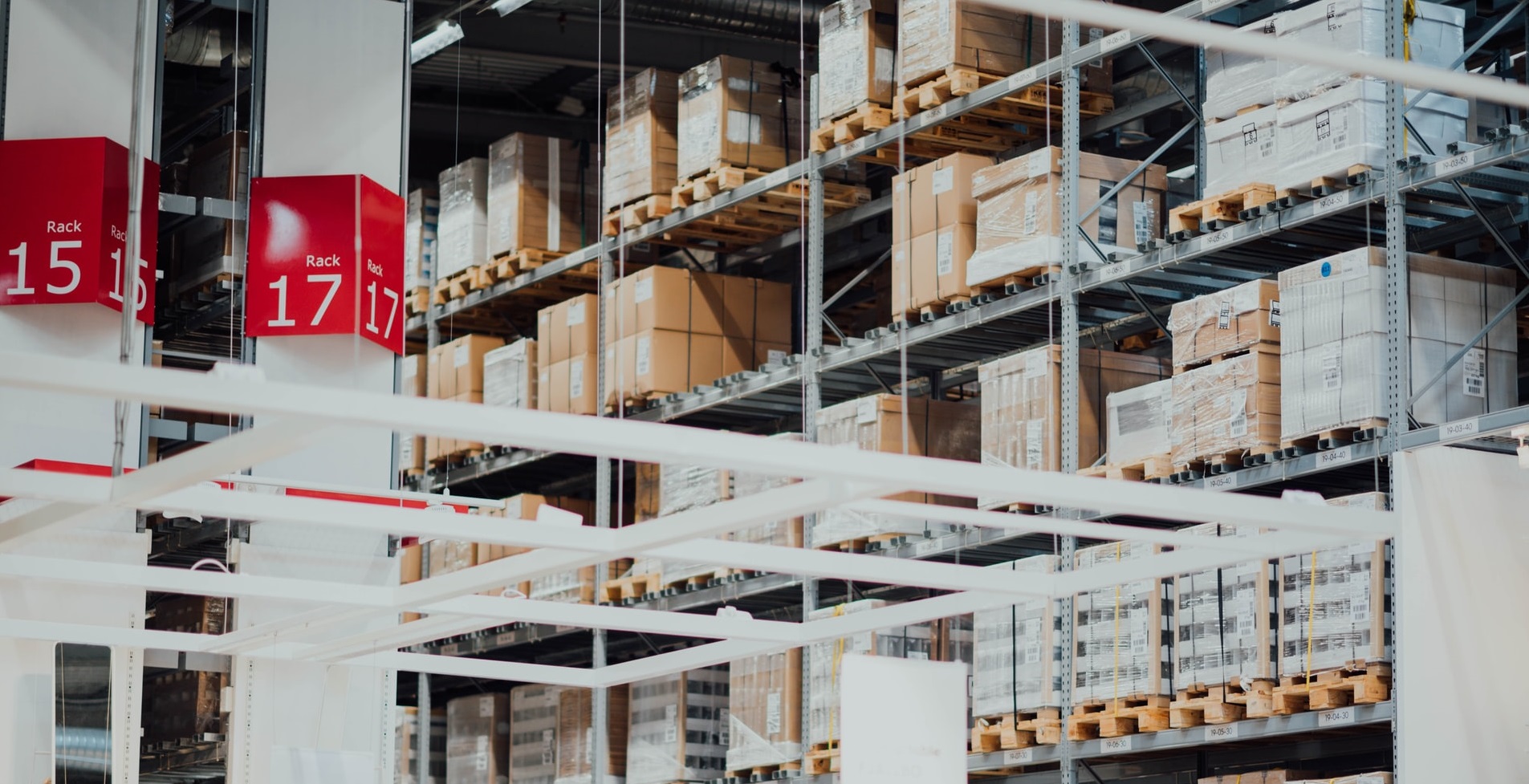 The jet boost that the pandemic provided to online retailers has accelerated investor demand for the warehouse properties crucial to the supply chain. In the U.S., just shy of one-quarter of all investment transactions were for industrial assets in 2020 — a record for the market. In Europe a record was also set, with 16% of all 2020 transaction volume involving industrial property, Real Capital Analytics data shows.
Warehouse properties let to Amazon — the business that has perhaps most changed the way consumers in Europe and North America shop — are in strong demand. In 2020, a record number of single-let Amazon-tenanted properties were traded in the U.S. (63) and in Europe (26). Combined, these transactions totaled $6.5 billion, or just under 6% of everything spent on warehouses in these markets.
Through mid-June of 2021, 24 Amazon single-let properties have changed hands in the U.S. and 12 in Europe, for total deal volume of about $2 billion. One notable deal was German insurer Allianz's purchase of a last mile delivery unit in Vienna. Allianz paid €8,000 per square meter ($898 per square foot), a metric which places it as the most expensive distribution property to trade in Europe in the last six years. (The unit itself is only 9,000 sqm, but the total land is 48,000 sqm, with sufficient parking for delivery vehicles, now a crucial factor in decision-making by logistics operators.)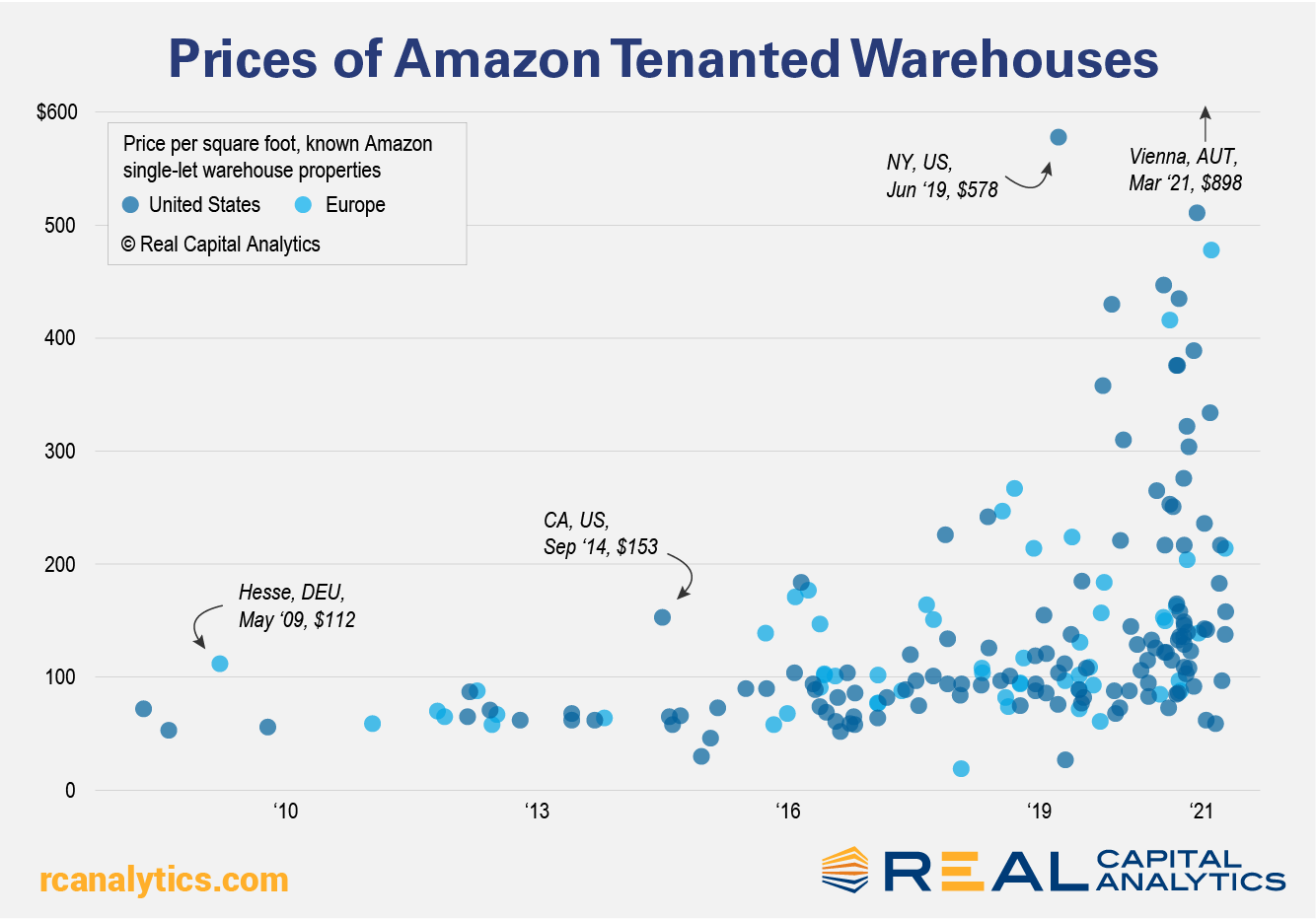 The largest deal so far in 2021 in Europe is Savills IM's acquisition of a 1 million sqft unit in the East Midlands, England for $227 million at $214 per sqft. In the U.S., the largest acquisition is Eaton Vance's purchase of 1 million sqft unit in Florida for $170 million.
RCA's U.S. construction data shows that 48 Amazon-let warehouses totaling 49.7 million sqft are currently underway, with an estimated value of $6 billion. The biggest of these is a supersized 3.9 million sqft warehouse in northern Delaware, within the Philadelphia Metro catchment. The warehouse is being built by Dermody Properties in joint venture with two Korean investors, Korean Teachers' Credit Union and IGIS, in place of a former General Motors assembly plant. In Germany, RCA is tracking 11 warehouses that are under construction and let to Amazon, and in the U.K. two properties.
Buyers are willing to pay up for warehouses with Amazon as tenant. A hedonic pricing analysis on the U.S. logistics market shows that when one controls for factors such as property location, size and age, investors will a pay of premium of around 8% for an Amazon-let property. This premium equates to approximately a 45 bps difference in yields, based on current market averages.
The existence of such a premium is not a surprise: the scale and nature of Amazon's business mean their warehouses are always going to be sought after in the current investment climate, which prioritizes secure income in sectors with positive tailwinds. This is unlikely to change for the foreseeable future.
To learn more about the data behind this article and what Real Capital Analytics has to offer, visit https://www.rcanalytics.com/.