Peloton Earnings Preview: Turning Up the Heat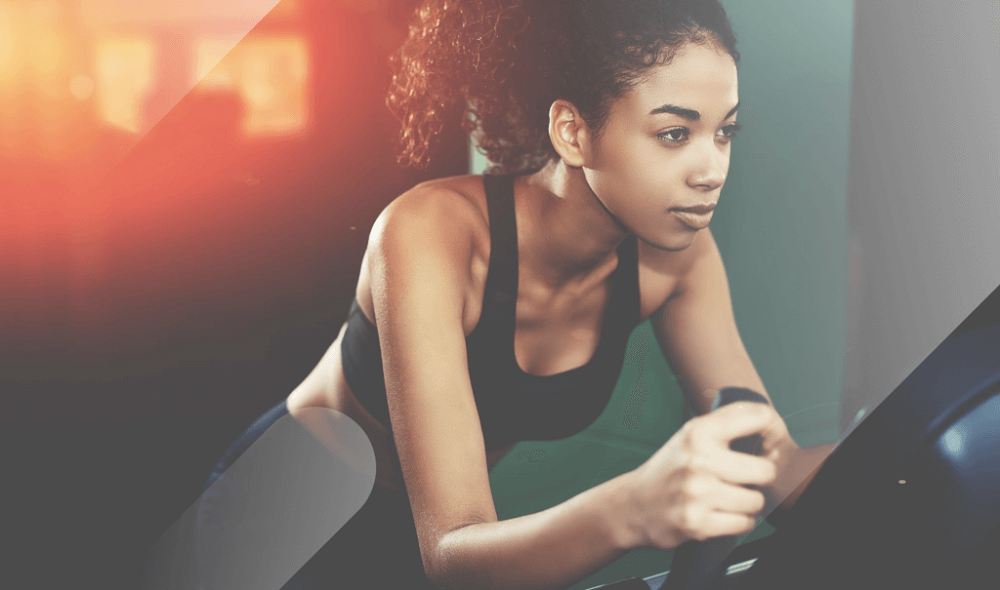 Heading into Peloton earnings on August 26, Peloton (PTON) is in a tricky spot. Shares are down 27% year-to-date, as investors question the sustainability of elevated pandemic growth levels.
Negative headlines around the safety of its new high-end treadmill Tread+ have also weighed on the stock, with the repercussions already filtering through into next quarter's guidance.
But PTON is fighting back, moving into the lucrative corporate wellness space, with big names like Wayfair and Samsung already on board. It's also launching Lanebreak, an in-app game for subscribers to play while exercising. Gamifying the work-out experience should help PTON boost consumer loyalty and attract new customers.
We used Similarweb's alternative data to analyze Peloton's unique users and payment referral traffic as a window into F4Q21 earnings.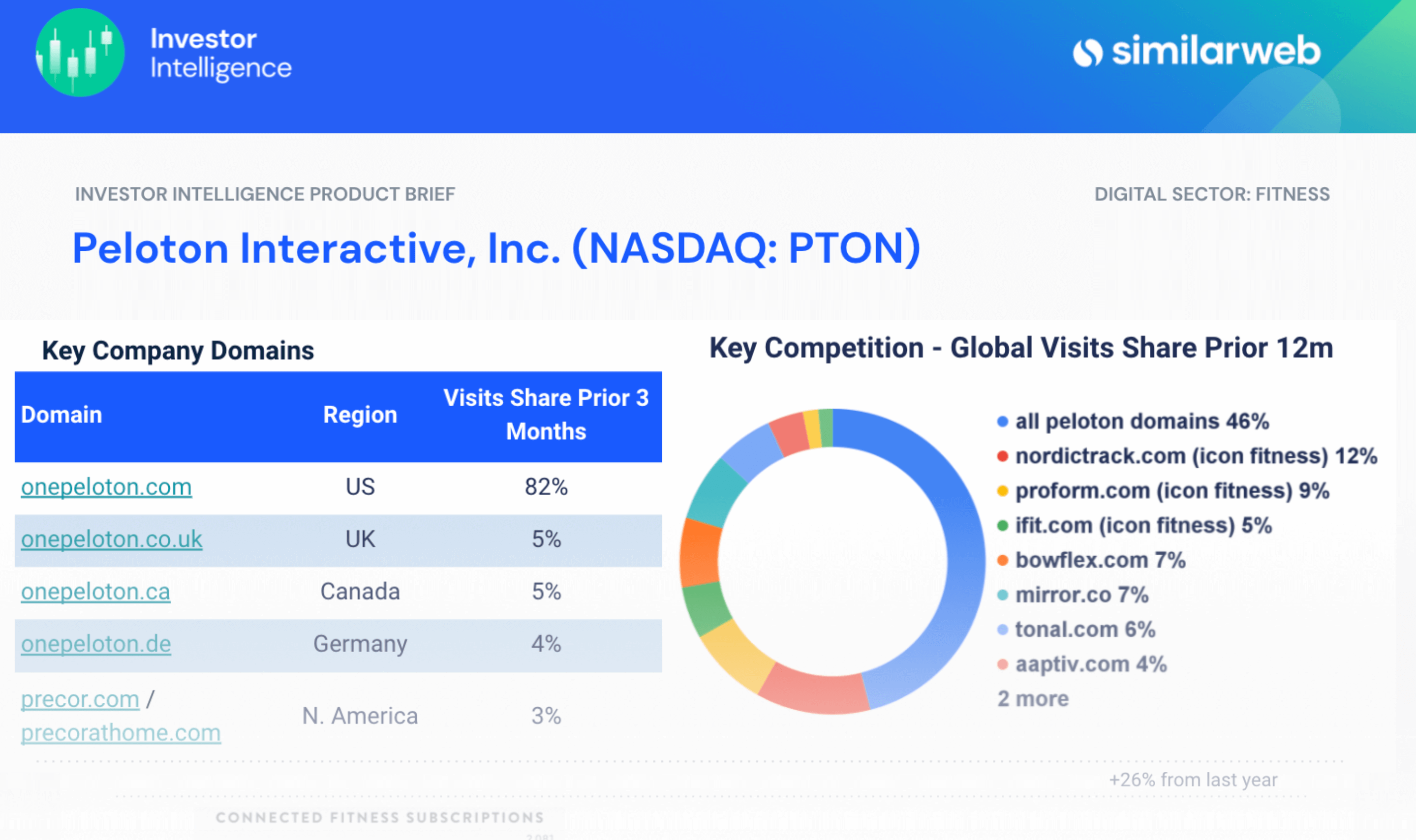 Peloton earnings: What you need to know
Peloton reported very strong earnings numbers for the last four consecutive quarters. Last quarter, for instance, the home gym-maker reported revenue above the Street's forecasts thanks to strong continued demand for its fitness bike and an acceleration of expected deliveries.
It also released FQ4 revenue guidance of $915 million, +41% year-over-year (YoY), including a $165 million negative impact from treadmill safety concerns.
At the same time, it's important to note that the comparison to last year's performance is becoming increasingly tough. That's due to the skyrocketing sales Peloton enjoyed in 2Q21 as lockdowns left gyms shuttered and consumers stocked up on gym equipment instead.
The takeaways
Unique visitors to Peloton's member site decelerated from last quarter to this quarter
Outgoing payment referrals are also down on a YoY basis
Support visits pulled back during the quarter, which could reflect diminishing Tread+ safety concerns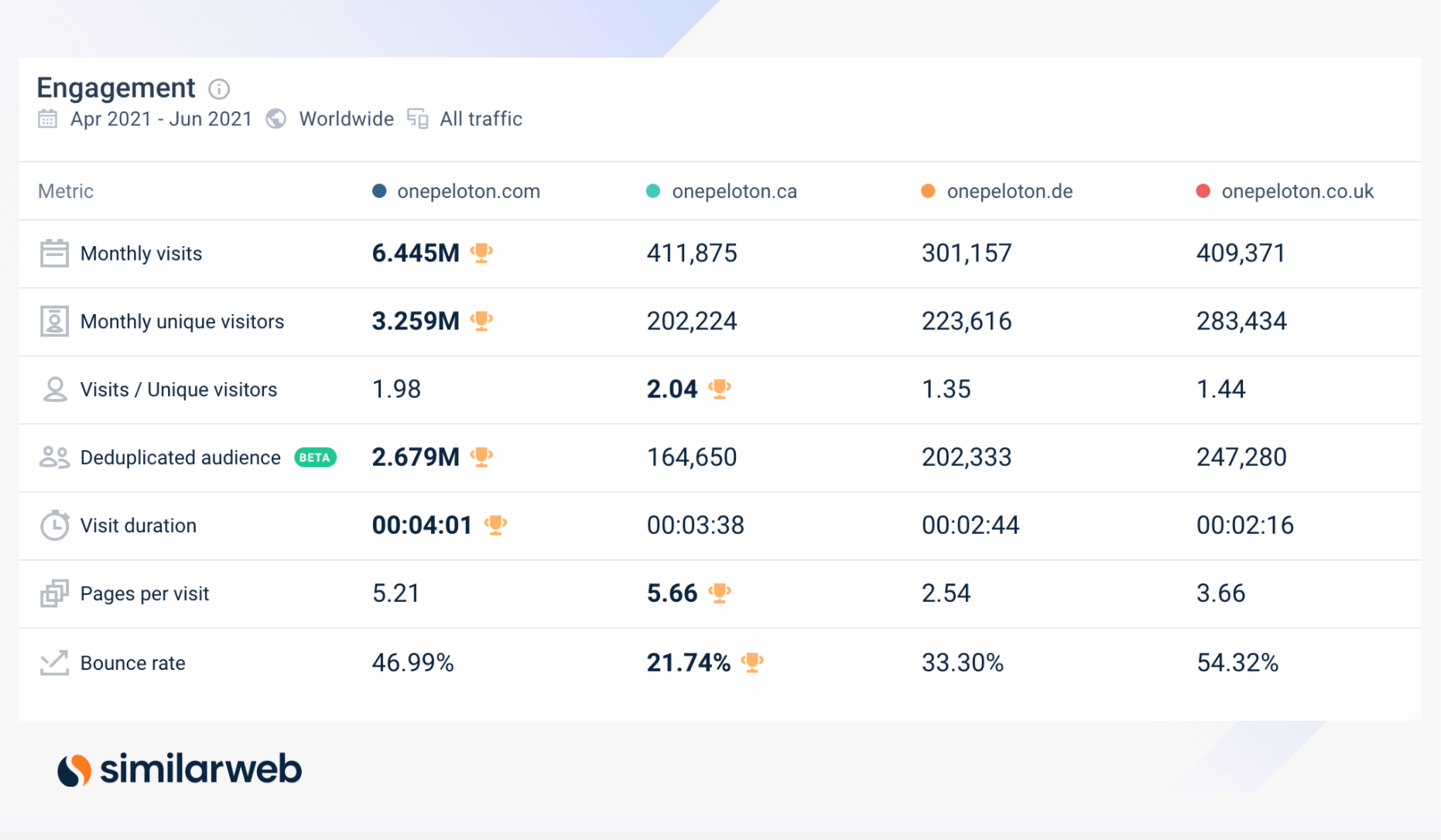 Competitive edge
While onepeloton.com has by far the most monthly visits and unique visitors, Peloton's Canadian site onepeloton.ca shows impressive brand reach and audience engagement metrics. We can see that the ratio of unique visitors to visits is higher than for the other websites, as is pages per visit, while the bounce rate is considerably lower.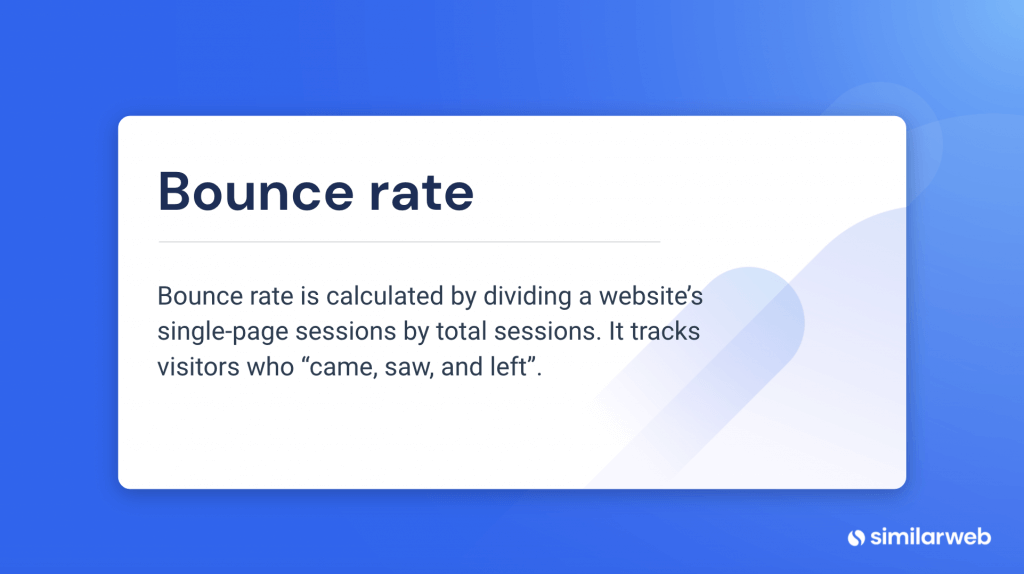 Subscriber growth is reaching the hill
Desktop unique visitors to members.onepeloton.[com, ca, co.uk, de, com.au] is a historically strong indicator of overall growth in Connected Fitness Subscribers on a two-month time lag. Note that in the previous quarter, Peloton's subscription memberships generated $239 million (19% of revenue), but represented 35% of gross profit. The conclusion: this is a very valuable source of growth for the company.
According to our data, global desktop unique visitors experienced a significant sequential deceleration, from 383% YoY growth in F3Q21 to 112% YoY growth in F4Q21.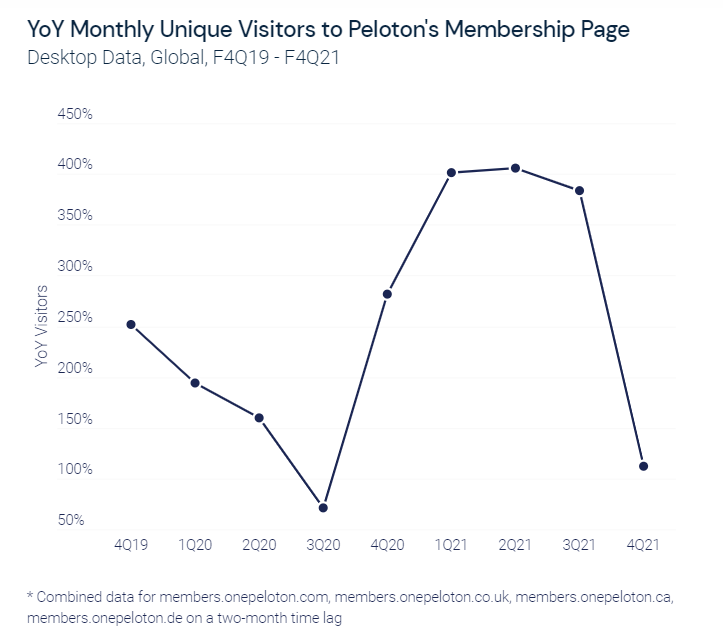 However, in number terms, this was actually the best quarter for unique desktop visitors to the Peloton membership page. You can see this displayed clearly in the graph below. Nonetheless, investors will be hoping that the intra-quarter downward trend reverses in the coming months.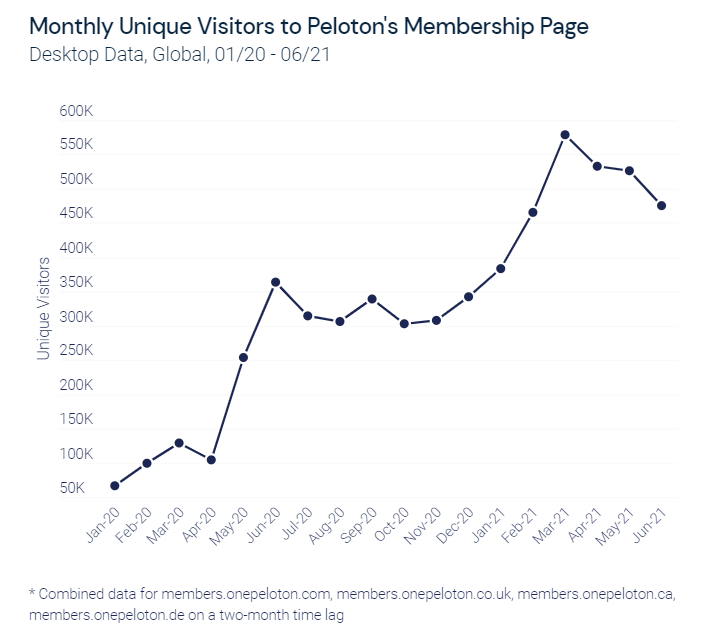 Modeling considerations
We use a two-month time lag because the customer typically doesn't activate their membership until they receive their connected fitness product and start using it.
Peloton also offers a 30-day free digital app trial. This means that a proportion of visitors to the member page are not necessarily paid subscribers. However, the trend is still a valuable indicator of subscriber digital trends.
Payment data suggests slowing purchases
We can assess aggregate outgoing traffic from global Peloton sites to online payment solutions, such as Affirm, Shopify, and PayPal. This is a key directional indicator of new unit sales and, as a result, Connected Fitness Product Revenue.
Outgoing payment referrals from onepeloton.com also decelerated sequentially vs. F3Q21. In the fiscal third quarter, we found that outgoing payment traffic dropped from the previous quarter (and fell 12% YoY), signaling a softer period ahead.
While payment traffic can be a more volatile indicator and can be influenced by marketing and new partnerships, it does provide a useful signal for new member transactions, particularly in the mass market (via Affirm).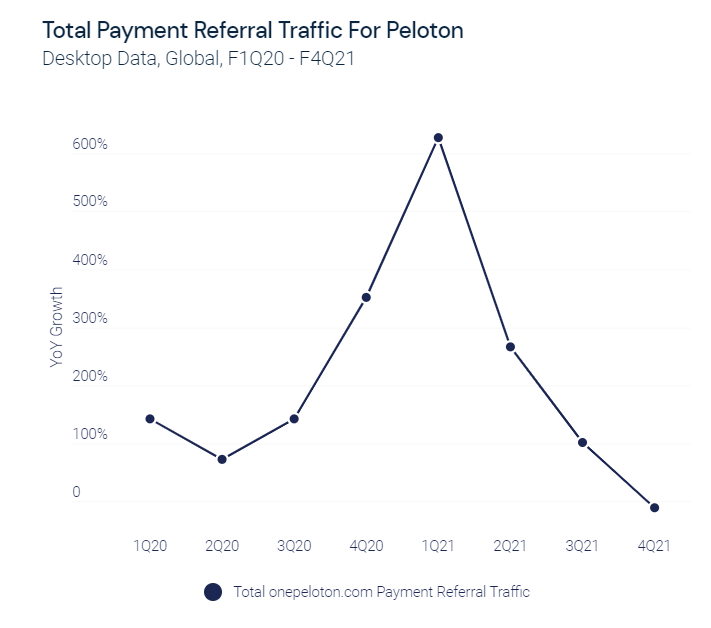 Modeling considerations
Connected Product Revenue is only recognized when the product is actually delivered to the customer. This means there is a lag between payment and the recognized revenue.
In addition, outgoing payment traffic is heavily weighted to Affirm, which offers consumers to pay for equipment in zero-interest installments over time.
Peloton Tread headline fallout
In March, a child died following an incident with Peloton's $4,295 high-end treadmill. A U.S. government agency subsequently issued an "urgent warning" for the Tread+, noting multiple accidents involving the treadmill. It advised owners to stop using the machine if small children or pets are at home.
Peloton subsequently issued a voluntary recall and full refund offer for both its Tread+ and lower-price Tread in May. It also delayed the U.S. launch of Tread products, which was initially released in just Canada and the U.K.
Our data shows that unique visitors to Peloton's support page (support.onepeloton.com) accelerated in March 2021 compared to February. This could indicate that the accident and probe negatively impacted Peloton and potentially resulted in equipment cancellations.
However, we can see that the spike to support was short-lived. From March to July, visits to support.onepeloton.com have pulled back 34%. This could show diminishing safety concerns, or it could reflect a slowdown in sales.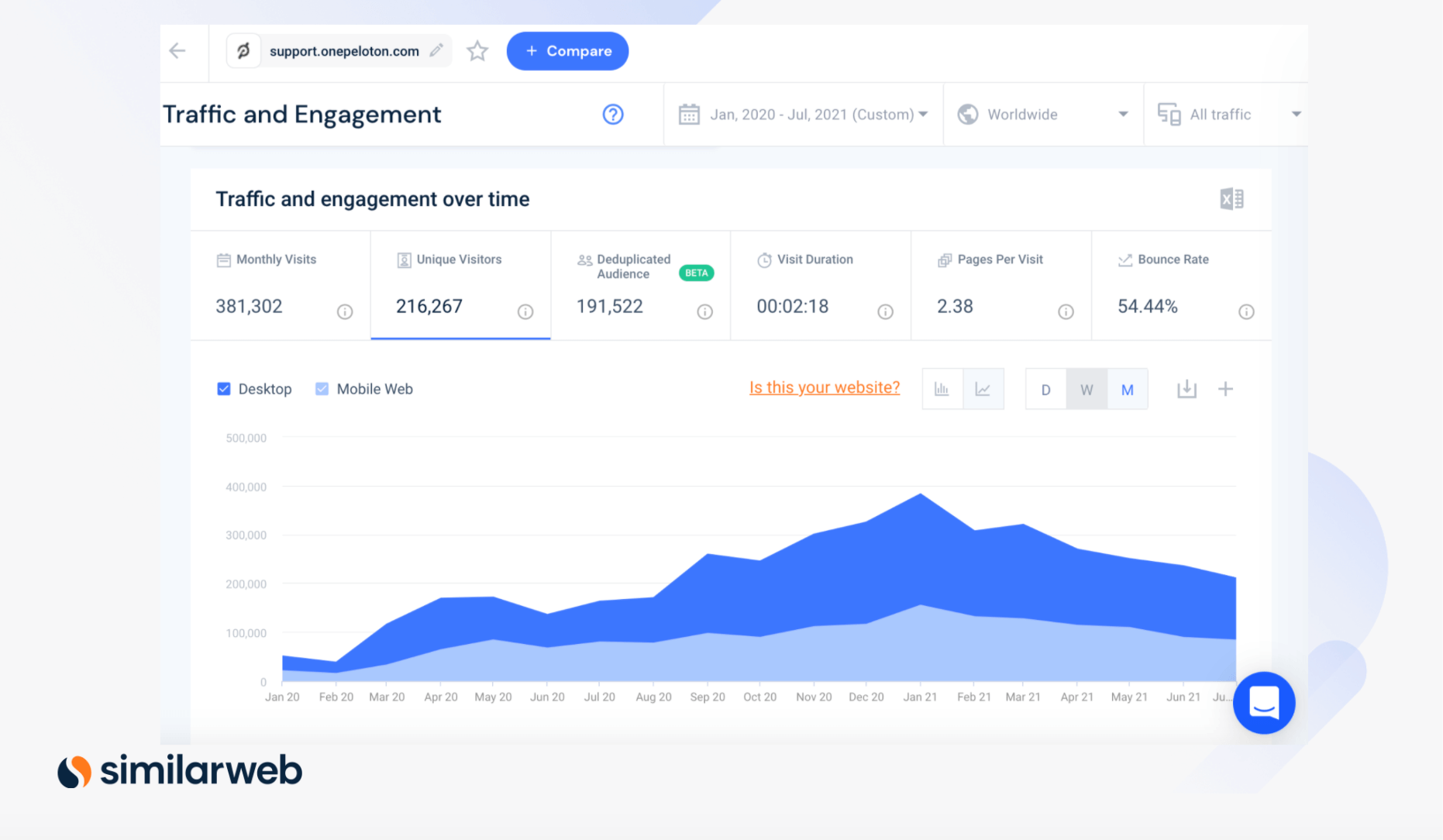 Step up your game
Here we focused on Peloton earnings. As you can see, the fast-growing exercise equipment company's digital data provides critical pre-earning and intra-quarter insights.
Similarweb Investor Intelligence gathers, analyzes and synchronizes the vast world of digital data to deliver distilled signals for thousands of single stocks. See how the data can strengthen your market analysis and investing strategy.
To learn more about the data behind this article and what Similarweb has to offer, visit https://www.similarweb.com/.