Shopee overtakes Mercado Libre to be the top shopping app in LATAM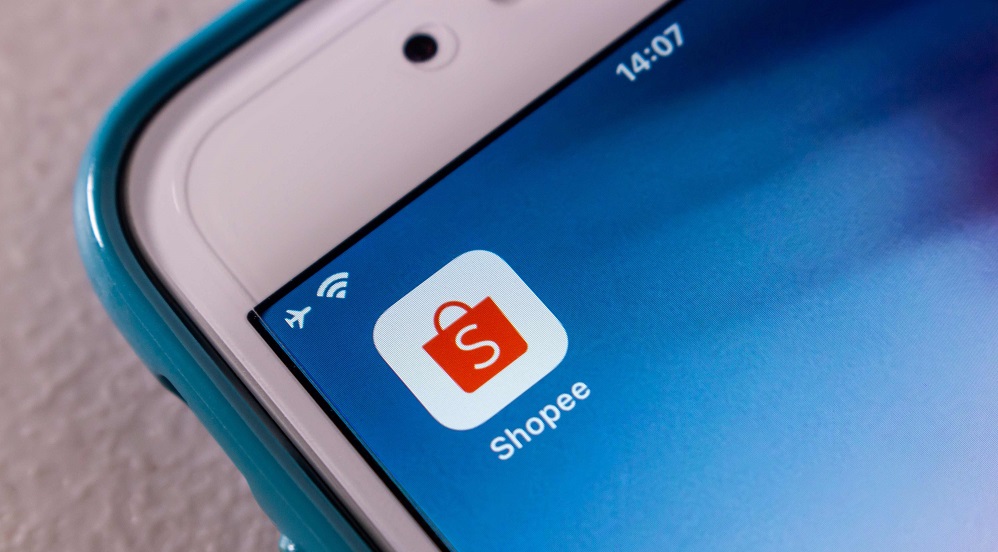 Shopee, headquartered Singapore, has become the top shopping app in Latin America. Shopee originally launched in Southeast Asia but in October 2019, brought its mobile app to Brazil. Now the country is its largest market as judged by monthly active users, overtaking Indonesia. Latin America and Southeast Asia are both emerging growth markets and Shopee's app is the largest ecommerce app in both of them.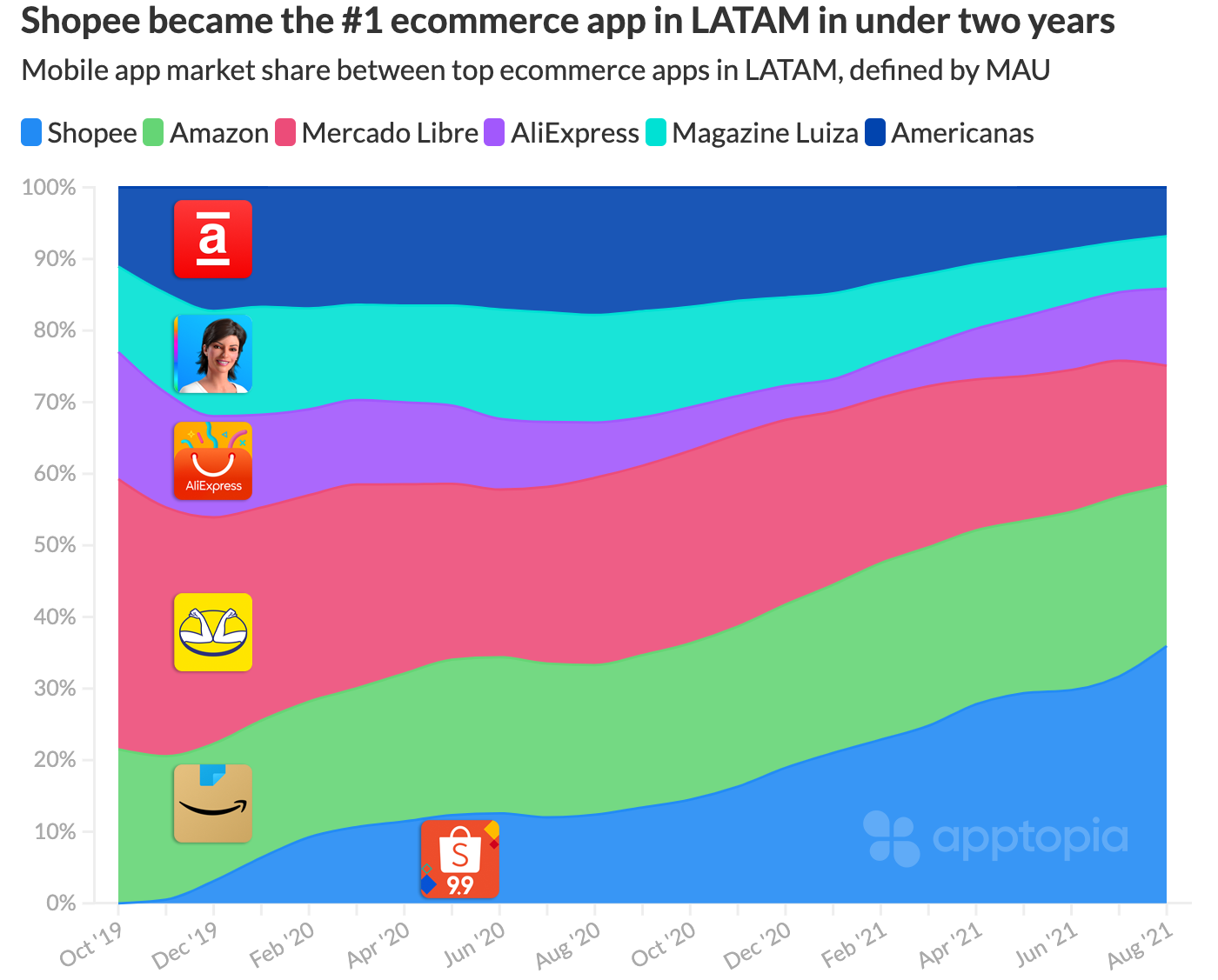 The last time we researched LATAM ecommerce, it was Mercado Libre that was the region's top ecommerce app. This changed in March of this year, shortly after Shopee's launch in Mexico. The company went on to have successful launches in Colombia and Chile in early June. Amazon also leapfrogged Mercado Libre earlier this year, in February.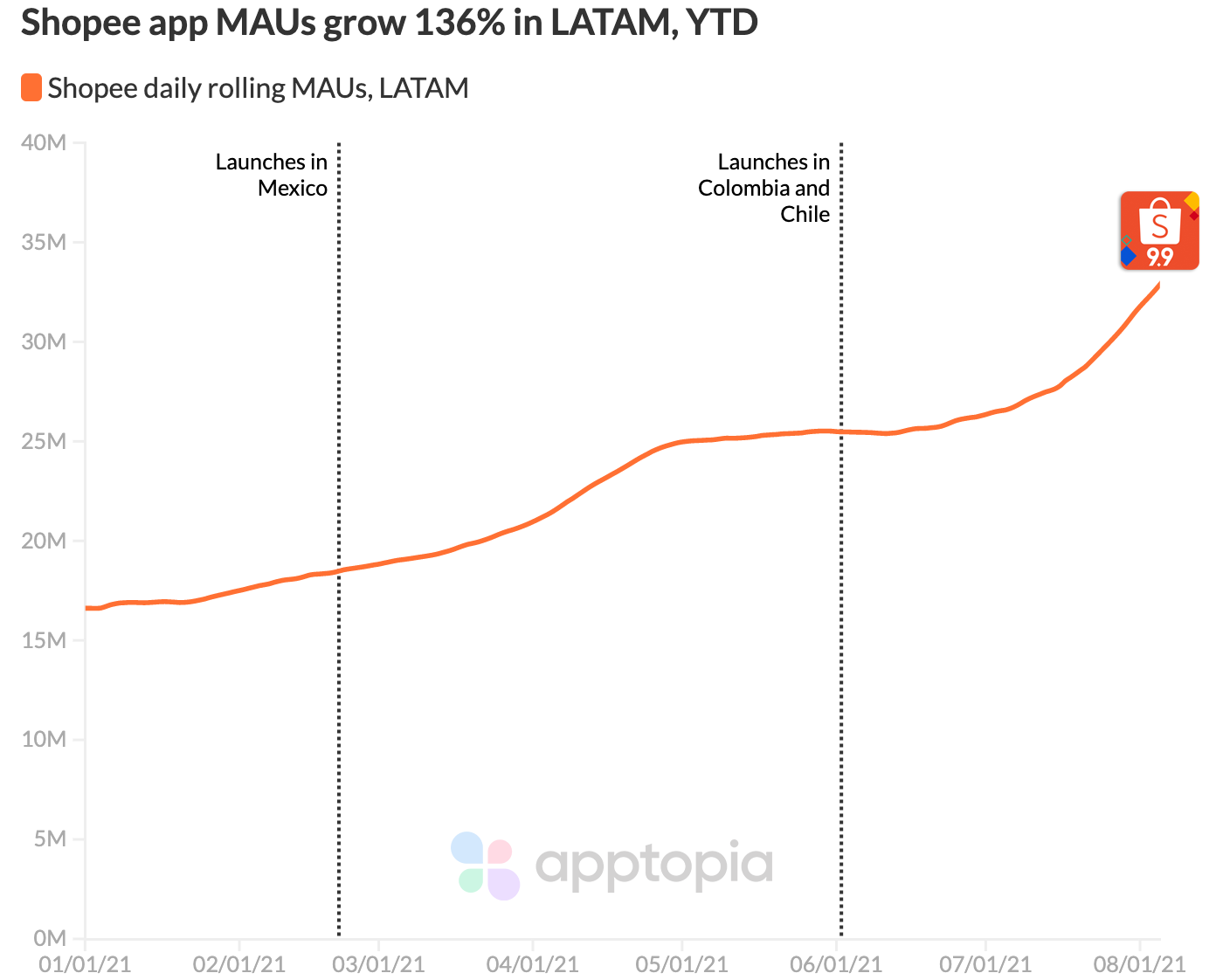 Below are the top ecommerce retailer apps in Latin America as judged by Apptopia's estimates for monthly active users in the month of August 2021. When compared to the same list for just Brazil, 9 out of the 10 apps are exactly the same. Brazil is the largest and fastest growing market in LATAM and really driving the growth of online retailing in the region.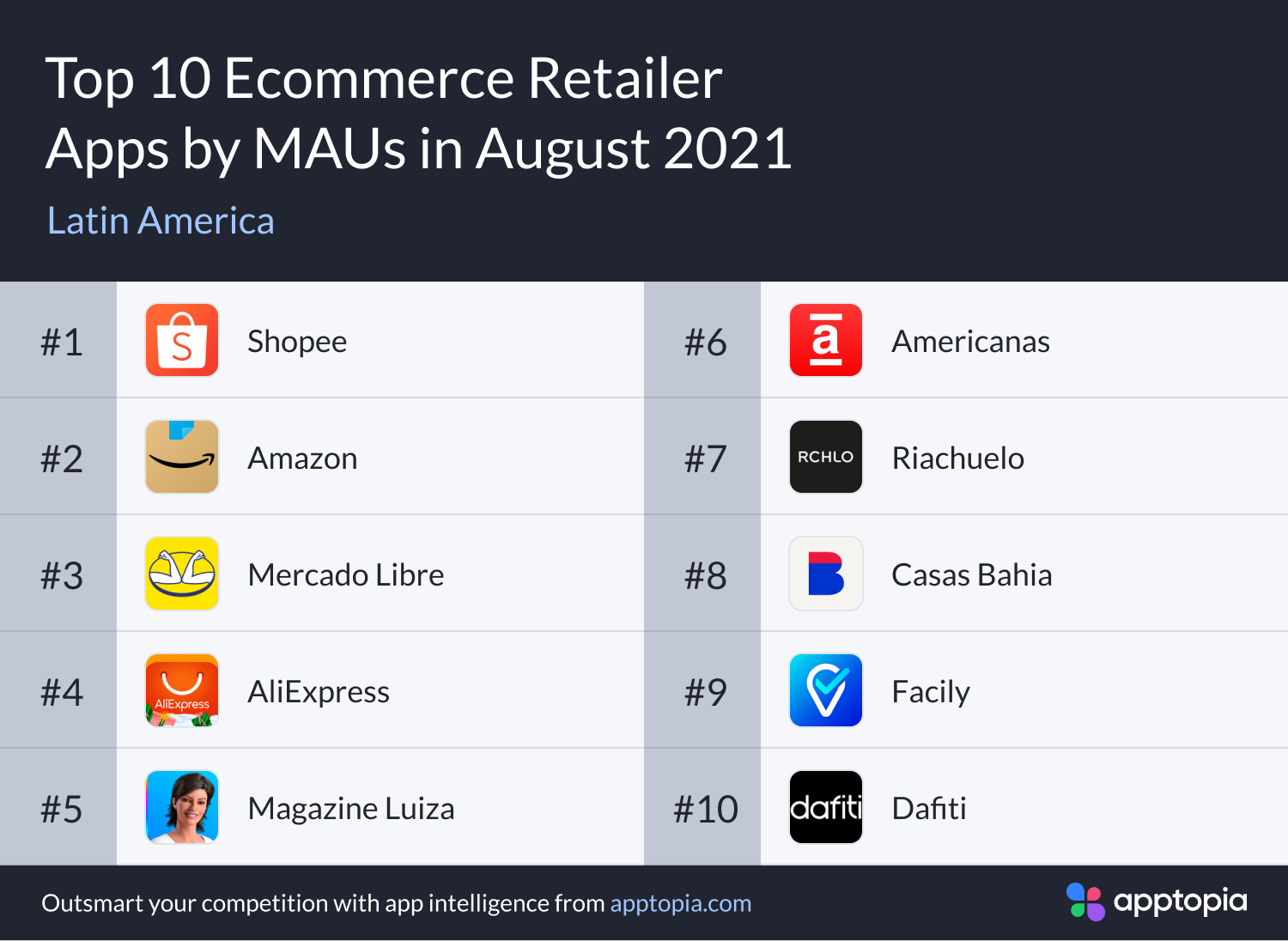 There were more installs this past month for the top ecommerce retailer apps in LATAM than there were during the first summer months of the pandemic, when ecommerce had to accelerate due to environmental circumstances.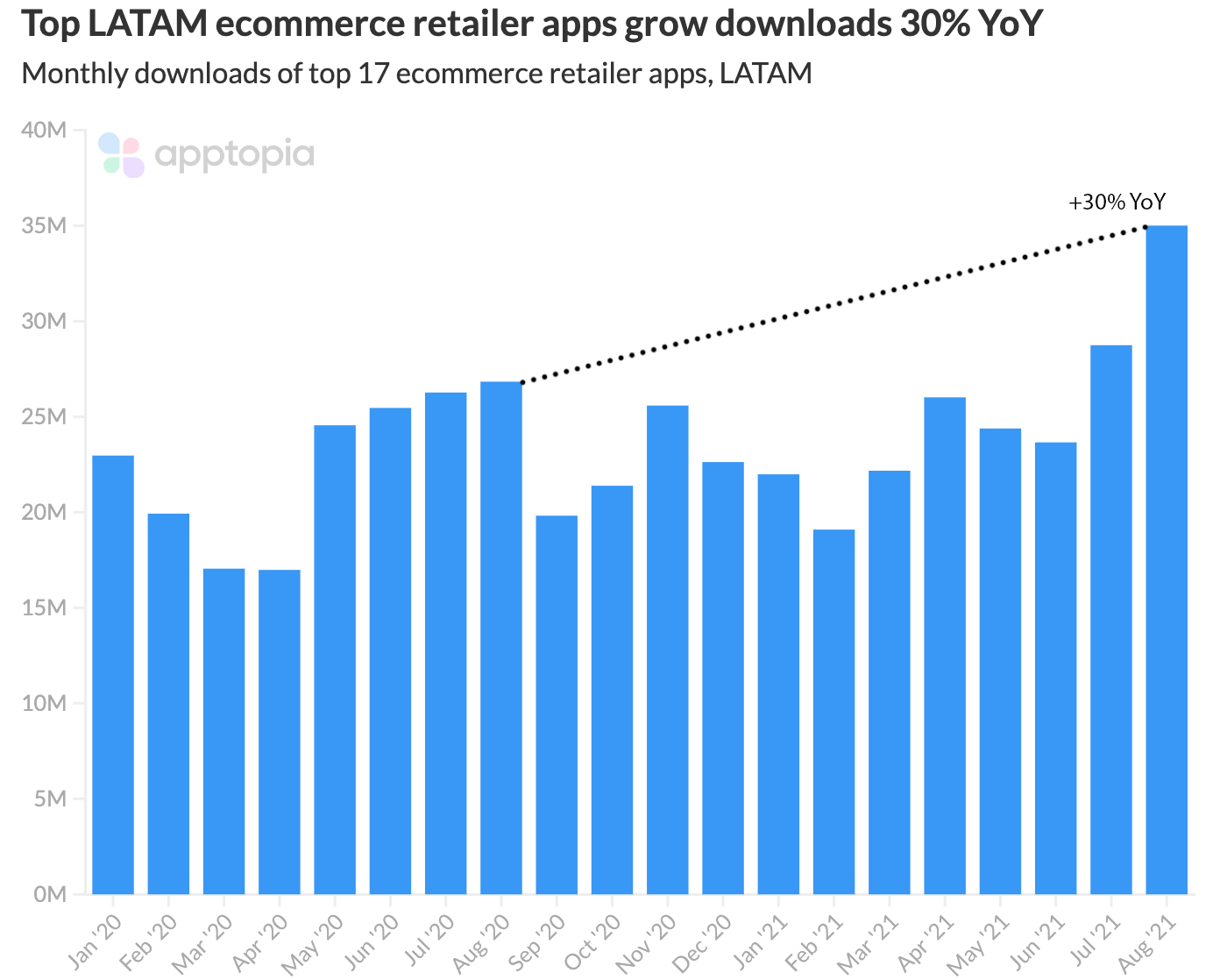 Believe it or not, Shopee is not the fastest growing shopping app in the region over the past six months. That honor belongs to Facily, which is trying to be the Pinduoduo of Brazil. It's a social commerce app just like Pinduoduo is. Shoppers get larger discounts when they invite more friends to buy with them. Customers get lower prices and Facily gets more customers. The company is growing fast but it's nowhere near Pinduoduo's 725M monthly active users just yet. Facily launched in June 2018 but didn't start taking off until this year.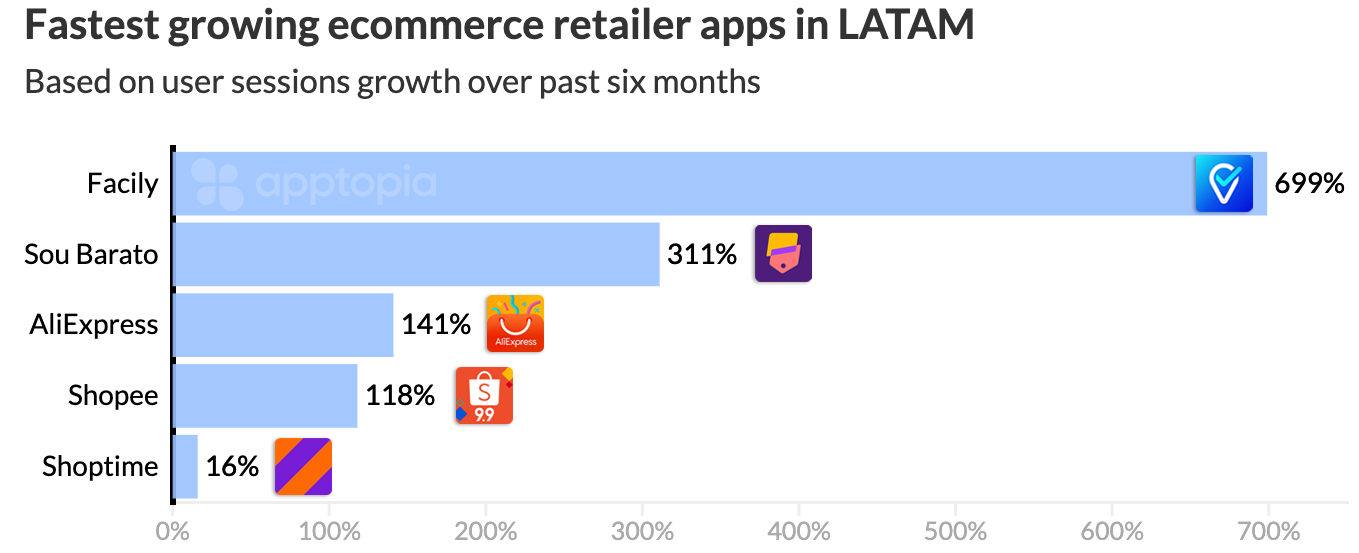 To learn more about the data behind this article and what Apptopia has to offer, please reach out to Connor Emmel at cemmel@apptopia.com.