Thirst for Industrial Pushes Capital Into UK Regions
Investment in commercial property outside London has set a new record for the first nine months of the year, powered by investor demand for industrial assets.
U.K. regional property sales volume reached £27.7 billion ($37.6 billion) in the year through September, a 22% increase on the average January-to-September period in the five years prior to Covid. Compared to 2020, transaction volume is up nearly 60% year to date.
Huge appetite for industrial property is the reason for the spike in regional deals. Buyers have spent more than £10 billion on U.K. regional industrial assets in the year through September, which is 35% more than they have on regional offices and retail combined. With only nine months of the year in the books, 2021 is already the second best year on record for regional industrial dealmaking.
Huge swathes of the population have turned to online shopping, which is driving demand from occupiers for warehouse and logistics property. Data from broker Savills shows take-up of U.K. warehouse space set a new record for the first half of a year. This heightened occupier demand is pushing more and more investment capital into the sector and continues to drive price growth.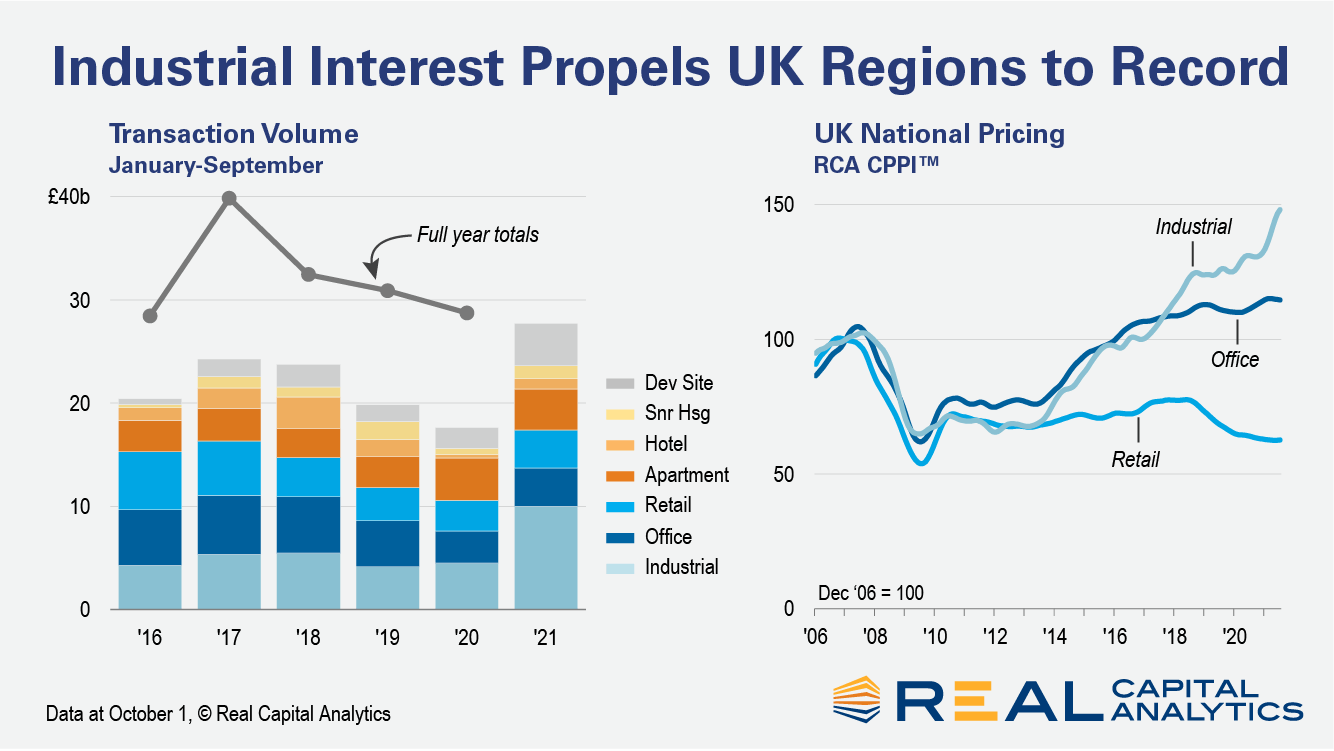 Industrial pricing was already climbing before the pandemic hit, but the crisis lit the touchpaper under the market. RCA's industrial price index for the U.K. showed prices increased by 13% in the year to June; by way of comparison, retail prices fell 2% and remain well down on their pre-Global Financial Crisis peak.
Blackstone is by far the largest buyer of U.K. regional industrial assets, spending close to £2 billion this year, of which a major chunk came via the £1.7 billion acquisition of the Project Alaska portfolio of warehouse properties let to supermarket chain Asda. The second largest buyer is U.K. manager M7 which has spent more than £320 million and in third is JP Morgan, which has bought more than £300 million of assets so far in 2021.
There is another £2.4 billion of regional deals currently in contract of which £840 million is industrial, which suggests that buyers have not had their fill of industrial property just yet.
To learn more about the data behind this article and what Real Capital Analytics has to offer, visit https://www.rcanalytics.com/.