The Rise of Pinduoduo, Kuaishou, and Douyin : Why Merely Focusing on the Traditional Giants Is No Longer Enough in Evaluating Online Brand Performance in China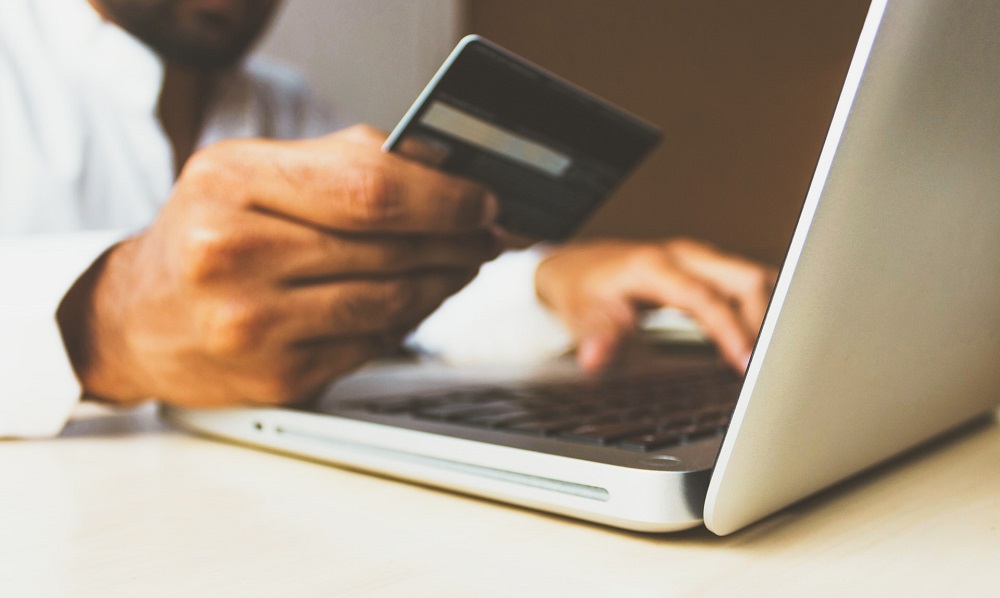 There has been an ongoing shake-up in China's e-commerce industry lately. While Pinduoduo has been taking share gradually from traditional e-commerce giants Alibaba and JD since late 2020 mainly in sportswear and apparel sectors, Douyin and Kuaishou, the known-to-be live-streaming leaders, have also started to gain momentum in getting substantial market share in the past few months — especially for the apparel and cosmetic sectors.
[
](http://www.sandalwoodadvisors.com/wp-content/uploads/2021/10/4.png)![](/uploads/211021-sandalwood1.png)
With apparel as one of their core categories, Tmall and Taobao have seen gradual loss of market share to Pinduoduo since late 2020, most likely due to successful expansion in smaller local players. Focusing on the top clothing brands mostly consisted of listed international and domestic brands yields modest share shift to Pinduoduo (majorly driven by Nanji Ecommerce, Bosideng, Playboy), while a more holistic look which takes all brands sold on Pinduoduo into account shows a more aggressive channel shift as shown below.
[
](http://www.sandalwoodadvisors.com/wp-content/uploads/2021/10/1-1.png)![](/uploads/211021-sandalwood2.png)

Meanwhile, Douyin Shop has also started to make up more of the China online apparel sector for the past 6 months. Sandalwood sales value mix data shows that Apparel makes up the biggest share within both Douyin shop and Kwai shop (39% and 29% respectively), suggesting a seemingly similar operations strategy with Tmall and Taobao, on the way to become Alibaba's biggest competitors for China online apparel sector — the increase from 2Q21 to 3Q21 in value mix in e-commerce channels for some apparel brands such as Crocodile, La Chapelle and more reached 25+%.
[
](http://www.sandalwoodadvisors.com/wp-content/uploads/2021/10/5.png)![](/uploads/211021-sandalwood4.png)
Similar trend is observed in the sportswear sector, where Pinduoduo took more online market shares from Alibaba in the third quarter alone as a result of massive and successful promotion during the Olympics Games in collaboration with CCTV in July. Pinduoduo's overall outperformance in 3Q21 is another contributing factor. Unlike traditional e-commerce players Alibaba and JD which focus their promotional efforts solely on the second and fourth quarter, Pinduoduo's 10 billion subsidy channel is in presence year-round. Same as Apparel, lower tier players (mostly private domestic brands) have been contributing more to the share shift compared to top brands.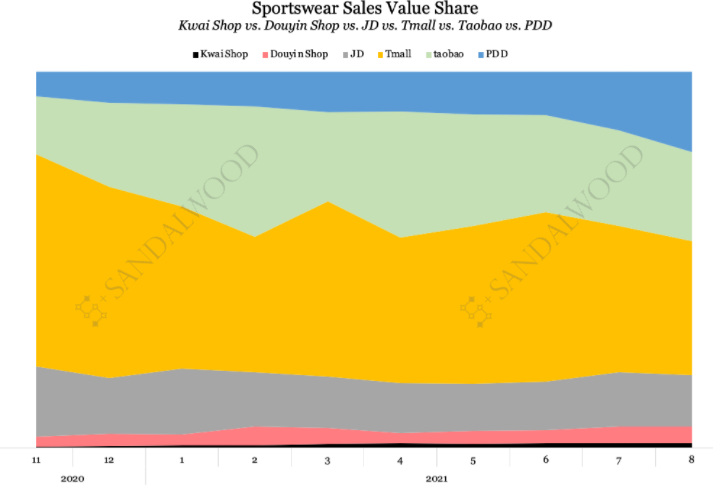 What other sectors are experiencing the share shift? Cosmetics is making a headline. Thanks to massive live streaming promotion (including price-cuts, free gifts etc.) and KOL (key opinion leader) marketing, Douyin has seen rapid increase in cosmetics sales overall. Quite noteworthy is the rise in sales of top international cosmetic brands on Douyin which mostly stayed active on Tmall and JD before 3Q21. Food and Beverage also saw a drop in Alibaba and JD shares seized by Kuaishou and Douyin.

With the ongoing online channel shift away from traditional main players, merely focusing on Tmall, Taobao, and JD is no longer sufficient in gaining comprehensive understanding of online brand performance in China. Sales trend on Pinduoduo, Kuaishou, and Douyin shall not be overlooked.
To learn more about the data behind this article and what Sandalwood has to offer, visit http://www.sandalwoodadvisors.com.