Black Friday 2021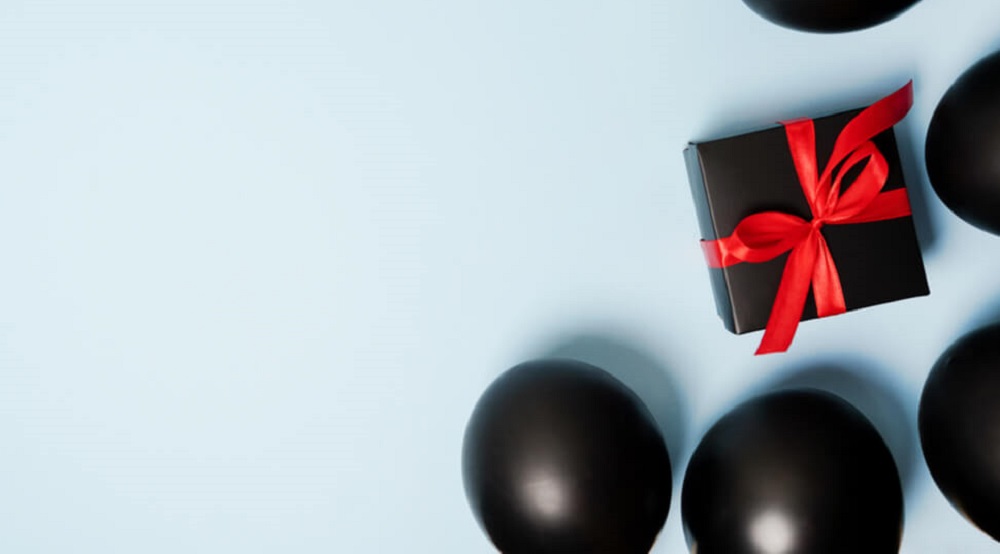 The expectation heading into Black Friday 2021 was that while the day would continue to drive significant traffic peaks, it was unlikely to reach the standards set in years past. And early data from Black Friday appears to prove this idea correct.
Black Friday Visits Down Compared to 2019
Visits for most retailers were up significantly compared to a 2020's limited Black Friday, but down compared to the equivalent day in 2019 – although there were exceptions to this rule. Walmart saw a 2.8% visit increase, and Target just a 3.1% decline compared to 2019. Off price and beauty retailers also saw significant gains, further reinforcing the unique positioning these sectors are enjoying.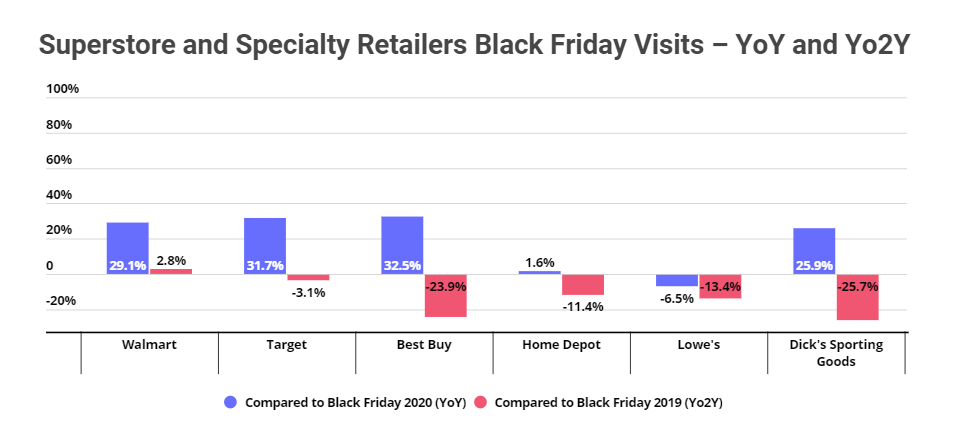 However, calling out the demise of Black Friday is clearly premature. While the day did not hit its standard heights, it still marked a huge increase on the rest of the month, with visits up over 400% for Best Buy and 300% for Dick's Sporting Goods compared to the daily average visits in November.
This could provide a strong indication of what the holiday retail season could look like moving forward – significant traffic on days like Black Friday, but limitations on those heights created by an approach that aims for a more extended season. And while the extension of the holiday shopping season was clearly exacerbated by the unique challenges – from supply chain to labor – of 2021, expect the shift to continue into the coming years.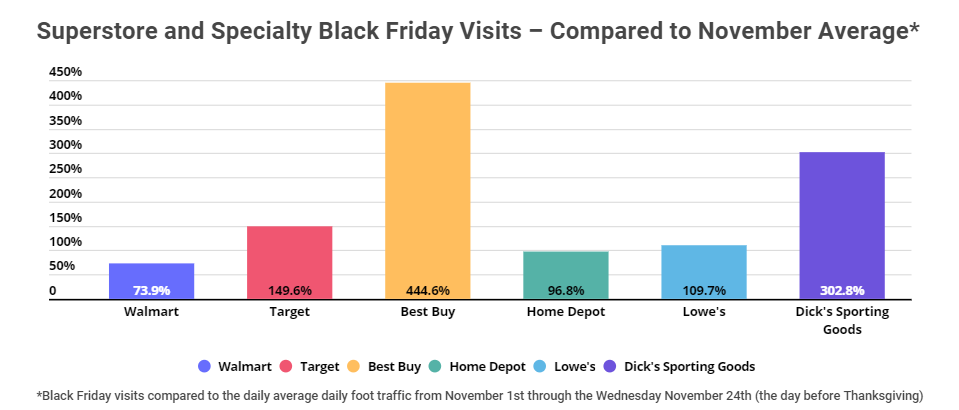 These trends were also felt in the Department Store sector which saw strong weekly visits growth heading into Black Friday met with year over year growth and visit declines compared to 2019. Like other sectors, the more extended shopping season looks to have taken some of the weight away from Black Friday.
Yet, here too, any attempt to undermine the continued importance of the day falls short. Visits to five major department store chains all saw massive traffic increases on the daily average from November. And critically, this was a month where many of these same chains were already seeing strong relative performances compared to years past due to an active push to drive visits earlier in the season.
Outliers
Black Friday 2021 also saw some positive outliers. Off-price retail leaders saw strength compared to Black Friday visits in 2020 and 2019 – an especially impressive feat considering the brands' generally lower reliance on Black Friday weekend. The key takeaway here is that expectations for a strong retail season may actually not be enthusiastic enough.
The beauty sector – one of the retail segments that has been very well positioned in recent months – also saw strength, with Ulta posting 10.3% visit growth compared to Black Friday 2019. The combination of pent-up demand and a renewed need for makeup and beauty products looks to be fueling continued strong returns for the chain's brick and mortar presence.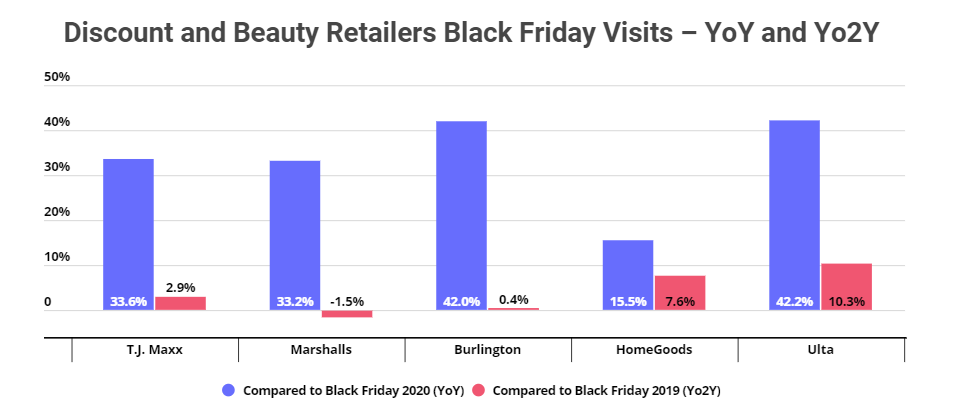 The Mall Impact
*The Placer.ai Mall Index analyzes data from more than 100 top-tier indoor malls and 100 outdoor shopping centers across the country, in both urban and suburban areas.
Malls also saw a similar pattern with a massive 83.5% year over year jump mitigated by an 8.5% decline compared to Black Friday 2019. This drop – smaller than for many retailers – is a further indication of the extended season, but also a testament to the shift many top tier malls have been making to push for more entertainment and dining options. While retail opportunities are being spread throughout the season, the mall experience still shows a unique pull for visitors. Here too, the jump compared to a 'normal' November day was massive, reinforcing the powerful role that Black Friday continues to have in the retail space – even if that strength has dissipated somewhat.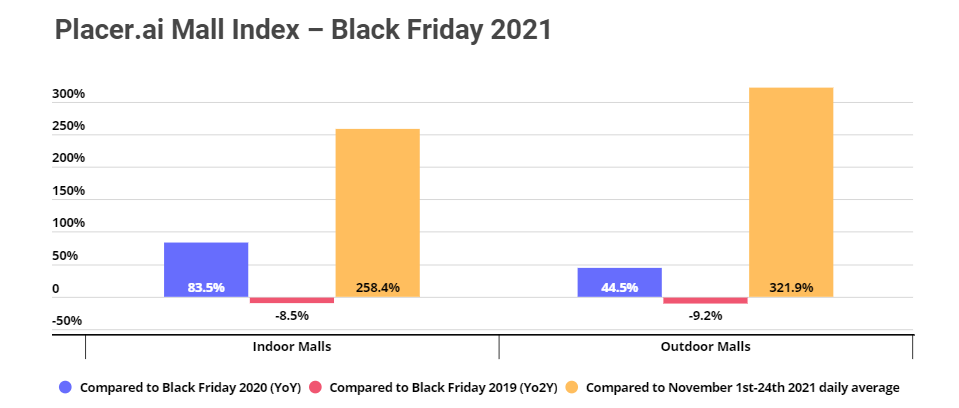 Did Black Friday Weekend provide continued strength? Will December see an ongoing boost from an extended holiday retail season?
To learn more about the data behind this article and what Placer has to offer, visit https://www.placer.ai/.