The Rise of Fast Fashion Company Shein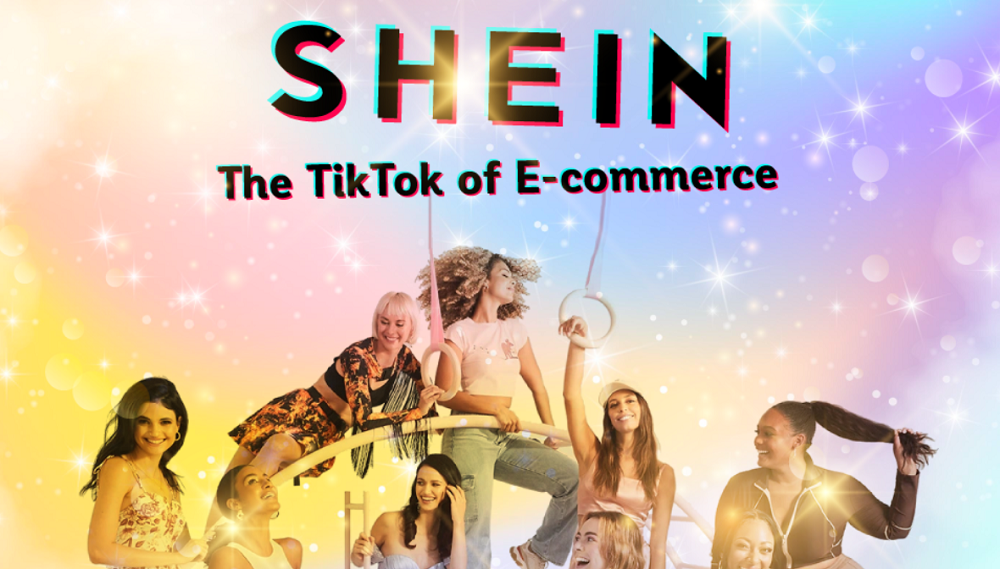 Could this Mysterious Chinese Company Become the Next ASOS?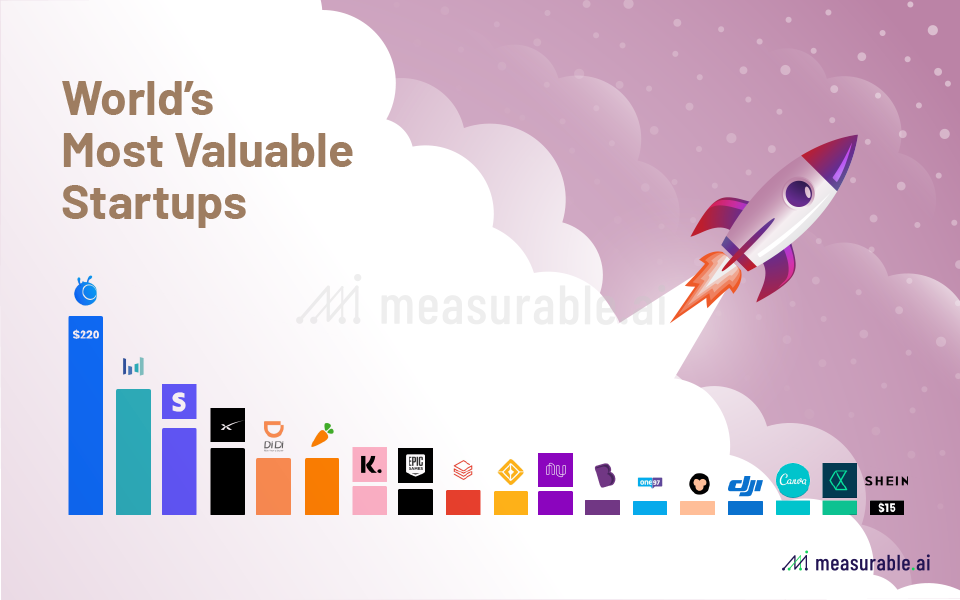 The Fastest Growing E-commerce Company in the World
The latest trend in the fashion industry is the rise of a handful of fast fashion brands targeted at Gen Z. Amongst these fast fashion companies, the one that has catapulted to cult status among young women across the globe is the Chinese retailer Shein, with a valuation of over $15 billion.
Shein is one of the fastest – and most secretive – growing e-commerce companies in the world. Raking in close to $10 billion in 2020 (CB Insights), Shein has reportedly enjoyed eight consecutive years of over 100% revenue growth. Estimated to be one of the fastest-growing e-commerce outfits in the world, Shein has revolutionized the way fashion is produced. Operating on an on demand business model. Shein's popularity lies in the fact that its garments are astonishingly cheap and it quickly reflects the latest fashion trends.
As an aside, I personally find the rise of Shein fascinating since it ties together three of the most important events/trends of our time: globalization, COVID, and communities built around social media following rather than physical proximity. Read on to see what I mean and what insights I gathered from Measurable AI's unique dataset comprising of over 1.6 million consumer email receipts.
How did Shein Come About?
Let us first understand the origins of this mysterious Chinese brand Shein (pronounced She-in) who suddenly became a global household name in recent years. Shein was founded in 2008 by Chris Xu, an SEO and marketing expert, with the mission to make fashion accessible to everyone.
Shein ships to 220 countries, boasts an instagram following exceeding 20 million, and has overtaken Amazon for the first time on the iOS App Store to become the leading US shopping app, a title it holds in over 50 countries. It is also one of the most talked-about brands on TikTok and YouTube, and the most visited fashion and apparel site in the world.
Chris Xu comes from a marketing background, specialising in SEO. Rumor has it, he discovered the only thing stopping overseas shoppers from buying wedding dresses overseas was currency conversion, and immediately he left with some people to find Shein. He developed a fashion blogger program, a free trial center, and a bonus points program to popularize and strengthen Shein's reach.
While Shein is headquartered in Guangzhou, China, it is only engaged in the export business. Very few people in China have heard of Shein; nor do they have reasonable channels to buy from Shein in China. So how can this Chinese brand quickly dominate the European and American market? The secret ingredient for success also begins with an "s": speed.
The Need for Speed and Continual A/B Testing
So how fast does Shein churn out new fashion? To provide some context, according to Chinese media reports, in 2019 alone (when the pandemic started), Shein launched an average of 10,000 new products per month. They churned out more than 150,000 items on the shelves in the entire year. Think of it this way, what Shein lists every two months is equal to what Zara produces for the whole year!
What's more, the pandemic has accelerated Shein's production somewhat ironically (aftereall, you would think there is no need to buy new clothes if one doesn't go out during the pandemic). According to Chinese fashion media Luxe, Shein launched 15,280 new products in one week alone (January 13-19, 2021)!
This strategy seems to be more in line with the internet era of using algorithms instead of relying on designs. Instead of contemplating in the office whether to settle and launch design A or B, Shein chooses to produce both at the same time and see which one gets sold out first. In internet speak, this is known as AB testing and is a smart way to improve the entire product experience.
But how does Shein churn out fashion so fast? Well, for those familiar with China, Guangzhou is renowned for being one of the regions with a relatively concentrated garment industry chain. In 2014, Shein began to establish its own supply chain system and Chris came to Guangzhou in 2016 to build out an 800-person clothing design team. Taking advantage of the high concentration of garment markers in Guangzhou, Shein took the initiative to place orders with clothing factories and sell clothes that belong to their own brands. Having its own clothing design team and supply chain, Shein began to apply the fast churn "algorithm" to the clothing design field and has spawned a new on demand business model for popular fast fashion.
For European competitors Zara and H&M, they simply cannot replicate Shein's "no hesitation" in design strategy as they simply don't have a Chinese-style industrial concentration in the light industrial sector. From the time of receiving an order to warehousing, Shein can churn out the item at a small minimum production batch of 100 pieces in 7-8 days only and ramp up production based on popularity.
Zara's production center in Spain, on the other hand, doesn't enable it to achieve this as it's minimum production volume seems to be 500. So for every 1000 pieces of clothing produced, Zara can really only "A/B test" one style whereas Shein can run five A/B tests since its production batch is much lower.
Note that originally, all of Shein's products were made in China. However, Shein now has several partners in undisclosed locations around the world in order to keep operating costs low. Given its small minimum required production batch volumes and partnering locations scattered across the globe, Shein can therefore continue to launch products that appeals to consumers at a much faster speed than its peers and also be quick to discard unpopular designs.
While speed doesn't mean success in everything, in the world of fast fashion it does.
How did Shein Fare During the Pandemic?
With enough background knowledge about Shein, many of you may be wondering whether Shein's revenues have been impacted during Covid-19. At Measurable AI ('MAI'), we specialise in providing consumer insights based on our unique dataset of transactional email receipts distributed across 22 countries. Let's dig deeper into our consumer data and explore our findings.
Shein's Global Distribution
The world map below illustrates Shein's orders from our coverage of email transactional data across the 22 markets we cover.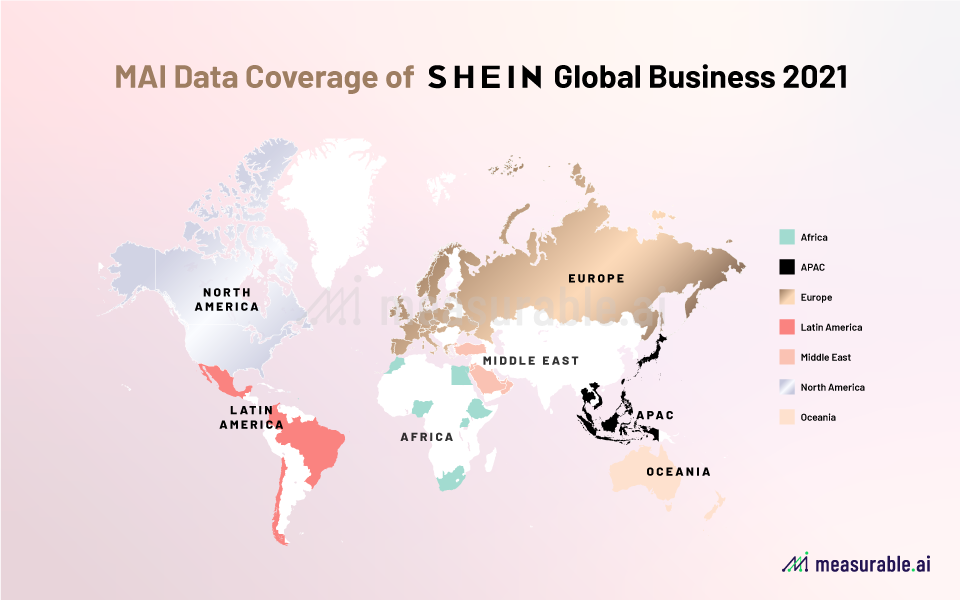 Shein Defies The Odds With Skyrocketing Sales During Covid-19
The pandemic has taken a harsh toll on several fashion brands and retailers. Neiman Marcus group, J.C. Penney, J. Crew, Brooks Brothers and more have filed for Chapter 11 bankruptcy protection, while others like Under Armour have seen significant decrease in revenues.
Shein, however, as observed from Measurable AI's transactional email receipt panel, actually saw its sales skyrocket from 2Q20 onwards, when Covid-19 became widespread and stay-at-home orders were enacted in mid-March.
Average Order Value and User Index
As illustrated by our graph below, across our four sample countries United States, United Kingdom, Mexico and Saudi Arabia, Shein enjoyed an increase in revenues from pre-covid days and seems to have sustained its momentum up until now.
Average order value for consumers in the United States, United Kingdom, and Mexico seems to hover around the 60 USD mark (suspect this may be related to the free delivery minimum order value of 50 USD). Consumers in Saudi Arabia, however, seem to very much enjoy shopping at Shein with a greater number of items purchased in each order, and therefore, a higher order value hovering around the 100-150 USD mark.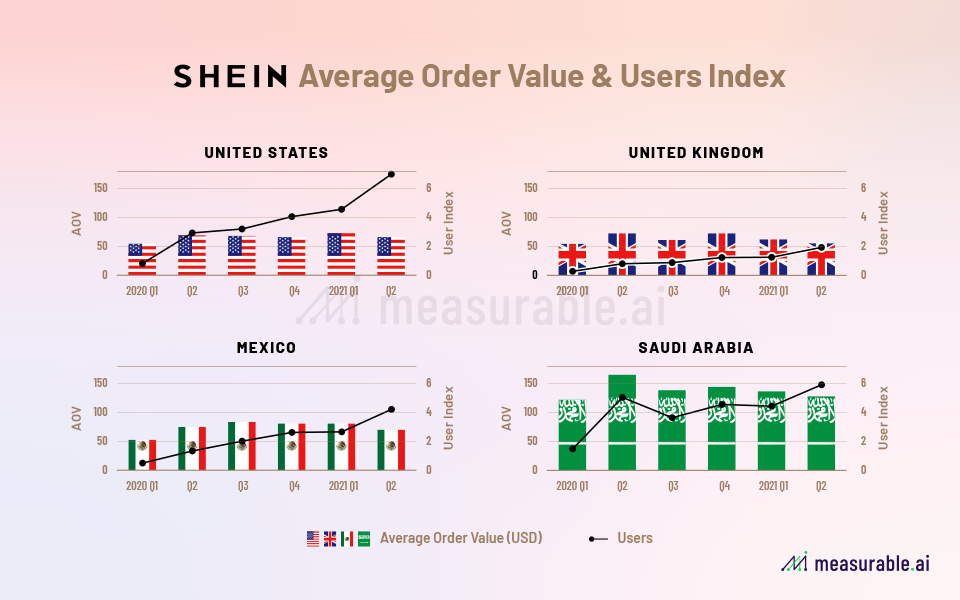 It is no surprise that digital storefronts are the new normal with many fashion brands pivoting fast to digital sales to stand a chance in remaining profitable. A Mckinsey consumer-sentiment survey conducted in April demonstrated a significant drop in consumers intention to purchase. The survey revealed declines in purchase intent of 70 to 80 percent in offline and 30 to 40 percent in online channels in Europe and North America, even in countries that have not been under full lockdown.
Similarly, 74 percent of Chinese consumers said they have avoided shopping malls in the two weeks after stores reopened. It goes without saying that the days of picking clothes from the racks with your own hands are over and digital shopping is here to stay!
Which Country's Users Purchase the Most Items Per Order?
As depicted in the map below, our e-receipt data panel revealed that consumers in emerging markets such as the Middle East, Africa and Latin America (which usually corresponds to lower income levels) tend to purchase more items per transaction from Shein.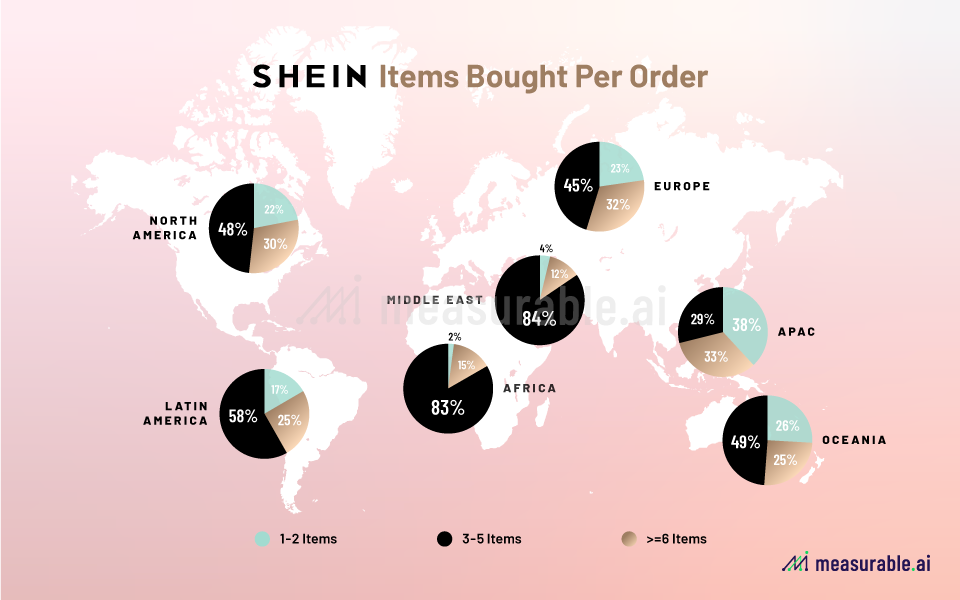 Saudi Arabia, in particular, outshines Shein's main market, the United States. As illustrated below, you can see how the number of products bought per customer order in Saudi Arabia dwarfs that of the United States.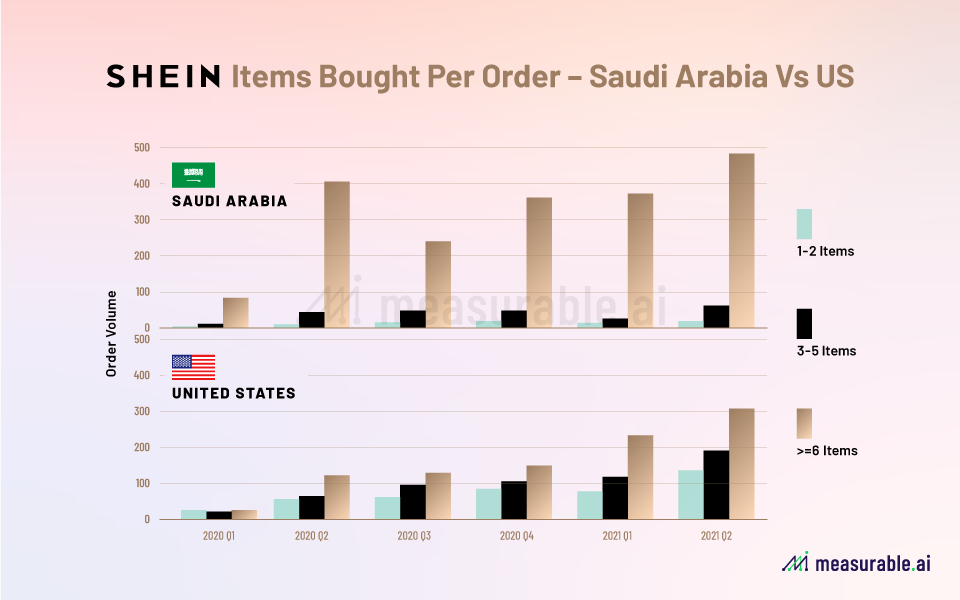 Could the Shein online shopping spree from Saudi consumers be explained by the free shipping they receive from buying so much on each order? Our data seems to suggest so.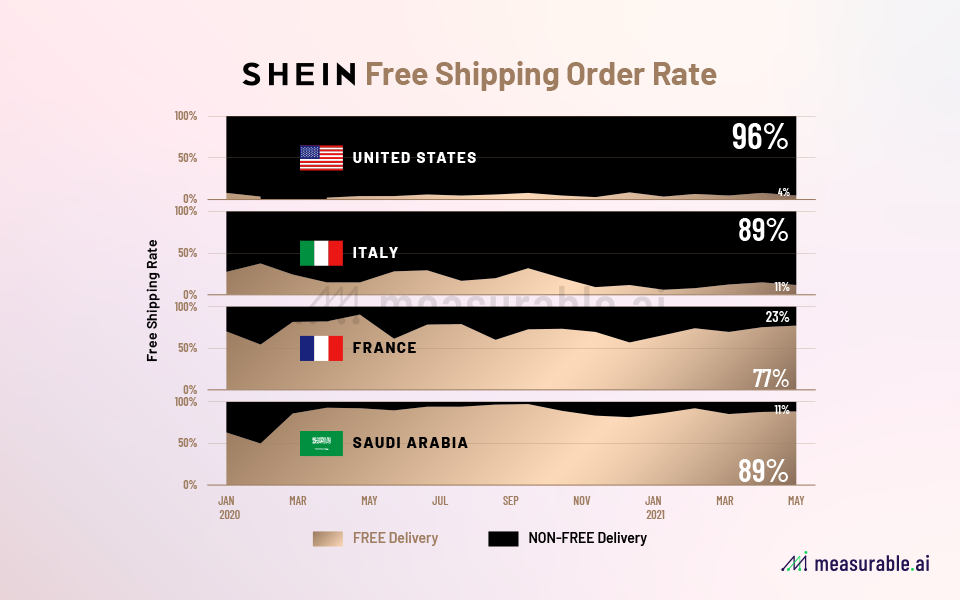 How Does Shein Stack Up Against ASOS?
For the past decade or two, British company ASOS had pretty much remained the gold standard for fast fashion amongst 20 something years olds.
Given how fast Shein is growing, could it overtake ASOS as the world's fastest growing fast fashion brand amongst teenagers?
Comparing Shein to ASOS, the order value of ASOS is still higher by roughly 40 per cent. This could be explained partly by the higher cost for each item on ASOS and the lower delivery fee.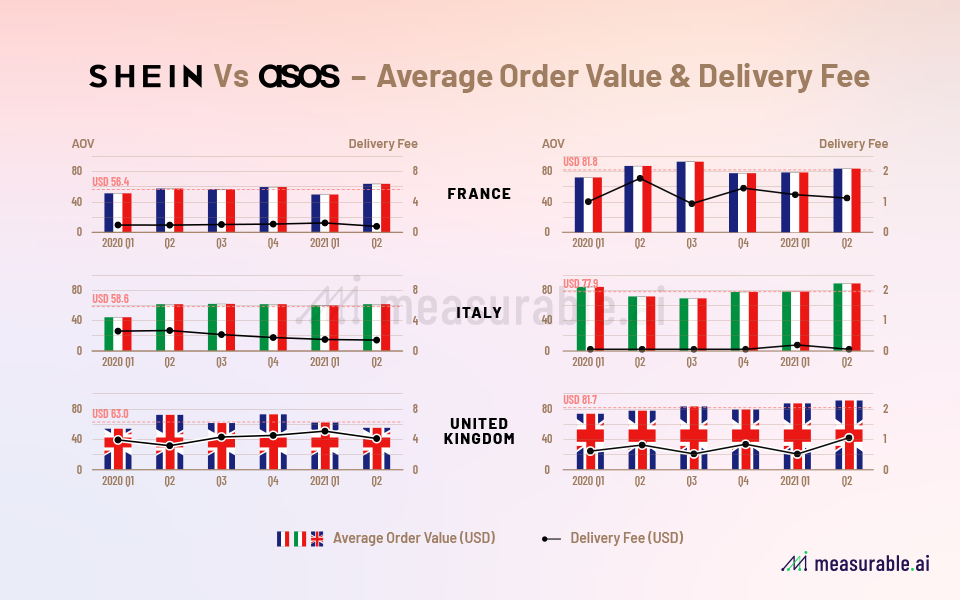 How Ethical is Shein?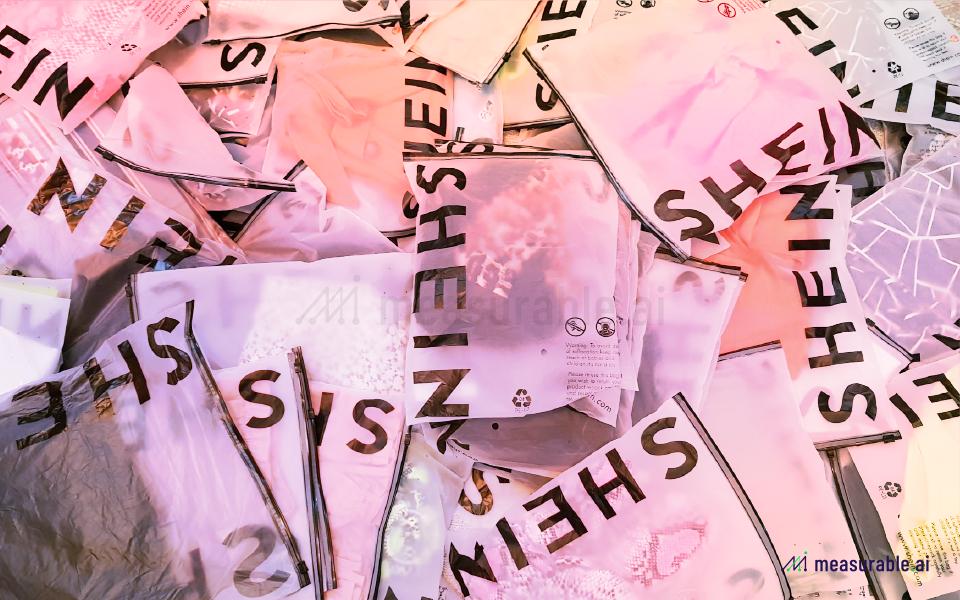 Shein's philosophy is a positive one: "Everyone can enjoy the beauty of fashion". However, behind the public eye, just how ethical and sustainable is this e-commerce company touted to be the future of fast fashion? '
Taking into account environmental impact, labor conditions and animal welfare, Shein doesn't score highly on the ethics scale.
From hazardous chemicals to carbon emissions to microplastics, Shein is making zero effort to rectify this. Furthermore, Shein's mass production of cheap clothing based on its 'on-demand' algorithm is perpetuating a throwaway fashion culture amongst younger generations.
Nor is Shein making much effort in improving its laborers' working situation. According to BBC News, Shein's workers are clocking in excess of 75 hours a week. There is enormous pressure on staff to churn out items fast. These workers, mainly migrants, are paid per item of clothing which encourages them to work long hours. Rumor has it that it could be involved in unethical practises such as child labor. So far, there is no evidence that Sheing ensures payment of a living wage in its supply chain and its employee initiatives and support are reportedly absent.
Does Shein care for animals? Debatable. But it looks like Shein is working to clean up its image. For those who use TikTok, if you open the app you would probably have been greeted with the advert that says "Shein Cares". Lot of people are using the hashtag #Sheincares on their videos alongside a new range of animal filters. For those unaware, Shein Cares is a recent campaign by Shein to show precisely that it cares for the animals. The company has agreed to donate US$300,000 to meaningful animal welfare organizations in a bid to keep the world's animals protected. To shop your support, you can also shop at Shein's Wild Heart collection. Just don't forget to sign up to our consumer app reward.me to effortlessly earn shopping rewards in the form of reward dollars or cryptocurrency which can be redeemed for gift vouchers.