A Roller Coaster that only goes up: Food-Delivery Companies in Asia (III)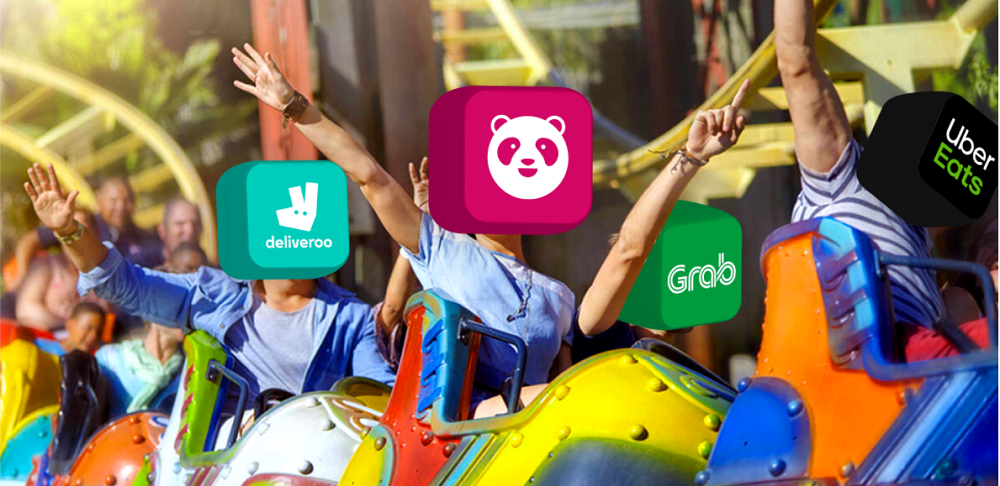 As the food delivery industry continues to grow with record high order volumes in different markets every day, it's like a roller coaster that only goes up. On this roller coaster, the ultimate goal for all the food delivery companies right now is to compete for market share. Asia has grown to be a major battlefield for the biggest food tech companies in the world.
As 2021 draws to an end, Measurable AI presents the third part of this food delivery industry research in Asia, covering specifically market share and average order value.
Based on Measurable AI's very own e-receipts data panel, Foodpanda ranks as the major competitor for the other food delivery companies when competing for market share in the following markets: Hong Kong, Taiwan, Malaysia, Singapore. In Hong Kong, Taiwan, and Malaysia, the food delivery market is a duopoly with Foodpanda competing against only one player.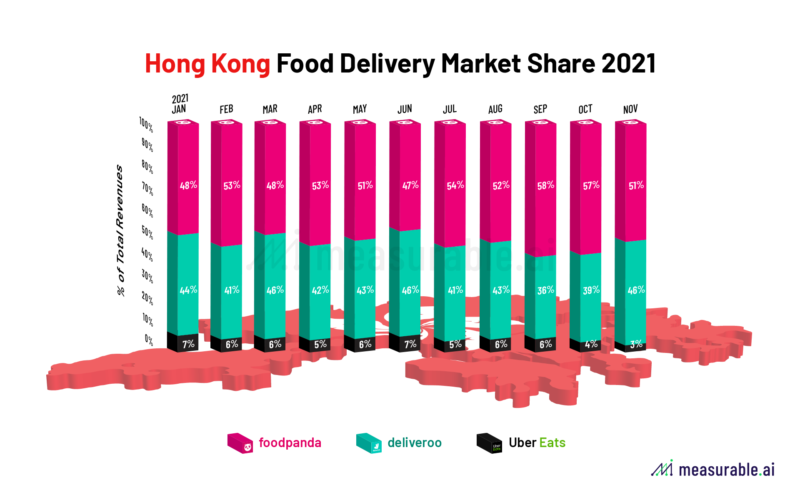 In Hong Kong, Foodpanda has been leading the game with a slight advantage throughout the year of 2021. With UberEats announcing the quit just last month, the competition between Foodpanda and Deliveroo will only intensify in the following year. From our panel, when UberEats exited Hong Kong, it owned around 3% of the market share. Whoever can take this over in the next year will gain a stronger foothold in the Hong Kong food delivery market.
Our latest score from November is 51% (Foodpanda) over 46% (Deliveroo) in terms of total revenues in USD.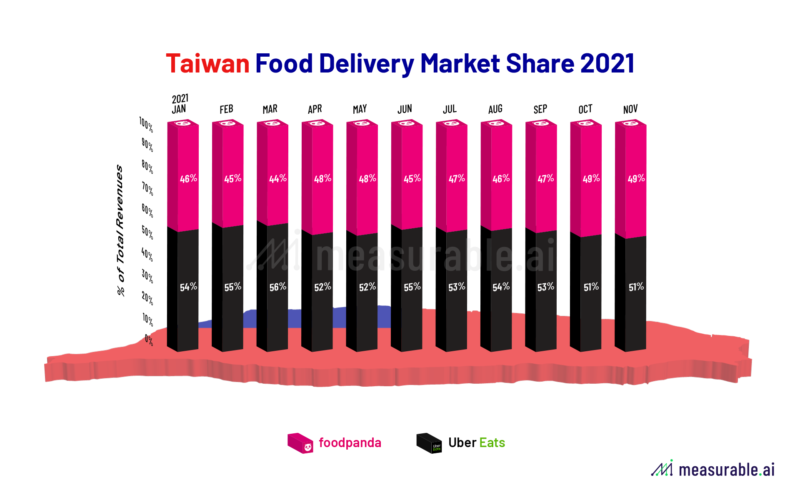 In Taiwan, Foodpanda is competing directly against UberEats. UberEats owns a bigger share of the revenue pie; in the past two months, UberEats has maintained a 51% market share over Foodpanda's 49%. Close game? At the moment yes, but it might be totally different in the next year since Shopee from Singapore and Coupang from Korea have decided to enter the food war in Taiwan as well.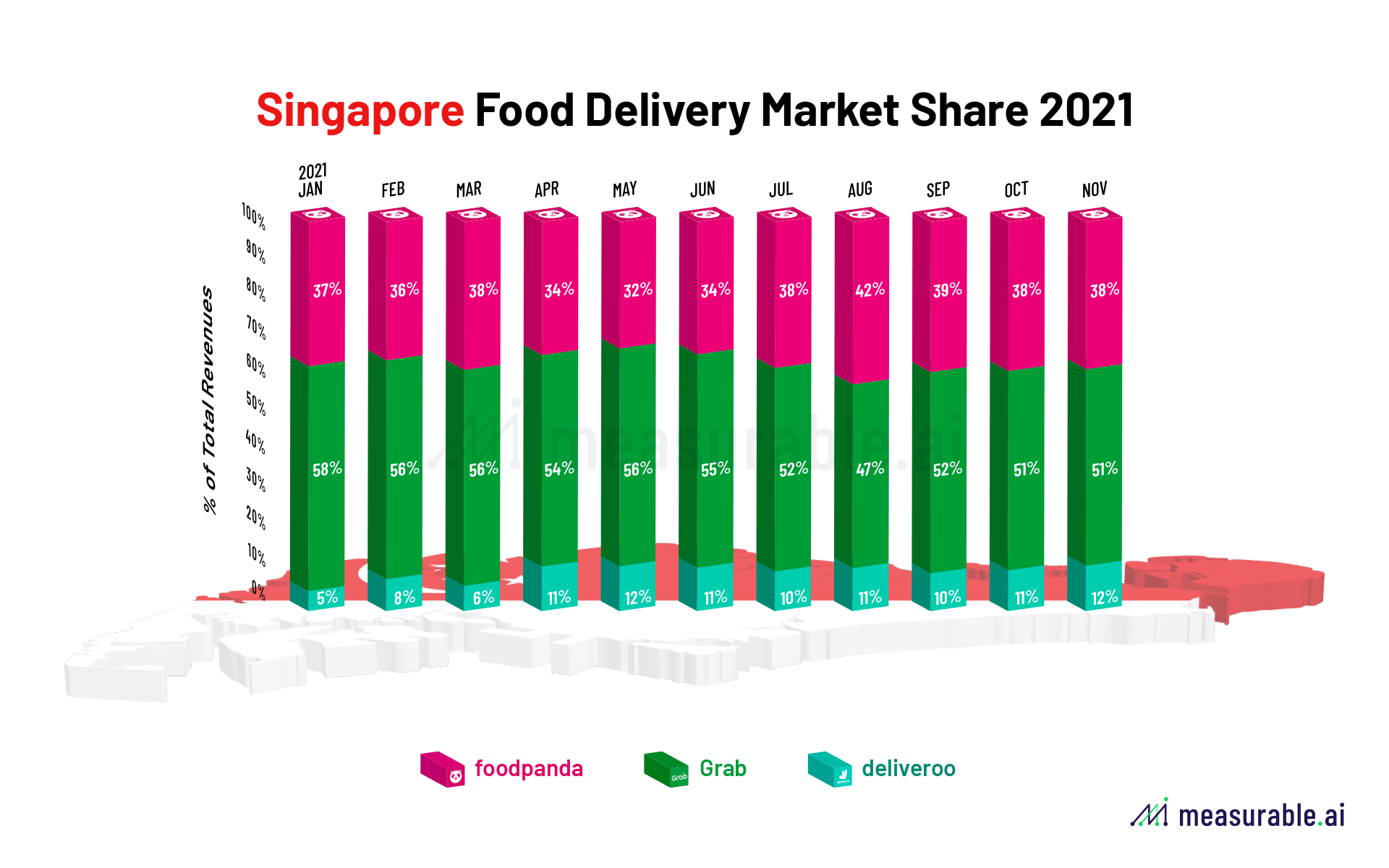 Grab is leading in Singapore's food delivery market, averaging at around 53.5% market share across the year 2021. Our data reveals that in the most recent quarter Deliveroo has picked up around 11% of the market share, a fast growth considering it only owned 5% of the market at the beginning of this year. Runner-up to Grab is Foodpanda, occupying around 38% of the Singapore market. Foodpanda has been able to maintain this share across the year.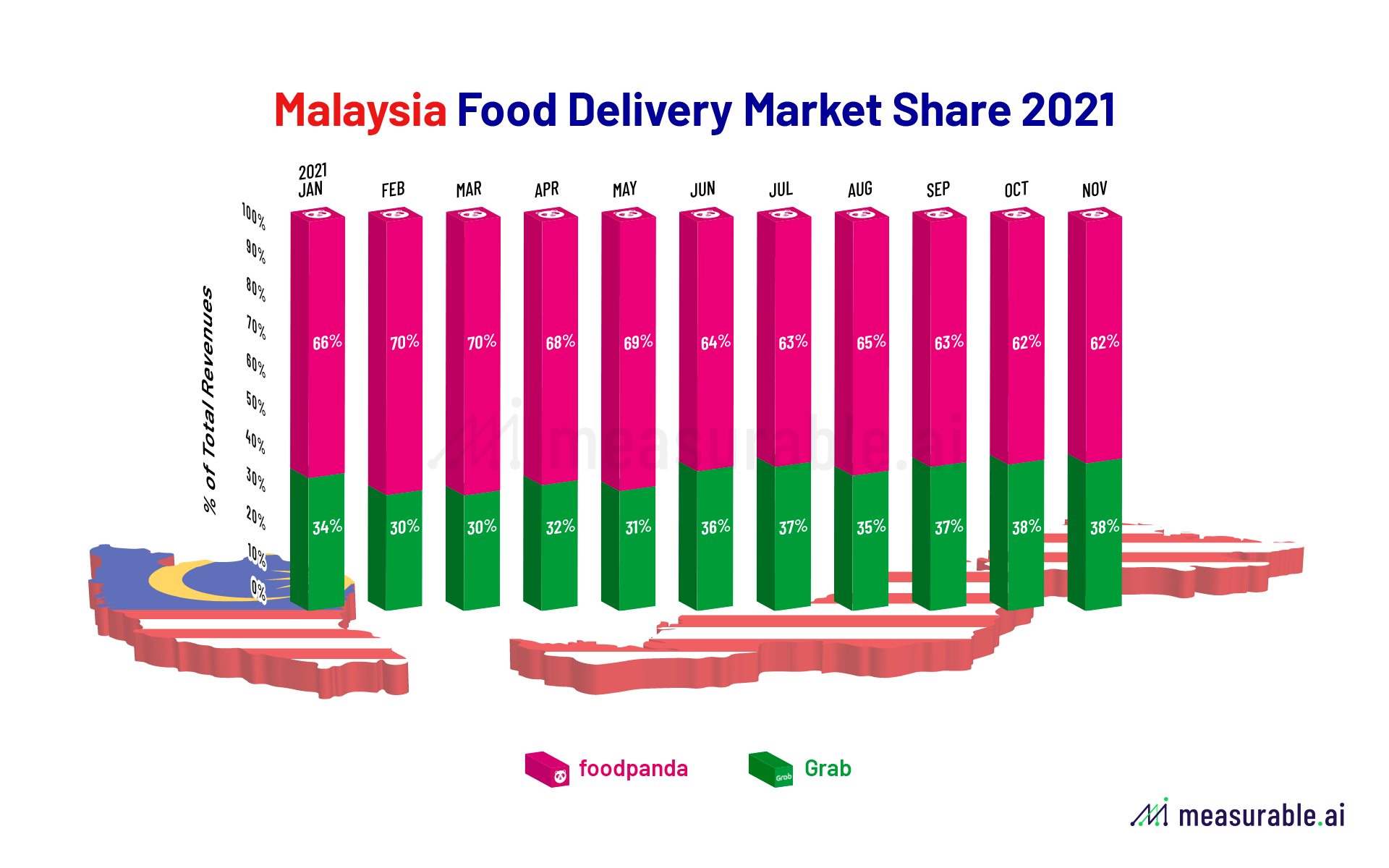 In Malaysia, Foodpanda leads the game with over 60% of the market share. Grab managed to grab around 38% of the market share in the latest quarter this year.
In terms of average order value, Grab's users contribute more revenues per order than those of Foodpanda in Malaysia. According to Measurable AI's granular e-receipts data, the AOV (Average Order Value) of Grab's users in Malaysia maintained over 8 USD throughout the year 2021.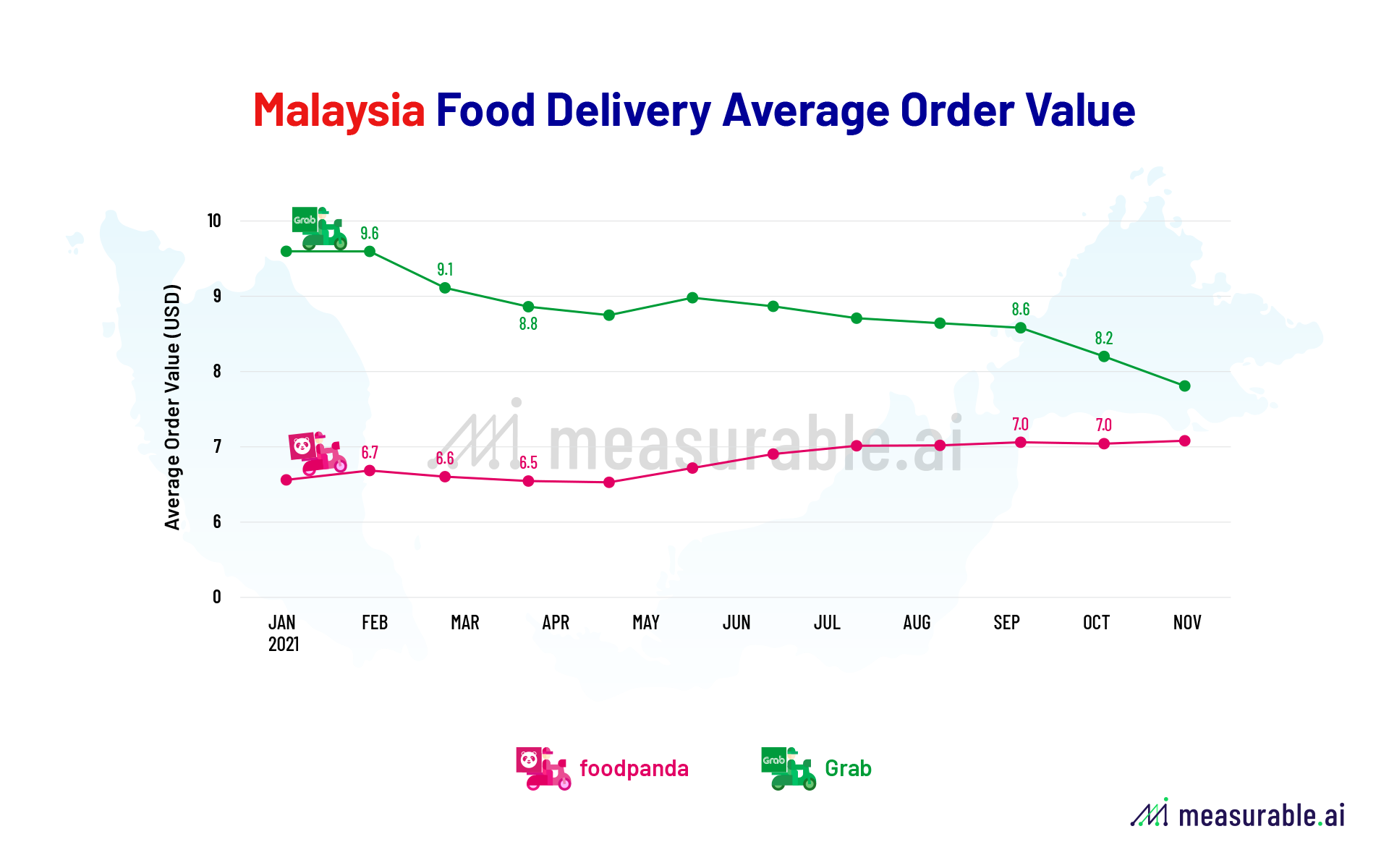 In Singapore, Grab users' AOV hovered around 18 USD, but slightly smaller than that of Deliveroo users. According to our former Hong Kong food delivery report, Deliveroo users have always shown greater AOV.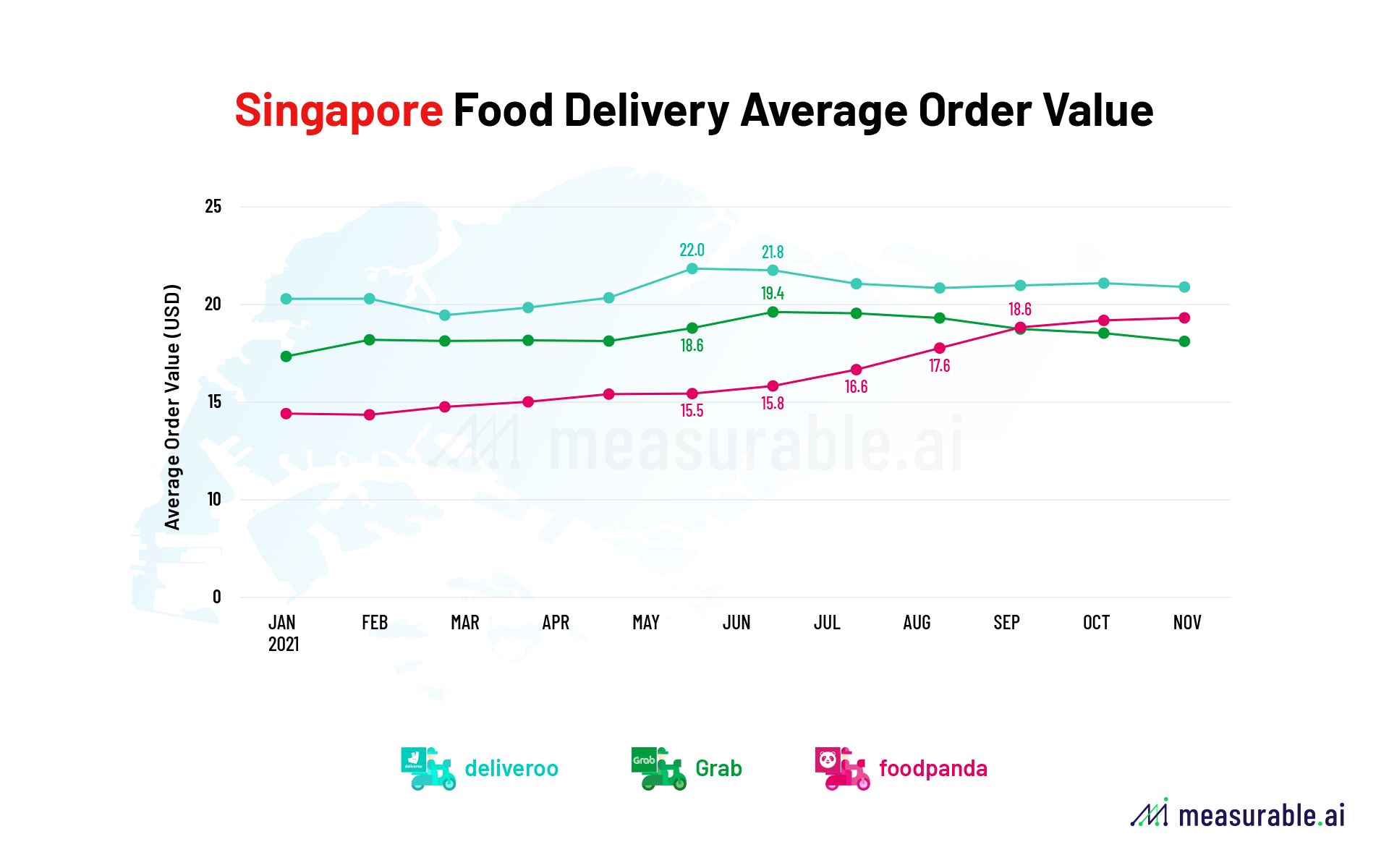 As shown in the next two charts based on Measurable AI's data, Deliveroo users in Hong Kong spend on average over 24 USD per order across the year. As for Foodpanda, its AOV has been the lowest in all four regions discussed in the research.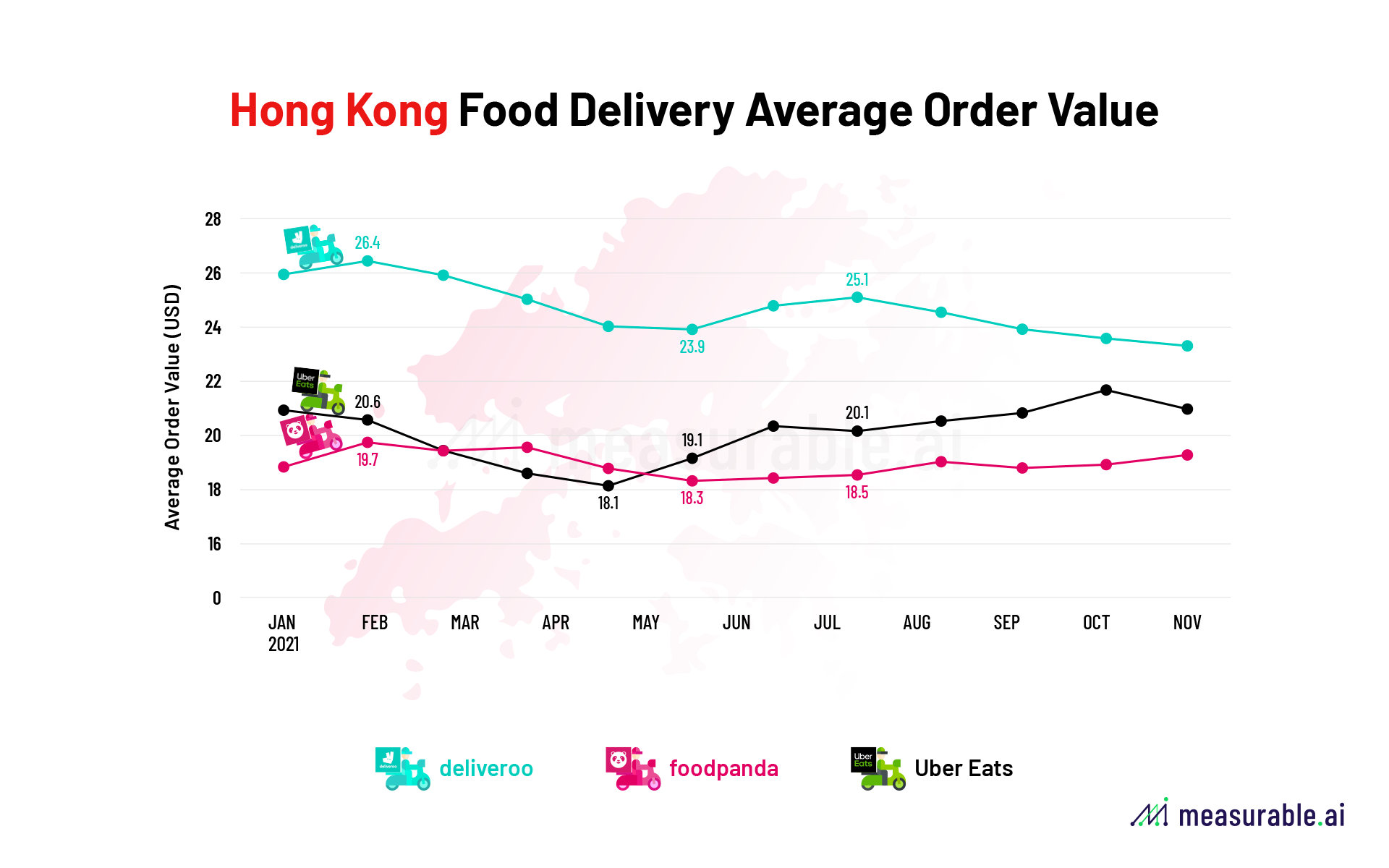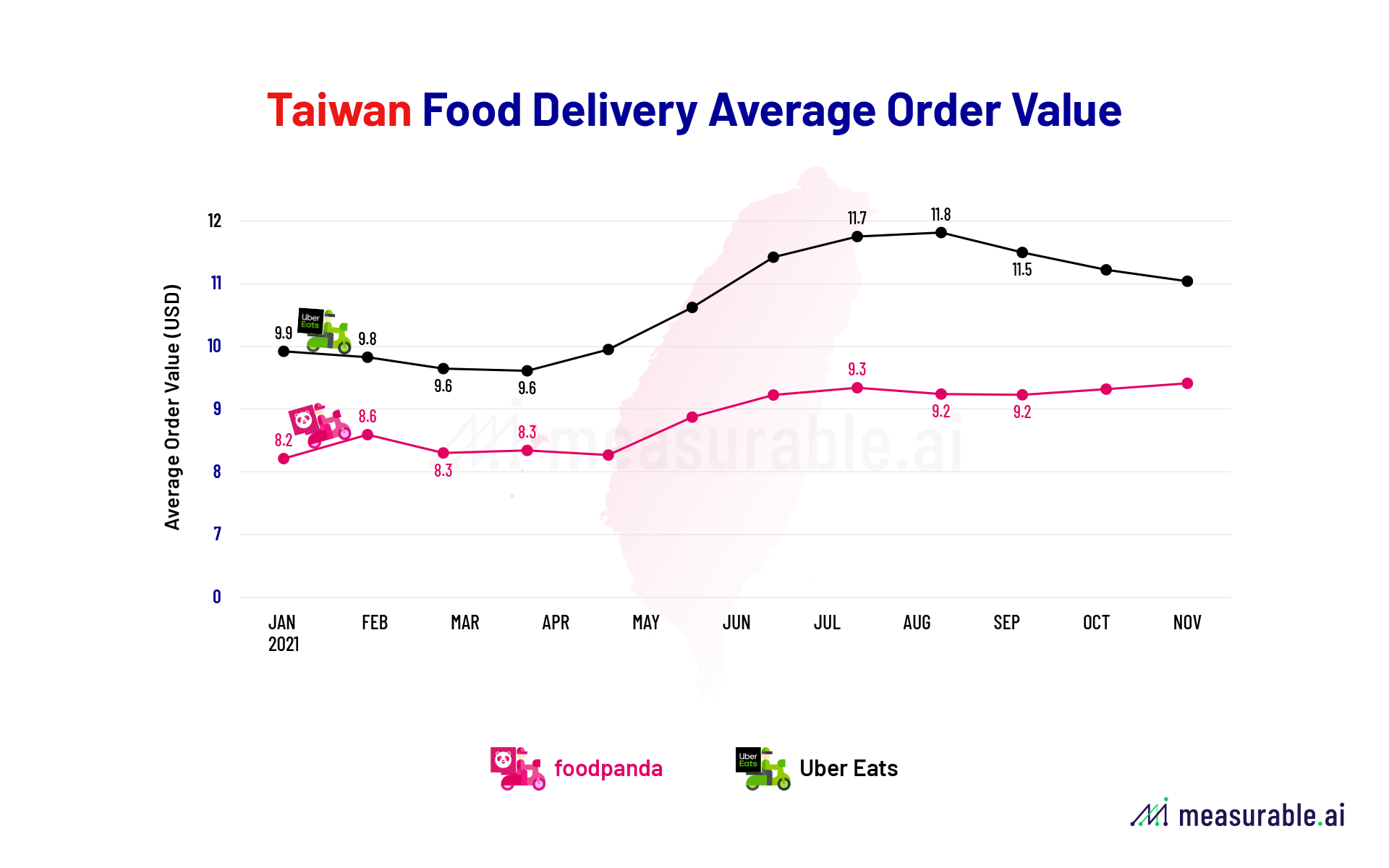 That's a wrap for the roller coaster series on the food delivery market in Asia. In the following research insights, we will continue to introduce more metrics and markets we track with Measurable AI's granular e-receipts data to help our clients understand the food delivery market better.
Interested in finding out more about the food delivery sector? Talk to us for more detailed, transactional datasets on the food delivery industry in more markets.