Spoiler Alert: Video Streaming 'Wins' the App Market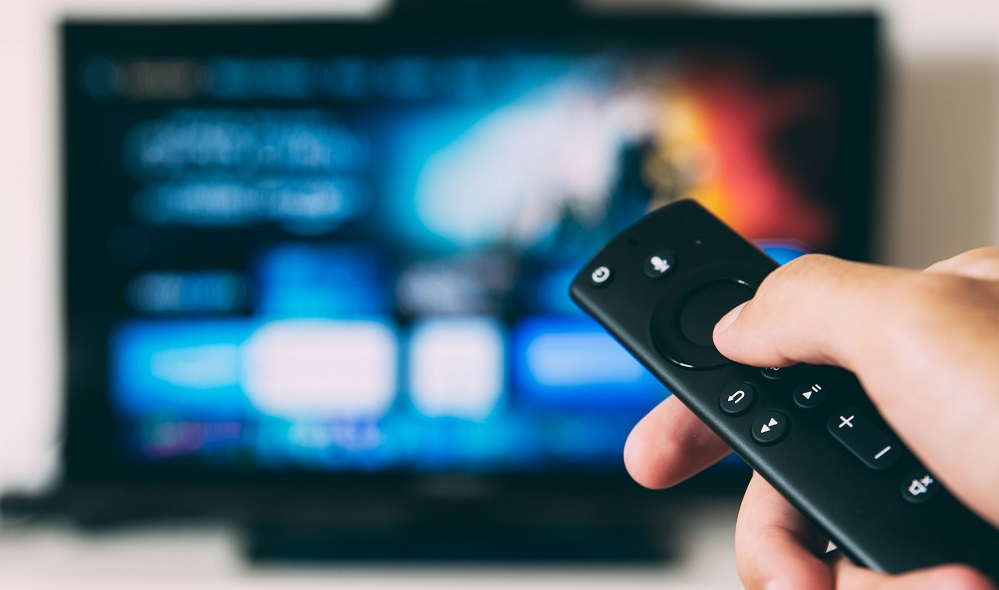 TV and movies are no longer confined to the living room. Instead, they're on the phone. Global consumer spend surpassed $7.8 billion among the top 20 video streaming apps in 2021 while live streaming is disrupting social media, as well. Read more in data.ai's State of Mobile 2022 report.
In Silicon Valley, Netflix is a rare unicorn that pivoted not once but three times, ultimately allowing it to develop programs tailored to multiple audience interests simultaneously.
The company started as a mail order DVD service. When that model ran its course, it switched to streaming movie content online. Then, in 2011, it switched again, moving away from licensing third party content in favor of its own homegrown material. In effect, it became a studio.
Netflix recognized that 'content is king'. As such, this led to Netflix creating its own catalog of 'must watch' exclusive content, which has helped fuel a widely successful strategy. Today, Netflix has 221 million subscribers across all devices. On mobile specifically, Netflix dominates, securing the top rank in terms of downloads and average monthly active users in 2021 in the OTT (Entertainment) category. Exclusive hits such as The Crown, Tiger King and Money Heist are just a few reasons why the subscribers keep coming back. In fact, Netflix spent $13.6 billion a year on content.
There is further evidence of this content-first strategy in data.ai's State of Mobile 2022 report, which showed that when Netflix premiered Squid Game in September 2021, it resulted in a 6% rise in downloads of its app 30 days after the initial release. Other series saw an even greater impact (albeit from a smaller base of total customers). When HBO launched Made for Love, it delivered a 61% increase in the HBO Max app installs. The company enjoyed similar increases in download activity from And Just Like That… and Friends: The Reunion. The demand for exclusive content among viewers is stronger than ever, and this will be crucial for video streaming app publishers to entice a global audience.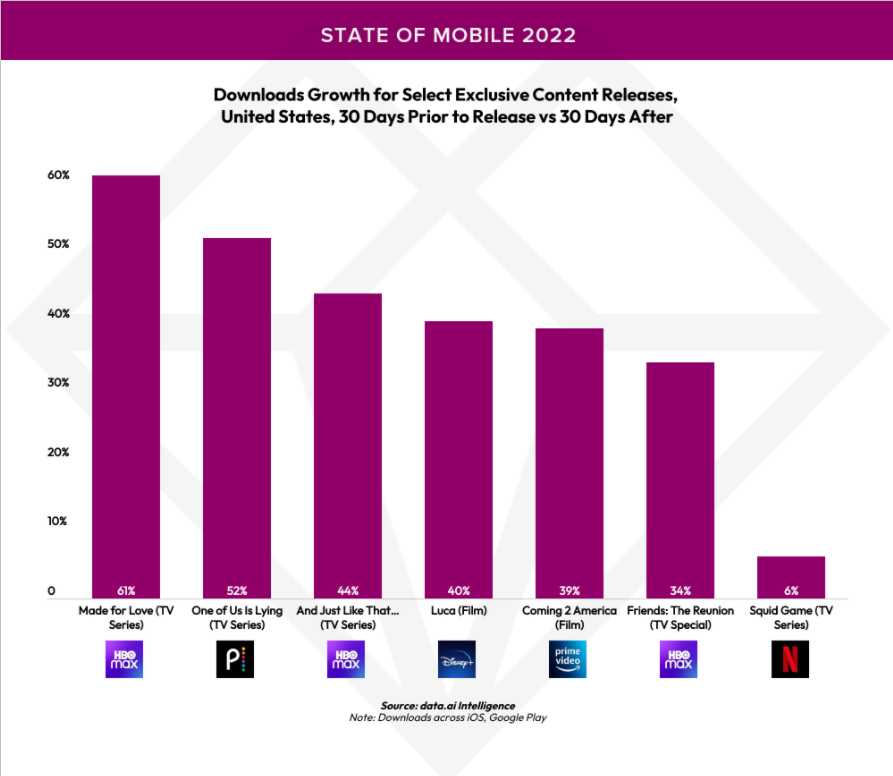 App Users Spent More Than $7.8 Billion on Video Streaming Subscriptions in 2021 Among the Top 20 Video Streaming Apps
Overall, video streaming is now – along with social media – the dominant force in the (non-gaming) app economy.
Its ascendancy began with the launch of hi-resolution big screen smartphones, wide availability of 4G, and affordable data plans. With these three conditions in place, the streaming giants could shift their target beyond the living room and bring movies and TV to the phone. To accomplish this, they frequently teamed up with mobile operators on special bundles.
According to the State of Mobile 2022, nine of the top 10 non-gaming apps by consumer spend for last year were video streaming apps (i.e. from companies that sell premium subscriptions for access to their video content or offer in-app purchases).
In total, global consumer spend on mobile video streaming among the top 20 video streaming apps hit $7.8 billion in 2021 — up 60% YoY from $4.9 billion. Meanwhile, time spent in these apps rose by 32% since pre-pandemic levels in 2019. In some countries, the spike was even more remarkable. Indonesians all but doubled their video streaming hours (up by 93%) in two years, for example.
Local Players Hold Their Own Against the Hollywood Giants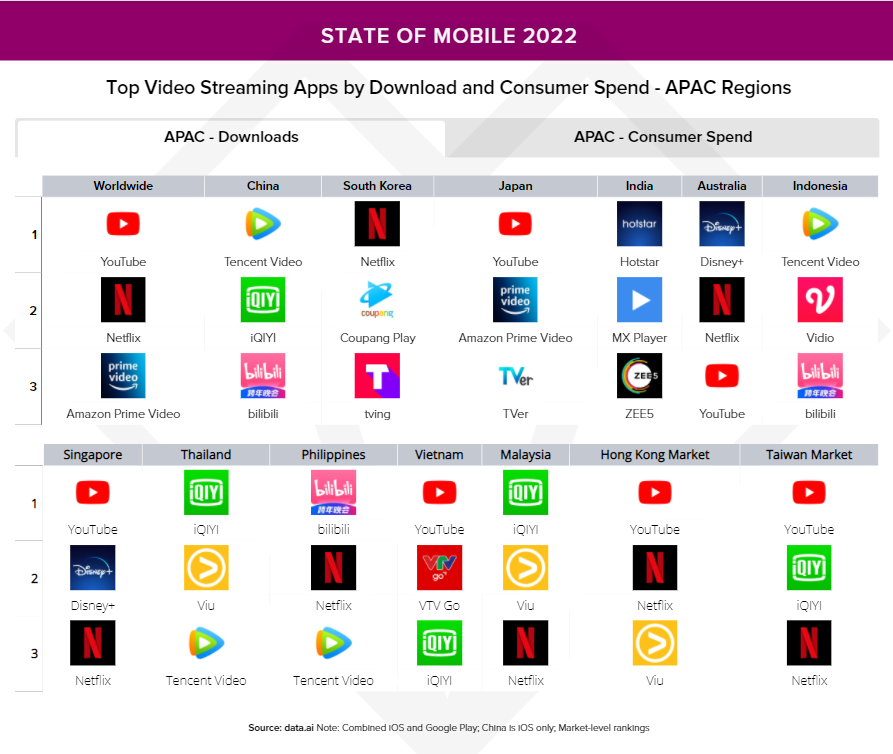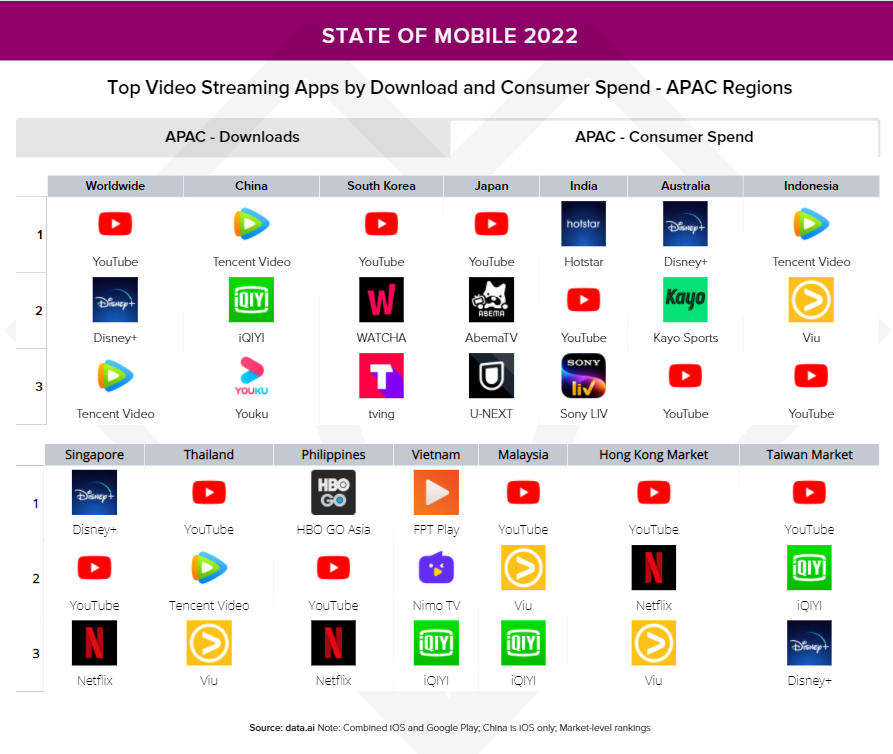 In terms of companies, the US giants are a predictably strong presence in the video streaming app space in all markets. Netflix has the largest global footprint and will have surpassed 1 million downloads in 60 countries by the first half of 2022. Meanwhile, Disney+ and Amazon Prime Video will have also hit 1 million downloads in more than 28 countries in 2022.
However, this sector is not entirely dominated by Hollywood. This can be seen from the regional charts for 2021. In Asia Pacific regions, for example, the sector is extremely heterogeneous. The major US companies are present, but they share the market with dozens of local players such as bilibili, iQIYI, Tencent Video, Viu, TVer and many more. Asia is one region where shows reflecting local cultures and relatable storylines tend to be just as popular as the global box office blockbusters.
Live Streaming is Blurring the Line Between Social and Entertainment
The arrival of affordable 4G and smartphones didn't just make 'Netflix on a phone' viable, it also changed the nature of social.
Services like Facebook and Instagram grew fast out of chat and photo sharing. Twitch was an early mover in the live streaming space, launching on mobile in 2011. But in 2014 apps like musical.ly (later acquired by TikTok) launched. In 2015, Facebook launched Facebook Live. And in 2016, BIGO LIVE and other players came onto the scene. Combined, these efforts kickstarted the move to video.
In 2022, live video streaming dominates social media. According to the State of Mobile 2022, time spent in the top 25 live streaming apps outpaced the social market overall year over year by a factor of 9. That's a 40% YoY growth compared to all social apps at 5%. Consumer spend has also risen dramatically. In total, global consumer spend on mobile live video streaming among the top 25 live streaming apps grew from $2.4 billion in 2020 to $3.8 billion in 2021. That's up 55% YoY and more than 4x that of 2019.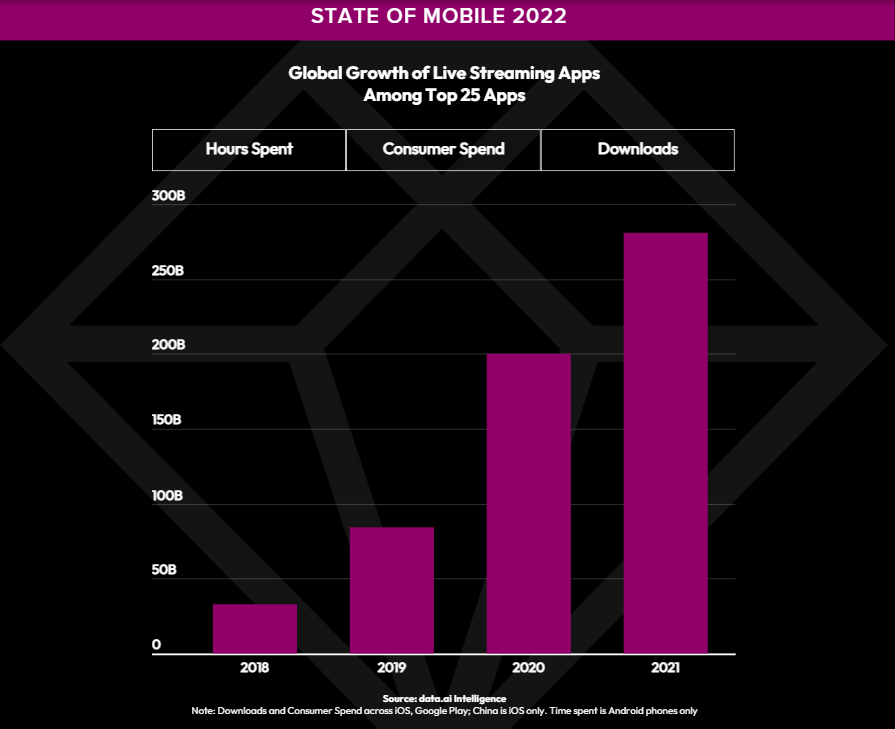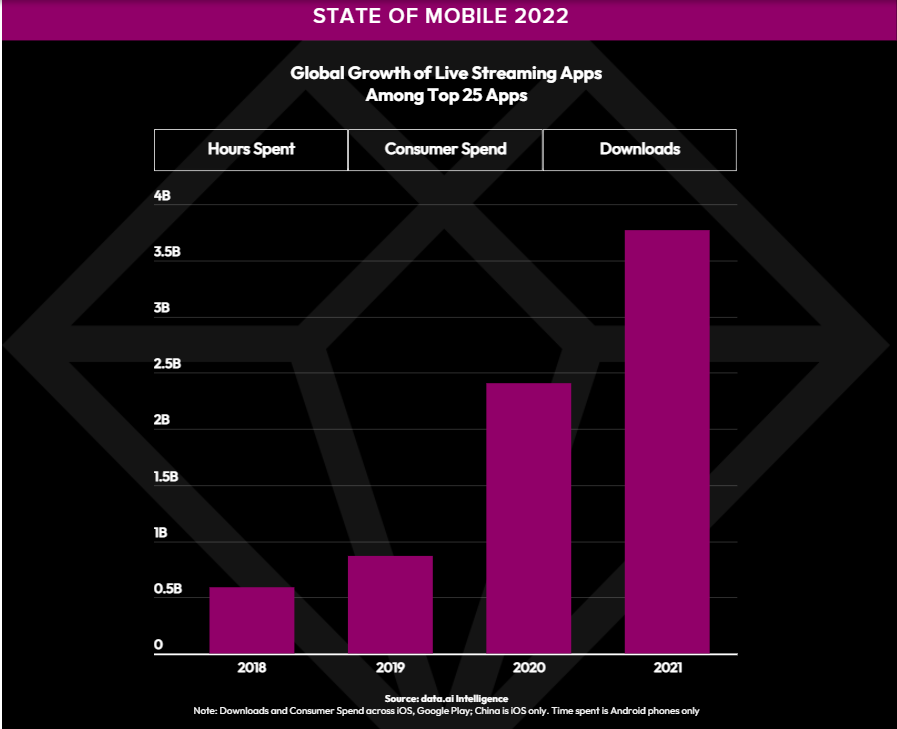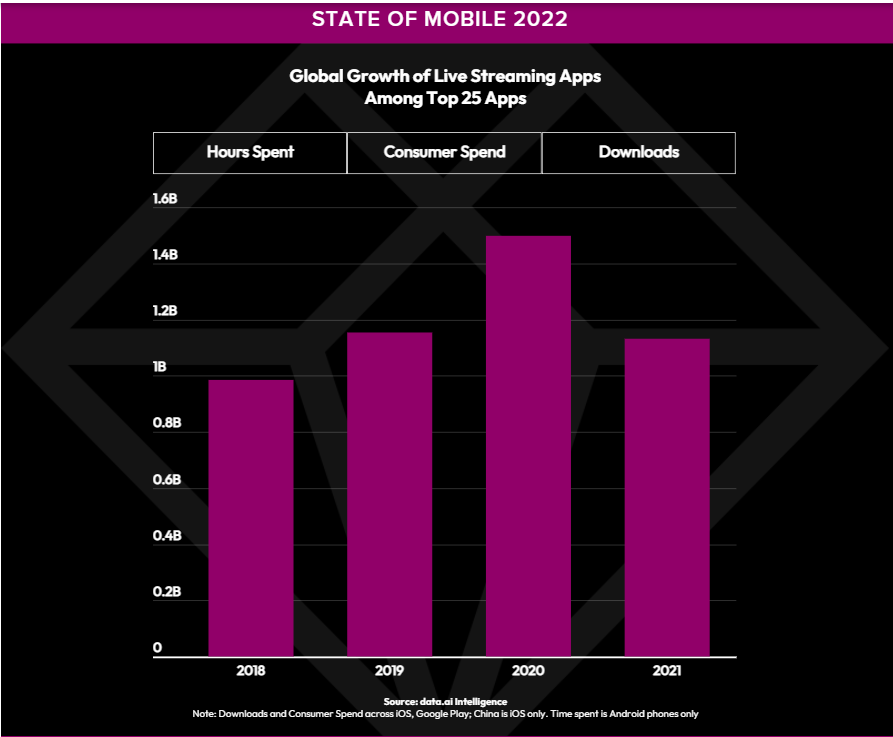 TikTok is one app that has greatly benefited from prioritizing video as a cornerstone to its strategy, both in the form of live streaming and short-form videos. In 2018, its users spent on average 4.2 hours a month in the app (globally, outside of China). By 2021, it was 19.6 hours.
TikTok is not just commanding attention. Along with other innovators such as Twitch, it is also changing consumer habits and creating a new economy. It provides opportunities for content creator compensation based on gifts, shopping, tips, and more. One thing is certain: social media and video streaming apps are here to stay.
To learn more about the data behind this article and what AppAnnie has to offer, visit www.appannie.com.